We review the xDuoo XD05 BAL 2 which is a balanced 1.5W-capable portable DAC/Amp with up to DSD512 and BT LDAC decoding capability. It is priced at $429.
Disclaimer: This is a sample sent in exchange for our honest opinion. Headfonics is an independent website with no affiliate links or status. Thank you to Shenzhen Audio and xDuoo for this opportunity.
Click here to read more on xDuoo products that we have previously covered on Headfonics
Note, that this article follows our current scoring guidelines which you can read up on here.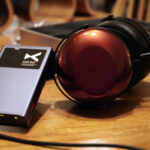 xDuoo XD05 BAL 2
The xDuoo XD05 BAL 2 is a powerhouse of a source and amp. You can't go wrong. I love its tone and texture, but I wish it had more treble brightness sometimes and a slightly more forward midrange. Otherwise, it has a slew of amazing features and functions. Can't go wrong here for the price.
Pros
Plenty of power
Strong Bluetooth performance
Excellent bass switch feature
Cons
Maybe too smooth on the treble
Sensitive input switch
Chassis lacks grip
Portable amplifiers and DACs are becoming more niche these days with the era of dongles and high-powered DAPs.
Does anyone else recall the great iBasso and Ray Samuels creations, circa 2012, with a pinch of ALO Audio in the background? I sure do. I loved my RSA SR71B, it was the perfect amplifier at the time. The Continental Dual Mono from ALO was also a masterpiece.
Today though, small amps have taken things to the extreme and the portable world has all but vanished with the newfound technology found in the Bluetooth headphone world. Things are getting crazier and crazier with wireless headphones, as the need for portable amplifiers becomes less and less practical.
With that in mind, what do the combo unit DAC + Amp types do for us in the modern era?
Well, a lot is the answer. And preferably, still the way I would want to go in my portable setup, even with amazing wireless headphones that negate the need for a portable amplifier, like the recent Audeze Maxwell or something similar that doesn't sound like a wireless headphone at all.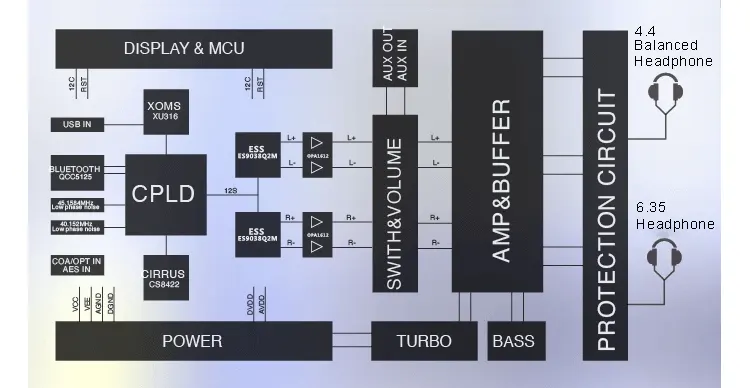 Tech Highlights
DAC
The xDuoo XD05 BAL 2 uses a dual ES9038Q2M DAC configuration combined with an XMOS XU316 USB chipset offering up to DSD512 native playback as well as PCM 32BIT/768kHz and MQA X16 from its USB output.
It also offers a wide range of alternative digital outputs but with slightly lower decoding rates including AES, optical, and coaxial outputs at up to 24BIT/192kHz and DSD64 over DoP.
Power
The output power of the xDuoo XD05 BAL 2 is an excellent 1.5W. That is just 100wW less than the CEntrance HiFi-M8 V2, a powerhouse portable amplifier that I reviewed some time ago.
With such a high gain mode, the XD05 BAL 2 can be easily regarded as a beast of a portable amp. But don't forget, it is a source too if you want it to pose as a DAC and an amplifier combo.
Wireless
The xDuoo XD05 BAL 2 can handle Bluetooth 5.1 as well as being able to receive both LDAC and aptX-LL codecs. It has one of the best, if not the very best connection strengths that I've ever reviewed in a portable source.
In fact, it beat some of the portable dedicated music players in connectivity tests, absolutely refusing to cut out and sound glitchy during the entire experience I had with it. From day one, and upwards of weeks later of daily usage the XD05 BAL 2 didn't cut out, not even once.
Bluetooth is getting so good and amazing sets like the Audeze Maxwell are proving that portable amps may be a lost era sooner than later.
For now, though, we aren't quite there yet but doomsday is looming for the portable world and likely will be suited only for those who prefer the older sets that are wired and that can be used with portable sources and amplifiers with a direct connection.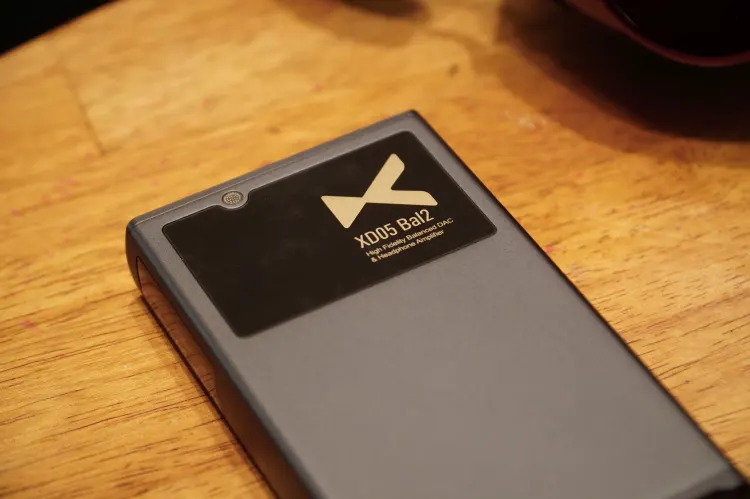 Design
I'm sorry, but the design is low-tier for me. I love the volume roller, it's so interesting and functional, I wish it had more of a tactile feel and not a smooth-as-butter feel to it, though. But the exterior metal is so polished and brushed that the unit is slippery.
This is not what you want when you are walking around holding it on a walk, or something. Some exterior texture is needed.
Often, I pick it up and the unit slides down my hands and the input selector button ends up getting touched and disables my music. It happens…way too often.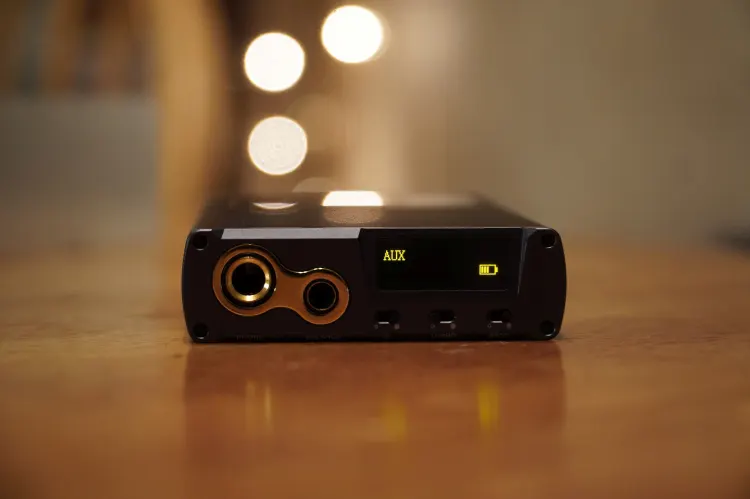 I/O
The XD05 BAL 2 has a coax/optical, AES, and standard 3.5mm inputs. But what I love is that the optical and 3.5mm inputs are recessed and don't stick out to make things worse for pocket dwellers. On the rear is the USB-C charging and DAC input port.
On the side, probably the best rolling volume knob I've seen in a portable amplifier. It feels so weighty, all it's missing is a heavy clink sound and it would be perfect for me.
On the opposing side of the XD05 BAL 2, 3 small physical buttons that control EQ filters, BT, and input modes.
Okay. I must lodge a complaint about this. This is one of the trickiest designs I've ever seen in a portable amplifier. You can almost breathe on this product and the input switch will activate itself and shut off whatever you are listening to.
It is hard to grab and toggle the volume roller on the opposite side without also clawing the input switch and instantly disabling whatever you are listening to.
The placement is a headache and I cannot tell you how many times I have shut the input selection off just by trying to adjust the volume.
These 3 physical buttons are too sensitive and easy to depress and change settings with. They need to be located elsewhere and not in the exact place where your hands would grip the product to pick it up, or remove it from your pocket, or a bag.
On the front side is a standard ¼ output, as well as a 4.4mm balanced, the power switch, the gain mode selector, and the heavenly bass switch, along with a small and retro 80's looking "LCD" screen that looks like it belongs on a digital clock from 1983.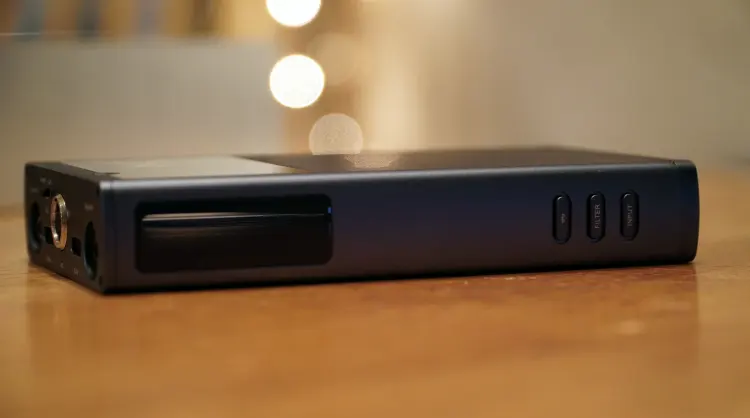 Bass Switch
The xDuoo XD05 BAL 2 uses an XMOS XU316 chip and a physical bass switch. To me, this is the best thing ever. I love my bass and this bass switch really amps up the low end, significantly so!
Are you a bass head? Don't even think twice, grab this, and don't look back. Interestingly, the new Ultrasone Signature X is one of my favorite portable headphones ever, and it is a true bass monster.
With the XD05 BAL 2's bass switch active, there is such a thing as too much bass. So yes, it can seriously dial up that low-end wallop of a bass experience if you aren't careful.
Battery Life
With a large 5000mAh battery, the XD05 BAL 2 has nearly 3x the battery life of the CEntrance HiFi-M8 V2 in side-by-side comparisons. They claim 12 hours, but I have exceeded that in low gain mode and without filters active.
The battery life is excellent, providing about 7 hours of maxed gain mode with the bass switch and all filters active on the product. Also, the unit will fully charge in just 3 hours if you use a quick charge plug and appropriate cable.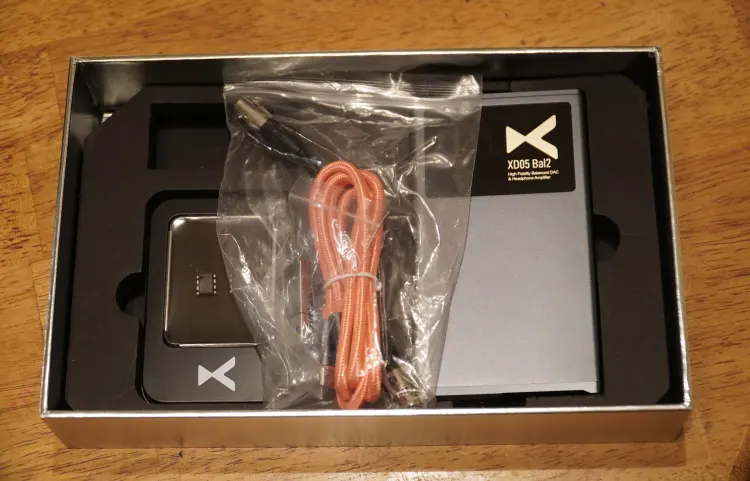 Packaging & Accessories
The XD05 BAL 2 box experience is pretty nice and it comes with a few extra amp circuit add-ons that will alter the sound, I prefer the warmer modules in tone which are the stock ones.
More so, the packaging is excellent, and the boxing experience is one of the better ones I've had for a portable amp that usually all just comes in a cardboard box with some bubble wrap. This one has some nice cutouts and extra foam protector pieces.
Click on page 2 below for sound impressions and our selected comparisons.