The Whizzer B6 TWS is an affordable True Wireless System featuring BT5.0, IPX7, aptX, and up to 45 hours of battery life. It is priced at $68.99.
Disclaimer: The Whizzer B6 sent to us is a sample in exchange for our honest opinion in this review. We thank HiFiGo for this opportunity.
To learn more about TWS products reviewed on Headfonics you can click here.
Note, this review follows our new scoring guidelines for 2020 which you can read up on here.
Whizzer B6
The Whizzer B6 is a unique and good looking TWS model. It performs well under most circumstances and does what it was meant to do and that is to give you decent sound quality for little money with good portability and that it does well.
Today, we review a TWS model that has been getting decent feedback all over the internet. We are talking about the Whizzer B6 TWS. If I remember well these got good comments at most retailers and everyone says that these sound pretty good so let us put them to the test with the rest.
The Whizzer B6 is a TWS model with an unusual split case that comes in three colors, Black White and Red. We got the white one and it is priced just above what we consider budget-level for this category.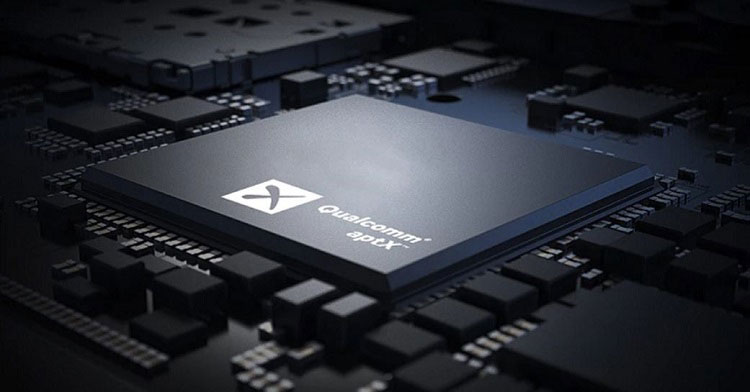 Tech Inside
Qualcomm Chipset
The true wireless QCC3020 is the standard SoC used inside the Whizzer B6. This chip is a Bluetooth 5.0 chip with a transmission range of up to 33 feet and at 2Mbps. This chip has many features and boasts a great battery life by being very efficient. Most of the features available are implemented within the Whizzer B6 come from this chip. This chip is very popular nowadays with the likes of FiiO among their client roster.
Codecs
The Whizzer B6 supports aptX as well as Apple advanced audio codec ACC and the standard sub-band SBC decoding rate for BT. I had no problems defaulting to any of these codecs with any of my source devices using the Whizzer B6.
EDR Protocol
EDR protocol is used in the Whizzer B6 but the version is not specified. I can only imagine it is the 2.0 version. The QCC3020 chip is capable of 2Mbps so it would make no sense in using 2.1 which has a 3Mbps data rate. EDR protocol 2.0 works on a 2.1Mbps data rate and is more in line with the QCC3020 specifications.
This protocol improves pairing and makes the connection more secure against eavesdropping attacks. Yes, Bluetooth is hackable. This feature ensures that no one will listen in on your private phone conversations using the Whizzer B6.
Another feature EDR has is called sniff substrating. This further extends battery life by reducing active duty cycles of the Bluetooth.

Touch Controls
The touch controls on the B6 are basic but are functional. They do take some getting used to but work fairly well most of the time. Voice assistance is available with 3 taps on the touch panel. You get the pause and play with one click. The same one-click answers and hangs up phone calls. A long click transfers between earbuds and phone audio.
There is no previous track feature and there is only the next track function with a long click. You have to access the previous track at the source.
Graphene Driver
Whizzer mentions that the B6 has a graphene-plated single dynamic driver unit with a frequency response of 8Hz to 22kHz. The impedance is 45Ω and the sensitivity is 122dB plus or minus 3 dB. The size of this driver is still a mystery to me because the size is not specified but you have to assume it is regulation TWS-sized 6mm or 7mm.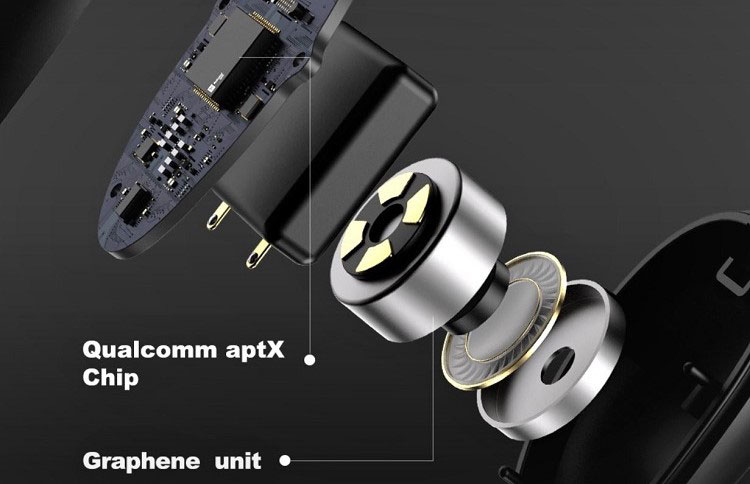 CVC 8.0
The built-in microphones use CVC 8.0 environmental noise technology. I only found one mic hole in each earbud so I don't think the dual mic setup of other TWS units is implemented here.
I had a few conversations with friends on these and each one commented that my voice was coming through very low and at times I had to speak very loud so they could hear me. You could always pull one earbud out and speak directly into the earbud but your voice will be transmitted at a very loud level.
IPX7
The Whizzer B6 is also rated at IPX7 which is a fairly high-rating and on par with the MPOW M5, Lypertek Tevi, and the Noble Audio Falcon.
If the case was also IPX7 rated I would honestly consider this to be a big plus. We do take our TWS units outside and when Mother Nature calls you wanna be sure the earbuds are gonna survive outside of the case but also for the case to survive as well.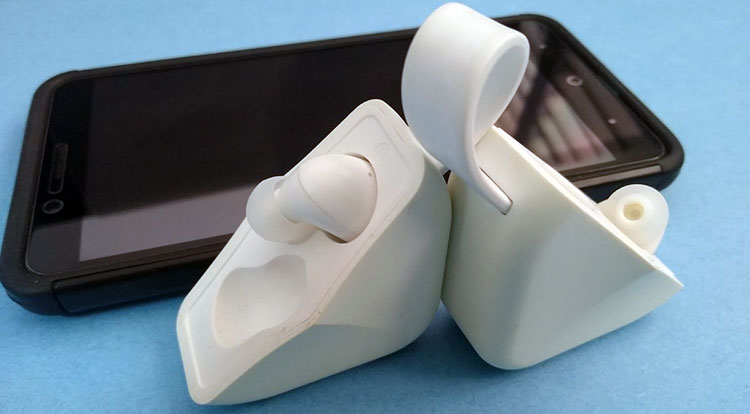 Whizzer B6 Design
The Charging Case
Let us talk about this charging case because it is a pretty unique one. This one is made mostly of a rubberized plastic on the outside and plastic on the inside. The rounded edge square shape splits in half and held together with some very strong magnets. I like the snag-free design of this set.
The two halves are kept together by a thick rubber strap and when you split the two halves apart it reveals the two earbuds. The earbuds are also held in place by magnets. This case has a 1000mAh capacity and the USB-C charging port is under a flap. There is also a charging light indicator on one side.
I am pretty sure there are two separate batteries in this charging case connected in parallel or series with some wires within the rubber strap. This charging base has built-in wireless charging capability and fast charge as well. It measures 61x61x35mm.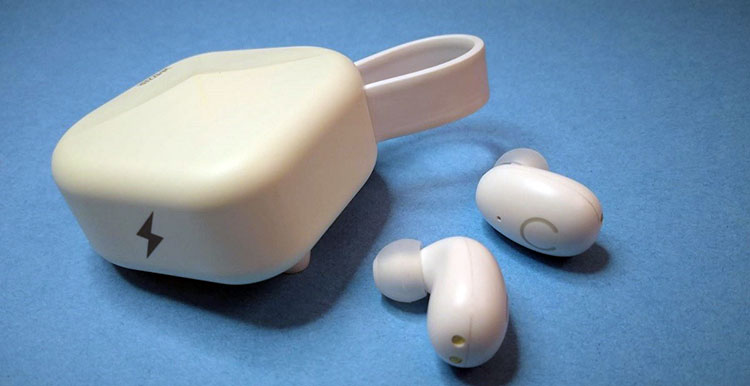 Earbuds
These earbuds are practically egg-shaped with no sharp corners or edges. I found them to be very comfortable and I could wear them for long periods since they are made of plastic and their weight is negligible.
One area that the Whizzer B6 disappointed me in is that I could not use my aftermarket foam tips. Since you get very few tips within the box that was a point of frustration.
Each earbud is equipped with a 55mAh battery with claims of up to 6 to 8 hours of music time and 8 hours of talking time on one charge. However, I got only about 4.5 hours and up to 5 hours max with music.
Isolation
The common isolation for earbuds is about 30dB. The Whizzer B6 comes just below that I think compared to other units I have tested in the past and in recent times with the 30 decibels reduction claim. These seem to be around a 25 decibels range.
Is that a bad thing? Not really because I do not like to be completely isolated personally and these are acceptable in that department to me. Unless if I'm on a flight than I would look for an ANC model.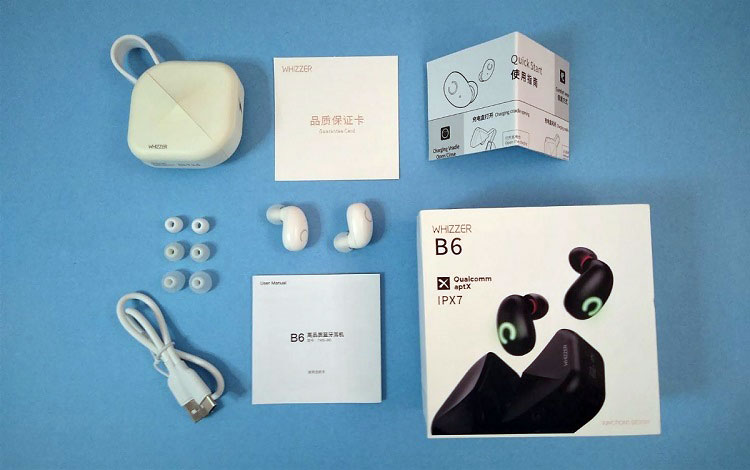 Packaging and Accessories
The recyclable box measures 108x108x58mm. Inside you will find the charging case inserted inside rubber foam and the earbuds inside the case.
Below that there is a separate white box with instructions, a quick start guide, and a warranty registration card. There is also a USB-C charging wire with three extra sets of ear tips giving you a total of four sets.
Whizzer B6 Sound Impressions
Most TWS models I have heard lately go for the elevated bass sound signature and these are no different. However, the bass is not as elevated as some other set I have used recently and these aim for a flatter response.
These have a bass tilt but are not V-shaped. The midbass is elevated by about 10dB from flat while the mids stay flat with a small peak at 2 to 3kHz and recessed highs dropping after 14kHz.
Bass
The bass response is slightly elevated from the bottom end to about 200Hz. I am detecting that the midbass is the most elevated part of the B6 sound signature and there is slight midbass bleed into the lower midrange.
The elevation is mostly in the 80Hz to about the 150Hz region and it tends to give the bass a slight boomy characteristic with certain recordings especially in the midbass region. However, there is very little slam or impact.
My tone generator test revealed a 25Hz to 30Hz buzz and I could not find the source. Whether it was vibration or the driver itself I will never know. They did go down to the 20Hz point and a tad beyond with no issues, however.
Midrange
The midrange is adequate. It is represented in a pretty flat manner with not many peaks or valleys. I do sense a 2kHz to 3kHz peak and it does at times get piercing with loud passages.
It is slightly recessed against the bass region but what I usually do is grab my equalizer and tone down the bass no more than 10 decibels gradually starting at about 250Hz and suddenly the midrange becomes better.
At that point on you get a medium amount of detail retrieval once the midrange is alleviated by the reduction in the bass. The Whizzer B6 does have good midrange tonality and is probably the best character of the Whizzer B6.
Treble
These have an early cut off at about 14kHz and nothing happens above that. For that reason, they do sound somewhat sharp enough but never become piercing. The highs image better compared to the midrange and have more height but there is still some graininess on the top end.
I keep running into a heap of noise when I run a tone generator on this set and any other set I have tested that uses the Qualcomm QCC3020 above 14kHz. This set does it at 13kHz and above that. This chip must be the source of the noise and grainy characteristic I get out of these units.
Imaging
There is not much to say here about this area. The soundstage is narrow and everything happens within the confines of your head. There is barely any forward presentation and just a touch of height. The imaging left to right positioning is pretty precise within the given width.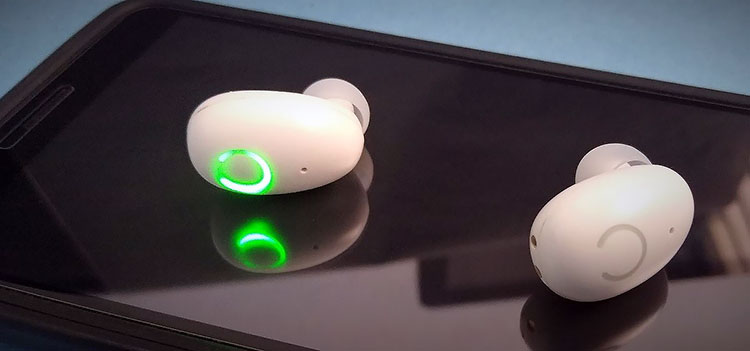 Whizzer B6 Wireless Performance
Transmission Range
The specified range for the Qualcomm QCC3020 is 33 feet in a straight line using a Bluetooth 5.0 source and Whizzer claims a range of up to 3 meters. For some reason, I only got about 15 feet from my 3 different sources and at 17 feet I lose the signal and that is in a straight line using BT 5.0 sources. They do pair up again once they fall into range at least.
Pairing
I found it difficult to pair these at first because the pairing instructions were not clear to me. These initially gave me trouble doing the initial pairing but once done they connected easily. Perhaps it was because I was doing the pairing sequence incorrectly.
I did notice these do connect the moment you separate the two halves of the charging case. One twist however and that is that you have to do it while leaving the buds inside the case, unlike many other models. To reset this pair the earbuds must be inside the case and you have to join the two magnetic halves together.
Microphone performance
The microphone system in the Whizzer B6 uses CVC 8 but the problem is not noise. It is the sensitivity level of the microphones. Often at times, people complained and could barely hear me on the other side and my only remedy was to pull out one earbud and speak directly to it and solved the problem.
Perhaps auto-leveling is incorrect. They seem very ineffective in picking up sound at times and speaking directly into one earbud was then at times excessively loud.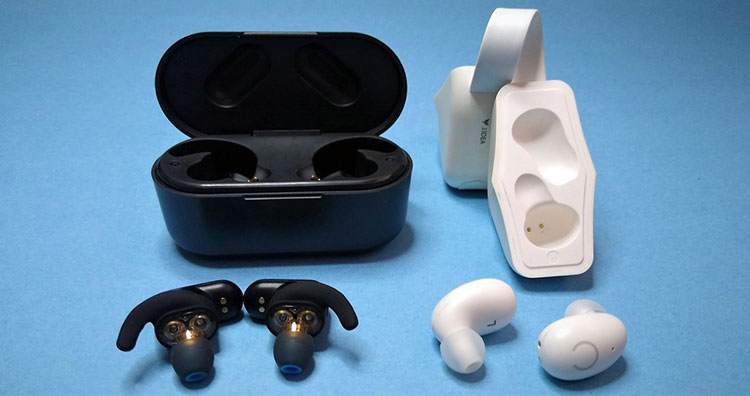 Select Comparison
Soundpeats Truengine 2
At about the same price this dual driver TWS model is available and if we compare them each have their pros and cons. The Truengine 2 has a better Bluetooth range and you could squeeze about 5 more feet in distance away from the source.
The Truengine 2 has slightly better sound quality, especially in the highs. Perhaps it is because the Truengine 2 has a separate driver for the highs. You have to work on them by using an equalizer to tone down the huge bass volume to even the differences in frequencies. You could also use any tip available which is a huge plus for me.
The Whizzer B6 has a nicer case with a higher battery capacity plus the case has a much higher resistance to water and moisture. You get to choose a color and the earbuds and case look more modern plus I like the fact that they are completely rounded and snag-free.
The earbuds of the Whizzer B6 are lighter and that makes them more comfortable to wear especially for extended periods. On the microphone front, the Truengine wins hands down with the four microphone system. But the touch controls are way more responsive on the B6.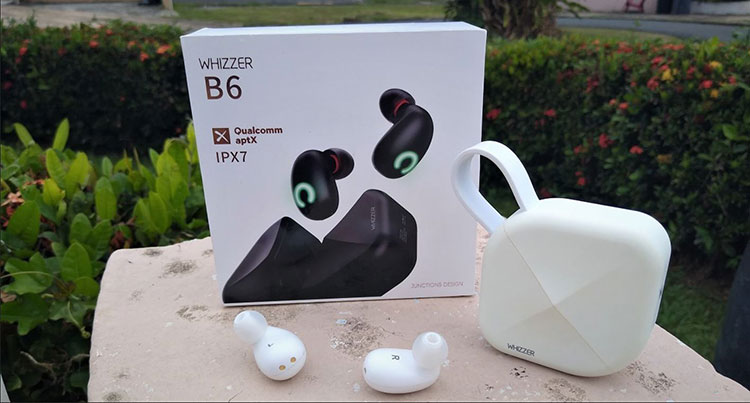 Our Verdict
It seems to me TWS models are gearing to a trend of customers having to ask themselves what features and designs are important to them. It could be a fashion statement or something more subliminal and personal. It could be battery life or fit.
The Whizzer B6 is a unique and good looking TWS model. It performs well under most circumstances and does what it was meant to do and that is to give you decent sound quality for little money with good portability and that it does well.
The sound quality is not bad but I feel this set is a typical TWS model in a different case with a different style from the rest. This is what distinguishes these TWS earbuds and most models, to be honest.
Who would I recommend the Whizzer B6 to? People who are looking for a modern style TWS. People who are concerned about getting caught in the rain and those who want simple touch controls without much complication. And those who also want aptX decoding capability for not too many greens.
These can be had for a very good price if you shop around. You could get them for a very reasonable price and that makes them an attractive buy.
Whizzer B6 Technical Specifications
Impedance 45 Ohms
Sensitivity 122db plus or minus 3 decibels at 1kHz
Frequency Response 8-22kHz
Bluetooth Chipset Qualcomm QCC3020
Formats supported APTx-ACC-SBC
Waterproof Level IPX7
Charging Time 1.5 hours
Case Battery Capacity 1000mAh
Earbud Battery Capacity 55mAh
Case Size 61x61x35mm