The MPOW M5 is an aptX and Bluetooth 5.0 capable single dynamic driver TWS or True Wireless System. It is priced at $49.99.
Disclaimer: The MPOW M5 or T5 is a sample sent to us in exchange for our honest opinion. We thank MPOW for giving us this opportunity.
To learn more about our TWS reviews on Headfonics you can click here.
Note, this review follows our new scoring guidelines for 2020 which you can read up on here.
MPOW M5
You can make an argument for both but my own preference is for the M5 slightly cooler tone and grander soundstage. I also love the bass quantity the M5 can produce and it is the most powerful sounding of the 3 TWS I have heard to date in detail.
Our third Wireless Weekend review and our 3rd TWS, the MPOW M5, which came out more than a few months ago but was sent to us last quarter 2019 by MPOW themselves. This is a brand I had no clue existed until that email and I do love discovering new brands. The MPOW M5 used to be called the T5 so you might see some Google search references to a T5, they are one and the same.
As with the KZ T1 and the Airdots, this is a sub-$50 TWS. At $49.99, it is right on the invisible budget line I tend to draw for these wireless systems. Anything above it middling to high-end, ($150 onwards) given the current market conditions.
For those unaware, MPOW are located in Hong Kong but with plenty of global-wide contact channels and an Amazon store presence. Their audio product line is focused on sub-$100 with a focus on wireless or ANC headphones and earphones. Outside of that, they have an extensive hearing protection headphone and plug collection as well as Bluetooth transmitters and receivers.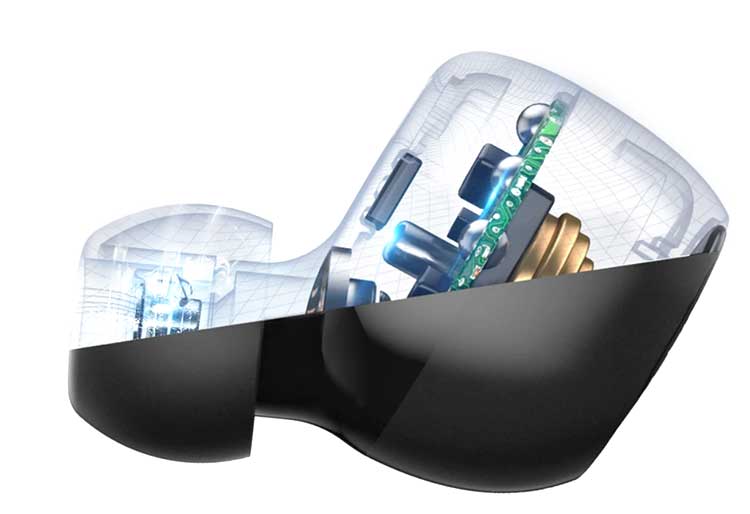 Tech Inside
Bluetooth 5.0
Like the Airdots and the KZ T1, the single dynamic driver M5 uses Bluetooth 5.0 which I am starting to really think is going to be the minimum standard for new TWS products in 2020. Still, plenty of higher-priced models using BT4.2 though to be fair, most have been out a few months to a year already. BT5.0 should provide for a better range and stability compared to the older BT4.x versions.
aptX
The M5 happens to be the first TWS I have reviewed that has Bluetooth aptX decoding capability which I much prefer over SBC and AAC. Now I suggested you had to pay a lot more to get aptX on a TWS but at just $8 more than the KZ T1 beta unit, this might just be a bit of a bargain.
MPOW uses a Qualcomm 3020 BT chipset inside the M5 drivers which supports aptX decoding. aptX is less compressed compared to AAC and SBC and should provide more micro-detail and superior dynamic range in the M5 audio performance compared to something like the Airdots.
Gamers and movie watchers do need to know that despite aptX audio capability the M5 does not support aptX LL. That means latency or lag may be a factor for voice and audio sync.
cVc™ Noise Cancellation
The Qualcomm 3020 SoC also deploys cVc™ Noise Cancellation Technology which helps suppress background noise and echo feedback on the M5.
cVc technology is a set of noise reduction algorithms built into the microphone audio processing circuit of the M5. It is primarily designed to improve the quality or clarity of voice calls and lower interference from wind or outside noise. This tech should not be confused with ANC which is much more aggressive in noise cancellation.
IPX7
At this price point, IPX7 is quite a useful feature to have for the M5. The cheaper Airdots use IPX4 which has a measure of protection against sweat and rain or both depending on where you do your workouts.
IPX7 is a higher standard than IPX4 and is defined as capable of immersion in up to 1 meter of water for 30 minutes. Honestly, I won't risk it but if you have done some 'scuba diving' in a clear water pond with the M5 let us know if they are working afterward.
Independent Buds
Like a lot of TWS earbuds, the M5 left and right buds can be used independently of each other should you want to do that. The default side to use in Mono mode is the right side.
'Mono" use will increase the battery life of the M5 but it will also mean uneven battery life in both channels which is a huge peeve of mine already. Stereo use with a left-right BT connection is much preferred to keep battery life in both channels even and also it just sounds a whole lot better, period.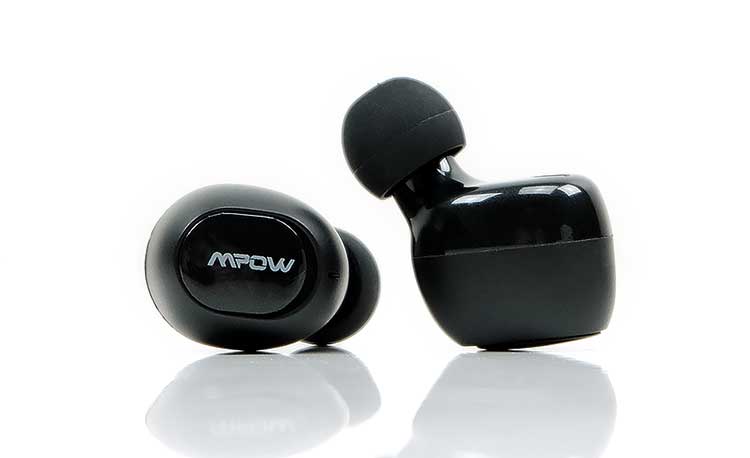 Design
The M5 driver housing design is more of a black plastic blob of a thing without any really distinctive aesthetics other than a glossy front plate with the MPOW branding in white. Consider it a taller and slightly fatter Airdots with a shinier finish and a narrower front faceplate. The KZ T1 is a lot more stylish in that respect looking more like an audiophile monitor than either the Airdots or the M5.
What I do like about them is this subtle LED ring around that front glossy faceplate that lights up when charging is activated. It is a nice touch in an otherwise all-black ensemble.
The finishing is good though. You will not find any sharp edges, bubbles or bits of plastic hanging off where the joins are. The R and L labeling are in a very legible white on the underside just below the twin gold-plated charging contacts.
Comfort & Isolation
The driver housings are of moderate to large size and just slightly smaller than the KZ T1. However, they do not have that custom contouring of the KZ T1 TWS and a lot more emphasis is placed on the tips and nozzle holding in the unit securely. That means they do stick out a little in your ear with the stock tips rather than flush or a little closer to the ear compared to the smaller Airdots.
Tips
I did mention those tips a few times and sadly you only get a single set of single bore silicone tips in small, medium and large. I have sort of come to expect this rather anemic supply of tips in $50 TWS after 3 reviews. However, MPOW has been rather smart here in their choice of silicone tips.
The M5 is supremely tip-dependent and it is all to do with how long the stem is on that tip and far it pulls in pushes back the nozzle of the M5 in the ear canal.
The closer the M5 is to the canal's second bend the better the sound, the deeper the bass response and the clearer the vocal presence. Throw on a longer stem tip and it thins out, loses its power and sounded neutral but on the brittle side. Longer stems do include better quality tips like SpinFit and Symbio hybrids which sounded quite weak on the M5.
The M5 stock tip is shorter and delivered a superior sound. Even better are the short stock black single bore silicone tips from FiiO's FH7 which sounded a little more spacious and tighter on the M5 compared to the stock tips.
Controls
The MPOW M5 uses a physical faceplate control system similar to the Airdots which is not really my preferred touch control system that KZ use on the T1.
It is not that I can't work it out or use it but rather the comfort levels take a significant hit every time you press the plates pushing the drivers deeper and deeper into your ear. The insertion can get very uncomfortable after a few long presses forcing you to reset the drivers in your ear. It is the same scenario as the Airdots and whilst I appreciate the possibility of an accidental control being reduced its a scant exchange of benefits.
Thankfully, you can control volume from the M5 drivers unlike the Airdots with a double press of the right for more and same again on the left for less. The rest of the controls are fairly straight forward as follows:
1 click for play and pause of tracks, call hang up or call answer
1 long click for forward on the right faceplate and 1 long click on the left to go to the previous track or the start of the current track. This also rejects incoming calls.
Press right faceplate 3 times to access SIRI, Google Assistant or Bixby on Samsung, etc.
Long press and hold both faceplates at the same time to turn off the M5 drivers, (the most irritating of functions).
Long press both whilst in the charging case will reset the M5 drivers.
Charging Case
The charging case is a little on the large side but it is actually nicely finished. You will see a lot more exotic finishes in future reviews done by us but for $50 this is pretty good.
It is big but very smooth on the curves so safely pocketable. Actually, a large suppository comes to mind though lol but otherwise the faux leather crinkles top and bottom, as well as the MPOW branding on the top lid, are flawlessly done. The case hinge is also pretty solid unlike the strange KZ T1 metal latch and certainly feels stronger than the diminutive Airdots case.
You also get a small nylon lanyard for the case which allows you to swing it from your wrist if that's your bag.
The case is adorned with a 4-dot LED charging capacity level on the outside front of the case which I think is clever. A lot of these charging cases use LED dot systems on the inside forcing you to open up the case to check the remaining charge. The MPOW M5 cases external LED lights means you can keep it shut and keep an eye on your case charge levels. Less strain on the hinges.
Battery Life & Charging
The battery life of the M5 drivers is impressive compared to what we have tested thus far. On paper, you get 5-6 hours without throwing them back into the case which automatically charges them once the contacts touch.
I sat through a few episodes of the Witcher using the M5 without any issues and these are an hour a pop so the rated time is fairly realistic. Oreo 8 devices will also show the driver battery life in the taskbar. That included a Cayin N6ii, HiBy R6 Pro, and a Samsung Note 9 smartphone.
Even more impressive is the rated 35-hour battery life of the case. That means you get around 5 hours on the drivers per charge and a further 6-7 charges inside the case. That is going to work for any long-haul flight period. It also smashes the Airdots and the KZ T1 out of the park for battery performance.
However, the big drawback of the MPOW M5 case is the use of micro-USB for charging. That means a slow charge for the M5 drivers and the case itself. I am prone to saying it might be fair for a sub-$50 TWS, however, I suspect we shall see more USB-C budget TWS in 2020 and the new KZ S1 at $30 with USB-C is one such example.
Accessories & Packaging
Do not expect anything spectacular by way of accessories for a $50 TWS. The BOM on this is squarely invested in the drivers and charging case. Inside the cardboard red retail box you get the following:
Micro USB Charging Cable
3 x Pairs of Ear Tips
Hand Strap
User Manual
Charging Instruction Card
The lanyard is a nice touch, you do not see many of those for TWS systems and something quite popular in Asia. The user manual/charging card is fairly easy to follow also and big enough not to require a microscope to read. You can also download a digital version of the manual from their website.
Click on Page 2 for Performance & The Comparison Ladder