The Soundpeats Truengine2 is a beryllium-coated dual dynamic driver TWS with BT5.0, IPX5, and aptX decoding capability. It has a retail price of $82.
Disclaimer: The Soundpeats Truengine2 sent to us is a sample in exchange for our honest opinion. We thank the team at Soundpeats Audio for giving us this opportunity.
To read more about TWS products we have previously reviewed on Headfonics, click here.
Note, this review follows our new scoring guidelines for 2020 which you can read up on here.
Soundpeats Truengine2
If you manage to get a TWS that sounds half decent then consider yourself lucky. The Truengine2 doesn't sound that bad. You can work with them to make them sound better and that's more than I could say for many other mainstream TWS models available today.
Roadmap
SOUNDPEATS is a company that was started in 2010 and ever since then they've introduced a few TWS models that have been considered best sellers at a major internet retailer.
SOUNDPEATS reached out to us and sent us their Truengine2 in exchange for an honest review. We thank SOUNDPEATS for the opportunity and will give a sincere opinion and review in exchange.
The Truengine2 is one of SOUNDPEATS latest offerings and is the 2nd generation of their Truengine SE model which according to SOUNDPEATS has the claim of being the world's first dual-driver dual crossover TWS model ever produced.
SOUNDPEATS claims the Truengine2 is their most advanced offering to date. Let's dive right in and explore this new TWS model.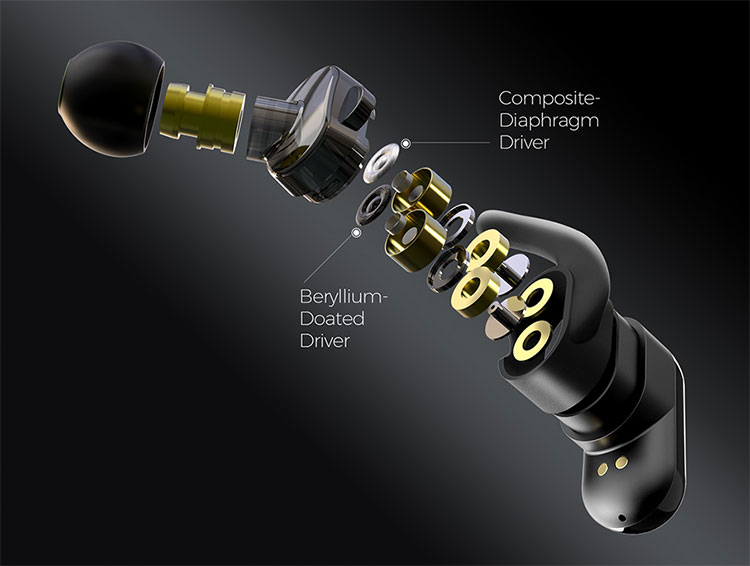 Tech Inside
Dual Dynamic Drivers
The main feature of the Truengine2 is the dual dynamic driver and dual crossover configuration. This TWS model uses a 6mm dynamic Composite diaphragm driver to reproduce the low-end section along with the midrange and a second 6mm driver for the highs. This second driver is a dynamic Beryllium plated driver.
There are not many specifics listed with regards to if the drivers are proprietary or not. Specifications listed for the drivers of their website are listed as a frequency response of 20 to 20,000 Hz with an impedance of 16 ohms. The sensitivity rating listed is at 97db plus or minus 3 decibels.
Dual Passive Crossover System
Because of the use of a two-driver design a crossover was needed and SOUNDPEATS went a little further than needed. The Truengine2 has a separate crossover for each driver. Both crossovers are passive and are placed between the amplification section and the drivers in the same manner as in a home speaker setup resembling a two-way speaker system.
Qualcomm QCC3020
The Truengine2 uses a Qualcomm's QCC3020 as its main BT chipset. This chip has become a very popular choice among the makers of many TWS models. The QCC3020 is an SoC with a low power-based architecture, therefore, increasing the efficiency of battery usage while remaining within a certain performance parameter.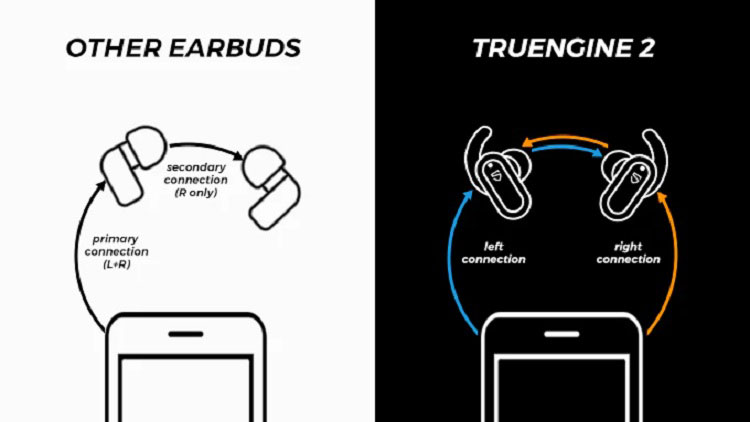 True Wireless Stereo Plus
The Truengine2 takes advantage of Qualcomm's True Wireless Stereo Plus built into the QCC3020. This technology claims to improve battery life by pairing each earbud separately.
With previous TWS technology, a TWS set always had a master earbud unit and a slave earbud. The problem with that is that the master earbud always electrically discharged itself faster than the slave earbud because not only did it have to receive its channel information but it received the other channel's information as well and was also given the additional task of retransmitting that signal to the other channel or earbud.
This implementation improves latency as well because the slave doesn't have to wait for a signal from the master bud to operate. Each earbud pairs individually and can operate individually.
Wireless Range
The Truengine2 claims an operating range of 33 feet in BT 5.0 mode which is about the average for the 3020 chipset. I was able to obtain a range of approximately 27 feet from the main BT transmitter which was a confirmed BT 5.0 source.
Latency seems to be very good also and no delays were detected. Probably the usual and barely perceivable 0.2 seconds.
Connection Profiles
The Truengine2 provides HSP, HFP, A2DP, and AVRCP. HSP provides mono connectivity and HFP provides cell control. A2DP and AVRCP handle stereo operation.
Audio Codex and BT 5.0
All the usual aptX, SBC, and AAC audio codecs are available with the Truengine2. All this is done on Bluetooth 5.0. The aptX version is not mentioned but I believe it to be the original version and not the low latency or the adaptive variant.
However rest assured that you won't have any issues with Apple, Android platforms, or PC. I tried the Truengine2 on all 3 platforms and none presented any issues whatsoever.
Dual Microphone with cVc
The Truengine2 has a dual microphone system with cVc noise reduction which is embedded in the Qualcomm chipset. It features auto gain, howling control which minimizes feedback, adaptive equalizer, and a few other minor features.
The microphone's sensitivity rating is listed at 42db plus or minus 3 decibels. You get the typical performance which is average quality but not studio quality however the microphone system did perform quite acceptable for me.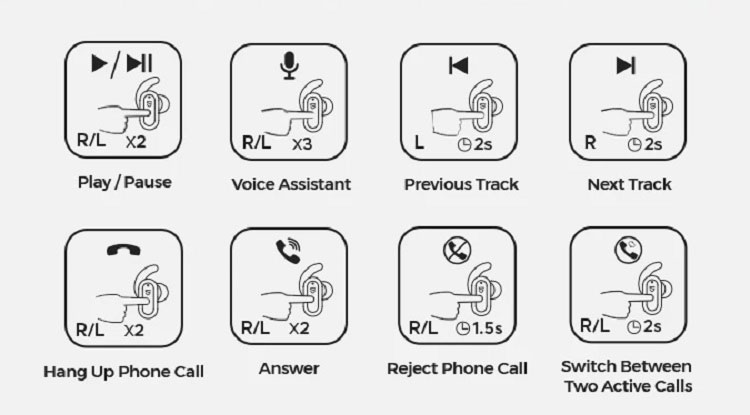 Touch Controls
When the Truengine2 was first introduced the first batch did not have volume control as a touch control function and someone complained. I'm happy to inform everyone that the volume control has been implemented in the recent batches. This can be accomplished by a single quick touch.
The left side is for lowering the volume and the right side is for raising the volume. It raises and lowers in uneven increments and I found that to be odd. But it's good to see an improvement interest on behalf of SOUNDPEATS and the implementation is better than nothing. It's also a good thing to see a company listen to its customers.
All the major functions you would expect are implemented here however I found the touch to be either too sensitive or just refused to function sometimes at about 20 percent of the time. Perhaps SOUNDPEATS could look into this and improve the touch sensitivity in the next batch or what would be even better is if TWS makers start allowing customers to upgrade the firmware of course supplied by the manufacturers.
That would be a step up from what's available today. Issues could be solved later on and features added. The touch control issues are probably firmware related but they do work most of the time none the less.
Design
EarBuds
The earbud housing itself is an unusual shape and they're not very subtle in appearance. They're kind of a fat L shape and are all black. The unusual shape does seem to work fine in regards to comfort and fit though.
The housing is made of plastic material and they seem pretty durable. They weigh in at only 6.1 grams. They do stay put and I can wear them for hours without any major discomfort. The shaft size seems to be the common 4.9mm metal tube and will accommodate most aftermarket rubber, silicon or foam tips available today.
Plexiglas window
Back in the day, I owned a Honda Prelude with a bandpass enclosure in the rear with two 12″ subs behind a Plexiglas window. The Truengine2 resembles that in design but in a miniature form.
They have a clear Plexiglas window showing off the 2 massive 6mm drivers.
That was a joke of course. It's a novelty and I really like it and I think it looks great. Everyone I showed them too thought that it was a cute touch in appearance as well and liked them also. Some said the drivers look like they were Johnny 5 eyes and they do kind of resemble a robot face if you look at them from a certain angle.
Waterproof specifications stand at IPX level 5 even with its see-through window and dual microphone setup.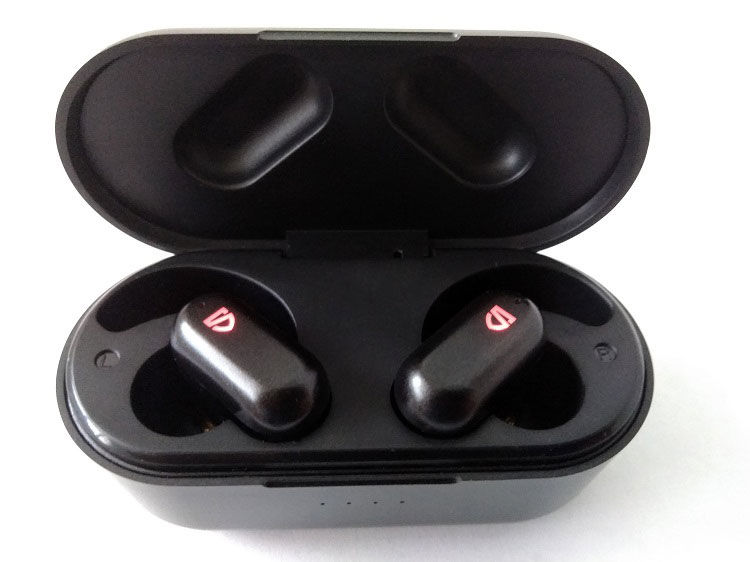 SUPERPEAT LEDs
I swear the Truengine2 LED-lit logo looks just like the Superman symbol. Should we call them SUPERPEATS? I'm going to call them Superman LEDs. They're very bright and are not subtle at all. They are somewhat informative though. They stay on with a white tint when paired and no sound is being processed or played. Once they start playing sound the Superman LEDs turn off.
When pairing or when fresh out of the charging case they blink alternately red and white until paired. If they're in the charging case then they remain a solid red indicating they're being charged. Once they reach their full charge capacity in the case the LEDs shut off.
Comfort and Isolation
The Truengine2 comfort levels are pretty good. The Freebit Earfin system works well for me but of course fit will vary from person to person. SOUNDPEATS include 3 sizes of user-replaceable ear fins to fit most people's ears.
Isolation, of course, depends highly on a good ear seal. Once you get a tip that fits well Isolation is typical. No active noise canceling is offered except for on the microphone. Once again I could wear these for many hours with no discomfort or sore spots inside the ear.
The Charging Case
The Truengine2 charging case is the usual oval shape seen many times before and that works fine for me. If it works well why change it? It's constructed of PC+ ABS plastic materials. It's equipped with a USB-C port plus it has built-in direct wireless charging capability.
The case has a hinged flap that changes the way the 4 front-mounted LEDs react. They show an internal charge when you open the door or when closed the show charging levels. Each LED represents 25% of the charge. If you place the buds inside and close the door each earbud that's charging will retain one LED on until fully charged then the corresponding LED simply turns off.
The case holds in the earbuds magnetically and there are also magnets to hold the door closed. It's rather large at 16.6×9.8×4.8cm in size.
Battery Power
Each Truengine2 earbud is equipped with a 55mAH battery and SOUNDPEATS claim 6 hours of playtime from each full charge and I got just under that. I got about 5 hours of playtime. Perhaps you could get better battery life by turning down the bass a bit.
The charging case is equipped with a 500mAH battery. The specifications say you can get approximately 30 hours of playtime from a full charge and to me, it seems about right or perhaps just under that by a couple of hours. The specs also say charging time is 2.5 hours and I charged them in 2 hours or less using a 2 amp fast charger which is better than specified. 2 hours for approximately 30 hours of playtime is not bad.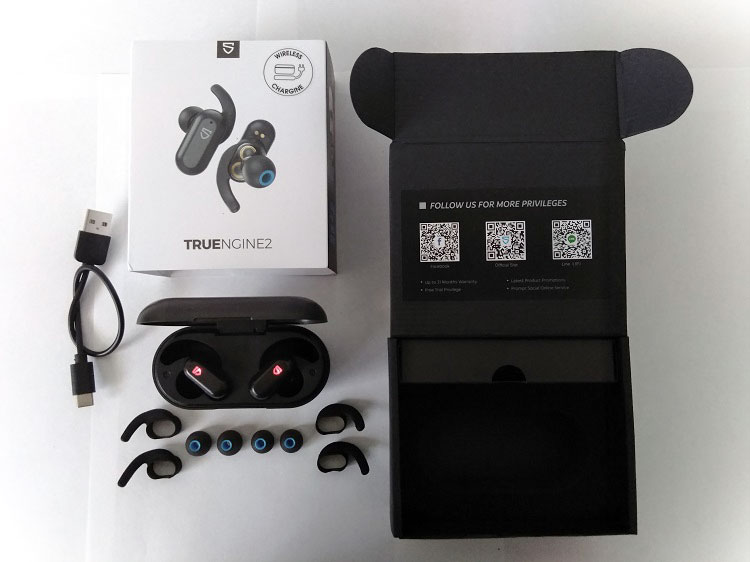 Packaging
The Truengine2 comes in a white sleeved black box. Inside you'll find the 2 earbuds, the charging case, 6 ear-wings, 6 ear tips, and a USB-C wire for charging the case but no charger.
You also get a user's manual, a charging tips card, and a customer care benefits card. The Truengine2's and the case sit in a foam cradle for safe shipping. The rest of the accessories are placed in a small rectangular box on the side.
I've seen a different box from the one I got. The box I got was reduced in size perhaps to indicate the new version with the touch volume control implementation.
The customer care card links you up to instructions on how to obtain an up to 21-month warranty with what SOUNDPEATS is calling a free trial privilege promotion. There's still the standard warranty which is 12 months regardless.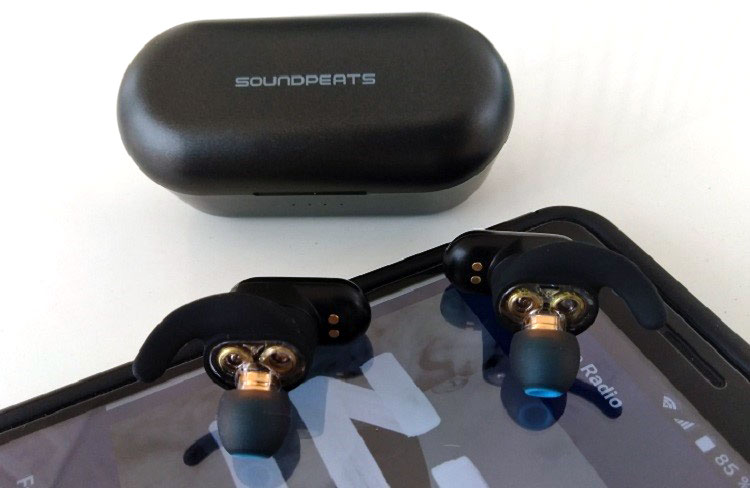 Sound Impressions
I always put in at least 20 hours of use on any set I get. I want to rule out any type of break-in regardless of if it works or not. This also rules out defects because most electronics will show problems within the first few hours of use. So I always put them through this 20-hour task. I always use FLAC files which are familiar to me for testing the sound quality.
I always tell people that sound is subjective and what I perceive you may perceive differently especially with the in-ear type and IEMs. The correct tips must be chosen to obtain a good seal and obtain optimal sound quality.
I have to admit. The Truengine2 doesn't sound too bad compared to most TWS models I've listened to but the sound signature is too bass-heavy for me. They're not V-shaped either but rather mid-bass centric. They seem to have an emphasis around 80 to 120Hz while the midrange and treble seem to be recessed.
Bass
The Truengine2 bass is elevated. There's lots of bass bloom but it doesn't dig deep down or at least musically perceived by me perhaps because the low-end bass is masked by mid-bass. It's mostly producing bass in the mid-bass region and the lower region of bass gets lost in the translation. Its bass characteristics are perhaps acceptable for dance music but not for critical or balanced listening. It's not impactful however and has a soft characteristic to it.
I always run several tests on headphones, IEMs, and similar products and one of them is a tone generator sweep test. In the bass region, this test shows weakness in certain areas but I mostly test for rattle plus an even frequency response reproduction with no drifting, left to right shifting, or noise.
These went down below 20 Hz with no rattle proving the low bass is there. However, there is a particular resonance that I audibly perceived with music that I could not fix with an EQ and couldn't pinpoint its base frequency.
Perhaps the 2 drivers are working as a bandpass as mentioned before creating resonances which is a characteristic of the bandpass enclosure type and I'm getting a similar sound signature you would get on these with a typical bandpass enclosure.
The bass is bloomy but not very accurate. But once you reduce the bass with an EQ below 150 Hz about 5 to 10 decibels or so it becomes more accurate and acceptable in tonality. I'm sensing a huge hump around the 80-120Hz region.
Mids
The Truengine2 midrange takes a backseat presentation because of the elevated mid-bass and mid-bass bleed. But if you lower the frequencies below 150 Hz as mentioned before, you reveal a quite pleasant midrange presentation. It's fairly smooth and balanced and I sensed no abnormal peaks.
Even when an equalizer is applied to reduce the bass, the midrange still sounds somewhat laid back in the soundstage panorama though. However, I didn't experience any frequency that was a nuisance or fatiguing either. All instruments had their place and their tone was correct for the most part.
Treble
There is an early roll-off in the highs after and around 5kHz. Once again the equalizer becomes your best friend here. The highs are there you just have to tickle them so they can come out and play.
I applied a small boost above 5kHz and above and the highs came alive and turned out to be the Truengine2's best attribute. They sound fairly crisp. They have decent air and sparkle. They do image quite well. Listening to Pat Metheny's "On day One" the drummer's cymbals and snares are imaging correctly and I'm also detecting very little harshness or sibilance. They are recessed, however.
Once again when I ran the tone generator this set produced noise above 14kHz. This is a pattern I'm noticing in particular with the QCC3020 chipset. However, no notable noise was heard or detected by my ears listening to music at any time in the highs even when I had boosted the high frequencies by at least 5 decibels with an equalizer.
Imaging and Separation
These are fairly accurate in imaging. The left to right positioning is fairly good. Separation steps just a tad beyond the ears in width but not much. You get decent frontal perception and placement as well.
There is decent depth but it's not a deep soundstage. Just enough to say there's some there. Where this set lacks is in height. Nothing in the top or the rear either. You don't get much rear spacial info but the frontal stage is acceptable and that's where most of the action takes place in music anyway.
Detail Retrieval
The Truengine2 detail retrieval is below average. There is some detail but I'd say there is very little micro-detail. Most micro details are faint and some can only be heard if you focus on them hard but are not bought forward as in some good detail retrieval headphones and IEMs. The details remain in the rear somewhere.
Synergy
The Truengine2 paired well with everything I had with no problems. There were times I had unexpected BT dropouts. I probably got two per week and that's it. But once I reset them they were fine afterward and ran fine for the rest of the time without disconnections or any other interruptions.
The range was good but not excellent. It was the same with BT 5.0 and with 4.2 oddly at about 24 feet average.
As I mentioned before the touch volume control was implemented and that's a good thing but the volume has a peculiar characteristic. When you raise or lower the volume, the audio seems to rise in steps but it does so in a left to right and repeat pattern.
It's a weird sensation, almost like an upward or downward spiral of sound perception but I think it might be a normal characteristic of the TWS plus feature that's implemented in this set.
Selective Comparison
Pamu Slide Mini
First off the Slide mini's case is smaller but with basically the same claimed 30 hours of playback time so smaller is better in this case.
The Truengine2's charging case even though it's larger it has the same capacity. This is a win for the Slide Mini. I also give the win for ear tip or foam tip compatibility to the SOUNDPEATS. You can use most tips on the Truengine2 but not on the Pamu Slide Mini set. This win goes to the Truengine2 for sure.
This is extremely important because without a good fit you'll never get the benefit of the driver's tuning and the bottom line is good sound is what it's all about and the rest is secondary. Perhaps that's why I obtained a slightly better sound signature with the SOUNDPEATS over the Pamu set simply because of better ear tips with a better fit.
Not all the times 2 drivers will be better than one but in this case, I think it is. Sometimes trivial little details can push a product forward. Like being able to get good tips is just a bonus for getting better sound on the Truengine2.
Touch controls are better on the Pamu Slide Mini but they have no previous track function. SOUNDPEATS will perhaps improve in this area with further improvement revisions in their firmware.
Battery life is better on the Pamu earbuds but sound quality goes to the Truengine2 and that's perhaps because of the better seal I got with the SOUNDPEATS rubber tips.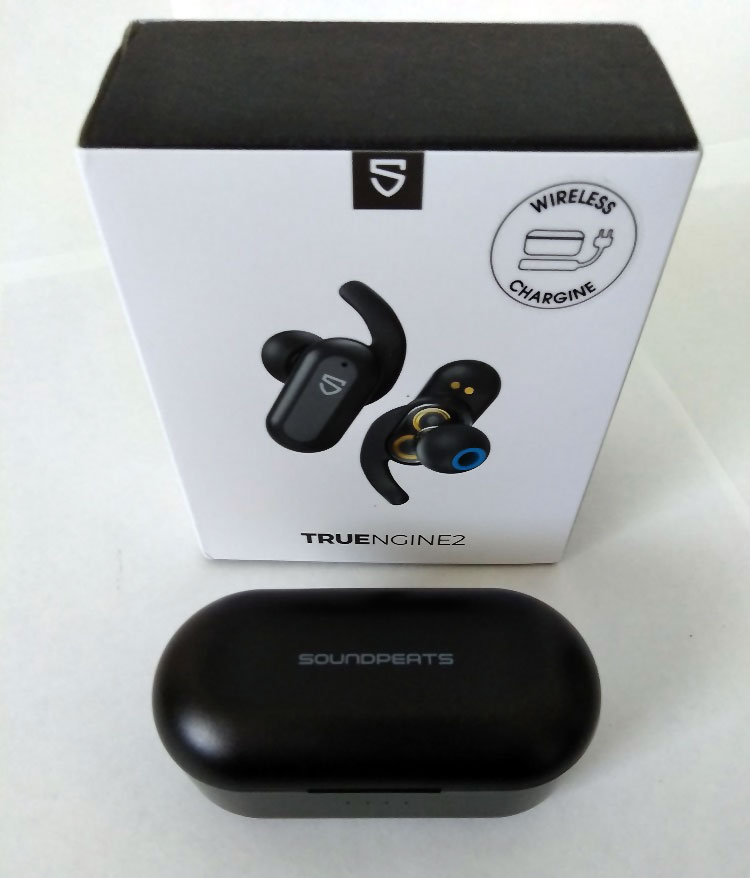 Our Verdict
SOUNDPEATS is going in a good direction here by designing a TWS with dual Dynamic drivers and this can only promise us a future of multiple drivers and hybrid TWS models which is a good thing for us all.
The Truengine2 is a step in the right direction with some caveats. There's that touch control issue in that 20 percent of the time it refuses to work. There's the spiral sound pattern volume adjustment issue which is not an issue, it's just weird but it doesn't affect the product's performance at all.
There's an elevated mid-bass response that badly bleeds into the midrange. There are also some resonances in the low frequencies I couldn't remedy. Most of the sound issues can somewhat be remedied by applying equalization.
The veiled high frequencies can be bought upfront again with the help of an equalizer. Plus if you get better tips you'll get a better fit and better sound with improved isolation. You can do that with this set.
TWS technology is fairly new and it's going along well but some work needs to be done and some barriers need to be broken. Until then TWS models should be bought for the convenience they offer and not for obtaining audiophile quality sound. Not yet at least. That would be a mistake.
If you manage to get a TWS that sounds half decent then consider yourself lucky. The Truengine2 doesn't sound that bad. You can work with them to make them sound better and that's more than I could say for many other mainstream TWS models available today.
Truengine2 Specifications
Bluetooth Chip: QCC3020
Waterproof Level: IPX5
Bluetooth: 5.0
Audio Codec: SBC, aptX,AAC
Working Range: 33 feet(10m)Technology: BT5.0, HSP, HFP, A2DP, AVRCP
Battery Capacity: 550mAH
Charging Time: 2.5 hours
Standby Time: 150 hours
Playtime Time: 30 hours