The Vision Ears ELYSIUM is the company's very first hybrid monitor featuring a dynamic driver for the mids, a BA for the lows, and electrostatic tweeters for the highs. It is priced from €2900.
Disclaimer: The Vision Ears ELYSIUM sent to us is a sample in exchange for our honest opinion. We thank the team at Vision Ears for giving us this opportunity.
To read more about Vision Ears products we have reviewed on Headfonics click here.
Vision Ears always bring something new to the table every CanJam in Singapore. 2017 was the excellent custom VE8 and 2018 saw the soft launch of the flagship from their new Premium range, the universal 13-driver silver-infused Erlkonig.
Of course, they would not come empty-handed in 2019 and true enough new goodies were on the stall this year in Singapore. Three products in total were on show. The 3.2 and 4.2 midrange custom monitor refresh and the all-new Premium line, Elysium priced at €2900,00.
It was the Elysium I waxed lyrical about in our show report back in early April 2019 and I can tell you now this is still one 'hot tamale' when it comes to looks and most importantly, how it sounds.
Tech Inside
The Elysium is a hybrid monitor with a bit of a twist. The accepted norm for hybrids is usually a dynamic driver for the lows, BA for the mids and highs or electrostatic tweeters for the super highs.
First and foremost. Yes, the Elysium is using a dual electrostatic tweeter for the highs, but for the mids and low's the driver configuration is reversed. Vision Ears have opted for the use of a single BA for the lows and a single dynamic driver for the mids. Yes, the mids you read that right.
More than that, the dynamic driver comes with new tech from VE, their HALC system which is an acronym for High-Precision Acoustic Leveling-Chamber. Of course, this sounds like Hulk and to really reinforce that little homage to the Marvel hero there is a strong element of green in the driver chamber design inside the Elysium showcase transparent design.
Specifications
Now at this stage, the Elysium is been on our desk only for a few days so I have yet to get the fine detail behind sizes of drivers and how exactly HALC works. However, I can tell you there is a 3-way crossover system being used, the impedance is very light at 16.4Ω and the SPL is about midway at 105dB.
The SPL is being pegged back I presume by the electrostatic drivers but it is not unusual to see an e-stats hybrid monitor in the low 100s for SPL. One benefit is the likely lack of sensitivity to low noise floors but we will test that in the main review.
Unboxing
Wow! What a transformation in packaging from Vision Ears. I guess this is entirely consistent with the positioning of the Elysium as a Premium Line product but even so, the articulating display mechanics of the box opening is just super fun and very cool to play with. Sadly, I would likely need a video to really give you a full demo of how this works but let's start with the obvious.
The box is huge, almost headphone class in terms of sizing with a bi-fold split lid. The pic above with the Lotoo PAW Gold Touch DAP beside it is for scale just so you get a proper idea of how big the box is.
Now here comes the fun part. When undoing the latch and opening it up, the way the innards are folded means an inner tray also gently raises to reveal a carefully arranged set of accessories, case and of course the earphones.
It is almost regal-like and something you would expect to find in a jewelry shop. I think I played with that for about 5 minutes trying to figure out how it all worked on a physical level. Unboxing nerds will have fun with this box.
The inside display is a felt type foam contoured display tray and whilst the core accessory list is not hugely different from what Vision Ears have offered before it does look far more refined than what I am used to seeing. Back in the day, those metal carry cases from VE just came like that and nothing else so we have come a long way since 2014.
Accessories
Whilst on paper the list of accessories is the same as something the VE8, the finishing, and looks are quite different. There are no more hard metal large cases of the previous aluminum threaded hard case though you can buy them still from VE when checking out online.
The carry case is now a stiffened leather two-tone round top with a lid that simply pulls off rather than screws off. The lid has a ripple-like pattern in blue at the top with the Vision Ears moniker to the center. The rest of the outer finishing is in grippy black finish with the internal finishing a class tan leather.
The word Elysium is also beautifully branded into the ceiling of the lid. Inside you also get a nice little foam layer to separate the cable from the driver shells which helps prevent any accidental knocks between the metal barrels and jacks of the cable and the acrylic shells of the Elysium.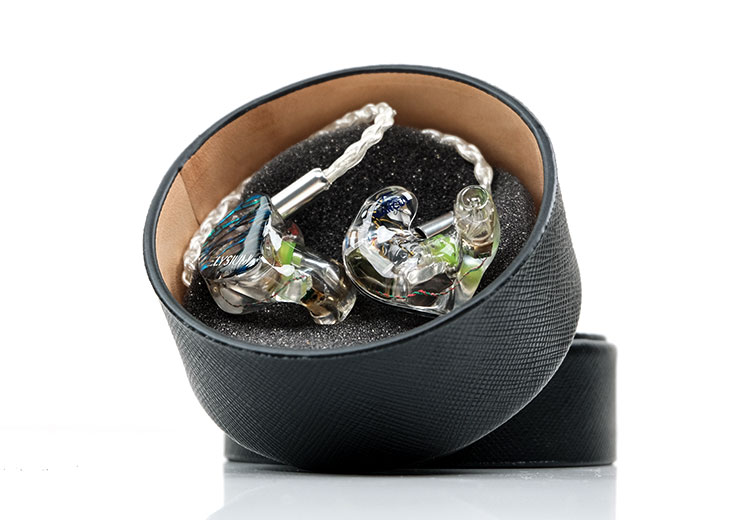 Aside from that, you get a 6.35mm gold-plated convert jack, cleaning brush and Vision Ears branded In-Ear cleaning fluid, which I might add, is for cleaning your monitors and not your ears so do not spray it in your ears trying to clean them. This fluid is for keeping your CIEM drivers nice and shiny. The 6.35mm converter might not get much use however with a 2.5mm terminated stock cable, would love to see a 4.4mm converter in there instead.
Design
This design is beautiful. At first, I came at Amin & Marcel with my own design thoughts (moribund such as they are), but in the end, they convinced me to try the house design or the one they use for all the ad work. Since I had it in my hand in Singapore I thought well yup this might be ok.
However, when I received it the other day and did the shots it just looks so damned interesting than what I had originally in mind for a design. You have color on the outside, color on the inside (HALC green) and a transparent shell to show off a collage of wiring colors on top of it. The top blue tiger-like stripes really do a top job of offsetting an otherwise monotone transparent shell and compliment the lime green effect of the HALC chamber behind it nicely.
On top of that, as always with Vision Ears, the finishing on the acrylic body is flawless. You will not find a bubble, scratch or big seam anywhere on the Elysium shell. They have also continued with the horn design principle for their nozzles with a triple bore variable-length tubing system a few mm back from the exit point of the main acrylic bore opening.
Cables & Connectors
The cable is an in-house design but it looks pretty good to me and at a much higher level than the older stock Plastics One type OFC 4-wire variants from a few years ago. This is a 28AWG 8-wire silver plated SPC wire insulated in 200d Kevlar for each wire and wrapped in a very pliant translucent PVC jacket.
It is thicker than your normal 4-wire but the 28AWG rating keeps it nice and light. The braiding is super tight and very flexible and so far, it has remained entirely memory free so zero kinks and tangles. This cable is also impressively microphonic free both below and above the splitter, as in zero noise.
The cable is finished with some complimentary chrome accented barrels for the jack and connectors. I particularly like the little flat round pill aluminum chrome finished splitter. It is pretty light, separates the wiring very well and looks fairly robust in the process.
Note, there is no L or R on the 0.78mm 2-pin connectors but rather a single groove on the left connector to ensure you channel match properly.
In The Ear
Of course, the final fit may vary depending on how good your ear impressions are from your local audiologist. I tend to use digital STL files and VE doe have a good set from me they did at CanJam on the day so I was confident they would nail it and nail it they did. The seal on these is a perfect balance between comfort and isolation with not too much pressure and a nice length to the nozzle so it stays deep and secure in the ear canal.
Vision ears have not used a vented dynamic driver design either so the level of passive isolation is bloody brilliant and perhaps the best I have had yet outside of the Phantom or Westone's ES80. These seem to be particularly good at isolating against low-frequency noise such as air com hum.
Initial Sound Impressions
Efficiency
Let's do the power thing first. The Elysium does need a bit more juice than the average monitor these days but it is nothing out of the ordinary when comparing to the likes of the Khan or Trinity. It sits comfortably in balanced mode low-gain on the Lotoo PAW Gold Touch at around 70.
Admittedly, the Touch is a fairly powerful DAP at 0.5W into a 32Ω load but since the Elysium comes with a balanced cable as stock I am going to presume for now that most will opt to use it with a balanced output of some kind.
Another point of reference is the Cayin N6ii where I found it was a comfortable listen on balanced low-gain around 50 and the Sony 1Z around 100-105 low-gain balanced. Weaker DAPs than the Sony 1Z might struggle to get the best level of current to the Elysium on initial impressions but we shall go into that in more detail in the main review.
Tuning
I love the tuning on the Elysium thus far. I was hugely impressed at CanJam and so far, the final product in the ear is just as good if not more so with the custom fitting.
This is a smooth sounding presentation with an outstanding midrange coherence and just the right amount of treble presence to add some headroom and sparkle. I would push this somewhere between the Trinity and Khan in terms of electrostatic treble presence. So far it got a slightly wet tone, excellent treble body and definitely not a jarring experience.
There is nothing weak sauce about the bass delivery on the Elysium with test tracks like V.3005 from Childish Gambino showing off excellent depth and extension. Though not dynamic driver levels it does have a slightly longer decay than some of the smaller multi-BA low-end configurations I have heard before. However, it still sounds punchy and fast for me with good body and warmth, just not a basshead experience.
The timbre is the magic on the Elysium for me. It has a wonderfully natural almost rich texture to that mid's dynamic driver with outstanding detail and coherence, especially for vocals. The harmonic balance is slightly to the euphonic side but only marginally so.
However, if you are expecting a forward treble or a super clean sound then the Elysium it not it. But if you love a natural, full-bodied and detailed vocal performance then the Elysium will deliver that for sure. Maybe that is why my initial reaction is so good right now; great vocal timbre keeps me very happy indeed.
Stay Tuned!
Right now, I am stoked with what I am hearing. Quite apart from the stunning packaging and design, the Elysium strongly suits my personal preferences in how I like my mids to sound. I suspect much of the magic is in that dynamic driver covering the midrange which is an unusual configuration for a hybrid but believe me it works, particularly for vocals.
The Elysium's euphony and pleasurable listen is not without a good fundamental and decent headroom either. So far, that slightly relaxed electrostatic tuning does not come at the price of higher-pitched percussion and synth presence or articulation and detail.
I think I am going to enjoy writing up the full review. Most likely I will likely do some discussion on a cable roll also because at Singapore I loved the performance with the Leonidas II Octa 8-wire cable. not that the stock cable isn't impressive either. It has some excellent dynamic range but I will be keen to see how much its performance can change with different cables. Stay Tuned!
ELYSIUM Specifications
Crossover: 3-way system
Frequency response = 20 -40 KHz, Up to 80 KHz in a free field test condition
Sensitivity @1KHz/1 mW = 105 dB SPL
Impedance @1KHz = 16.4Ω