This is an introduction to the new Hifiman TWS600, a new set of True Wireless in-ear monitors using Hifiman's Topology Diaphragm technology. It is priced at $199.
Disclaimer: The Hifiman TWS600 sent to us is a sample in exchange for our honest opinion. We thank the team at Hifiman for giving us this opportunity.
To read more about the Hifiman products we have previously reviewed on Headfonics click here.
Note, that this article follows our current scoring guidelines which you can read up on here.
Hifiman TWS600 Review
The driver inside the HIFIMAN TWS600 is good, very good indeed. It resists spitting out awful bloated bass rubbish you can sometimes get from lifestyle earphones. There is some sensitivity to the tuning though for me it will bias to those who like their vocals centered and upfront.
Well, I did not expect this at all, quite the surprise. Hifiman has come out with a True Wireless earphone product and fully embraced the consumer lifestyle market albeit with audiophile drivers still in tow.
Well, honestly I should have seen it coming with the recent release of their wireless LDAC-capable Ananda but I sort of expected a dongle-like gadget to stick on the end of their existing monitors.
Going all out with the latest TWS technology brings them into the commuting arena and an entirely different market.
Mind you, in a lot of the social media audiophile groups I do see a lot of questions on TWS-style earphones so it may well have more overlap than I originally anticipated. As for me, I am a TWS virgin. I hold zero expectations and will keep an open mind about them and what they are designed to do.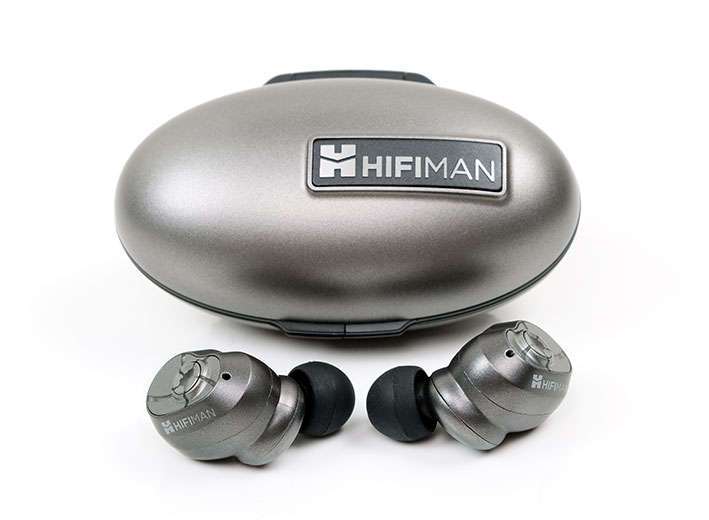 Tech Inside
True Wireless Technology
So, what is TWS all about then? The key difference between a TWS earphone and say a standard wireless BT earphone is the amount of wiring used. The TWS system such as the TWS600 uses none, zero, 'nada'. The standard BT earphone usually has a connecting wire between left and right, for example, the Westone Wx.
Apart from that, TWS uses the same Bluetooth protocol method for pairing and receiving a signal from any BT-compatible source such as a phone or DAP.
That also means all of the technology associated with wireless earphones is housed inside the earphones themselves since there is no wire. That includes the BT chip and amp stage, drivers, battery, and charging technology.
The Hifiman Angle
Of course, it's Hifiman so one of the unique selling points of the IPX4-rated TWS600 is that dynamic driver inside. In theory, it should be a cut above a lot of the more consumer-orientated offerings out there with the use of its unique Topology diaphragm driver and an advanced alloy coil.
There may well be a clue also in the use of the numbering, TWS600 meets RE600, and it has been pointed out to me that the signature of the TWS600 may not be that far off the RE2000 either.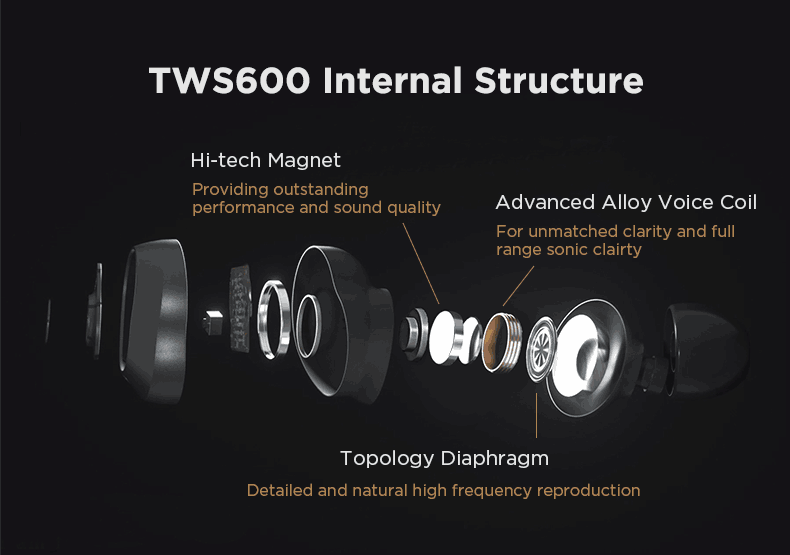 The Numbers
On paper, the performance markers seem very impressive indeed for the TWS600. I had a quick scan of some competing TWS systems out there and the battery life at 5.5 hours seems very impressive though not quite number 1.
The likes of the Samsung Galaxy Buds at 6 hours of playback and B&O's Beoplay E8 at 8 hours seem class-leading. However, it does seem to be much better than the Jabra Elite 65t's meager 2.5 hours and sneaks ahead of RHA's TrueConnect 5 hours of playback time.
The battery life in its handy charging case, (which I find rather cool by the way), is a massive 33 hours claimed. I am new to these clever little pod-like devices but that seems a lot longer than RHA's 20 hours, Jabra's 25 hours, and Optoma NuForce BE Free5's lowly 13.5 hours.
The Range
Hifiman has made a 'claim' of 150 feet for the maximum range or distance you can use the TWS600 before the signal breaks up. I put the claim in inverted commas because Hifiman did indeed take time out to verify that 150 feet with the video below.
Now, this video demo uses a wide-open uninterrupted space so any obstacles in the path or where your source for the BT signal is housed will have an effect. Still, 150ft is damn impressive when my regular BT devices tend to break up after about 10-30 feet depending on how many walls I have in between.
So far, our initial testing does indeed indicate that the distance I can get with the TWS600 will outstrip the various other wireless dongles and gadgets I have reviewed thus far including the likes of the BTR3 from FiiO and Earsonics Birdy.
I managed to get something like 2-3m more distance with two solid walls and an oak door from a Huawei P20 smartphone as a source and that is the furthest I have ever walked with a BT receiver with that amount of obstacles in the way of the original signal.
Unboxing
It is a fairly simple and small package but well put together and honestly, it doesn't need to be anything more than that at its SRP of $149. Slip off the outer black and red graphics sleeve and inside is a foam layer with the two TWS600 wireless units at the top and the charging pod/dock nestled at the bottom.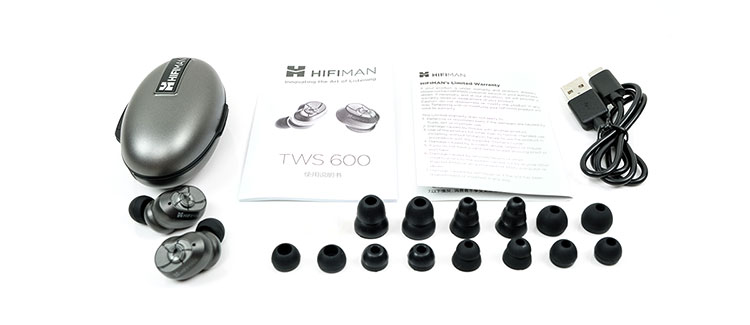 Accessories
Because this is universal in fitting you will find a fairly well-kitted-out tips bag underneath along with a charging cable for the dock. Manuals and warranty cards are also included and I do advise you to read the manual because setting up a set of TWS is not that obvious unless you have used them before.
You will find a lot of emphasis on bi and triple flange for the tip selection included with the TSW600. There is a single set of triple flange silicone tips in a large size and three pairs of bi-flange in small, medium, and large. Sadly, no foam tips come with the TWS600.
You also receive a set of single-bore silicone regular black tips in small medium and large with an additional spare pair of silicone single-bore medium tips on the drivers out of the box.
So far, I have found the triple flange to be the most pleasing in terms of isolation, and depth and so seems to be audibly better in terms of low-end response and clarity compared to the other supplied tips.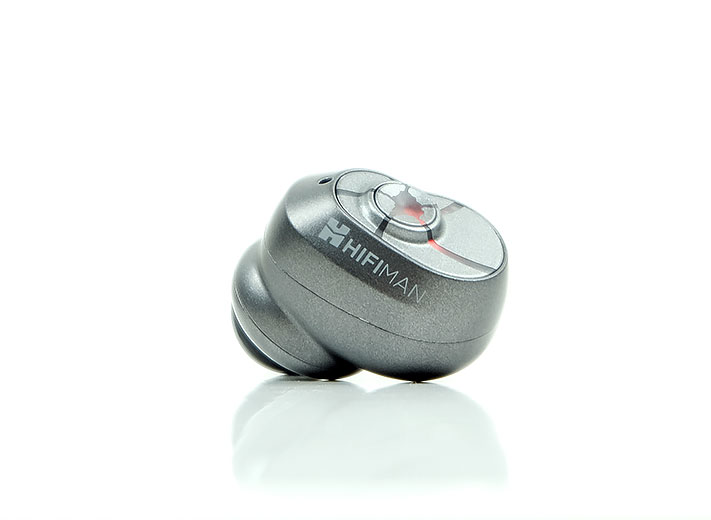 Design
I believe a lot of these TWS designs tend to be on the bulbous side given the amount of tech they have squeezed inside and the TWS600 is no different in that regard.
Having said that it is not that huge and maybe on par with the RE2000 dimensions is not a bit smaller. Each unit weighs 5.9g so a combined of nearly 12g is par for the course really for a set of universal monitors.
These are not constructed from any metal alloy hence their lightweight nature. Rather, the TWS600 housing is a 4-piece stiffened plastic build finished in a silver paint that resembles an anodized finish. It is also IPX4 rated which sweaty gym people and the outdoors types (not me!) will appreciate.
Overall this seems to be a smooth and comfortable design with generous curves but it is not a custom universal style design that audiophiles will be more accustomed to. That means tips do play a vital role here including stability since there are no hooks in the design or included in the accessories.
Lights!
Speaking of the faceplate you will notice a sort of splatter effect design going across it with the function button discreetly housed in the middle.
I honestly had no clue what it was until I turned them on and bingo, up came an array of lights inside the platter marks giving a rather colorful display, (red in the picture above). It's a cute touch and makes the whole color system for pairing and powering on or off rather easy to understand when in your hand.
Charging
At the rear is a set of gold-plated contacts. These are your charging points and there is a pair of these on each unit. You do have to sometimes think of them as individual units rather than a pair despite their ability to pair wirelessly.
Ideally, you need to charge these at the same time in the dock since they have their batteries. Uneven charging could lead to one of them dying on you prematurely.
Cradle
Oh cute, really cute. Ok so this is my first time with these docks but I am fascinated by how they work and what they do already. That's the nerd in me ticking overtime.
Quite apart from them being a sturdy egg-like carry case with nary a sharp corner to hurt yourself with, it also acts as a power bank for the TWS600 drivers to allow you to tap into a massive 33 hours of additional juice should you need it, (when fully charged).
How does it work? Simply drop in each driver with contacts facing down in the matching compartments and bingo, a red light starts flashing on the faceplates meaning your TWS600 is charging. Simply close the lid (or not depending) and leave it be for a few hours until the red turns to blue for a complete charge.
Of course, the charging dock needs a charge also like most power banks and the TWS600 version comes with a USB-C socket to the rear to allow you to do that. There is a battery display on the front of the tray to show you how much charge is left in the dock so you do not accidentally run out before your next driver charge.
Dock System
I must say the dock system works a charm. A carry case that allows you to have a 100% charged set of drivers out of the box every time is a Godsend. I have tried it overnight twice already without a hitch.
Just one thing though, the choice of tips will affect how smoothly you can work the dock. The long flange tips will not allow them to sit on their contacts at all. You do need to switch back to the shorter single-bore silicone tips so they can fit into the dock and you can close it without issue (magnet lock).
Pairing
Important to note that each unit can operate independently of each other in mono or as a paired set of stereo earphones. One of the key features of TWS and, well, no wires so how else can they work together?
Maybe I am a bit of a noob at these things but I found the pairing to each other a little bit fiddly compared to the very straightforward pairing on the BT source such as my phone.
I kept getting mono from the left until I figured out to press the right faceplate button after and heard the words "TWS connected", then music in stereo came forth. Sometimes I was pressing too long and turned the damn thing off which doesn't help.
I suspect I will be working this pairing sequence like a boss though by the time it comes to the main review.
In The Ear
There are no hooks for the TWS600 so the selection of tips does seem to play a distinct role in how far the TWS600 drivers sit out of your ear, (or go into it) and how secure they are.
Using the supplied single bore tips they feel fairly settled in my ear, however, compared to the triple flange they seem to lack a little bit of seal and audible performance in terms of soundstage and low-end response.
The larger bi-flange tips go very deep indeed and the TWS600 units do feel mighty secure in the ear, but again the performance was a little lacking for me in terms of clarity.
Once you switch to the triple flange tips then bingo! You get a fantastic seal, and a far superior level of clarity, a low-end response, and a superior seal.
The only caveat with the triple flange is the depth of insertion. They go very deep to almost the second bend so watch when you are pressing the control button on the faceplate in case you press them right onto your eardrums.
Sound Impressions
These are a decent set of drivers inside the TWS600 with a mid-forward tuning and yes, not too dissimilar to the RE600s. I honestly do not find this presentation overly dark or V-shaped. Signatures that I might have expected from these types of earphone offerings.
I happen to have a pair of the RE600s for the main review and on initial listening, with the triple flange tips, the only key differences are the level of dynamic range and top-end headroom.
Some of that can be explained by the lack of aptX and LDAC on the TWS600 so you only get AAC and SBC codec levels of resolution which can often dim the level of clarity and soundstaging depth.
The drivers do a pretty good job of delivering a mid-centric presentation with a fairly neutral sub-bass response, a slight mid-bass rise, and a fairly forward 1-3k presence region. Towards either end of the presentation, the TWS600 exhibits a bit of roll-off, so sub-100Hz the power isn't there.
The treble exhibits slightly less roll-off than I was expecting. Yes, it is a shade on the relaxed side beyond 5-7k but the lower treble does enough to offer a little bit of bite on the percussion and deliver a fairly believable acoustic or string timbre.
Vocals come to the fore on the TWS600 sounding strong, sibilant-free, and with an above-average body. Instrumental separation and a lack of bass bloat are just enough to give room for the vocals to shine despite the lower codec capabilities.
Our Verdict
I guess new tech interests me a lot thus it kind of reads like a review so, let it be so. That likely means we will have a much shorter follow-up and focus more on performance, sound quality, and anything new that pops up instead of going through some of the areas we covered here already.
And that is really where the cookie crumbles with gadgets like the HIFIMAN TWS600, performance. The level of resolution is a drop compared to the wired RE600, you just won't get the same dynamic range and absolute detail, especially without LDAC. True wireless has yet to match wired so it is not a TWS600 issue, but rather where the tech is today.
However, the driver inside the TWS600 is good, very good indeed. It resists spitting out awful bloated bass rubbish you can sometimes get from lifestyle earphones. There is some sensitivity to the tuning though for me it will bias to those who like their vocals centered and upfront.
Combined that was the fantastic signal strength and long battery life the TWS600 could be a very nice addition to the discerning gym-loving audiophile or someone who wants to go lite on their travels with zero wires.
HIFIMAN TWS600 Specifications
Bluetooth 5.0
Frequency response: 20Hz to 20kHz
Weight: 5.9g per side
Play Time: 5.5+33 hours
Charge Time (earphones): 1 hour
Charing time (Charging box): 1.5 hours
Standby Time: 110 hours
Transmission width: Up to 150m (depending on environmental conditions)