The ULTRASONE Edition 8 Ruthenium is a limited edition high-end S-Logic closed-back headphone made in Germany. It is priced at $1999.
Disclaimer: The ULTRASONE Edition 8 Ruthenium is a personal purchase by the reviewer and not a sample. We do thank the team at ULTRASONE for their continued support down through the years.
To read more about ULTRASONE products we reviewed on Headfonics click here.
Note, this review follows our new scoring guidelines for 2020 which you can read up on here.
ULTRASONE Edition 8 Ruthenium
I would just like to say that the ownership experience of Edition 8 really takes out the logic and price factor. The money you pay for does not go into sound altogether but with the Edition 8, you do buy sound that is much better than anything out there or cheaper than it in closed design headphones. 
When Edition 8 was announced for release a few months back, every headphone enthusiast out there was on the lookout for the latest flagship that Ultrasone planned to release.
It created this buzz of excitement for most – and rightfully so – $1500 will surely turn heads your way. Besides, if there is one company that I'd consider to be very skillful in their PR and marketing, it would be Ultrasone.
Whether or not the product is actually any good is another discussion altogether. For the Edition 8's though, you must admit, what really got us looking besides the price is the drop-dead mirror-like gloss finish of the Ruthenium coating!
So to begin, I am very much a closed and portable fan hence my purchases lie heavily on those two aspects. Edition 8 replaced both my M50 and Beyer DT150 and as of the moment, it's been the only closed headphone that has really tickled my fancy in terms of look, feel, comfort, panache, and most especially, sound.
I've paired it up with the HM602 from HifiMan. As for amps, I've tried it with the RSA Hornet, Pico, and a C&C XO2. I will discuss how the amps synergize with Edition 8 later. On to the sound.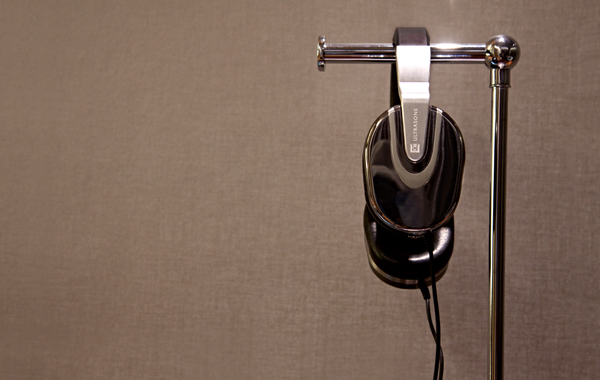 The Sound
Edition 8 is a really beautiful-sounding headphone – just beautiful. Its main strengths lie in the details and its lows. This headphone manages to have gorgeous bass – sweet, tight, smooth, and really low – but at the same time, the highs sound beautiful.
It is properly extended and highly detailed. It has the tingle and sparkle up there with detail. Transition can be both rapid and liquid-smooth depending on whatever is required. It's nowhere as fast as Omega 2 and nowhere near liquid as Audio Technica woodies but it can definitely bring it.
The weakness however lies in the lack of body and mids clearly perceived on vocals. This is made obvious even more by the aggressive highs of Edition 8. It needs a bit of help and taming in that aspect.
Edition 8 shines on acoustic, jazz, instrumentals, strings, wind, and classical. Just beautiful across the range. R&B is good but the intimacy of the voice loses out. Bass obviously is low and really reverberates when needed but tight and never overwhelming.
As far as a headphone is concerned, my most important observation is this: the Edition 8 are not a wow headphone when you first listen to it. It is the kind that you may not appreciate at the first audition.
Your ears will really need a few songs to settle and adjust to its presentation (I would assume largely due to the S-logic) before you begin to appreciate it. It's one of those phones that might not benefit from a/b switching comparisons.
When I auditioned this the first time, I really was not impressed side-by-side with the DT150 but after I stopped switching and gave it a one-hour run, it made the DT150 sound like some distant headphones that are completely in a much lower league.
Preferences
So if you love details, and bass and instrumentals, and acoustic and jazz, these are really good. Rock and alternative are too hot for me. R&B, vocals, soul.. needs help on the vocals aspect. Although being very easy to drive, it's not.
Yes, you can plug it into your iPod and it will sound nice but an amp makes a huge difference and an Apex Peak + Volcano is needed to bring out what these headphones can really do.
It needs a warm and sweet-sounding amp to tame the hot and aggressive highs but other than that, clarity and bass thump and depth and texture plus liquid-smooth transition and natural imaging are all big pluses for these gorgeous looking cans.
Design
As far as the ownership experience is concerned, there are a few annoyances. First, the LCD-2 and Beyer T1 come with beautiful wooden or metal cases while this comes with a not-nice-looking leather pouch packaged in a flimsy box. Whatever Madras goatskin they used, I still prefer a proper wooden or metal hard case.
Next, the mirror finish badly needs protection to which I am very lucky to have done. The Ethiopian lambskin; this is no scam at all. I am telling you straight without any exaggeration that you will not sweat with these leather pads. They may warm up a bit but not to a point of discomfort or at least one hour of listening.
It seals tight and sound is really isolated. The isolation is such that when you put it on, you hear the sound of silence like listening to a seashell. The lambskin is proper in beauty and function and comfort. Ultrasone even boasts that the acid from your sweat will in no way degrade the quality and finish of the leather.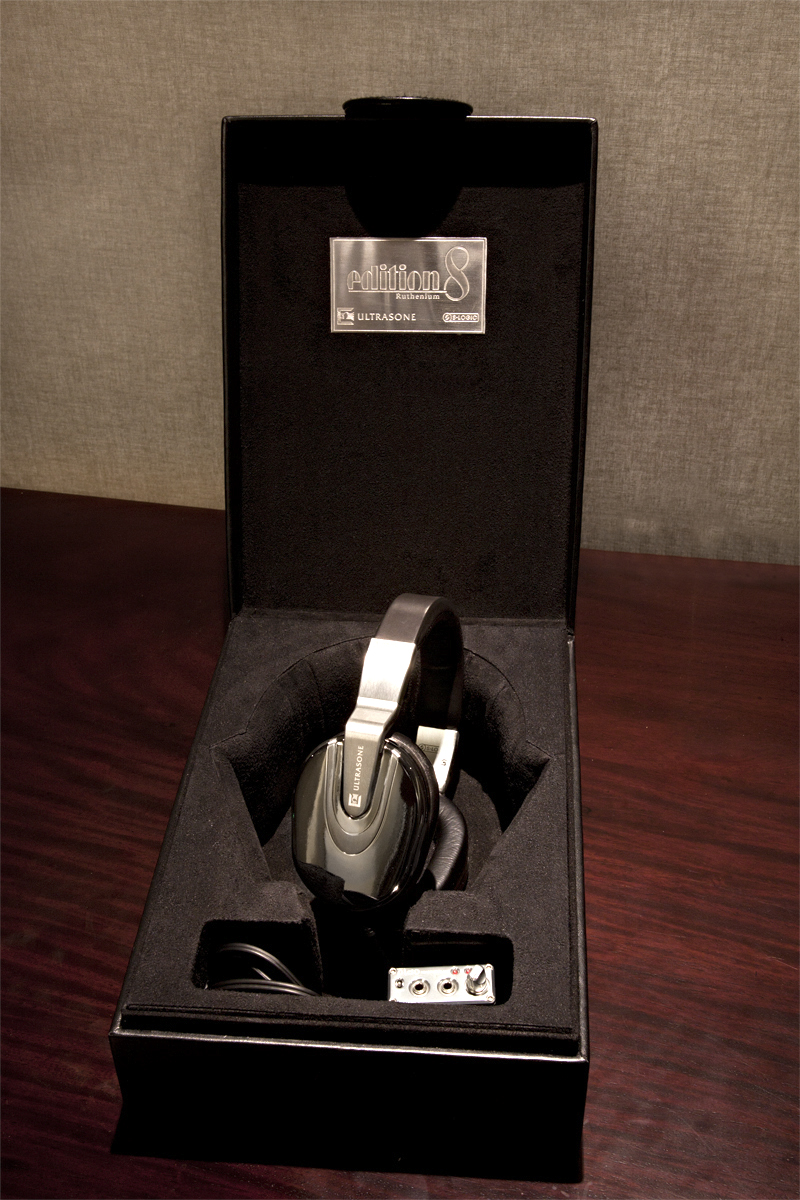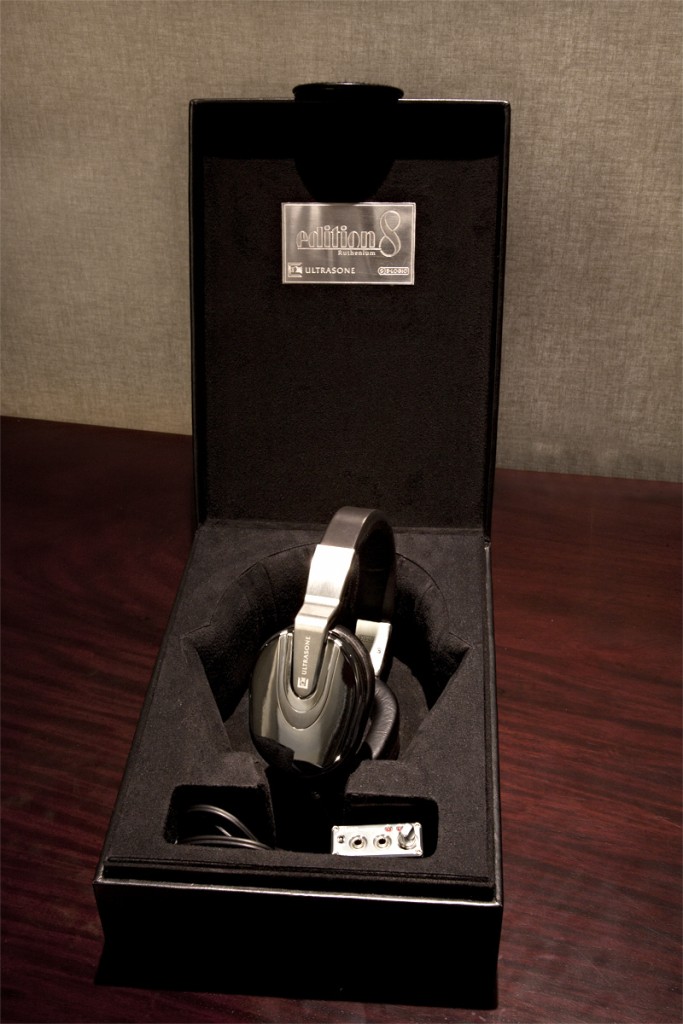 Pairing Amps
As for the amps, my favorite all-rounder with it would be the Pico just because of the way it supports the mids. The soundstage is not as intimate as the Hornet but also not as distant as some amps would be.
The imaging and the transparency of the Pico however are seriously top-notch. For rock music and for bass-heavy tracks, I prefer using the XO2 as it offers lows that neither the Pico nor any other amp I've heard, punchy lows that are deep, powerful, and clean.
And it never overpowers the highs and clarity of Edition 8. With the Hornet, beautiful as it may sound, the pairing is not perfect because of the way the Hornet shines on the highs. It further emphasizes the lack in the mids. The RSA house sound is there but perhaps the Mustang might be a better choice to help the mids.
As we speak, I am waiting for my TTVJ Slim from Todd and so that is going to be an exciting pair up.
Bottom Line
Now to the biggest question of is it worth the $1,500.00 asking? No.
You see, Edition 8 is something of an emotional purchase. You do not buy this if you are thinking money and worth and all. I know that is insane but there is no way to justify the asking price. The sound is not $1500.00 worth if you ask me.
Listening to the LCD2, I can tell you safely it is on another league above the Ed8. I even think that the LCD2 sound is at least $500 more than the Edition 8 sound. For $1,500, Ultrasone should at least give me a really scratch-proof finish and a hard case then it would be much more logical of a purchase.
As I said, it is far from perfect. In fact, it has a big flaw. Vocals happen to be one of the most important aspects of a song which the Edition 8 cannot properly produce but is effortless on the LCD2. It needs an amp that will add more body.
I think however that high-end phones have certain specialties so to speak and Edition 8 has those. As I said, the details are top-notch and I would love to hear a can with even better details but still having proper musicality and smooth transitions and thumping deep lows. Its sound presentation is smooth and liquid and beautiful.
For a closed phone, it sounds beautiful and light and breathes a lot of air. The bass and low mids are pure bliss. Effortless, deep, tight, clear and it kisses you. I am not kidding. It shines on these aspects.
Would I buy post Demo?
Would I still buy it after hearing it? Yes, I would because one, I am a fan of closed cans. Second, despite the shortcomings on the mids and vocals, it makes it up a long way with details, highs, lows, clarity, and smooth transitions. It has a hole in its armor and sure it's big but it's just one for me. I am sure other phones at this level will have at least one big hole as well if not more.
Which shortcomings you are willing to compromise on is where the personal preference comes in. And that is how you chose which top-end headphones you wish to invest in.
Third, did I mention the looks and build? This is proper handmade in Germany. The lambskin is beautiful in looks and touch and feel. The solid aluminum attaching the headband to the drivers are just proper high-end materials with high-end craftsmanship.
The Ruthenium-finish is drop-dead gorgeous. I have now heard some really good closed headphones and the Edition 8 still sounds better than all of them including the Denon D5000 and D7000 plus a few of the AT's. They all sound slightly less natural and less detailed against the Edition 8. Not to mention how the thump on these are still really nice and beautiful.
Our Verdict
I would just like to say that the ownership experience of Edition 8 really takes out the logic and price factor. The money you pay for does not go into sound altogether but with the Edition 8, you do buy sound that is much better than anything out there or cheaper than it in closed design headphones.
As I said, these are emotional purchases and I would only buy them if I had the money to spare and I won't be sacrificing monthly bills, or important investments. The listening experience is indeed rewarding, to say the least, but again, this really is very much your own capacity and willingness to spend.
My love affair with my Edition 8 is as such that I've tried my best to improve all those shortcomings that came with it and hopefully bring it that much closer to my idea of perfection. I've purchased different amps to suit different music genres I listen to and I've even gone as far as replicating the same leather hard case that comes with the Edition 8 LE.
Ultrasone Edition 8 Ruthenium Specifications
Driver tri-bass-tube titanium-plated
Driver size 40 mm
Frequency range 6 – 42.000 Hz
Weight (excl. cord) 260 g
Impedance 30 Ohm
Cable nondetachable USC Cord with 3,5 mm gold plated plug, cable length: 1,2 m (OFC Cable)
Principle Dynamic, closed
SPL 96 dB
Technology ULE-Technology (Ultra Low Emission) – MU Metal shielding