Our review of the Cambridge Audio Melomania 1+ which is a next-generation TWS featuring app integration, aptX, and up to 45 hours of battery life. It is priced at $139.
Disclaimer: This is a sample to us in exchange for our honest opinion. We thank the team at Cambridge Audio for giving us this opportunity.
To read more about Cambridge Audio products we have previously featured on Headfonics click here.
Note, that this article follows our latest scoring guidelines which you can read up on here.
Cambridge Audio Melomania 1+ Review
I receive everything I like with the Cambridge Audio Melomania 1+ which is why I suspect most other music enthusiasts like myself will enjoy it too.  For the price, it is a good value.  It does not aim too high, but it offers enough for me to consider it a win.
The Cambridge Audio Melomania 1+ is a $139 powerhouse of a TWS that is making serious waves in the community. I now understand why, after experiencing it for myself during this review phase.
The TWS field may have found a true stepping stone into real HiFi audio with this one, so I am, of course, extremely interested in seeing what Cambridge Audio can do in the near future.
For now, let us take a listen and see what the results stack up to be!
Design
The Melomania 1+ opted for a 5.8mm dynamic driver that has a graphene-enhanced diaphragm design. Due to this type of material's fantastic lightweight material they are immense strong durability.
Typically, graphene is not only rated at roughly 200x the strength of high carbon steel, but it is a material that conducts electricity more efficiently too.
Efficiency is the name of the game here with this type of driver. Indeed, the TWS is very efficient from a number's standpoint, but you will not really have to ever worry about properly driving it…because they are wireless, to begin with.
There is a ton of volume headroom right off my iPhone's Bluetooth output. My normal listening volume is actually less than 50% with my iPhone SE 2020 and Melomania 1+ combo. That means the internal power is plentiful.
Materials
The Melomania 1+ shares the same physical traits as the older Melomania TWS from not too long ago. We are greeted with a hard plastic shell with a metallic ring near the ear tip, which when removed will reveal a nice feeling metal nozzle and mesh grill.
Each TWS piece has a depressible click-button that will function as a power on, power off, and pairing toggle. These buttons are satisfying with a nice tactile sound to denote engaging the button, but more impressively, they do not wiggle in the slightest. Quality control seems excellent here, these are some good buttons!
The Melomania 1+ charging and storage case seems to be made out of the same material as most of the plastic TWS housing, complete with some blue LEDs that showcase how much battery life is currently available when the drivers are set inside their designated ports. It seems to also be the exact same case from the older and original Melomania 1 model.
Comfort
There is no getting around the large size of the shells, but despite that, I consider this a very comfortable TWS. I typically have a lot of fit issues with TWSs this large and it is why I prefer to stay on the smaller (or CIEM) side. But shockingly, they remain snug in my ear and I have absolutely no fit issues.
The experience for me is very nice, I do not have any seal issues until I am bouncing around on a bike. But otherwise, I have not had any issues when walking around outside. I have not had any seal issues whatsoever while inside and sitting in my listening room area. In fact, there was an entire 8-hour span from full charge to totally depleted where I did not touch them in my ear.
Repositioning is not at all a problem with any of the included tips. I swapped out for some other 3rd party foams, but I prefer the sound from the stock included tip selections. Typically, I do not swap out to foamies unless I know I am going to be biking or moving a lot.
When I use Comply foams tips, the bass experience is sullied and I vastly prefer the stock TWS sound, so I recommend sticking with them unless you are okay sacrificing some bass quality in exchange for a tighter, deeper seal.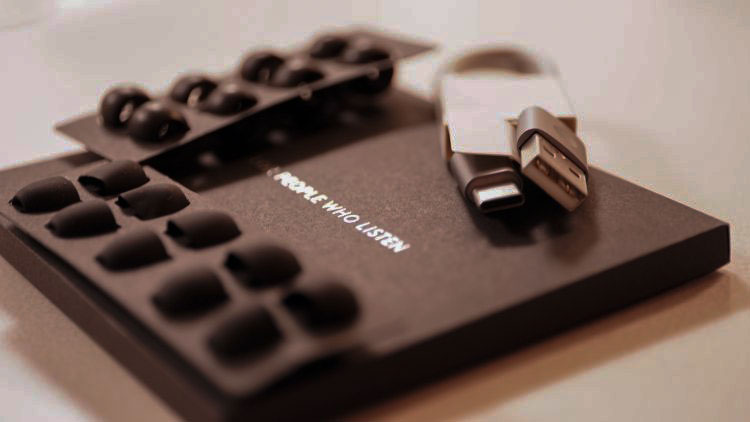 Isolation
The Melomania 1+ does not offer noise cancelation but what it does in terms of passive isolation, it does incredibly well. There have been plenty of times where I had to pull the TWS out of my ear to get a proper sense of what is going on around me. The passive isolation is excellent on this model and incredibly good for the price.
Summer is sort of here and I have been sitting outside each morning waiting for these birds to come back, so I can grumble at them and silently swear at them for being so loud. 5:15AM strikes and they teleport in. Like clockwork.
I typically like to sit outside with my expensive open-back headphone rig but sitting out there with this Melomania and its solid passive isolation prowess has been a true blessing. Today I win birds! The Melomania 1+ really drowns them out to nearly unnoticeable while music is on. I enjoy it a lot.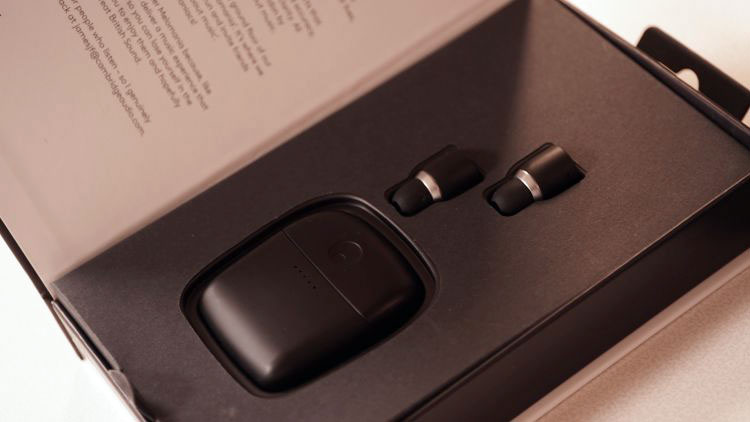 Packaging & Accessories
This Cambridge Audio Melomania 1+ comes with a standard cardboard box. Not much to boast over here, it opens from one side like a novel would, complete with some cut-out impressions for the TWS drivers and the case. When lifting up this panel, you are given the tip selection and a USB-C charging cable.
The included tip selections include:
4x Small Silicone tips
4x Medium Silicone tips (2 fitted)
4x Large Silicone tips
4x Medium Memory foam tips
4x Large Memory foam tips
As mentioned, I sometimes use my Comply 3rd party tips, but these come with their own memory foam tips that I find very nice as well. Despite all of that, I prefer the normal silicone medium-sized tips included in this package. Best overall fit for me, best sound, and best comfort for me personally.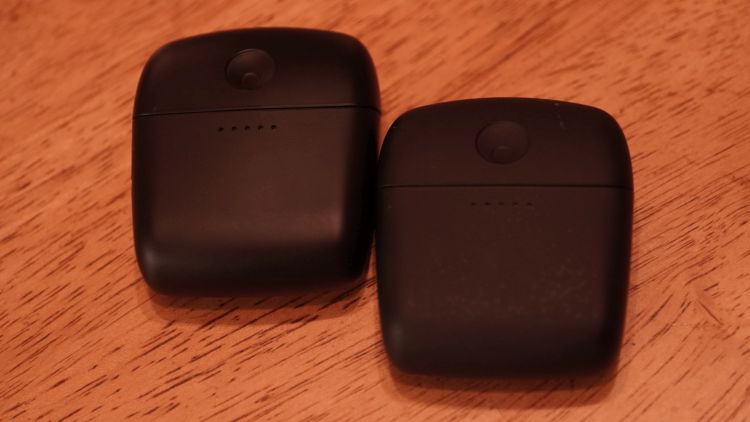 Battery Life
Cambridge Audio ranks the Melomania 1+ at 9 hours of continuous usage and I have found that my test results are just a bit shy of that. Via Spotify, I have less battery life, reaching only 6.5 hours or so on average.
However, testing through Hiby music apps or any dedicated non-streaming sources (such as my Hidizs AP80 Pro) I was able to hit and exceed that 7-hour mark (7 hours 21 minutes for me when I heard the battery and power off warning).
For me, I consider this a great battery life offering. Considering the unit is USB-C charge is fast and that it can be fully charged in 120 minutes, I can tote a small portable battery when I am out and about with this and be incredibly happy.
The time it takes me to have lunch or dinner and run an errand or two is more than enough time to charge up with a portable battery and get at least a few extra hours.
Wireless Performance
Latency
The Melomania 1+'s latency performance is quite solid for video/audio sync. Most people who pair to a laptop for YouTube should know this problem well, where the audio will play with a slight delay vs what is actually appearing on screen.
Some source players do not mesh with bad latency Bluetooth devices. This is a big problem for me, but thankfully, the Melomania 1+ exudes no problems. Bluetooth 5.0 and aptX are both so advanced now that we do not have to worry much.
The Qualcomm chip + their Kimbala DSP support have been explicitly tailored just for this reason, to reduce the delay period between audio and visual cues in the source.
Talk to me 5+ years ago on this issue and I would be pretty upset and still living with some latency delay. Fast forward to today and we are now in a great new world of technology where latency is no longer a problem.
Wireless Range
I am rocking about 50 ft with no walls between myself and my source before the audio cuts out just a smidgen now and then. You will probably hear a small drop for a split second that will not appear again for minutes at a time. Cambridge Audio says the Melomania 1+ will work normally up to 90 feet away and that is somewhat close to what I have found in my testing.
I can surely clear the entire condo I live in, which itself is about 50ft wide (the entire building) and the walls are likely what is causing the flux in connection.
So, left my phone at the front door and walked in a straight line away from it, I made it well over 25 steps (about a 60 ft distance) before the connection started to drop. Another 15 and it cut out entirely which is just about that 90ft marker.
Beyond this, the connection never cut out while I was in my home. After nearly 100 hours of testing, it never once dropped connection, or cut out, or glitched. That is quite rare. Stability is excellent on this set.
App Controls & Features
If you head over to the Google Play or iOS app store, you can download the Melomania application and unlock a few nice features for the product. Custom EQ is certainly the highlight of the experience, but what I find impressive here is the amount of control the Melomania 1+ retains when boosting to basshead levels of low end.
You get a Hub page in-app, which allows you to see the current charge level of each side of the Melomania 1+ drivers.
Also, you get a nifty tracking app that will geolocate the last position you used the product in, should you ever lose the Melomania 1+ and perhaps drive away. The app will let you know where the last point of usage was so you can at least pinpoint what parking lot you lost them in.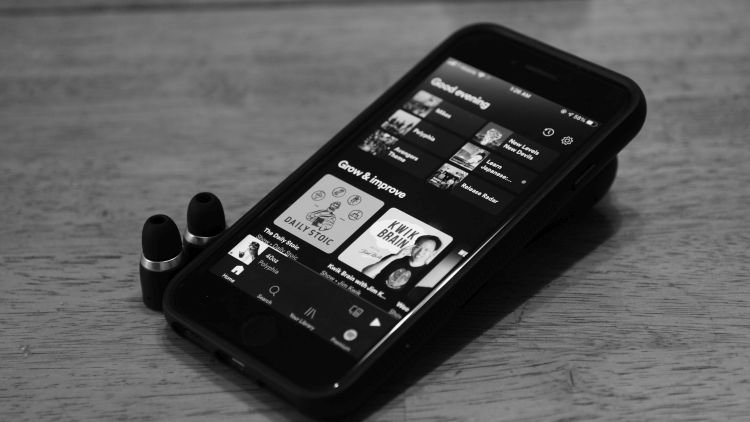 Sound Impressions
Bass
You can crank up the bass in that mobile app EQ and have some serious fun with these bad boys. No, they are not bass head level in quantity, but they absolutely exceed what I consider average bass quantity even in stock un-EQ'ed form.
With no EQ active, the stock low end is plentiful and enjoyable. Having good depth and rumble is always nice, but do not worry if you are thinking that ruins any balanced signature. It certainly does not. The stock amount of low end is more than enjoyable and certainly not at all lacking.
Boosting up to get more in music apps, or with the Cambridge Melomania hub application, you can achieve what I consider the first step into basshead territory. But I feel like that is the absolute limitation before control is lost. At +6dB, I start to notice some shake.
I would not recommend boosting past that point. If you can add +5dB to an already plentiful low end and still remain in control, you have got a great bass response experience headphone. For $139, the overall purity factor is genuinely nice for the TWS market, one of the better I have tested in the price range, for sure.
Mids and Vocals
I do consider this a forward-sounding TWS however, the midrange bloom effect is relatively nonexistent. That is a good thing, it makes the TWS sound flat and smooth, but a bit forward in position.
The plentiful bass does not offset the midrange or bleed into it too much. At $139, I expect there to be some and there certainly is a bit, but honestly, I tend not to notice it until I use a bass-heavy EQ.
The midrange bleed effect from the low end is not a problem, but I mention this is a problem in general with most TWSs in this tier. Thankfully, the Melomania 1+ does not have this issue and can power through even with a few extra dBs of low end and now ruin the vocal experience. For this price, the purity factor is more than justified.
That vocal experience is quite a thick feeling for a TWS of this nature. I expected it to sound much thinner, less vibrant, as I am used to TWS offering that thinner sound in the midrange in this pricing category. But the Melomania 1+ once again turns the tables on me and instead offers a solid, weighted, and thick sound. If you like heft (I do) then you will really love this TWS.
Treble
Cambridge Audio is known for excellent sparkle, at least in my studies and through my own audio circles. I felt like the top end of the last few products from them offered a bit of sparkle up top, but also a more relaxed physicality and reduced bite factor.
This is the first TWS I have heard from them and I received the original Melomania that Marcus reviewed a while back for comparison. So, to me, this is new territory. A new house sound to experience!
The Melomania 1+ is tame on the top side, I agree with Marcus's assessment on treble peaking, and the area shines through. To me and my ear, that sparkle factor is very yummy at times. However, and again, at the same time, it is not physically impacting as most $100-150ish headphones tend to be.
The treble quality factor is genuinely nice for the price and something I can recommend to those who have a $150 Bluetooth TWS budget, who want a smooth impact treble experience, but also one that has a good sense of presence and tonal engagement factor.
More and more, to my delight, headphone makers produce designs that are ending the harsh impact and icy treble often seen in "budget" tier products.
Staging
Hey! Hang on a second, the staging factor is rather good on this set too? I think so. I think the tweaking they have done on this Melomania 1+ model over the original 1 model is apparently most in the upper mids and treble area, which helps air out the Melomania 1+ a bit more than the original.
Overall, the height and width factors are fine, as is the depth of field. It is not an imaging titan but as others have said, above average is certainly something I can get behind here.
The imaging experience lacks nothing to my ear, a full and coherent shape tends to offer that type of sound field so this is no surprise. The depth factor is what I would consider the weak link.
I feel the Melomania 1+ sounds relatively common in terms of IEMs in general for under $150, but then again, this is a Bluetooth pick and not a wired one. Typically, wireless buds like this do not have grandiose imaging experiences and amazing realistic factors. For $139, I have no complaints. The imaging experience is still more than good in my book.
EQ
Due to the excellent EQ function on the Melomania app, you can really jive with a lot of different genres. So too, even with HiBy's MSEB function in their music app. The Melomania 1+ is a genre master, the vocals are not overly bloomed or in your face, the bass is not overpowered or muddy, it remains pure enough to be bumped or dropped and will still retain good control.
It handles old-style rock and vintage recordings in a sophisticated manner. I enjoy the tame treble impact, but I also enjoy the physical quantity of treble and that nice sparkle factor.
The EQ can do most applications well, from casual gaming to Podcasts, to YouTube, and long hours of Spotify usage. It does not seem to matter and since they are wireless, they will not sound different based on the source player, but rather the power of the source's EQ function in the music applications you are using.
Select Comparisons
Melomania 1
A little birdy told me the Melomania 1+ is just a little tweaked beyond the original Melomania 1with aptX and I can hear the improvement, without a shadow of a doubt. I hear it most up in the treble areas.
Where the older model felt much flatter, less engaging, I feel the newer Melomania 1+ model offers me more smoothness factor. I can easily tell this is happening on certain tracks I love with screaming guitars, such as Eric Johnson's Cliffs of Dover.
The Melomania 1+ model feels tonally smoother. The original feels more physically engaging. Otherwise, I do not really notice much of a difference, if any at all, between these two.
AUSOUNDS Stream
For $149, just a bit more than the Melomania 1+, you can get a solid downgrade in overall sound quality while paying just a tad bit more. I regard the Melomania 1+ as a noticeably purer sounding and cleaner experience than the slightly more expensive Stream from AUSOUNDS.
The biggest difference here is bass quality, the Melomania 1+ simply has much better bass purity. However, the AUSOUNDS STREAM is more fun, more physically tactile, more engaging, and interesting vs the Melomania's 1+'s more mellow sound.
AUKEY EP-T10
The EP-T10 is of a different styling but still in the same general pricing tier when it was originally released for $109.
Generally, the AUKEY is much thinner sounding everywhere, more razor-like on the treble, and less prone to what I would consider a thick and meaty sound signature. Is it purer in that regard vs the Melomania 1+. However, the bass on the EP-T10 dips much, much lower and is audibly more responsive while being equally as pure as the Melomania 1+
The EP-T10 is less boomy and thick but reaches much lower. The Melomania 1+ is thicker, less able to showcase bass notes that are extremely low.
Our Verdict
If you know me, then you should already be aware of how I feel about products that sound like this Melomania 1+. I love smooth, tame treble but with a bit of sparkle factor. I like a thicker sound signature than what most would consider a clinical tonality headphone would offer. I like the good battery life and an easy connection that is stress-free, also that does not cut out for no reason.
I receive everything I like with the Melomania 1+ which is why I suspect most other music enthusiasts like myself will enjoy it too. For the price, it is a good value. It does not aim too high, but it offers enough for me to consider it a win. I enjoyed it subjectively and will likely continue to use it as my primary TWS.
Cambridge Audio Melomania 1+ Specifications
BLUETOOTH VERSION Bluetooth 5.0, Class 2
PROCESSOR Triple-core Processor Architecture: Dual-core 32-bit processor application subsystem

Qualcomm QCC3026 Single-core 120Mhz Kalimba DSP audio subsystem

SUPPORTED PROFILES A2DP, AVRCP, HSP, HFP
SUPPORTED CODECS aptX™, AAC, SBC
LATENCY Low (although codec and streaming service dependent)
DRIVER 5.8mm Dynamic with Graphene-enhanced Diaphragm
FREQUENCY RESPONSE (EARBUDS) 20Hz – 20kHz
TOTAL HARMONIC DISTORTION <0.04% @1kHz 1mW
BATTERY PLAYTIME (EARBUDS) Up to 9 Hours (Continuous A2DP Playback) *In Low Power mode
BATTERY PLAYTIME (TOTAL) Up to 50 Hours (9 + 41) *In Low Power mode
CHARGING TIME Approx. 120mins (0%to 100%)
POWER SUPPLY 5V, 500 mA (or greater): USB charging (USB-C cable supplied)
MICROPHONE MEMS with cVc™ Noise Cancellation
MICROPHONE SENSITIVITY 96dB SPL at 1kHz
FREQUENCY RESPONSE (MICROPHONE) 100 Hz to 8 kHz
VOICE CONTROL Yes: Siri (iOS) / Google Assistant (Android)
IPX RATING IPX5 (Water Splash Resistant (Earbuds & Case))
OPERATING TEMPERATURE 0°C to +40°C / 32°F – 104°F
OPERATING RELATIVE HUMIDITY 10 to 80%, Non-condensing
DIMENSIONS Charging case: 59 x 50 x 22mm; Earphones: 27 x 15mm
WEIGHT Earbud: 4.6g each (9.2g both Earbuds); Charging Case: 37g; Total: 46.2g
COLOUR/FINISH Black: Matte UV lacquer, White: Matte UV lacquer