The Linear Tube Audio MZ2 ZOTL is a high-end desktop headphone amplifier using a ZOTL tube configuration. It is priced from $1235.
Disclaimer: The Linear Tube Audio MZ2 ZOTL sent to us for the purposes of this review is a loan sample and was returned after this review. Thank you to Linear Tube Audio for giving us this opportunity.
To read more about amplifier reviews on Headfonics click here.
Linear Tube Audio MZ2 ZOTL
LTA has done a good job in improving the previous amplifier and it is refreshing to see another company originating from DIY, diving into the realm of headphone amplifiers. The MZ2S is a good pick for those who are looking for something of value while being flexible in finding the right matching for it.
Linear Tube Audio started in 2015 as the first company to successfully manufacture David Berning's complex amplifier designs.
David Berning is considered one of the best amplifier designers today while being a formally trained physicist by trade. He has over decades of experience as an amplifier designer and he is responsible for the creation of the ZOTL (Zero hysteresis Output Transformer-Less) architecture in 1996.
The ZOTL design technology seeks to find a solution in eliminating audio output transformers as they impede on an amplifier's performance. Output transformers on tube amplifiers are known to produce distortion that causes a loss of detail in the music. The ZOTL technology gives the user the best of both worlds by providing the natural tone of tubes while maintaining detail.
Unlike other tube amplifiers as well, the ZOTL improves tube life by running it at a lower current which allows for longevity and reliability for the amplifier. In its purest sense, the ZOTL aims to exceed the traditional shortcoming of OTL amplifiers without any compromise.
The founder Linear Tube Audio, Mark Schneider, also comes with a strong electrical engineering background with an extensive engineering degree and a genuine passion for DIY audio products.
The Company
The company is based just outside of Washington, DC, with each amplifier built in-house with the guidance of David Berning's meticulous input for the amplifiers produced that are fit to his standards.
While being a young company, Linear Tube Audio comes into the audiophile market with a splash with its collection of amplifiers, including the MicroZOTL 2.0. This amplifier is Mark's iteration of David's original MicroZOTL and LTA's premier product.
Upgrades
Ever since the release of the MicroZOTL 2.0, LTA has made several changes with small iterations, such as components or casing, while staying faithful to David's original schematic.
The company had added a power supply along with the addition of 12SN7 tubes to further the upgrades and streamline the design scheme effectively. This revision is now defined as the MZ2 that overall enhances the MicroZOTL 2.0's sound.
The immense amount of improvement that the LTA team brought into this amplifier, had completely transformed the amplifier to a feature-rich system with minimal flaws. The improvement are listed as follows:
(1) improved wiring scheme lowers the noise floor;
(2) high-quality DC cable coming from the power supply to the amplifier portion to improve dynamics;
(3) better vibration damping feet to avoid unnecessary noise;
(4) improved preamplifier output from the original; (5) three input selections now being standard with the amplifier.
All these factors permit a greater sense of engagement in the music that allows the amplifier and the gear to disappear completely.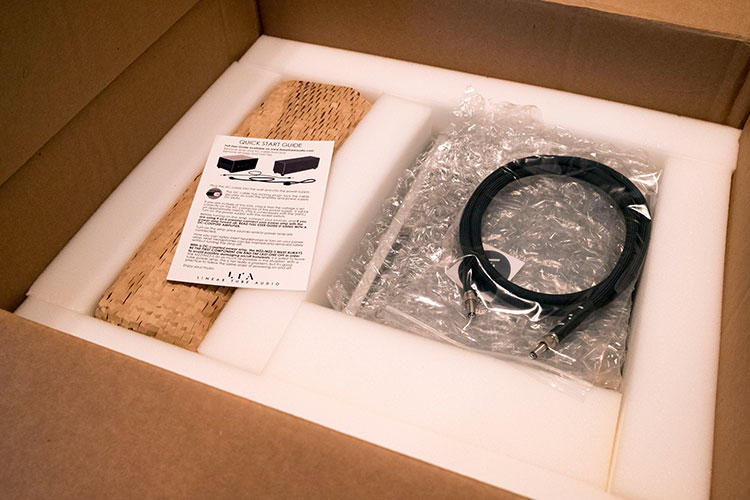 Design
The box contains a user manual, an opening key for the amplifier and cables required to connect the power supply to the amplifier, an apple remote and the outlet cable. Overall, the packaging used for shipping is very well organized with minimal wasted space.
At the back of the amplifier, there are 3 single-ended inputs which allows 3 DACs or preamplifiers to be connected. There is also a single-ended preamplifier output along with two pairs of speaker taps.
In front, a single ¼" jack exists with an input selector knob for the 3 inputs and a power button which is also dependent on the external power supply. The external supply does have its own power button with two cables coming out of it, one is for the AC power and the other for the amplifier.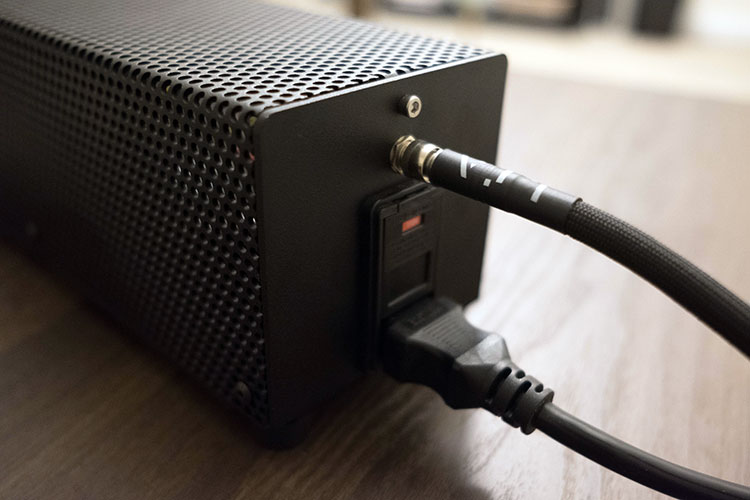 Materials
Design-wise, the amplifier is very well built with thick-cut metal panels for each of its sides, and this can also be said with the power supply unit. Both units are of adequate weight that gives the user confidence in its build quality. The potentiometer is very smooth to the touch and it is a solid, well-thought-out design overall.
I found the plexiglass cover for the top is a great addition since it made any potential tube swapping a breeze for users while still maintaining an aesthetically pleasing design by being able to see the inside. The amplifier's buttons and input knobs are also seen to be methodically chosen with its high-quality parts that are also very aesthetically pleasing.
Select Features and functionality
External power supply
Drive high-efficiency speakers (95db efficiency or higher) to adequate volume.
Transparent cover
3 selectable inputs
Class A preamplifier output
One year warranty including tubes (international pays to ship)
All information above was taken from the LTA website with features abbreviated. Please refer to the manufacturer's website for full information.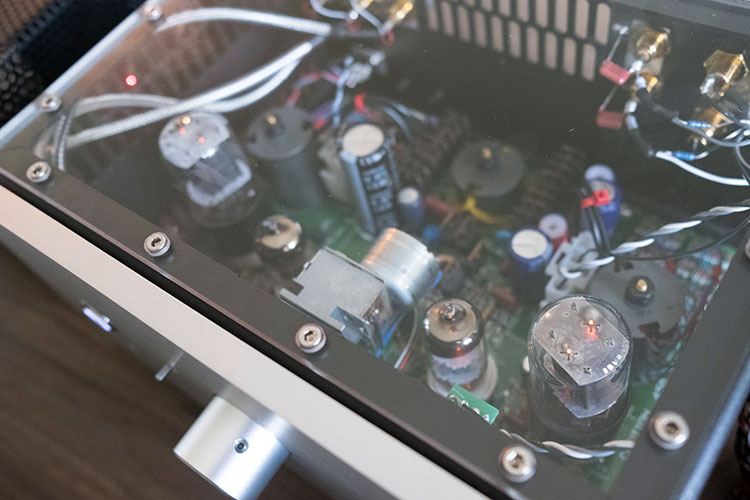 Sound Impressions
Tonality & Presentation
This amplifier's sound reminds me of the width of a medium-sized music hall, with a crowd of around 100 people fitting on it. There is an adequate amount of air that doesn't make it sound too congested or enclosed with a good amount of detail.
This means that the amplifier is good when it comes to intimacy for recordings and I particularly enjoyed listening to jazz artists such as Sarah Vaughn as if I was transported to a blues bar in the middle of a big city with only a few special patrons invited to it.
Synergy
I found the amplifier a good match to my laid-back Yggdrasil, which gives sound great authority with upbeat songs. Control on this amplifier is effortless although I would not say that the decay of it is the quickest. Nonetheless, it's enough to warrant something like the HD800 enough body.
As for the sound signature, this amplifier is slightly bass boosted with the HD800 with its midrange being forward. The details are not held back, even with an LCD-4 which I suspect is because it is responsive of any DAC changes.
Transparency
There is a good amount of transparency out of the entire source and this is tried and true with my former chains of the Yggdrasil > Master9 > HD800 or Yggdrasil > SRM-717 > SR007mk1.
I feel that it is important to find a DAC that will match this amplifier, perhaps something detailed in the delta-sigma digital spectrum and maybe avoiding euphoric and warm amplifiers like the Schiit Gungnir Multibit. This amplifier would shine with something that can pony up a little bit more detail.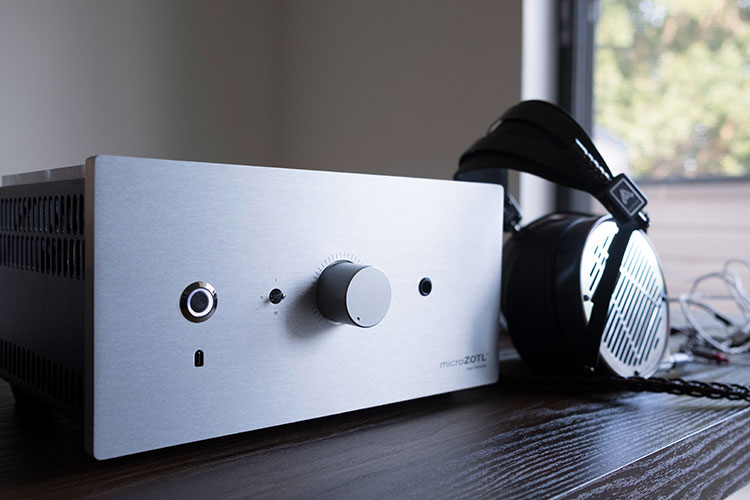 Matchability
The MZ2-S can drive the Audeze LCD-4(a 200-ohm impedance) headphone at around 12-1 o'clock, which I found was sufficient enough for proper listening. Note that loudness may not equal drivability for some headphones and it really does need a powerful amplifier to hear these differences properly but I found that this amplifier is good enough for the job at the bare minimum.
The LCD-4 can be a very difficult amplifier to pair with due to its impedance and sensitivity requirements but I feel like if someone needs an all in one amplifier for headphones and speakers, then the MZ2-S will do.
When paired with the HD800, I found the sound signature slightly more forward than what I am used to but I would allude it to hearing a musician with a louder than usual microphone in a performance. I feel like it works in quite a few occasions when it comes to engaged listening.
Value for the money
I think LTA has done a magnificent job in giving us an all-in-one unit that has several useful features. I did not have any speakers to test it with but I am delighted with it being an option if I ever do own some in the future with this amplifier. For someone who is looking for an all-in-one solution, I find the MZ2S being very good value for the money.
The build sleek and solid which enforces LTA's careful attention to detail and I very much enjoy the silver finish that it has. The caveat in owning this amplifier is to find a good DAC to match this with to get the optimal sound that a user may be looking for. This may mean squeezing out the last 10-15% of the performance chain but often, it can be worth going that extra mile.
Our Verdict
I enjoyed my time with this amplifier and I very much like the fact that it is feature-packed. Personally, I find that 3 inputs are more than enough for me but it is useful for those who own multiple DACs or units. The speaker taps are also a very good feature to have for added upgradability.
LTA has done a good job in improving the previous amplifier and it is refreshing to see another company originating from DIY, diving into the realm of headphone amplifiers. The MZ2S is a good pick for those who are looking for something of value while being flexible in finding the right matching for it.
Linear Tube Audio MZ2 ZOTL Specifications
Amplifier class: Push-pull Class A, no feedback
Sensitivity: 0.6V RMS [full output]
Output impedance: (measured @ 0.5A, 60 Hz) 2 ohms
Input impedance: 50k
Power Supply Input: Auto-switching 100V / 120V / 220 / 240V operation or linear supply user-switchable between 110/120 and 220/240 (contact us if in need of a 100V linear supply)
Power Supply Output: 12VDC 2.5 amps
Hum and noise: minimum 60mV RMS or 90dB below full output (20Hz-20kHz)
Power consumption from ac power source: 33W
Power output: with 4-ohm load: 1W, 1% THD, with 14-ohm load: 0.5W, 1% THD
Channel separation: (4-ohm loads) 46dB, 100Hz-10kHz, (14-ohm loads): 54 dB, 100Hz-10kHz
Frequency response full power: (4-ohm load) +0, -1dB 10Hz-20kHz, (14-ohm load): +0, -1dB 5Hz-50kHz,
Voltage gain: (4-ohm load): 10.3dB, (14-ohm load): 12.4dB
Size: amp: 9 1/2 inches (24.1 cm)wide, 4 3/4 inches (12.0 cm) tall, 7 7/8 inches (19.7 cm) deep (including connectors) linear power supply: 12″ (30.48 cm) x 3.25″ (8.26 cm) x 4.25″ (10.8 cm)
Net weight: with switching supply: 5.35 lbs (2.5 kg) – amplifier and external power supply) with linear supply: 8.94 lbs (4.1 kg) – amplifier and external power supply)
Finish: Aluminum case w/ lexan top
Tube complement per channel: 12AT7/6201 input, 6SN7 or 12SN7 output