In mid-2014 we first got wind of a new series of budget-busting 'do it all' audio DAC/amps from Sound Blaster and luckily we were able to review the Sound Blaster E1 and E3. Whilst not being totally blown away by their sound signature we thought the price point and feature set of both the E3 and E1 were extremely competitive as gadget packages for gamers and casual listeners. Both Raoul and I still felt at the time that FiiO still had the edge when it came to pure sound performance in their own budget DAC/amp range but Creative had somehow pushed the envelope when it came to just pure 'features per buck' managing to throw in Bluetooth (aptX technology), mic, dual headphone outputs, an amp with a huge battery life, a DAC for the PC and a decent bit of software for both Mac and PC's for using it all.
It was almost as if Creative was testing the waters for how both the technology and the position of the E range would be received because just before Christmas the big kahuna of the E series showed it's rather handsome head in the shape of the Sound Blaster E5 and could be seen as a genuine crack at the audiophile market whilst at the same time holding, and adding onto, the full spectrum of features that we first caught a glimpse of in the Sound Blaster E3 and E1. Priced at $199 it is also incredibly competitive and positions the Sound Blaster E5 just above the FiiO range of the E12a and the feature-rich E18 as well as power amps with added features such as the Cayin C5. Only the new Ibasso D Zero MK2 at around $129 comes in far cheaper in terms of price to features in my estimation.
What you get
Poignant words because what you get with the Sound Blaster E5 is rather decent in terms of package, accessories but 'Tardis' like in features. From the offset, the external packaging is classic Creative with a ton of unique selling points all over the vividly colored carton exterior. However slide that carton off and you get a much more austere clean package presentation more reminiscent of the Astell & Kern experience; all toned down, plain black and simple.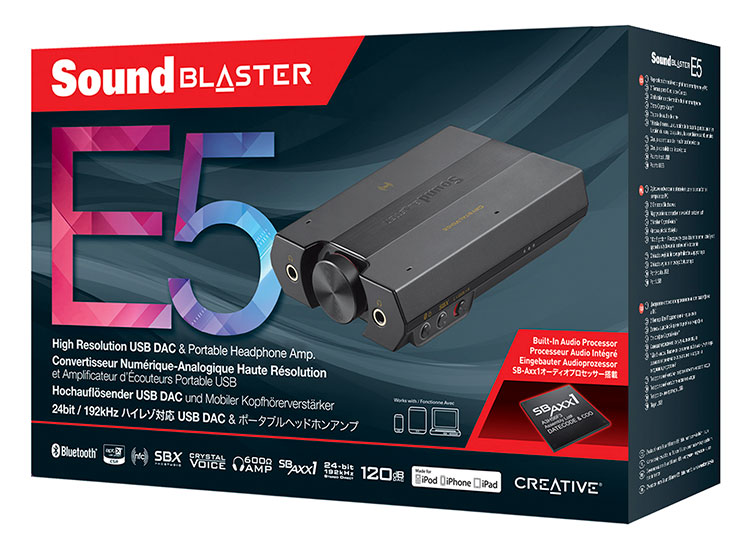 Open it up and the Sound Blaster E5 itself is placed front and central straddling a faux suede contoured top layer and underneath that layer comes a pretty decent list of accessories including:
A micro USB Cable (in flashy red and black)
Desk Stand (this I like a lot)
2x Elastic Band (with Creative's branding)
Mini TOSLINK cable (thin but small form factor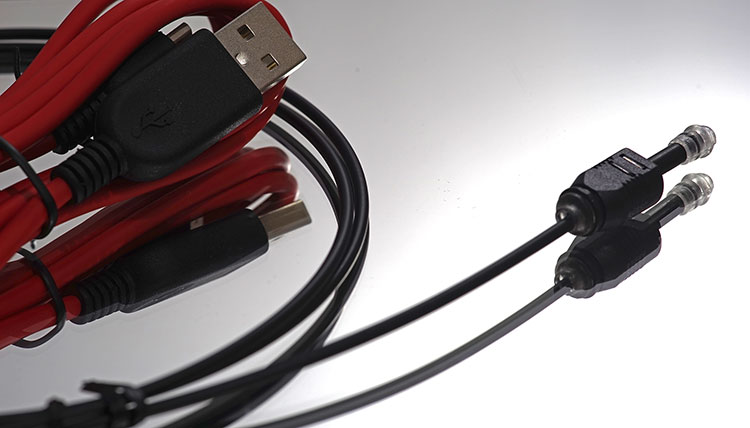 The USB cable and bands is pretty much standard for amp packages these days but kudos for giving the USB cable a splash of red and keeping the color scheme all Creative. The optical cable is a nice bonus. Not too many will throw in a decent optical cable. Currently, the Aurender Flow came packaged with one which we are reviewing also and despite it being rather a bit more high end than the Creative one, the Creative cable is lighter and smaller and better for on the go. I still would love to see one more optical short cable around 5cm just for pure portability with say an AK series DAP but otherwise no complaints.
The funky little desktop stand though had me in raptures. Sad really that things like that can move a grown man but it occurred to me that most simply throw in a few blister pads for feet and call it a day but Creative actually came out with a rather useful little stand and holding device that is more than just ornamental. The stand itself is a fairly rigid and sturdy plastic with a gold plated metal threaded mount on the side.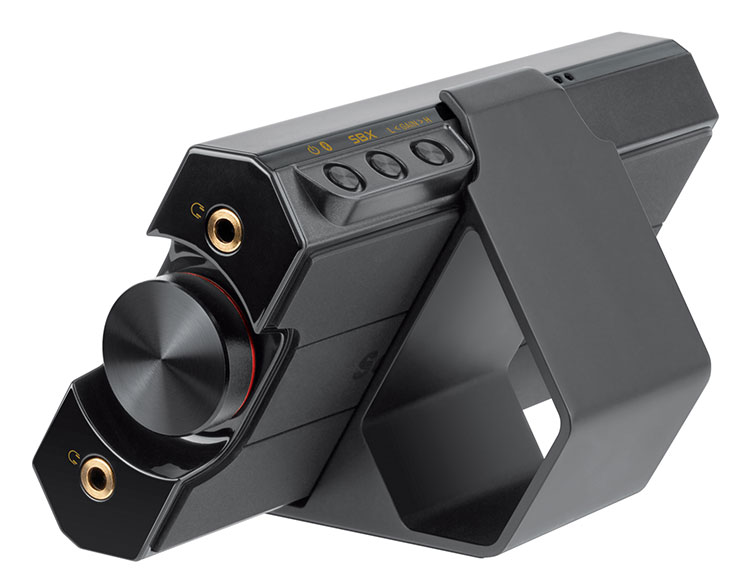 Not only does it negate the need to stick yet another set of 3M blister pads on the base and gum up the E5 rather well-designed exterior but it does also come with a threaded mount for fastening onto various microphone stands. One of the key selling points of the E5 is the microphone capabilities combined with its customization potential on the software side and since most mic users (myself included) would prefer a stand mount the E5 threaded mount is spot on for using with a mic stand.
The E5's build and form factor look more like traditional portable amp rather than the slim type you see on FiiO and Cayin or Ibasso's new D Zero MK2. It is roughly the same length and height as a Cypher Labs Solo -DB but not quite as wide. It is though much stubbier than the Cayin C5 and slightly less so by around 2cm than the FiiO E18. All 3 pale into comparison with the Ibasso D Zero MK2 which is 75% with the height of the E18 and Cayin C5 and 30% of the height of the Sound Blaster E5. The D Zero Mk2 is also shorter and thinner by around 15% over the Sound Blaster E5.
Build and Physical features
So the dimensions remind me more of a traditional portable amp but the design itself has some really neat touches. True it is made of hard plastics rather than aluminum such as the rather elegant Cypher Labs Piccolo AMP/DAC or even the sold chassis of the E18 but its sturdy, professionally finished and devoid of any imperfections. Rather than a box type finish Creative have adopted a sort of elongated bracket type curvature to the sides of the E5 making it almost 'Tie Fighter-eque' to the front and back. The volume pot at the front is slightly recessed offering it protection from unwanted sudden movements and either side of it is a flat panel on the front holding not one but two jack outputs similar to their E1 and E3 units. The volume pot can also be pressed inwards for instant mute of whatever it is you listening to at the time.
The left-hand side of the E5 contains no physical features and the front right holds the power on and off button which also doubles up as the Bluetooth discoverable button when pressed for a slightly longer period of time (flashing blue). Hold it a bit longer and the unit will turn off again. The other two buttons/switches are for sound enhancements including Creative's SBX sound enhancement activation and a low/high gain switch. The final set of 3 LED lights on the same side indicate battery cycle and length of time left.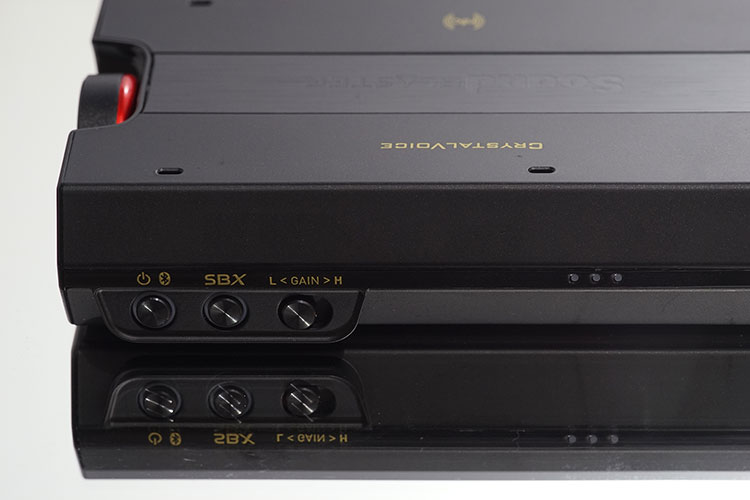 The E5 is packed full of features on the rear panel with a micro USB input, a USB host input, a line/optical out and a line/optical/mic input. The line in allows for typical line level connection to most DAP's, DAC's and Smart Phones as well as microphones with a 3.5mm jack input. The optical input allows you to hook it up with players like the AK100/120/240, CDP's with spdif out and of course gaming consoles and PC's with SPDIF also which after all is Creative's home turf. Personally, I went with the AK120 Titan optical out for a lot of this review to test the high-resolution playback capability and tonality as well as using the USB host socket for OTG and iOS capabilities and found all to work out of the box with no issues. Sadly the E5 does not come with any lightening connectors or short OTG cables so you will have to source that yourself or use the one your iGadget or Android device came with. The smaller micro USB port to the far right is used for either charging the E5 or for interfacing as a DAC/AMP with your pc or laptop or mac of choice.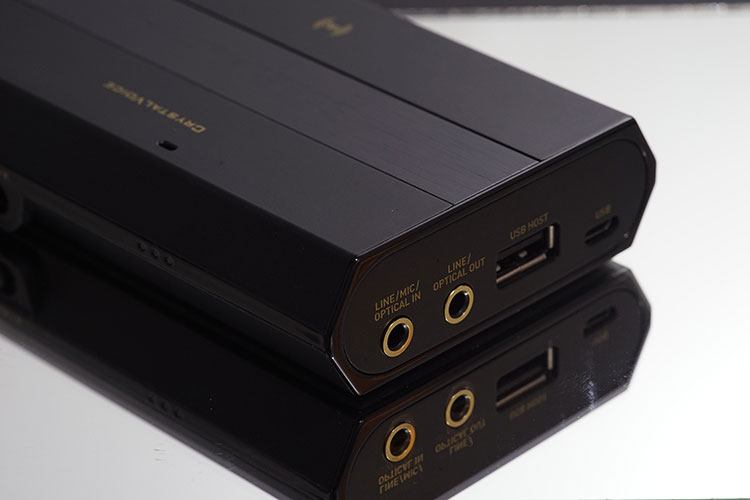 Functionality
Dac
This is where the Sound Blaster E5 comes into own by packing in just about every communication and audio feature you can think of bar DSD. On the one hand, it is a DAC fully compatible with Android via OTG, iGadget via lightning or 30-pin (not supplied sadly), Mac and PC. That pretty much runs the gamut of most digital audiophile needs and usage right there. Creative are packing in a really good Cirrus Logic CS4398 DAC which is implemented in the E5 for up to 24/192 decoding though I have read that it can be re-implemented to decode DSD but not on this current incarnation. Perhaps there will be a V2 at a later stage that will give DSD and if pricing stays below $300 on the new Oppo DAC/portable amp which does indeed do DSD and a bunch of other features then the E5 will have some stiff competition on the codec front.
Amp
On the other hand is it is a fully legit portable headphone amplifier (Amp DAC combo) packing a Texas Instruments TI6120A2 the can handle on paper up to 600ohm cans as well as dual output to separate cans via the twin set of jack ports at the front. Impedance matching for that wide range of headphone homage is determined with a switchable external low and high gain switch with low handling 32o to 120ohm and high handling everything else up to 600ohms. For those also who wish to bypass the amping component Creative have supplied a line out function inside the E5 as well so you can hook it up to your amp of choice and simply use it as DAC to analog converter.
Bluetooth
For those who wish to take things wireless, well, Creative have that covered also with Bluetooth and NFC functionality built into the Sound Blaster E5. Bluetooth implementation on the E5 also utilizes APTX technology meaning you guys get much lower latency and a much better sound quality compared to regular compressed Bluetooth audio signal. Given Creative's' hardcore audience are gamers, APTX is really the only choice for wireless gaming. Audio sync delays will sink any audio device used by games in a flash if there is a lack of accuracy. It also means audiophiles will benefit from increased bandwidth to ideally deliver a better quality audio experience than regular Bluetooth, RF or other similar wireless technologies. Bear in mind APTX will not offer 24/192 resolution, most likely topping out at 44.1 but for most this will be more than enough on the go. Bluetooth on the E5 goes beyond audio reproduction also with HFP and AVRCP profiles allowing for hands-free and remote operation of compatible gaming and mobile devices. For those who are on the go, say connected OTG on Android using the E5 can also take and receive calls using Bluetooth and the built-in mic.
NFC
The E5 also has NFC technology for quick touch pairing with NFC compatible devices such as mobile phones. I gave it a quick test on a Blackberry Q10 and Z Ultra with NFC and the pairing was seamless enough with both recognizing each other quickly though with the Z Ultra I had to take it out of its silicon case before the E5 would connect and power up my automatic Bluetooth connection for streaming.
Mic
The mic feature on the E5 works via the line in option in the rear of the E5 and both amplifies and records. As mentioned you get the yummy desktop stand which doubles as a mic stand holder for positioning. The E5 also has 3 mics in total on the top panel that detects the orientation of the E5 during any mic recording and adjusts the pickup accordingly to keep sound quality relatively clearly. One two of the three mics are ever in operation at the same time but which two switch according to the orientation of the E5.
The Software
A big part of Creative's strategy for the Sound Blaster E series is the integration with software interfacing on the PC, MAC and mobile devices. Creative software for gamers has always been a fairly essential tool to maximize their sound card experiences down through the years and the E5 is no different. The various platform control panels for desktops and laptops and the equivalent Sound Blaster Central app for Android and iOS you can start messing around with the sound and functionality of the E5 including an equalizer, SBX Audio settings, audio profiles (saved and imported), manage your Bluetooth connections, tweak your mic setup and even the sound of your recorded voice via their Crystal Voice tech, configure for either speakers or headphones as well as set up mixing options for individual channels of output. The list is huge and without the software, you are only getting about 60-70% of what the E5 is really capable of feature wise.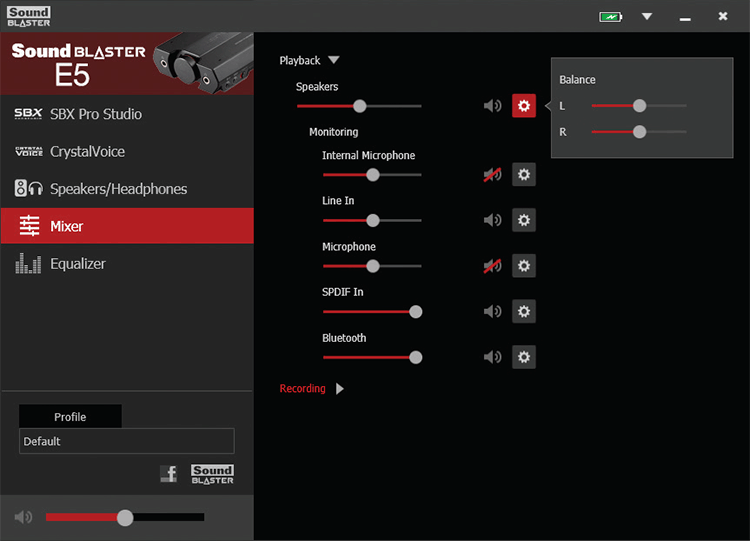 The E5 also comes equipped with on onboard SBX on or off button which comes from their SBX Pro Studio software suite and is designed to give you some further sound tweaking options that can be accessed on the go through a quick press of the SBX button on the side. Personally, my preference is without it for most of my listening but there are times when it did give an interesting flavor and it was not altogether objectionable. When not in use the SBX button doubles up for answering or rejecting calls using Bluetooth. You can even adjust the SBX parameters and how it sounds via the software when plugged into your PC and store it on the E5 when on the go which to me is an excellent idea and keeps the E5 sounding fresh and interesting long beyond the initial "wow period". Note 24/196 downgrades to 24/96 when SBX features are switched on.
Note at the time of writing and for those who are gamers, the Sound Blaster E5 does not have Scout Mode activated in the software bundle. I know some gamers who might be pretty hot after that particular feature. I presume since it is available for the E3 that the E5 may at some point carry that feature but as of now, it is not there. This could be a sticking point for the avid gamer in FPS type games that need that ability to "hear them before they hear you" but for those buying for general audio playback, this will not be uppermost in their minds.
Battery life
The Sound Blaster E5 comes with a 3200mAH lithium-ion battery which is rated to run around 8 hours in total which is not out of this world considering the FiiO E18 is rated 12 to 25 hours depending on usage and the D-Zero MK2 is 12 hours when used as a DAC. It does sound better value though with Creative claiming the E5 can still give you that 8 hours when running wirelessly on Bluetooth. However given the E5 is a veritable Pandora's box of yummy features such as NFC, those dual outputs and the built-in mic that time could shorten a little as you 'giggity' around each feature like a kid in a candy shop. It is fun but its progressively shorter fun the more you get into it.
This shortness is exacerbated in OTG mode due to the rather bizarre dual charge and playback function which cannot be switched off during playback. I am pretty sure this is the AOA (Android Open Accessory) protocol the E5 uses (as confirmed by Creative) and future firmware updates could address this but the battery time in OTG mode drops to maybe 1-2 hours at most due to the inability to turn that charge functionality off. No such issue exists though with iOS connections.
Page 2: Sound Impressions