I guess it was only a matter of time before there was enough search hits on "how can I improve on my onboard PC sound?" before one of those actual onboard soundcard manufacturers decided they would do something about it. And so up steps Creative with the launch of their new external AMP/DAC E series and in particular focus is their entry level Sound Blaster E1 which starts at just $49. Now $49 puts the Sound Blaster E1 right in the heart of FiiO territory. It comes in about 25% cheaper than the brand new E10k just out at around $75 and only about $40 cheaper than their very own Sound Blaster X-Fi HD USB Audio System.
What makes the Sound Blaster E series quite different though is this is the first time, to my knowledge, that Creative have actively targeted the headphone market with their external devices. Second, and more importantly, the E1 is very small, very portable looking and seems on paper to be just the ticket for what a huge chunk of headphone users and Smartphone addicts might actually want.
In the box and out in the open
Holding up the box you can see Creative really do mean business on the portable sector with phone, tablet and laptop outlines all being suggested as ideal devices to work with the E1 on both front and back. Inside the package is a little Spartan but nothing really lacking with a dashing red color coordinated USB cable (micro usb to PC) and matching 3.5mm TRRS-to-TRSS IC cable. The USB Cable for linking with your PC or media desktop solution and the IC primarily for your Smartphone or other on the go double amping equivalent. If I have one thought on this is that the length of the USB is perhaps a bit too long and stiff for such a small device. Something shorter and more pliant might be better suited. Usually for a laptop or a tablet half the length is more than enough so you don't have a ton of red cable sitting awkwardly beside your expensive latte. The rest of the box is taken up with the user manual, warranty and a dealer product registration card.
The Sound Blaster E1 itself is roughly the length of your index finger and about 1.5cm tall and 3cm wide. Not too much bigger than say the Digizoid Zo or the older FiiO E3 rectangular shape. It is a largely understated black rectangular device made of high end plastics and precise molding. You can actually tell this is nothing boutique. There are no rough edges or loose nuts and bolts on the E1, everything is tightly put together. The underside the Sound Blaster E1 is finished with a large clip for added portability that runs about 80% of the length of the body itself. On the top of the E1 you will find a dual headphone jack setup and on the opposite side is the USB connection for the DAC and an analog input for IC capability from your potable source of choice. The rest of the functionality is housed on the right side of the Sound Blaster E1 with play/pause/call, a small volume slider and the power button. When connected to a 5v charging source (like your PC) a little blue led just below the power button lights continuously which in turn flashes on an intermittent basis when in turned on and in use.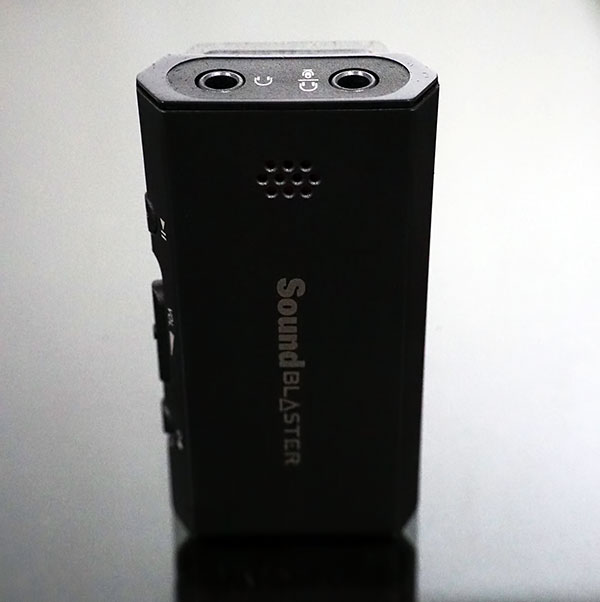 Functionality
Now the real value as I see it in the Sound Blaster E1 is what it can do for $49. The FiiO E3 was only ever a gain box at best, the E6 being marginally better and the cheapest amp/DAC they have is the D3 which is more for hifi setups than headphone and certainly not portable. The E1 on the other hand doubles as a mini desktop amp and DAC for your laptop or tablet as well as being able to detach and walk around purely as a headphone amp for your source. Now audiophiles lugging around an X3 upwards might find less of need to buy an Sound Blaster E1. I just do not think the E1 is an audiophile's dream ticket on a budget. For $40 or so more you can grab the FiiO E07k and it is a superb portable amp and DAC though slightly bigger than the miniature E1. It also has a fair bit of power compared to the E1 yet both share the same headphone driver. The Sound Blaster E1 is more the dream of the consumer gadget nuts who needs a bit more than what his laptop and Smartphone can offer straight out of the jack. For $50 the E1 pretty much has that base covered.
Software
Gadget audio guys love options and the E1 does plenty of that. Creative have always had a fine history of supporting their hardware with easy to use and value adding software and the E1 is no different to the plethora of internal sound card software packages they have released before. It is not strictly a plug and play device like some amp/dac's. Creative have opened up a suite of software packages to allow you to maximize and control the E1 right from the PC desktop. The initial driver setup is accompanied by a software GUI based control panel that lets you fiddle with all sorts of options including their SBX Pro Studio package, the crystal voice software for the built in microphone (which works really well I might add), some mixer and equalizer options as well as the ability to set it up for speaker or headphone performance.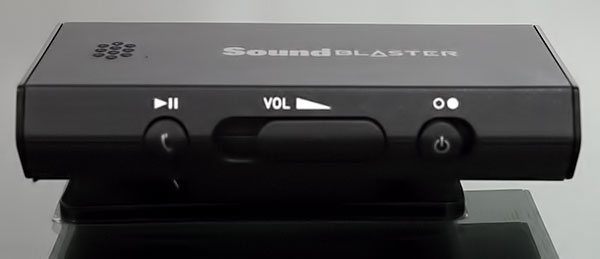 Dual headphones
Creative should also be applauded for having not one but two independent headphone output circuits (Maxim MAX97220) in the E1. Ideally this means two headphones can be driven independently and not on a shared single circuit without degradation or loss in quality. You have to remember this is a tiny device so packing in 2 circuits so successfully is quite remarkable. Mind you if I do have one quibble is the volume control is perhaps a little too loose on the E1. The slider is prone to easily move about when going portable since it sticks out rather than recessed. This would be sort of manageable except for the fact the slider has a very short cycle before the volume hits a very high level meaning you can seriously damage your ears in no time if you are careful. I would have preferred to see a jog dial or a stepped volume slider to prevent accidentally over juicing it and your ears.
Battery life
Since it is also a portable amp, the E1 also boasts a very impressive 25 hours life span on a single charge on paper. There are very few budget amps that can come close to that range with perhaps only FiiO's E07k at a rated 24 hours and the cheaper E6 dropping way down to around 10-12 hours. Charging is via USB and I believe can simultaneously charge and act as a USB DAC at the same time which is a very useful time saving feature.
Click here for sound impressions…