Matchability
Efficiency
The ODS-1 is rated at 32 ohms with a decent SPL of 109dB meaning on paper you should be able to get decent volume on a smartphone or a weaker amp but it is not so efficient that it will automatically show up noise on more powerful amps or amps with naturally higher gain.
In most testing setups the ODS-1 did require just a little more voltage than pure BA IEMs with comfortable volume settings on the X5iii at around 50 at its lowest to 65 at its highest in low gain mode and 70-90 on the AK240. This compares favorably to the hybrid Campfire Audio Dorado which we reviewed recently which had similar volume levels of 65-90 on the AK240 and is rated at 15 ohms and 107dB.
Tonal Pairings
I actually preferred matching the ODS-1 to an amping solution that had either a neutral DAC inside or a fairly linear sounding amplification stage. The more neutral the tonal pairing the cleaner and tighter the ODS-1 sounded. Excellent DAP examples include the AK240 and the FiiO X7 with the AM3 module as well as the older FiiO X5 2nd Gen.
Amping
The ODS-1 low end also sounds tighter and snappier with a more powerful and quality amp signal. On a decent smartphone such as the ZTE Axon 7, there are no issues on volume but the low-end was a touch softer than say the better dynamics and cleaner mid-bass snap of the Class A output of the Lear FSM-02 V2 portable amp.
For pop, dance and modern RnB the ALO Audio RX portable amp combo with the ODS-1 was excellent; throwing a big soundstage with superb low-end dynamics and extension. However, I was less fussed on this pairing using it for more mid-centric rock and AOR. That big staging element stretched the recessed mids a bit too much leaving it sounding all a bit hollow.
You can also dial back the bass thunder a little and produce a sweeter midrange timbre with the ALO Audio V5 portable tube amp. The best thing about this pairing was the lack of hiss. The medium efficiency of the ODS-1 here is quite a benefit when pairing with the normally noisy V5 (with sensitive IEMs) and you get plenty of wiggle room on the volume pot in low gain with perhaps an even better performance on high gain.
Select Comparisons
Oriveti New Primacy
$299
Specs & Design
The New Primacy is a hybrid single DD and dual BA universal IEM rated at 8 Ohms and 105dB and more efficient than the ODS-1. The ODS-1 seems to be machined from a higher grade of materials than the aluminum Primacy though the Primacy is lighter and slightly easier for comfort and fit as a result.
In terms of design appeal and materials used the ODS-1 is leaps and bounds ahead of the Primacy with that metro design chic right down to the Italian leather ear hooks yet the Primacy is no poor cousin in some respects with an equally excellent accessory line up including a more comprehensive tip line up and a quarter jack adapter.
Tonality
Tonally, whilst both the Primacy and ODS-1 travel a more musical path the Primacy is a re-tuned new version of the one we reviewed a while back so the bass has been lowered a little and the top end has a stronger more forward signature. As such the Primacy is a more neutral experience than the warmer sounding u-shaped signature of the ODS-1.
The low-end of the Primacy still has great extension and good impact right into the mid-bass but it is not as textured or full sounding as the mid-bass warmth of the ODS-1 which hits just that bit harder. Mids on the Primacy are more forward than the ODS-1 with excellent speed and detail though just a tad thinner sounding than the ODS-1 mids even if the ODS-1 mids are not quite as resolving.
Both have a more forward treble response but the treble on the Primacy has a bit more sparkle and energy than the ODS-1 which has a more natural and slightly laid back feel to it in comparison. Certainly, the dual BA sounds more articulate and if you are after a cleaner and slightly more detailed response then the Primacy is superior but the ODS-1 will appeal to those who want a bit more body and a more natural softer tone to their top end.
iBasso IT03
$259
Specs
The ITo3 is a hybrid single DD and dual BA universal IEM with an 8-ohm 105dB rating and price at a very competitive $259 SRP. It contoured build fits like a glove, wonderful seal though made of cheaper plastics or acrylic than the machined aluminum of the ODS-1. Both have nice and very complimentary accessory and carry case kits though the visionary edge goes to the ODS-1, their holistic approach to packaging is just that bit more engaging.
Both have reasonable levels of efficiency but despite the 8-ohm rating the IT03, like the ODS-1 does like a bit of juice to drive optimally and is less prone to background hiss from less efficient amps.
Tonality
Tonally the IT03 has a musical but more neutral tonal presentation than the ODS-1 with more sub-bass rumble and less of a boosted mid-bass response though equally dipped into the lower mids. Thus the IT03 can generate plenty of low-end power but instrumental timbre is actually thinner and generally brighter sounding than the smoother ODS-1 mid-range response. Both have a forward vocal presence, however, the IT03, particularly in unbalanced, is cleaner though more prone to sibilance than the thicker sounding but more forgiving ODS-1.
Treble performance on the IT03 is far more forward, articulate and extended than the ODS-1 so if you are after top end energy the IT03 is the way to go but, at times, the top end is too peaky and lacking in general coherence with the mids and low end so it can be a little distracting and brittle in sound compared to the more laid back and natural treble of the ODS-1. To get a superior and more coherent sound I would go balanced with the IT03 which works wonders with the treble performance.
For pairing, I would match the IT03 to a warmer more forgiving source such as the X5iii compared to the ODS-1 which works better with a more linear or neutral source.
Soranik SK1
$450
Specs
The SK1 is a single BA design from Vietnam and just got a price drop post-CanJam Singapore 2017 so we think it is even better valued than before. Packaging is professional though a tad spartan compared to the design and vision of the ODS-1 but it is in good company in that respect. The SK1 is rated at 20 ohms and 109dB so it is not super efficient and not that far off the ODS-1 in terms of specs.
Tonality
Tonally both have a warmish character about them but the bias is chalk and cheese with the Soranik excelling in its mid-range performance and being absolutely wonderful for a smooth, almost euphoric, timbre to its instrumental reproduction and a forward vocal performance that is best in class in many respects.
The ODS-1, in contrast, does have a nice body to its mids and vocal but it's positioned much further back and plays second fiddle to it's stronger low-end and treble response. The ODS-1 hits a lot harder in its low-end and has a more forward and articulated treble with the superior extension on either end than the SK1. If you are after that class fun signature but applying it to say EDM then pick the ODS-1 but if you want vocals and mids as your main priority then the SK1 is the better choice.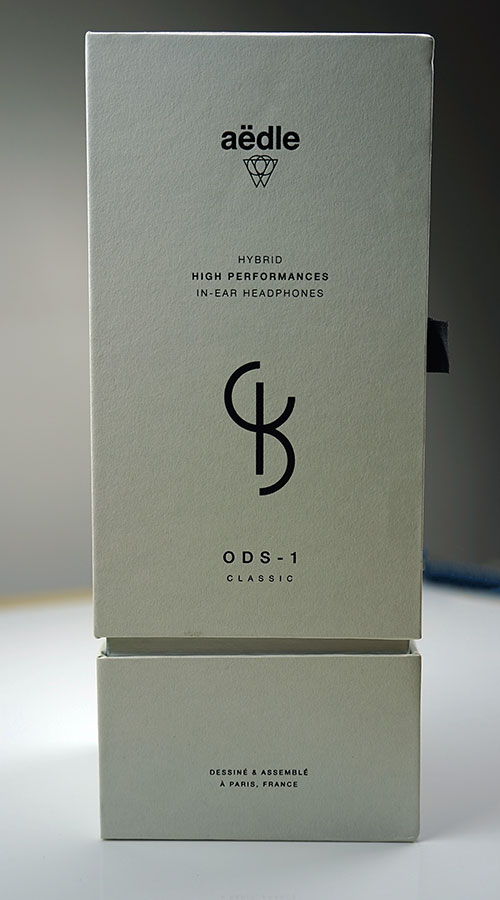 Our Verdict
It would be so easy to just tell you the ODS-1 is a competent warm sounding hybrid IEM that fits comfortably in your ear. There is more to it than that. This for me is also a very stylistic interpretation with a clear vision of who wants to buy this and how they want it to appeal to that demographic also.
Packaging and style are not things we audiophiles put on the top of our list but it would be a long cold winter before I could safely say I am not unmoved by the fastidious attention to the appealing aesthetics that Aedle have put into the ODS-1 from a holistic perspective. It just oozes style from all pores.
Of course, all of this would be for nothing if the ODS-1 tonal presentation and technicalities stank the room out but thankfully that is not the case. Yes, it is colored and more of a consumer sound with a fairly prominent u-shaped FR but it also shows up decent micro-detail doesn't thin out the instrumentals unnecessarily and has one of the better-controlled treble responses out there for a single BA. If you are into modern RnB, that sparse new sound with distinct bass notes, solid highs and not a lot happening in the mids with say an airy melisma type vocal then the ODS-1 does very well indeed.
Technical Specifications
Frequency Range: 20Hz – 20 kHz
DCR: 32 Ohms
SPL: 109 dB/ 1mW
THD< 0.5 %