The Lear FSM-02 V2 is a portable analog amplifier featuring dual-class operation with a Class AB and Class A output. It is priced at $257.18.
Disclaimer: The Lear FSM-02 V2 sent to us is a sample in exchange for our honest opinion. We thank the team at Lear Audio for giving us this opportunity.
To read more about Lear products we reviewed previously on Headfonics, click here.
Lear FSM-02 V2
I would be tempted just for the Class A fun you can have with the FSM-02 V2. It's a perfect match for my power-hungry oBravo ERIB-5a planar IEM and some of those higher impedance buds. Tthe hardware EQ, though nothing original, does add some nice variety to both amp circuit presentations.
The FMS-02 V2 portable amp from Lear has been out for quite some time, 3 years to be exact. However, given the MSRP has dropped by over HK$1000 to a very enticing HK$1,998 and Lear has very kindly sent me a sample unit recently I thought it would be worthwhile to see if there is any life left in the increasing niche portable amplifier market.
Just how does it stack up against the new breed of IEM portable amps from the likes of ALO Audio and iBasso and can new, ever-complex, IEM's pair nicely?
To date, this remains Lear's only available foray into the portable amping business and they have instead chosen to focus more on the IEM side. The older Lear FSM-01 portable amp, which was at the vanguard of the Lear "relaunch" back in 2011 is no longer available directly from Lear.
This was a much simpler portable amp and not as refined or capable as the FSM-02 V2. It also sold for much less, at around $130 or half the price. Considering the original tag price of HK$2998 of around $400 for the FSM-02 V2 is now around $260 US dollars then you are talking about a potential bargain on your hands.
What Is The Pitch?
The FSM-02 V2 is no ordinary push-pull/opamp-driven analog portable amplifier. In today's diverse market that is a good thing unless you launch it at rock bottom pricing or go super high end. You have to have a hook to grab attention and the V2 has quite a few hooks.
The core feature of the V2 is that has not one, but 2 stage amplification circuits and on top of that it also has an individual MOSFET Class-A channel. That is basically 2 amps inside one box much like the premise of the high-end Bakoon HPA-01M portable current mode amp which runs a current mode and a traditional voltage-driven output.
The V2 is not two amps purely through hot-swappable opamps but two completely different architectures bringing two very different output performances to the table.
On top of the two circuit setup, you also have a built-in hardware EQ offering three different filtered sounds, so that is in total a possible six combinations of EQ and circuit choices meaning the V2 offers a potential of six different output signatures.
The final pitch for the V2 is that you can have all this in a unit that can either be portable battery-powered or by grabbing a separately supplied DC in (5v USB or 9-18v external) you can run it as a semi-desktop amp whilst charging the batteries at the same time.
Design
Form Factor
The FSM-02 V2 shies away from the more modern slimline builds such as the D-Zero or the Oppo HA-2 and adopts a very traditional boxy design. If you are going for stacking, then it is probably the ideal form factor for the widest variety of analog sources outside of large smartphones.
Size-wise it's middling between the wider and slightly longer P5 from iBasso and the lower profile and slightly shorter diminutive RX from ALO Audio. The metal plates are very solid and the switches on both rear and front are very similar to those you find on iBasso and Go-Vibe amps: small, plastic but with good selector resistance.
The pot on the front of the FSM-02 V2 is a solid micro-step analog pot but it's a bit short pushing your finger dangerously close to the EQ power switch during day-to-day operation. Whilst it gives the V2 a nice streamlined look, it is not as functionally effective as a longer pot might have been.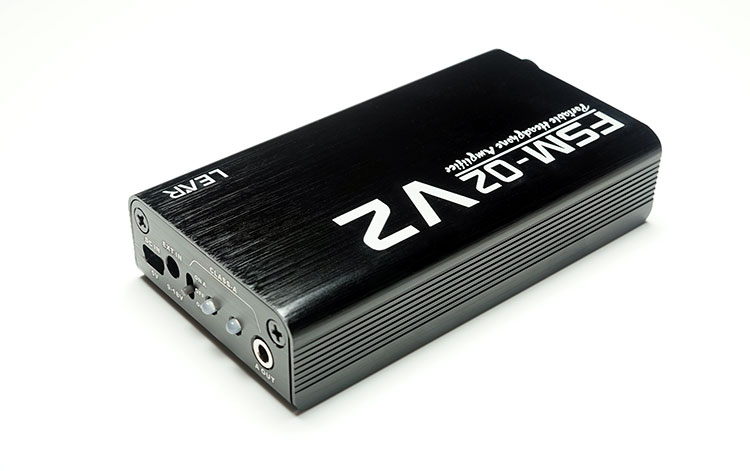 Rolling
The top plate of the FSM-02 V2 is detachable and slides right off via two star screws on the rear plate. Those open to rolling opamps or using the Lear USM module will obviously look to this as an additional advantage with up to 3 different potential opamp rolls including the class A, normal amp, and the EQ opamp.
The FSM-02 V2 comes installed with the OPA2227 from Texas Instruments (formerly Burr-Brown) which is a good budget level low noise opamp especially under DC performance and are known to offer a more valve-like or hybrid valve/SS signature.
Dual outputs
Unlike traditional amps, the FSM-02 V2 has 2 signal outputs, one on the back and the other on the front panel. On the front panel, you have the regular 3.5mm jack amplification stage output and on the back panel, you have the Class A 3.5mm jack output.
Basically, you jack out to the front or the back depending on the amp channel you want to output onto. Your analog source input though is a single input on the front panel, there is no input on the back panel for the class A meaning you will not have to keep physically flipping your source around depending on the channel you want to output to.
That being said both amplification circuits are now operating continuously, you do have to choose between the normal or Class A via the power switch on the rear panel. Differing LED lights on the rear will indicate if you are on class A (pink) or normal amplification (blue).
EQ & Gain
The front panel also houses the gain and EQ switches with 3 levels for both switches; high medium and low for gain and 1, 0, and 2 for the EQ. Zero is technically EQ off, 1 introduces a bass boost whereas 2 pushes the treble further forward.
The EQ options actually activated by one further switch which is right beside the volume pot with two options, EQ On or off BP (Bit Perfect). Now with it on and EQ is at 0 you will get no sound, it is only with EQ turned on and EQ at 1 or 2 will you get an audio signal on the FSM-02 V2.
It is a rather complex control for the EQ and given the very close location of the on/off EQ switch between the volume pot and analog input things get very tricky indeed if you are using any IC with a fat plug such as Palic. Personally, it might have been easier to put the switch on the other side or even take it out altogether and integrate the power into the EQ triple switch selector itself.
Battery
The FSM-02 V2 packs a built-in 3000mAh USB rechargeable (5 hours on 5-18v) lithium battery which gives very contrasting figures depending on which circuit, normal or class A, you choose. With the normal amp stage selected you do get a respectable, if not earth-shattering, 10 hours playback time before you have to recharge. Switch it to the more power-intensive class A rear amp and that drops dramatically to around 4 hours.
If you want that Class A smoothness you will pay for it with a massively decreased battery life. As such it's not a hugely portable option but one suggestion is to use class A in combination with the DC external power supply as a mini-desktop rather than go for portable to create a very sweet-sounding mini home setup.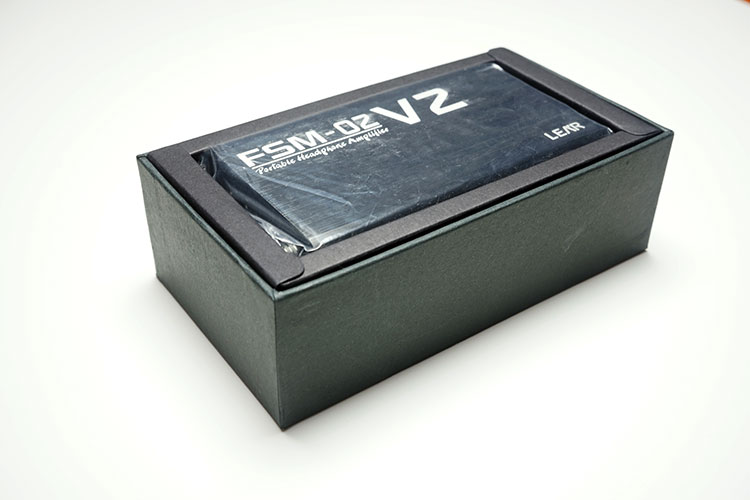 Accessories & Packaging
The FSM-02 V2 retail package is neat and professional though understated much like the rest of Lear branded boxes.
Inside the amp rests on top of a reasonable amount of classic amping accessories including a set of straps and velcro strips for stacking, a spare 3.5mm to 3.5mm short IC, a USB-A to micro-USB charging cable, and a set of low profile opamp screws for rolling on the go.
The only thing missing, or preference I should say, would be to include some blister feet for desktop use to stop it moving around and, of course, a DC adaptor would be great but given the new price point, it is probably not entirely sensible cost-wise to include.
Click on Page 2 below for Sound Impressions & comparisons