The Italian company UBSOUND launches the new SMARTER PRO soft-touch ergonomic HD in-ear earphones worldwide.
As we've already stated in previous articles, UBSOUND is an Italian consumer electronics company, based in Milan, specializing in portable audio products like high-quality IEMs, headphones, speakers, DAPs, and amplified DACs.
After the success and increase of worldwide brand awareness thanks to their first 3 series of IEMs and 1 model of headphones (Fighter, Smarter classic, Orchestra, Dreamer), the company starts its new challenge with a new model of IEMs with an ergonomic wear style, a soft-touch finishing body, a slightly v-shaped acoustic signature, and an amazing value for money with a worldwide launch price of 24$.
The new IEMs SMARTER PRO is available in 2 colors: matte smooth Black and matte smooth White. UBSOUND is still focused on a clear upcoming roadmap of products which includes a new Headphones model, DAPs, amplified DACs, and wireless speakers.
Official manufacturer website and where to buy: UBSOUND
We took some time out for a brief interview with Clara Profeta, Chief Operating Officer of the UBSOUND Group, to talk about the new SMARTER PRO IEMs, the company's updates, and future developments.
Hi Clara, what can you tell us about UBSOUND's business and the related past 3 years in the worldwide portable audio market?
First of all, I would like to thank you Marcus for your time. I can say that we are very proud of the results achieved during the past 3 years and the related international brand awareness, we are now present in more than 40 countries worldwide.

Even the nice results in terms of revenue and units have been unexpected. We are planning further investments in research & development concerning the upcoming projects.
It seems this small Italian company is growing on a daily basis. Which are your main sales channels around the world and which is your bestseller product?
Interesting topics indeed.

Regarding the sales channels, we are mostly focused on retail chains, hi-fi specialist stores, luxury department stores, travel retail stores, Telco stores and of course the e-tail channel represented by Amazon for example and several e-commerce platforms worldwide.

For the future and beyond the SMARTER PRO, we're managing the possible opening of our own key flagship independent stores in the main cities around the world.

This is just embryonal so far, although it would be fundamental to give consumers the possibility to test our product range in dedicated UBSOUND special locations in terms of "audio mood".

On the "where to buy" area of our website there is a worldwide list of authorized online & offline stores where you can purchase all our products.

Regarding the UBSOUND bestseller product series, as of today the aluminum Fighter IEMs are still the most requested by consumers and they are available in 4 different colors as you remember. We are re-launching the mass production on a quarterly basis.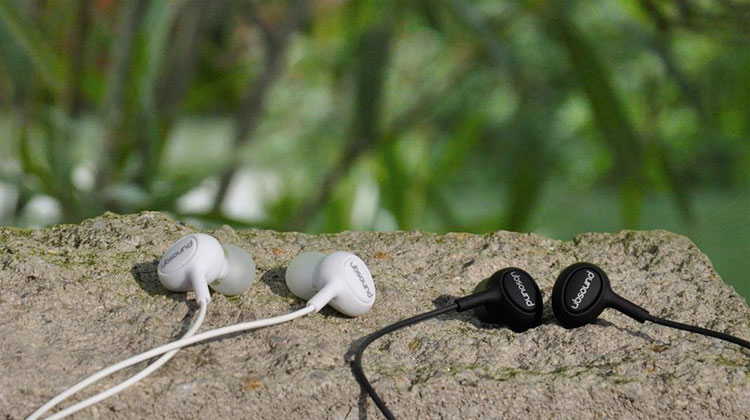 What can you tell us about the new "SMARTER PRO" ergonomic HD in-ear earphones? Can you explain some technical details and their main features?
The SMARTER PRO are a new kind of ergonomic in-ear earphones, launched in the market with several innovative features.

They are very comfortable, extremely lightweight, elegant, cool, with a slightly warm soundstage although, like all our products, the bass frequencies are always textured and powerful, which heats up the tonality a bit with a slightly v-shaped acoustic signature.

The two main innovative features are: 1) an elliptical shaped acoustic hole (where you connect the tips basically), which decreases the vibrations during playback with high volume. 2) a special body's rubber painted finishing, which gives a smooth soft-touch nice sensation to your hands and to your ears.

I firmly believe that the amazing retail price of only 24$ will be a key point for our new earphones compared to other big players on the market in terms of value for money. As I've already said, our main mission is based on giving high quality performance at an affordable price for everyone and I think the SMARTER PRO confirm, once again, this idea.

From a technical perspective, we've invested significant resources in order to develop the SMARTER PRO project as we wanted to maintain a low retail price but, at the same time, great sound quality and the additional feature of having a good microphone for hands free calls, this is due to the consistent growth of smartphone usage to playback music.

We've made several tests with many devices and kinds of multi-genre music. These IEMs are more oriented to the smartphones world, this is also the reason why we kept the drivers impedance at 16Ω in order to gain a better compatibility in terms of volume and maneuverability from all the smartphones.
Do you already have a clear roadmap for the future of UBSOUND?
Yes I do. We have a clear roadmap for new upcoming products including the SMARTER PRO. This year 2017 we would like to launch a new model of over-ear headphones, introducing some new aspects in order to complete our range of headphones.

Then we are planning to explore the wireless speaker segment due to high market demand. Finally, regarding UBSOUND's upcoming devices, when the tough project will be ready for the mass market, we will launch our first DAP which has to be lightweight, powerful and user-friendly at the same time, accomplishing one of our initial and ambitious goals.
Thank you, Marcus.
UBSOUND SMARTER PRO Technical Specifications
10mm HD independent dynamic drivers
Sensitivity: 115dB/mW
Frequency response: 15-21.000Hz
Impedance: 16Ω
Maximum distortion <0,2%.