This is a review of the Lawton Fostex TH600, which is a modified dynamic driver headphone using a beautiful selection of wooden cups. It is priced at $599.
Disclaimer: This sample was sent to us in exchange for our honest opinion. Headfonics is an independent website with no affiliate links or status. We thank Lawton Audio for this opportunity.
To read more about Lawton Audio products we have previously featured on Headfonics, click here.
Note, that this article follows our latest scoring guidelines which you can read here.
Lawton Fostex TH600 Review
If you are serious about the headphones and want a different flavor, check out Mark Lawton's site and see what sparks your interest.  You'll be very happy when you take your Lawton Audio TH600 to audio meets like I have, only to be told your version is more beautiful than any other headphones in the room.
Well, well. Look at what we have here. Mark Lawton went ahead and destroyed my reference point on what quality craftsmanship should be again.
I'm still not over how amazing his work on the TH900 was when I reviewed it a while back, those custom cups were beyond justifiably beautiful. I'd expected no less from him with this new TH600 cup replacement he offered this time around. Ask and ye shall receive…and I received something really special.
For those unaware, Lawton Audio provides custom, high-quality wooden cups and modifications for the Denon D-series as well as the newer Fostex TH-series headphones, taking what was once already grand to new heights.
Mark provides different types of wooden cup replacements for these headphones, in turn, each type of wood alters some of the sound signature qualities in one way or another. In my case, Mark recommended I choose the Exhibition Grade African Shedua option which sells for $549.
Tech Highlights
Most people might not be aware that the TH900 is actually outperformed by its younger brother, the TH600.
In some ways, I feel more than comfortable broadcasting that is a factual statement and not a subjective one. Not that I'm knocking the more expensive version, which is great in its own right, but the 600 model offers a noticeably more smooth and linear approach to the sound signature, one that also offers a higher musicality factor.
I found the more expensive 900 version to offer too much reference quality: I originally found it to dry, too neutral, and lacking physical substance in an enjoyable sense of appeal on subjective levels. This really isn't a problem at all with the TH600 by Fostex. Pound for pound it is a better deal than the TH900.
Design
The two headphones are identical in physical appeal: extremely comfortable, extremely well-designed, moderately light, and user-friendly.
Supple leather headband and stock pads combined with an aluminum headband rail system equates to eat fairly substantial level of high-class, high-quality build materials and an overall solid feel to the entire physical presentation.
The primary difference between the two is that the more expensive 900 version offers a more powerful dynamic driver magnet, which offers a more clean and spacious sound signature, but at the cost of sounding a bit more harsh with impact levels. I found it a bit too recessed in the midrange, too V-shaped, and lacking a good sense of engagement.
I do not find that to be such a significant problem on the 600 model, despite it being a bit less clear and dynamic overall, I would happily take the TH600 over the TH900 any day.
Mod Benefits
Mr. Lawton's custom wood cup options are a bit pricey, but when you're like me and have problems with finding audiophile-grade clarity combined with epic bass and soundstage, you quickly take notice of the fact that once you meet a certain price point of around $600 or so.
The sound signature generally offered is not one of the musical tonality, but instead leaning more towards reference, clinical, and analytical. It is very rare to find headphones that are simply fun to listen to beyond this price point, something that does not ignore the music itself, but something that can keep a good balance of high clarity and musical flair.
Hardly any other headphone above the $600 range offers this type of sound. It gets rarer as time goes on that "hifi" and "summit level" headphones offer more of a linear sound than one with a more musical tendency.
I like my bass, but I am also a stereo imaging nutcase. I'll sacrifice clarity to obtain these two qualities above all else and sadly in the more expensive headphone sector of the universe, these qualities just aren't found often near each other. The Denon and Fostex headphones kind of stand alone in that regard.
African Shedua
The wooden African Shedua cups themselves are actually quite hefty, holding them really surprises me, it feels like a really dense cut of wood. Despite it becoming heavier with the wooden cups installed, in comparison to the stock cups, the comfort factors don't really take a hit at all.
Although I have to admit the sheer size and thickness of the Shedua cups really grinds my gears, they are massive and stick out a great deal. I look positively silly wearing these. If I had my way I would definitely prefer a more thin appeal, something akin to the general thickness of the stock cups which do not protrude very far by comparison.
Pads
Mark's pads are a bit stiff, I find the foam inside to be too resistant to touch and they are not something I would consider plush, or that sink in a great deal.
Oddly enough, I think I would prefer the stiffer Angle Pads from Lawton over the MrSpeakers or stock Fostex pads, I've owned and tested all of them and I found Mark's pads to make the headphone feel like it is floating on my head. It is a very odd and positive sensation.
The MrSpeakers and stock pads sink in more and as a result, the headphone feels like it is always on my noggin. However, the Angle Pads from Lawton do not contact my head and do not sink in as much, in turn I guess that allows for a more floating-on-my-head sensation over the other two due to the lack of the clamping force of the headphones to begin with.
The more the pads sink in, the more they clamp, the more you feel the headphones. Lawton's pads do not seem to have that problem.
They are however very soft to the touch with regard to the leather exterior and are also raised at the rear, something similar to Audeze and MrSpeakers pads, but not quite as severe with the difference between the backside thickness.
Lawton also offers a custom cable replacement for the stock cable, which is one I find to be overly stiff and intrusive. I would very much like a more physically forgiving cable and something that hangs loose, but that is purely subjective and has nothing to do with the quality of the cable itself.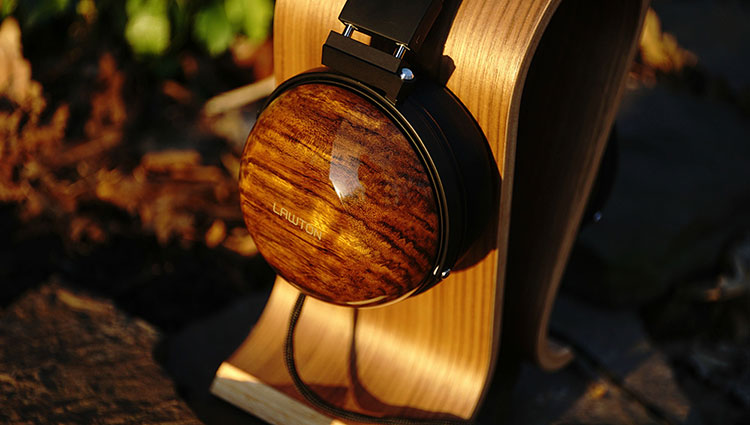 The Art
As I've mentioned, there is no question that Mark's replacement cups are the very pinnacle of what artistic flair in exterior design should house, which is something that has become sorely neglected in the last few years with other headphone designers.
There's no justification for a $1000 set of headphones offering all plastic parts, as in the case of the Sennheiser HD800 which costs yet even more…yet offers nothing special or unique about the exterior design that most people would find memorable or beautiful.
I think most people would consider it beautiful in the sense that it looks space-age. I've always been overly critical of exterior design. Some companies get it and care a lot, some don't. They were certainly something that reached the higher class part of all audio enthusiasts' brains, something that really beckoned a sense of not only high fidelity but also high style.
Compared to Fostex Finishing
Sadly, Fostex routed the 600 model with magnesium alloys, instead of the gorgeous type of wood that was found in the Denon D5000 wish for a roughly equal price tag.
It is a downgrade, however, there's something highly appealing about the flat matte finish Fostex had decided to implement on this model. The more expensive TH900 was a bit of a disaster, although a beautiful one at the same time.
Fostex decided to take loving care of the stratosphere, and in turn, today completely ruined the gorgeous appeal of the wood pre-red dying.
On a subjective level, I always felt that the TH900 model was positively one of the most beautiful concepts to ever come out of the headphone world, something simple and elegant.
When you watch a certain video that Fostex put up on the Internet that shows the process of making the high-quality wood cups for the TH900, the briefly showed a few fast-cut shots of what that would look like with a flat piano key black finish and it was the stuff of dreams.
It looked absolutely gorgeous, however, post-red dying, the headphones took on a glittered effect that I find unappealing. Side-by-side with Lawton's wooden cup replacements, there really is no comparison. Mr. Lawton does a much better job.
Jet Black African Ebony
Mr. Lawton actually offers something similar to that Fostex black finish pre-red dying, which is called the Jet Black African Ebony. It is worth spending time sifting through Type 1-5 (which you can view at Lawtonaudio.com ) to see which style fits your tone needs, as well as your visual desires.
He doesn't produce an unattractive design, pretty much everything is sublime…absolute master crafts and it hurts me deep inside to know that I can only have one set. Truthfully, I want one for every day of the week.
I love the Black African Ebony and a few others like the Hawaiian Koa, Mark and I had long conversations about which would suit my preferences both sonically and visually, as he knows I am a sucker for blonde contrast grains with dark tones in the wood patterns.
He definitely nailed the recommendation, so if you want to buy one of his pieces, make sure to check the Tone Wheel out and spot which wood matches your audio tonality preferences, as well as which one makes your knees wobble. I really find myself visiting his site often for no reason now…I have my cups, I'm reviewing them and I still end up on his site looking through the newer woods he has added recently.
I spotted something called the Spalted Maple and I almost lost my mind, something about it spoke to me, the wood looked so unique and dreamlike. See…this is what I am talking about. I am already at the peak of happiness with my African Shedua cups but each time I see something else…I want it.
If I were rich, I'd probably have a bunch of TH600s on display, each housing different woodies from Lawton. I'm sick, I know.
Options
Lawton has a collection of potential replacement types, each offering a different tone as well as visual appeal.
Much like expensive Luthier guitars or violins adopt expensive and high-quality wood to ensure the best sound quality possible with regard to resonance, so too does Lawton allow for alterations to be made to the sound signature tone and coloration via the direct swapping of the stock magnesium alloy cups, to his own hand-cut wooden options.
This is Art, let's not beat around the bush, but not only does it offer a simply breathtaking sense of appeal to the eyes, but it also offers slight customization and an entertaining experience to the ears.
We all want that high-class look to our headphones, there's just something about that Woody design that hits home for most of us audio enthusiasts, we really can't help but feel weak at the knees when we see them, hating on our audiophile peers online for owning something so beautiful. It is definitely something most of us save up for and aspire to own someday.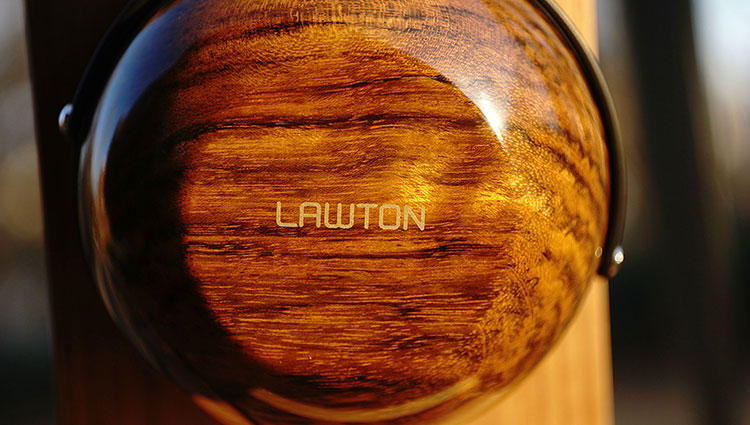 Type 3 wood
Mark let me have the Exhibition Wild African Grade Shedua, which is a Type 3 wood that sells for $549 per set. Pictures don't really do this justice, the lacquer and polish finish makes the cups look edible, like candy.
Yes, I kind of want to take a bite of them when I find myself staring at them, lost in the void somewhere as the stark beauty of the wood grain enchants me. I have a weakness for this type of thing, always have and probably always will.
In the mornings, when the sun peaks over the horizon, it shines through my window into my desk. With that golden yellow hour coloration, the wood almost glows as it basks in the warmth of the sun, it is usually the first thing I see every morning outside of my kitten and it is a sight to behold when the sun hits it just right.
That experience makes me feel so happy…and that is what Summit-level audio is all about, that vintage appeal to the wooden laced equipment from the '70s and '80s that isn't found today so much, that ability to fit into the room without sticking out like a sore thumb among the other products you have in your listening area.
Lawton's cups scream high class and style and it is an important part of the experience. If it weren't, there wouldn't be pages dedicated to beautiful audio gear around the net, nor would my love of artistic flare in my photography of audio products even exist.
It is beautiful, so why not flaunt it if you have the money? Make those Head Fi'ers cry inside when you post images of it…that's what the status effect is all about, isn't it?
Click on page 2 below for Sound Impressions and Pairings.