HD6 Mix – $279.95
http://en-us.sennheiser.com/noise-reducing-headphones-over-ear-hd6-mix
Impedance 150 Ohm
Frequency response 8 – 30,000 Hz
Sound pressure level (SPL) 112 dB (1 kHz/1Vrms)
THD, total harmonic distortion <0.1% Contact pressure 6.3 N Ear coupling circumaural Jack plug 3.5mm straight Cable length coiled 1.5m-3.0m, straight 3.0m + Kevlar OFC Transducer principle dynamic, closed Load rating 500 mW Weight w/o cable 264 g **Absent those nifty flippy mechanisms on each earcups on the HD6 , Sennheiser opted for a stationary cup design in their HD6 Mix.** Treble
Oddly enough, all three models peak at 30,000hz. Usually, the bottom tier of a given series of headphones tends to have less responsive measurements than the more expensive models, yet here we have the lowest and cheapest of the three pound for pound matching the treble on the HD8 in a numbers game. Numbers mean nothing here because the HD6 is noticeably more bright and punchy than the others, it is much more enjoyable as well so don't take that as a bad thing. The HD6 Mix is the most engaging of the three and is the one I found the most musical on the top end by a fair margin. While retaining a never harsh or icey quality, the treble on the HD6 Mix in my opinion scrubs the floor with it's more expensive brothers.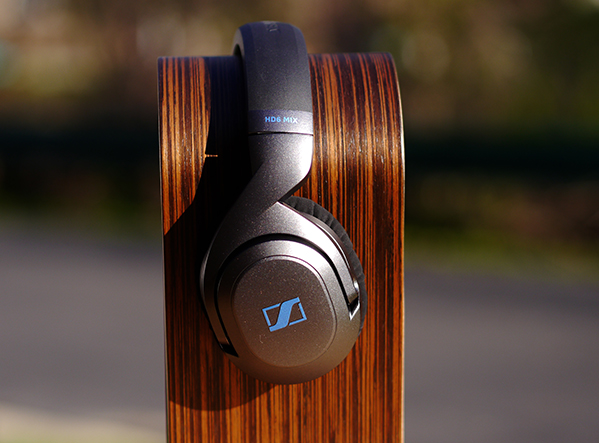 Vocals and Midrange
Here is where things got interesting for me. If you can find one on sale or used, the HD6 Mix becomes a very nice deal. What I find strange here is that despite the nice clarity this vocal experience can achieve with proper amp and source pairing, the body and solidity of the mid range in general changes for the better. It remains rather thin and lack luster with low gain and can easily convert into something more lush with a nice amplifier. This is probably due more to the lack of bass quantity the HD6 Mix has by comparison to the rest in this DJ series, there seems to be less bass bleed which allows the midrange and treble to shine. That "house sound" for AKG tends to boast a thinner mid experience, but here in the lot of the Sennheiser HD-DJ series headphones the midrange is very AKG in tone. I'm not sure I enjoy it, maybe I am just spoiled by the heftier midrange of the AKG K267 and NAD HP50. Weird, that the Sennheiser HD8,7 and 6 have a thinner AKGish style to the mids and AKG opted for a lovely and lush midrange in their K-267. Seems to me like both companies are experimenting by changing some of their house sound types to something entirely inverted from what it usually is. On top of this, the HD6 Mix is rated at a whopping 150ohm Impedance, harder to drive than the HD7 and HD8 that are rated at only 95ohm. With great power comes better listening experiences.
The Bass
Noticeably more focused sounding than the HD7 and HD8 by a fair degree, lacking physical weightiness and that gooey, velvet-like experience the more expensive models present, instead offering a more balanced and flat approach to bass. Dipping down to 8khz ( again all three headphones have the exact same 8 – 30,000hz response ) This one has more potential than the other two and is more balanced sounding due to the lack of bass quantity by comparison to it's siblings. Odd, since this one has noticeably less bass quantity, thickness and kick, yet retains the same general tone and texture as the others. I have to admit that it makes sense to me because mixing and mastering headphones need to be relaxed on the slam effect. Where DJ's usually only last a few hours on stage, studio engineers who actually produce the tracks the DJ's spin are sitting for entire work days. With that in mind, the Bass needs to be softer and not as thick. Headphone fatigue is the natural enemy of studio engineers after all.
I think the HD6 Mix was made for people who enjoy remixing tracks or putting together some type of audio project. This is not the headphone I would recommend to the artist recording the master track, but it is the headphone I might recommend for the person down the line who is putting the tracks together. It is not a critical reference headphone, but anyone mixing or playing with the master tracks will enjoy it.
Soundstage, Build and Comfort
All three models boast very nice, wide stereo imaging qualities with good airiness and separation between instruments. However, the HD6 Mix suffers the same lack of depth in the stereo void that it's big brothers do. Realism and layering are mediocre at best when compared to a few other top contenders I've mentioned here in this price range. That close your eyes and escape into another place and time effect really isn't apparent on any of the headphones in this series so look elsewhere if you want that amazing, cavernous feel to things. Width, airiness and separation from left to right fair very nicely compared to many other headphones in this price tier.
When it comes to build quality, all three headphones feel solid enough. Naturally, the HD8 bests the other two, but I don't for a second feel the HD6 to be lacking. It feels sturdy in hand and on my head so I've nothing to gripe about with regard to materials used to craft the headphone. Having said that, the comfort is atrocious. I am not sure who told Sennheiser DJ's and Studio Engineers they want very clampy and uncomfortable headphones at the cost of sound isolation, which is pretty good but still not incredible. Bose has some of the best isolation there is and retains nice comfort, so what went wrong here with these Sennheisers? The trade off between the lack of comfort and sound isolation on each model is not at all justified. If you are in pain, how can you do your job properly? I personally found it very frustrating and stressful, gritting my teeth after an hour of usage ( which was darn hard for me to get through ).Some DJ's may sacrifice comfort for usability, I am not one of them.
HD6 Mix Final Value – 7/10
Click on next page for our final thoughts…