The HD8 -$389.95
http://en-us.sennheiser.com/on-ear-headphones-stereo-hd8-dj
Impedance 95 Ohm
Frequency response 8 – 30,000 Hz
Sound pressure level (SPL) 115 dB (1 kHz/1Vrms)
THD, total harmonic distortion <0.1% Contact pressure 6.3 N Ear coupling circumaural Jack plug 3.5mm straight Cable length coiled 1.5m-3.0m, straight 3.0m + Kevlar OFC Transducer principle dynamic, closed Load rating 500 mW Weight w/o cable 284 g Treble
The upper end on the HD8 is very laid back and never harsh. I would consider it mildly mellow. It neither great, nor bad. It is just there, and what is there is shoulder shrug worthy. I consider this more of a good thing than bad, I'd rather have laid back feel than painfully bright or harsh treble. The HD8 doesn't at all seem prone to sibilance so studio engineers who are mixing and mastering, as well as DJ's who are forced to endure endless hours of Techno tracks with poorly recorded treble response shouldn't have much of a problem with fatigue.
While not as gorgeous with treble as the AKG K-267, nor as natural as the NAD VISO HP-50, the HD8 lags a bit behind and gets lapped by it's competition a few times it reaches the midway point of the race. Expect a middle ground experience with a more reclusive top end that is more well suited to tone back the fatigue in genres like Dubstep or anything with harsh treble. The HD8 will help out a lot with the painful and icy tracks out there and DJ's will appreciate this greatly. Screaming guitars, violin work and similar instruments are lacking. Raising up to 30,000hz, the HD8 is absent engaging qualities on the top end and just doesn't have much to brag about. With that in mind, I think it was purposely designed that way. DJ's and engineers in a studio might not want very responsive treble due to the onset of fatigue.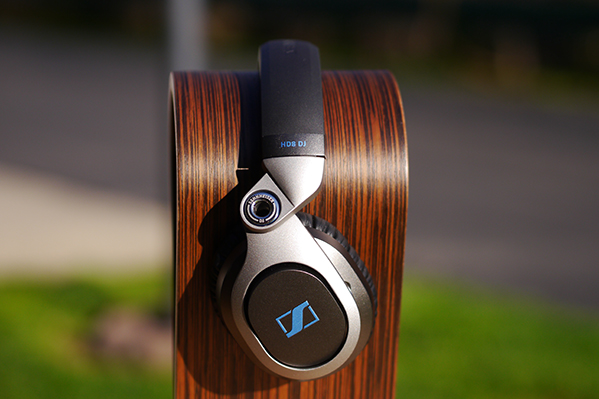 Vocals and Midrange
I wouldn't call this a good vocalists headphone until you turn the volume up to almost uncomfortable levels, as it seems at higher volume and with proper amplification the midrange really pops out and becomes livelier. These are not efficient headphones so most portable sources are not equipped for soloing these on the go. On stage, I think the mids won't be very apparent and over the thump of the speakers on the scene, as they are too thin and lacking the proper weightiness to counter the thick bass this headphone offers. I feel like the mids get lost when the outside noise is extremely loud. DJ's will hate this.
Vocals in general seem set up on the same physical plane of existence as the Treble, which means the headphone is more relaxed sounding all around. Some headphones have a mid-bloom effect, where vocalists sound more forward than the bass and treble, some have a recessed mid range that has vocalists pushed back noticeably so behind the bass and treble. The HD8 seems neutral ground with mids in general and it isn't until the track calls for overly pronounced treble or bass that the mids tend to sound somewhat blended in with the lower treble areas, almost hazed and smudged by the powerful low end of this headphone.
Artists like Michael Buble', James Torme and other fantastic jazz vocalists seem a bit out of place here. Most headphones with a very wide and bass sound tend to sound pretty good with Classical in general. This is not a reference headphone and wasn't meant to be, I consider this headphone mildly sluggish with a slow rate of decay and average realism when it comes to how elongated natural instrument reverberation tends to last compared to reality. ( That means that some instruments in reality will reverberate naturally for either a shorter or faster period of time and it won't be accurately reproduced in the HD8. How do I know this? Well, I play upright bass, electric bass, guitar and violin and I can safely tell you the none of these three headphones have an accurate sound or are nearly responsive enough to properly recreate the natural reverb effect many instruments have. Notes that natural linger on or vibrate in the air are cut off from that beautiful natural decay some instruments have. ) Fast headphones tend to have impact and kick, a pure sound that tends to be sharp and fatiguing. I don't find the HD8 fatiguing by comparison to most other mid tier headphones. As mentioned a little while ago in this review, both DJ's and engineers will appreciate the lightweight sound signature and lack of physical slam this headphone produces with notoriously harsh genres like Dubstep. While not dazzling clear anywhere in the frequency spectrum, all three of these headphones are lively and fun, musical and more than adequately engaging.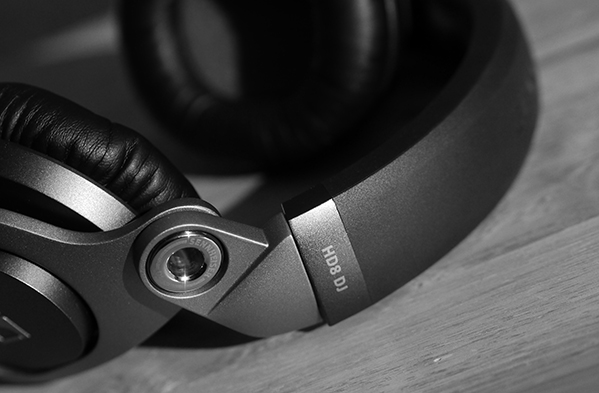 The Bass
What is there is very fun and wildly engaging, but critical purists are not going to enjoy it. The low end here is heavy and very weighted feeling, plenty of deepness and rumble capabilities, however the general texture is the weak link in the chain. While weighted and plentiful in quantity, the overall bass texture type is loose, velvet-like and rounded on the edges. Some headphones have a more pristine bass experience, like that AKG K-267 for example, others have a more natural or neutral bass experience like the NAD HP-50. Oddly enough, the HD8 fits snugly right in the center of it's competition. Due to the texture type, the low end is well into the sluggish and slow styling, far from a few other models from other brands in the same price tier that offer quick as nails, rock solid bass. To me, it sounds out of control side by side with the AKG K-267 and that is not a good thing for my personal musical tastes. Yours might be different, some people like a more smooth, fast and solid bass. Others might like a more relaxing, soft and loose approach. Pick your poison, but know the HD-DJ series all house the same general bass type and I find this particular model to be overly loose feeling. When it comes to responsiveness in general, I can't toggle my bass booster functions without fear of losing even more control.
The Earpads: Sennheiser includes two types of earpads with all three headphones in the series. A Leather set and a Velour imitation made of cotton and polyester. The latter of which feels very smooth and odd compared to actual velor from lets say Beyerdynamic or Hifiman, which are a clear cloth like material that breaths easy and is porous to the touch. The "velour" pads included with these HD-DJ series phones are really strange and I am having trouble accurately describing the texture. I really dislike how they feel on my ears and I very much prefer the leather pads. When it comes to bass, there is a varied difference depending on which type of pad you have installed. The leather pads tend to offer more bass quantity with a noticeably harder impact, whereas the velour's tend to offer a more lacking bass experience by a small degree.
The HD8 doesn't respond well to stepping up the bass quantities on your source or amp as much as I thought it would. This applies to it's two siblings as well. Inside Foobar2000's RealBassExciter DSP, I can toggle the Bass quantity to a +10 setting and hardly hear a difference in quantity. I recommend staying away from bass boosters with this one, it has plenty of bass on a dead flat EQ setup so don't worry about needing to add more unless you are a mad man and only care about bass quantity. If that is your bag, I'd seek the Vmoda M-100.
Soundstage, Build and Comfort
I didn't expect it, but the stereo imaging on this headphone is very good. The overall sense of width is excellent, as is the general separation of instruments for a headphone of this type and design. Deprived features include the overall sense of depth and also height. It's not the most realistic sounding or dynamic in depth headphone on the market. If you want depth of field, try the AKG K-267 or the NAD VISO HP50. All three headphones in this series seem to offer very nice, quiet backgrounds that are not at all overly sensitive. There is some noise in the backdrop, but not much.
The only real difference would be the obvious superiority of build materials used in the HD8. With that in mind, the added metals used in the more expensive HD8 really do not add much weight over the HD7:
HD8 – 284g
HD7 – 263g
HD6 Mix – 264g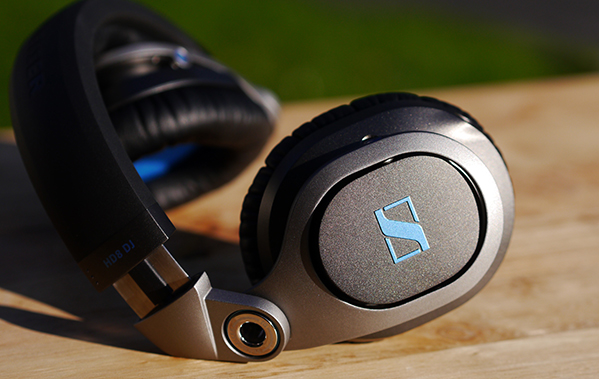 21 grams is near impossible to differentiate for me so they feel pretty much exactly the same on my head. All three are dreadfully uncomfortable and it is very clear that this has become a staple of Sennheiser in general. I really think DJ's need a swiveling earcup and one that nicely flips up and backwards, partially inverting itself on a whim so said DJ can hear what is happening in the outside world. Having that ability is something highly desired by most DJ's in my opinion and it makes life a lot easier for us. The Skullcandy MixMaster also had a similar design but these Sennheiser's definitely did a better job with the overall usefulness and implementation of this cool flip feature. Studio engineers will also appreciate this, but I can't see any real world uses for it coming from regular consumers. This is a DJ and engineer thing.
Final Thoughts
Ye olde' spinners of the night, pay attention. I think DJ's are going to enjoy these from a business stand point, but probably not for it's sonic clarity. Constructed with more metal than the HD7 and retaining the same general design, the HD8 offers a more laid back sound signature with a good sense of width to the stereo image than what you might imagine. This sonic quality sets it apart from pretty much every other DJ headphone I've ever come across lately, as it produces a very lively, very aired out and lightweight feel to the presentation as a whole. As with it's elder brother the Momentum, the HD8 seems suited and tailored for those who want a more vast sound and who want to avoid a claustrophobic feeling. The walls closing in on you effect is never a good feeling and I think DJ's and sound engineers are going to very much appreciate the sound signature the HD8 offers. Sitting in that booth or station for 8 hours a day, 5 days a week might be enough to drive a person mad with typical "studio monitor closed in stereo imaging". There simply aren't many high ranking contenders with regard to sound staging qualities with price tags under $400.
HD8 Final Value: 5/10
Click on next page for the HD7 DJ impressions…