Sound Impressions
Tonality
If you hark back to my description of the website ordering process you will remember that Custom Art cleverly threw in some headphones and earphones under the Harmony 8 listing to give you an idea of what you might expect tonally from the non pro version. Among those listed were the Sennheiser HD650, Sennheiser IE80, Westone 4 and the 1964 Quads. Well that's not a bad list actually having tried 3 out of the 4 listed and still owning the Westone 4 and tonally that is not too far from my own impressions. Piotr himself has this to say about the Harmony 8 tonality and in relation to the differences between it and the Pro edition:
Harmony 8 is more relaxed and less aggressive version of 8Pro. The difference is in tweeters which are more powerful in Harmony 8 Pro giving it a bit more sparkle and edge. Originally there were no plans for two versions but both versions turned out so good and unique I decided to keep them both. They are quite the same but still very different. If you compare both to headphones, 8Pro would be something like Sennheiser HD800 or Beyerdynamic DT880, while Harmony 8 would be more like Sennheiser HD650 or Audeze LCD2
That's pretty much on the money from where I am standing also. This is not a monitoring dead flat neutral earphone like a Noble 4, or with deep bass head type responses the V8 from 1964EARS. What the Harmony 8 offers is a bountiful full bodied midrange with a pacey impactful bass response and a very relaxed treble performance all neatly tucked into a impressively deep and wide soundstage. It is a rock monitor, a monitor for rhythm guitars, a monitor to enjoy EDM yet possessing a vocal presence that is capable of switching to something more relaxed like soul, jazz or AOR and still sound utterly convincing. If you enjoy the LCD-2 pre-Fazor in particular then this could be the monitor for you.
Bass
This is a musical monitor with a warm to neutral quality especially in the mids and a slight elevation in the bass response to drive home a point down below in its signature. It doesn't skimp on the details either with excellent resolution and control in the lower mid-range and upper bass. Despite the overall feeling that it is built for musicality from the low end up with good body and excellent definition the Harmony 8 is not a pure bass head CIEM nor is it laden with bloom and bleed. The Harmony 8 bass response is far more tactile and pacey than I expected given the 5 out of 5 score for bass on the Custom Art ordering page. Tight and snappy, hitting hard when it is needed and crawling back under a rock when it is not. That is a bass signature done right and with a bit of grace and manners if you ask me.
Mids
The midrange of the Harmony 8 continues that theme with a slightly forward presence, a dash of warmth but not too lush or sluggish and with plenty of detail shining through. If anything you could term it as warm to neutral but with a sustained fullness that really helps with its vocal presence. The midrange is tuned close to my preferences also in terms of weight and speed. Check out Lamb of God's "The Undertow" from their Resolution album for a good expose of the Harmony 8's midrange capability; the chugging rhythm guitar sounds convincing, detailed with good body yet when the pace quickens it never gets muddy either.
Vocal presence is one of the strengths of the Harmony 8 for me, particularly if you enjoy rock. They sound big, yield plenty of detail and with next to no sibilance or harshness. Male rock vocals sound suitably guttural, husky female vocals sound suitably worn and graveled when needed. Perhaps the only thing the Harmony 8 vocal presence lacks is a bit reach and articulation with higher end female vocals given the slightly laid back treble response. Ethereal whispering vocals such as Enya which, whilst sounding great on slower paced tracks, often felt more appropriate on the VE6X or the Noble 4, both of which had a leaner cleaner response and felt more adept.
Treble
It would be unfair to call the treble a weak spot given that Custom Art have clearly marked out the regular 8 and the 8 Pro difference as being primarily treble related and the type of comparison head gear they have put in the footer. If you are a treble head you won't get satisfaction out of the regular Harmony 8. It's not a veiled treble it just doesn't resonate quite as much as say the VE6x. In some ways it reminds me of the Merlins relaxed treble in that yes you can pick out the detail but it's never going to stand out. For that you best pick out the 8 Pro edition which many have. If you want something a bit more relaxing, perhaps a bit more forgiving for longer listening sessions then the regular 8 treble response should suit you better. I would much rather have this type of treble than something which is more present but peaky or slightly too strident.
Soundstage
Ok so this was a genuine surprise. I was expecting the better than average imaging given the 8 BA driver setup but to throw in an excellent and relatively large soundstage was a bit of unexpected but very welcome bonus. The width and depth are excellent on the Harmony 8 and whilst I would quite put it in the class of the HD800 type VE6X Control sense of space it certainly triumphs over similarly tuned customs such as the vocal centric AAW W300r or the 8 driver bass head 1964EARS V8 which sound far more restrictive or intimate in comparison. Vocals are quite centered and slightly forward giving them a slight degree of prominence over instrumentation which tends to sit behind slightly but the overall imaging and separation, especially in the bass and lower midrange which is very good indeed. Height is not quite as high as I could have hoped for but not a surprise given the relaxed treble response. If you want good width and depth though then the Harmony 8 is a pretty good contender.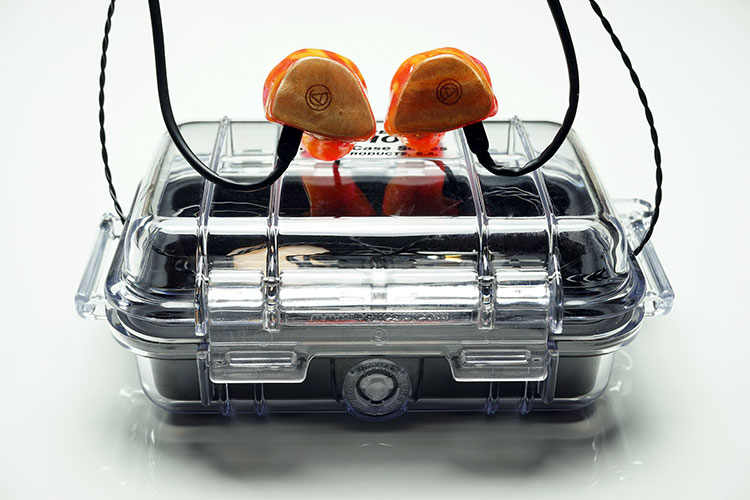 Matchability
The Harmony 8 is not a super sensitive CIEM coming in at 50 ohms rating. The good news is that hiss and background noise is less of an issue with it over a few others earphones I have tried in the stable and most especially over well-known 'hissaholic' universals like the Shure SE846. It also has a hiss free experience with a few well know hissy DAP's most notably the tonally agreeable Shozy Alien (read ninja training blades) which delighted me to no end.
However, even though it sounds relatively fine from most sources right out of the jack, even decent mobile phones, it does tend to sound much more convincing with either a DAP with a good amp inside or a dedicated amp such as the RX from ALO or the Picollo DAC/AMP or just the regular Picollo analog amp. Amps that have a bit of juice but enough finesse for IEM's tended to perform ideally with the Custom Art Harmony 8.
I would also advise matching if possible with a neutral source of amp just to wrench as much as you can out of the top end of the Harmony 8 otherwise a darker or warmer colored source might blow out that fine balance of bass and midrange in the Harmony 8 and leave things a bit bloated or muddy.
DAPs
The budget busting Alien
Most modern day quality DAPs paired just fine with the Harmony 8 but special mention has to be made for the Shozy Alien. It is not AK240 level but for less than $200 its tonally superb and paired very well indeed with the Harmony 8 keeping everything natural, flowing and able to take advantage of that that large stage of the Harmony 8 admirably. Hiss was to a minimum which is the bane of the Alien with most IEM's I have tried to date and volume, though up a few notches, had plenty of play and power. It is not the last say on detail this pairing but the musicality is off the chart and that natural timbre plays right into the Harmony 8's forgiving yet pacey low to midrange fullness. Top end is still a bit laid back but nothing suffers unduly. Right then, if you have $1200 tops then the Harmony 8 plus the Alien is a cracking little musical pairing with a few cents to spare.
The Mid-Range DAPs
The mid tiers DAPs such as the FiiO X5 and the DX90 have no such issues either in terms of being able to drive the Harmony 8 and whilst neither for me are as musically natural as the Alien they do sound cleaner and a bit more resolving. I do slightly miss the gusto in the midrange and heightened vocal presence that you get with the Alien which punches way above its weight but there is no mistaking the elevation in micro detail with these two higher end DAPs. There are some draw backs to these two though with the first gen X5 still possessing that nasty metallic overtone though and sounded a bit off with the laid back treble of the Harmony 8 and the DX90's famed dynamic range felt a bit more muted than usual, certainly not as engaging as the Alien despite the increase in micro detail.
The X3 Gen 2 sounded rather flat in comparison to the DX90 and Alien. That's not necessarily a bad thing and more of a question of preference. It still sounded musically competent with a good soundstage but just didn't have that engaging quality I come to expect from the Harmony 8 in the bass and midrange. It lacked oomph. Those looking to dial it down though and get something a bit flatter and neutral might enjoy it more.
The Summit-fi Paw Gold
If you have the budget grab the Lotoo Paw Gold. There is some serious deep but controlled bass going on there with the Harmony 8 and without any loss of detail. Some bad intentions indeed. This is a wonderful match with a super creamy vocal stage that oozes with control and detail. There is a great amp inside that Paw Gold and it really opens up well with the Harmony 8 utilizing that big soundstage to the max. Yup its $2000 and you should expect it I guess but if you want that midrange musicality of the Alien with superior micro detail and an extended dynamic bass response ripe with definition then this is as good as it gets for DAP's outside of the AK range.
And umm err…
The Harmony 8 had an average performance on the iPod Classic compared to some higher end DAC's and amps. Driving was not the main issue rather the attack felt too blunted and soft with almost no top end sparkle, lack of dynamics and a smaller soundstage making everything sound a bit too centered and compressed. I would hook this up to the Theorem or the SOLO DB and be done with it. Great as a transport these days to be frank.
Portable Amps
RX vs Picollo
It's a custom monitor and you want an amp that works best with CIEMS, lets do the obvious sound off first with the RX from ALO and the Picollo analog amp from Cypher Labs. These are two amps built with IEMs in mind and whilst neither are thinking 50 ohm resistance by and large both perform very well indeed with the Harmony 8. I gave the edge to the RX with the Harmony 8 over the Picollo but only really in terms of my listening preferences. The RX keep things a little bit tighter and pacier with top notch dynamics and retained that huge soundstage whereas the Picollo felt weightier at the bottom end but not quite as well defined giving an ever present bass feel and a slightly darker mood to the Harmony 8's presentation. If anything the Harmony 8 doesn't need to go darker than it already is and that touch of added brightness from the RX over the Picollo suits the 8 much better.
Theorem 720
The Harmony 8 is also compatible with the Theorem 720 which is a big bonus given the 720 is a veritable bag of snakes with some lesser or more sensitive IEMs. I should not have been too surprised given its 50 ohm rating and whilst the background is not totally black it does rather well indeed at presenting a calm and serene presentation overall. Just keep it at low gain though as anything at medium is a bit hit and miss and high gain as hiss stamped all over it. There is no loss in that fullness to the body of the Harmony 8 presentation but with the 720 you do get great definition especially with acoustics and vocals.
With the Theorem in tow, up goes the level of detail, a big jump in dynamics and a much more vibrant presentation overall compared to the likes of the FiiO X2 Gen 2 or even the DX90. Lower treble has a hint more presence also with the 720 over a few other competitors and DAP's. The Shozy Alien is the natural one, the musical player but tapping into the 720 gets you an added level of control and detail right across the presentation. It also sounds a bit more natural than either the RX or the Picollo.
Other CIEMs
AAW W300AR
The Harmony 8 reminds me a lot of the AAW W300AR which also had a bigger focus on the mids and low end but the Harmony 8 has a slight edge in detail and definitely a larger sound stage than the W300AR. Both are good options for those chasing a better than average vocal presence but the Null Vitesse cable, good as it may be in its own right, is the wrong choice for the W300AR overall.
Vision Ears Ve6 X Control
The Harmony 8 still sounds somewhat shelved down compared to the likes of the Vision Ears VE6X which has a glorious and well extended accurate treble response but then again you are spending double to get that over the Harmony 8. It sort of reminds me of a HD800 versus LCD-2 type debate with the Harmony 8 definitely more adept on heavy hitting rock and EDM than the more rounded and 'audiophile' VE6X, even with the bass switch switched on. Hiss and background noise is more prevalent on the 20 ohm VE6X though with amps such as the Theorem 720 so watch out for that.
UM Merlins
Those that enjoy the Merlins from Unique Melody will feel a touch of empathy also for the Harmony 8 with its big expansive sound stage, excellent bass and relaxed highs. The Merlin treble is not quite as rolled off though as the Harmony 8 and tonally it is not quite as dark or as thick and full in the midrange but it is a touch more forward. It is also a bit more sensitive than the Harmony 8 requiring less volume to impress but exhibiting a bit more hiss and noise on amps such as the Theorem 720 and the Alien DAP. Its a good alternative actually to the Harmony 8 despite its aging years in the customs industry.
1964EARS V8
The V8 by 1964EARs is still my bass head CIEM of choice and slams harder than the Harmony 8 when paired with EDM however the Harmony 8 has a meatier midrange and a much grander sound stage than the more intimate V8 can muster. Rock is the key genre here for the Harmony 8 where sometimes ambiance is just as importance as bite in the low end. If you want a dance club feel then grab the V8 and pair it with the DX90 or even the Theorem 720 which has a very low background noise when paired.
Page 4: Final Thoughts & Score