The iBasso D14 Bushmaster is a standalone portable headphone amplifier and an ES9018K2M implemented DAC. It is priced at $229.
Disclaimer: The iBasso D14 Bushmaster was sent to us as a sample in exchange for our honest opinion. We thank iBasso for this opportunity.
To learn more about iBasso product reviewed on Headfonics you can click here.
I am going to sound like a stuck record since I said almost the exact same opening as I did for the FiiO Q1 but the reality is the iBasso have also been the other raging success in the audiophile world with regards to high-quality mid-priced DAPs over the last 3 years.
So much so that it is so easy to forget what made their name and that is high-quality portable amps and DAC's. I have always considered iBasso to be "nerdy exotic" compared to FiiO's "streamlined consumer" image.
iBasso products for me constantly challenge in a new way rather than seek to project something that is merely good but cheaper than the rest. I get excited with iBasso products quite easily and rate the DX90 as probably the best all-round mid-tier DAP in the last year or two.
The D14 Bushmaster was only recently released by iBasso but it has all the hallmarks of an iBasso classic amp/DAC release and carries forward some of the sensibilities and capabilities of the D10 and D12 into the modern era.
Pricing is competitive at $229 and sits behind the all-new P5 Falcon flagship portable amp (which we will review also), the PB2/DB2 and just ahead of the D42 and D Zero Mk2. It is a mid-range product for iBasso but it is packing a lot of essential features and I/O's that will appeal to DAP users both budget and high end.
What You Get
Unboxing
When I first started buying iBasso products they used to come in medical-grade white boxes chock full of accessories and a snazzy soft leather pouch. These days iBasso is commercially much tighter with a far more integrated offering and the D14 is no different. It's all cardboard but much like AK is tastefully done.
iBasso has wisely stuck some key unique selling points that we know audiophiles look for on the back – HD, 32/384 PCM, 256x DSD, 400mW amp and OTG. That's a trick FiiO could learn from iBasso on the budget amps because when I am out shopping these are the things that might attract me to pull a unit down from the retail shelf.
It does also contain further tech specs like the DAC chip etc which appeals to the "nerdy exotic" angle. It's the type of information that helps make decisions.
Accessories
Inside you get a wide choice of cables, the amp itself, a soft velvet suede pouch, a cardboard warranty card, sticky feet, and rubber bands.
I still would prefer the older leather pouch, it felt premium over the velvet pouch which is much the same as what you get with the much cheaper D Zero Mk2. It is well padded, perhaps more so than the leather pouch which is a plus. The cables that come with the D14 are as follows:
OTG Mini USB to MicroUSB
Mini USB to USB A
3.5mm analog IC
3.5mm SPDIF IC
It is possibly a bit unusual these days to see mini USB still being used on small portable devices, especially for OTG but that's what iBasso has chosen to go with. It does mean that a vast majority of OTG cables already owned might become incompatible given they are mostly micro to micro USB.
Luckily the supplied OTG cable is a good quality short right-angled cable that works rather well for stacking purposes with most mobile phones. The SPDIF cable for me is a bit too thick overall and leaves a rather large footprint when stacked with the DX90 or an AK120.
Personally even if good quality I would prefer a shorter thinner one for better portability. The 3.5mm short analog IC is pretty much the standard IC iBasso has been packing in their offerings for many a year and does the job adequately.
Design
Form Factor
The D14 form factor is pretty much your standard portable amp chassis design with functions to the front and rear and flush casing top, bottom and both sides. Size wise it measure 60W x 104L x 20H (mm).
It's medium to small, being slightly larger than say the RX from ALO and the Picollo from Cypher Labs but significantly smaller than the Theorem 720, shorter than the Cayin C5 and about 10% smaller than the Cypher Labs Duet.
It's not as modern looking as say the Oppo HA-2 or even as svelte as the E18 so OTG stacking with your portable phone might not be as pocketable as you would like but it does stack nicely with the DX90 which is almost a diametric match when placed on top.
The finish on the D14 is excellent, nothing DIY about this amp. Although the D14 builds on the design aesthetics from the D-Zero MK2 in terms of quality it's definitely a notch higher. The front and back silver-finished metal plates exquisitely machined and clearly labeled.
All switches have a solid resistance to prevent them from being accidently moved and the volume pot resistance switch is reassuringly tight and loud when turned on. Unlike the D-Zero MK2 the jack ports are recessed instead of fitting flush so no issues with those big Palic 3.5mm plugs sitting flush against the metal plates when inserted.
Front
To the front of the D14, you have a 3.5mm jack input, an aux or line input, the low or high gain switch and an analog pot, all with good labeling that is easy to read.
Spacing is good, one of the benefits of a slightly largest amp so those stacking should not have an issue throwing some short IC and an IEM or headphone cable jack. Even large aftermarket plugs are well spaced out. On/off is controlled by a resistance switch on the volume pot.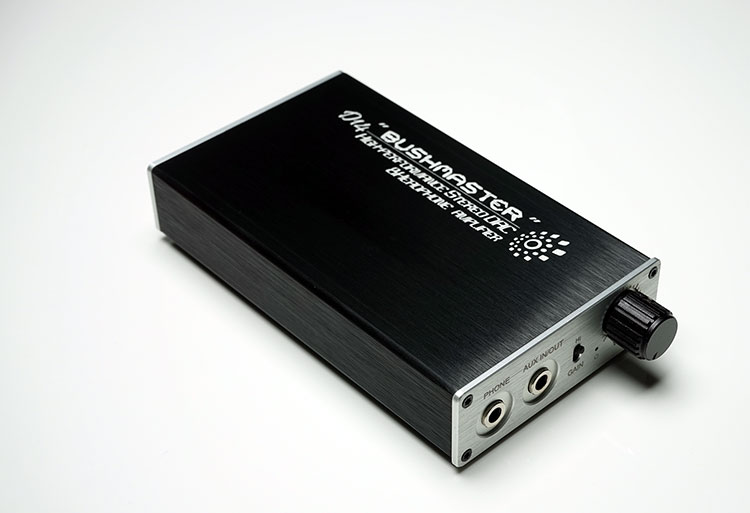 The volume pot has a nice degree of resistance on the turn also to prevent accidental jumps in volume, you have to apply a small amount of force in that respect if you want to increase or decrease the volume. The same also can be said of the gain switch which will not move up or down with the merest hint of elfin breathe.
Rear
To the rear are the majority of the inputs and a small control switch to determine which input is active. You have three choices – analog, USB or SPDIF 3.5mm and select either by a mere flick of a switch.
The SPDIF connection will accept both optical and coaxial so X and DX series DAPs alike will work fine as well as Cayin's N6 and the AK series of DAPs for digital connections. That's a wide variety of sources right there.
To the far left you have the mini USB socket for OTG and the DAC interface with a PC or MAC. OTG is officially supported unlike the Q1 from FiiO so in theory that means a wide range of smartphones should be able to connect and work with the D14.
Drivers need to be downloaded for DAC functionality for Windows. You also have a further option to charge and play at the same time when interfacing as a DAC with a charge switch at the back but note during OTG this will drain your smartphone as it will use the battery from the phone to charge the amp. Best to switch this one on OTG or face the prospect of your phone draining dry very quickly.
Inside
The DAC
The D14 uses the same DAC found inside the DX90 DAP, the Sabre32 ES9018K2M. The D14 though does not deploy a dual DAC setup, instead, it is implemented with a single chip configuration. This is increasingly becoming the 'go-to' DAC for portable configurations.
It is highly scalable with a low-power consumption and known for excellent clarity from top to bottom with a neutral to bright performance depending on how it is setup. For the DX90 dynamics were extra special, tuning after burn in was neutral and smooth and treble was articulate with excellent extension.
That does not mean the D14 will be a carbon copy of the DX90, remember there is the amp section to consider but generally speaking warm, tubes and thick sounding is not going to be a trait inherent in an ES9018K2M chip.
Did I mention scalability? The ESS chip, portable and Jnr to the main chip it maybe, is still capable of decoding at some seriously awesome levels. With the XMOS USB receiver, the D14 can churn out up to 32bit/384kHz PCM and native DSD up to 256x in DAC USB mode.
That is about as good as it gets resolution wise and thoroughly spanks anything FiiO has out right now in terms of resolving power. Even the Aurender Flow tops out at DSD128 and it sells for $1k plus.
The Amp
iBasso have, at this time, chosen not to reveal the precise combination of opamps for the amp section inside the D14 so all we have are the ratings to go by and they are pretty decent actually for an on-the-go portable amp.
Output power is a not insubstantial 400mW+400mW into a 32ohm load making it far more powerful than the RX from ALO, and more than twice as powerful as the Piccolo from Cypher Labs. With an SNR of 116DB and an impedance output of less than 0.1ohms, it should also be more than capable of working with a wide variety of sensitive IEMs right up to the most efficient planars such as the PM-3 and HE400s.
The Battery
The D14 houses a built-in 4.2V Li-polymer battery that does very well indeed on paper, though not to D-Zero MK2 standards for amping. It does a very respectable 25 hours using the amp only and 13 hours of deploying the DAC also.
Compared to the Q1 from FiiO that's only 5 short of its rated 30 hours but way shorter than the D-Zero MK2's 120 hours rated amp time. It's on par though with the Creative E1 and better performing than the E3 also from Creative.
Higher up the scale, it performs very similarly to the Picollo DAC/Amp which is rated at 24 hours on amping and anywhere from 12-18 using the DAC so the D14 is competitive in terms of the latest portable DAC/Amp tech on the marketplace. Note these top end figures may drop depending on the codec resolution you are pumping through it and DSD256 sure as heck will reduce those numbers.
Click on Page 2 below for Sound Impressions & Comparisons