The AKG K553 is a closed-back circumaural or full-sized headphone using a 50mm dynamic driver rated at 32Ω and 114dB SPL. It is now superseded by the MK11 priced at $199.
Disclaimer: The AKG K553 sent to us is a sample in exchange for our honest opinion. We thank the team at AKG for giving us this opportunity.
To read more about AKG products we reviewed on Headfonics click here.
AKG has been piping out a lot of budget options for us to gobble up lately. Sets like the K267 and the K550 really went over very well with the audio community in recent years, but it seems that wasn't enough to satisfy team AKG…not that this is a bad thing at all…it is actually the reverse.
I thought the K550 was enough on its own and already a great deal, so I commend AKG/Harman for revamping and tweaking, offering more options, and keeping this modern and as updated as possible. Kudos, AKG! But first, let's talk about swapping that headband on this K553 Pro, shall we?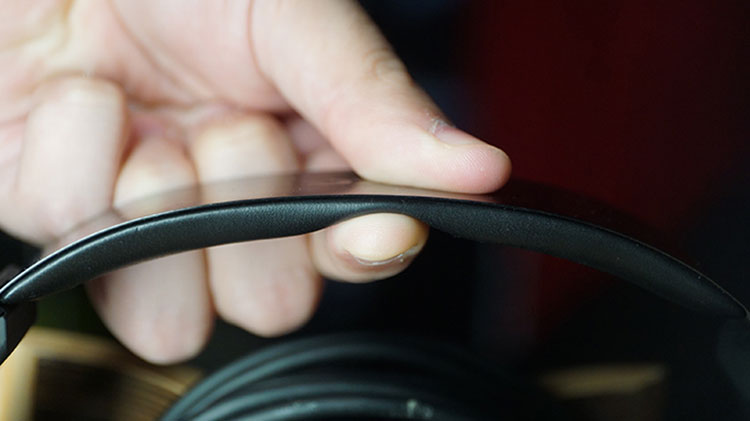 Design
I quite liked the older K550 and never really felt like it had any design flaws, the headphone felt solid and comfortable enough to make me happy, at least in my humble opinion. I'm a short fella', so my head isn't as large as some of you mutants out there who might have encountered some issues with that specific model.
With that in mind, I've got to raise a fist in objection about this newer K553 headband though, as it is one of the most uncomfortable and poorly designed headbands I've used in quite some time.
From a build standpoint, it feels fine to me with a rock-solid, aluminum frame under there, plenty of thickness for a larger dispersal of weight (which is something I've always been against) and it feels plenty soft to the touch on its underside. However, once you put the headphone on your head, you will quickly realize why I am so furious over how it was setup.
Comfort & Fit
Gosh, if you are a larger person, I would assume the K553 might be too uncomfortable to wear for short periods of time. If my smaller head has this much of a problem with that headband, I can only assume someone taller than me would experience more hard times with it.
There is a small strip of padding that actually serves no purpose other than to be aesthetically pleasing, it lacks plushness and support in the most serious sense of the word. It really feels like there isn't any padding under the leatherette material and my first instinct was to say it feels like a folded piece of soft leather and nothing more.
When I wear this headphone, the entire weight of the product is focused on the crown of my head, forced into that spot, dead center, causing legitimate discomfort within a minute or two of usage. It really feels like there isn't any padding there and that there is nothing more than a hard, solid piece of a thing up there.
Can I fault AKG for this when considering the stellar price tag and a great deal in the value of this headphone? I mean, you can buy this headphone for under $100 now in some places and I've seen them listed for $75 used on Amazon and various other places often. The answer is yes, you can fault them. There is no excuse for this no matter the price. Uncomfortable is uncomfortable at any pricing tier.
Pads
Beyond that, the K553 headphone feels very nice and is set up just like the older K550 model from a few years ago.
The pads are very soft and plush, the aluminum frame feels great and the cups feel solid as well. I've not a single gripe about build quality on this K553 beyond how it rests so uncomfortably on my head.
Cable
Again, as I've always said with the older K55x models, the cable is needlessly long. I would rather not be forced to lug a 9-foot cable around when I want to sit outside with the headphone or use it in a portable sense.
I'd rather have a short stock cable that I can have the option of adding an extension cable to whenever I want. I don't like to be forced into something and when companies implement cables like this, it is proof the people who designed it don't plan to ever actually use their product.
I'd be okay with the giant length of this cable if it was detachable, that way I could always grab my own cable for the headphone instead, but I can't do that due to the hard-wired cable design. This is something that I wish would cease to be a thing in the audio world…let's do away with all future hard-wired 9ft long cables…please?
K553 Sound Impressions
Creamy Bass
The bass on the K553 is top tier for the price tag and offers a high price to performance ratio. It is extremely smooth without a hint of an overly blaring or muddy appeal, something I've found to be immensely relaxing and slick feeling.
It isn't common for headphones in this price tier to offer bass texture and smoothness factor like the K553 does, in fact, dare I say I cannot think of a single headphone sub $200 that has this type of tonality on the low side of things.
If you want to kick back and relax without much bass impact, but still retain quantity and a good sense of clarity without either vying for attention, this is the set for you. I would still consider this set on the lean end of moderately bassy, something not lacking, but also something not potent or thick. For what is served up and available, it makes perfect sense when you consider what the mid-range and general setup of the rest of the headphone is constructed with.
Genres
I feel like the K553 was intended to be "that one model that we here at team AKG want you to chill out with, pick up a glass of wine and listen to some slow-paced tunes or even some beautiful classical music with.
Certainly, the low end does justice to the genre and I've found that music OST's from John Williams (one of my favorite composers) really meshes well with the sound signature of the K553 in general, top to bottom.
There are times and in certain genres where I felt like more quantity was needed, sadly the K553 doesn't respond to Bass Boosting as much as I hoped.
True, it does not lose a ton of quality from +1dB to +5dB on the low end added in, but it doesn't physically react with more quantity very much at all as well: I could hardly hear and feel a much alteration in quantity or thickness when boosting from +1dB to +5dB.
It isn't until I reach +6dB that a serious change happened and things muddied up quite a lot, casting a shadow and haze over the entire mid-range in a negative sense of the word.
Mids
I can't honestly say the K553 is geared for a vocalist's experience, as it is too relaxed in positioning to be considered engaging or vividly presented. Taking a page from its low end, the mid experience lacks that oomph and yummy factor I would want in most genres that house some type of speaking or singing element.
However, with instrumentals (classical being the strongest suited genre for this headphone) and similar recordings that lack mid emphasis, the headphone performs very well indeed.
AKG knows how to stretch the sound stage out into a well-formed rectangle, more of a sense of width than height, unlike most other brands of headphones. In so doing, they've blocked the ability for the headphone to transmit that lush, intimacy in jazz standards, rock, and similar "artist stage-front and center".
It leaves me wanting more of a mid-range bloom, but that is a personal gripe and completely subjective. Objectively, it offers a fantastic linear appeal to the mid-range. Nothing really pops out and everything is in order like soldiers standing on attention in a nice, straight line.
Clarity
The K553 mids clarity is also not at all a problem. In my opinion, this model isn't that different from the well-regarded K550 of old. Interestingly enough, this model audibly bested my Sony 950BT and seemed on par with my original Philips L1 in general clarity…although dynamics were lacking in the K553 in comparison to the latter.
Expect a very smooth mid-range to ride alongside the similarly slick and relaxing bass experience; do not expect Audio Technica style mids that are clearly boosted and more focused than the treble and mids. If that is your type of sound, this headphone isn't for you.
Do however pick this up if you like that typical K7xx series sound in the mid-range, something that isn't so in your face, but still enjoyable and very linear in appeal.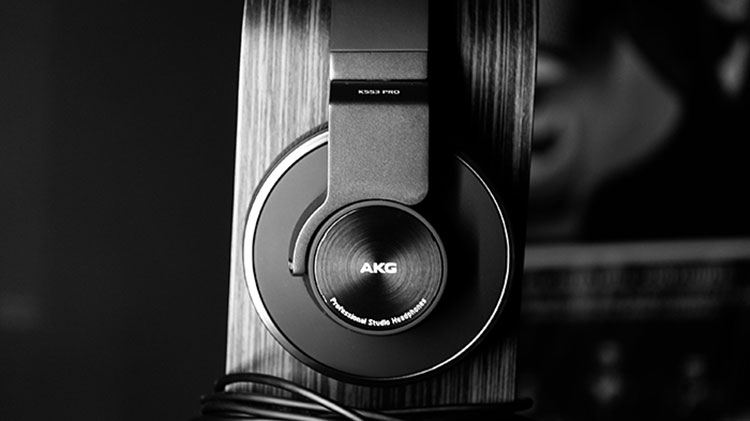 Treble
The weak link in the chain for sure with the K553. Yet, despite being should shrug worthy at best, still doesn't bother me at all enough to consider it a legitimate problem or serious flaw.
It is lackluster in quantity and leaves me yearning for more, but you should know by now through reading up to this point in the review…the headphone is damned linear and flat sounding in setup…so naturally, the treble falls in line with the relaxed mid-range as well.
I am not sure it would be a good idea to have tuned it any differently, as I feel like adding more treble would create too much of a V-shape sound signature. Let us try to avoid that forever and burn any headphones that offer that sound signature, shall we?
Thankfully, AKG's K553 doesn't have that problem: the treble is relaxed and lacking engaging qualities, but it isn't sibilant or annoyingly snappy. From top to bottom, this model offers a smooth approach with regard to impact.
I grow so tired of snappiness, especially so on the upper end of my audio experiences, so I am delighted when I sit outside with this headphone and never have to worry about sonic fatigue. Clarity is fine, nothing special nor memorable, but it also isn't painful or annoying anywhere either.
Genres
Genre selection again is a problem with the K553. Rock/fusion/horns and violin focus really have issues here with that yummy, engaging quality most of us might want for those types of instruments in the recording.
Sadly, you don't get much of it due to the lack of brightness and physical treble quantity in the K553. Although, it is enough for me to get by and considering the price tag of this model these days, I cannot say anything negative. I can name headphones double the price of the K553 that performs much worse.
If you are into light jazz, classical and slower-paced genres a'la Andy McKee and similar solo instrumentalists, then this headphone is a good choice for this budget price tier. If I had one gripe, it is that with fast-paced music, such as metal and fusion guitar, the treble becomes a washout, losing more detail the faster the track pacing becomes.
Older rock recordings seem to have a problem with high hats on the drums and subtle guitar tune in the backdrop, these two areas of the tracks almost always sound like a constant banging of a high hat, instead of multiple strikes on it. Detail gets lost easy up top, but it never gets painful or wince-worthy.
Staging
As expected, the staging prowess of the K553 is very good. AKG is really top dog when it comes to this sort of quality in a headphone, especially so in the budget to mid-tier price range.
Sets like the K267 were a rare with an intimate setup and naturally that was something I enjoyed immensely, but most AKG products house that typical AKG house sound: lots of width, light and aired out sense of imaging, good separation of instruments from left to right and more of a sense of width than height to the stereo void.
Of course, the K553 followed suit with that stereotypical "AKG" sound, not that this is a bad thing, once again I consider it a great thing.
Hardly any sub $150 headphones can compare to the K55x series with regard to sound staging properties. Don't expect HD800 level, or K70x level imaging, but feel comfortable in knowing that if you purchase sight unheard, you'll end up with a very capable imaging experience that doesn't require any special amplifiers or USB Dacs to sound vast and spacious.
The K553 sounds roughly the same in staging out of my Fiio X3, as it does with my new Luxury and Precision L5Pro and iBasso DX90 Rockbox. True, the headphone does scale up a little in clarity, but it won't change in tone at all.
For example, my iBasso DX90 is warm and colored, thick, and meaty sounding with good weight carried. But, my L5Pro is much more neutral and noticeable thinner sounding all around. Yet, I could hardly spot the imaging difference between the Daps when I blind tested them with the same track and doing my best to volume match and equalize align both players.
In doing so, I really failed to get both players to sound the same with physical quantities, so I was technically aware of which Dap I was listening to due to the more bassy oomph of the DX90, even on flat EQ setups. Trying to toss that out of my mind, I wanted to focus on staging and tonality and have concluded the K553 won't alter in tone unless you feed it seriously colored amplifiers and Dacs.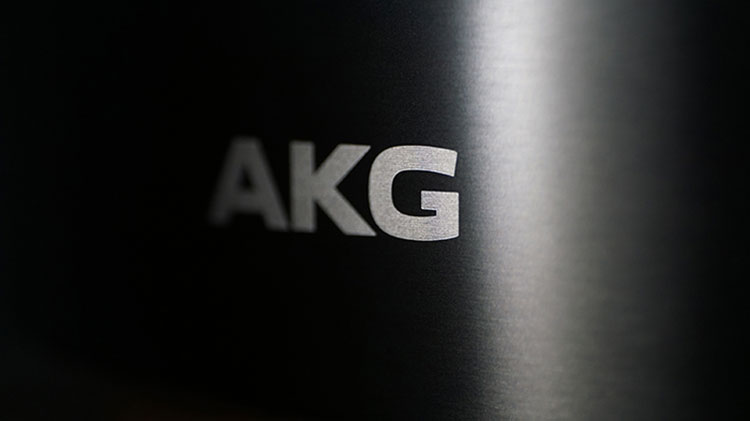 Our Verdict
This is a really good headphone, I can't really find a single true flaw in it with regard to sonic qualities. Although, I really wish it hadn't come with that headband padding and instead offered me something nicer and plusher.
Beyond that, the K553 is one of the best $150 or so headphones on the market, not only for raw clarity but also for stereo imaging. If you love a soft appeal to the physicality of some other headphones out there, grab this set if you are on a budget, they go for $75 used now on Amazon and through other dealers as well…you really can't beat that deal right now.
AKG did a very nice job here, props to them. Let us hope this marks the end of the K55x series though, I think we've had enough of them. I hope AKG innovates something new very soon for us to replace this beloved series of headphones. Technology is getting cheaper to produce now, so I expect dynamic drivers to offer a high price to performance values from here on.
Great job, AKG. The K553 is a keeper, I've sat outside with this headphone more than any other sub-$300 headphone I've ever used, enjoying the nice weather and sipping some coffee in the morning while wearing this model, listening to some soft tunes and even audiobooks was a real treat.
AKG K553 Technical Specifications
Type Over-ear, closed-back
Frequency Response 12 to 28,000 Hz
Sensitivity 114 dB SPL/V
Max Input 200 mW
Audio Bandwidth 20 to 20,00 Hz ±3 dB
Impedance 32 ohm
Ear Pads Replaceable leatherette with slow retention foam
Cable Fixed
Connector Screw-on jack combo (1/4″ and 1/8″), gold plated
Dimensions (L x W x D) 4.4 x 7.0 x 6.9″ (113 x 180 x 175 mm)
Weight Without Cable: 10.75 oz (304.76 g)