EarWerkz recently made a fresh restart as Empire Ears. Fueled by ambition, Empire Ears proudly released a mission statement to raise the bar in quality and customer service – both for themselves and the industry. Anyone that has dealt with Jack, can attest to the effort he puts in upholding that commitment. Empire Ears responds lightning quick, and will gladly help to come up with a personal design that goes beyond the listed options. In addition, they strive for a lead time of 2 weeks – significantly below the industry standard of 4-6 weeks.
EarWerkes originally made headway with models as the Supra and Legend, but still chose to design a completely new product line of iems from the ground up. With names inspired by Greek mythology, they initially presented Apollo as their highest offering. Apollo, the god of music – a more than worthy name for a flagship. We're all in it for the music, and what power lies beyond a god! With a configuration of 10 BA drivers, Apollo seemed like a logical choice for a top of the line offering, mirroring flagships from competitors in the same price range.
It's marketed as Empire Ears' take on a studio reference monitor, designed with a neutral signature and quality soundstage in mind. But unfortunately for dear Apollo, it only had the brief honor of holding the status of 'flagship'. A couple of weeks after its release, Empire Ears announced their true flagship: mighty Zeus, god of the gods, stealing Apollo's thunder (pun intended) with an industry first 14 BA drivers. But Apollo can still hold its own; and with a relatively more neutral tuning it will appeal to a different audience than Zeus – not to mention saving a bit of spare cash.
Accessories
The Empire Ears packaging breathes an air of class and refinement, mirroring the standard of quality they're aiming to achieve with their lineup. The matte black box folds back, and contains a fairly large S3 carrying case which can be customized with your name. In addition there's a small and large microfiber pouch to protect the case or just Apollo, as well as a cleaning cloth – all imprinted with the gold Empire Ears emblem, and made from quality materials.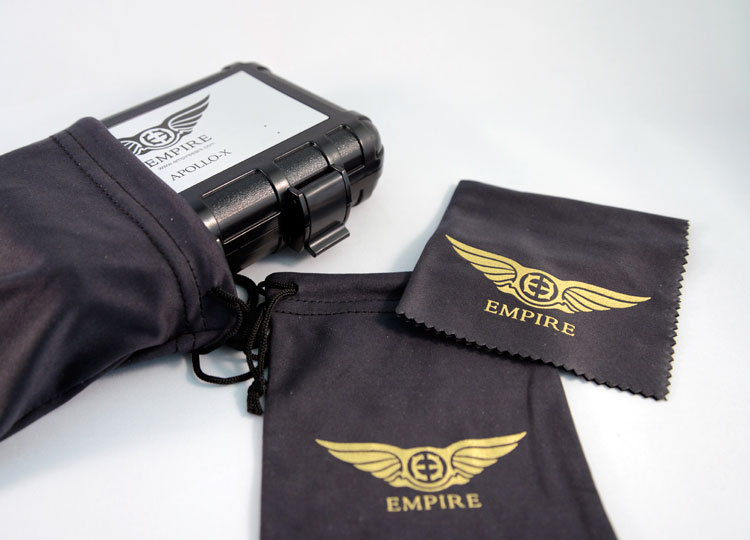 A custom will always come with little more than a cleaning tool, although some companies make an attempt by adding a plug or frequency chart. But there simply aren't as many options as with universals, due to the lack of tips etc. It's nice that Empire Ears makes the attempt with the extra pouches. I personally don't care a great deal about packaging and accessories, but it's hard to look past the thought and detail Empire Ears has put in the design – a very fulfilling unboxing experience.
Build quality
Empire Ears managed to keep Zeus with its 14 drivers well within proportion; despite its driver count, it still has a very average size for a TOTL. The same holds for Apollo; while having 10 BA drivers, it's not particularly large and doesn't protrude out of the ears. I can even lie on one side if I choose so (although I don't really feel comfortable doing so considering its value). The Solar, S-EM9, W500 AHmorph and of course JH Siren series – all considerably larger. For the design I went with translucent black, with matching black carbon.
The rapid emergence of new companies has stimulated competition, and the need to differentiate themselves has brought rise to all kinds of new customization options as abalone and pearl. So admittedly, carbon has lost of a bit of its touch, being one of the first options for ciems. But Empire Ears has managed to bring their carbon offering with a new twist; the rows of carbon scales shift color in the light, alternating between gray and black. There's also a certain depth in the image. Twisting the faceplate in the light has a mesmerizing, psychedelic effect, just watching the pattern change color. It's reminiscent of those silver trading cards, with action figures that move in the reflection. It might be 'just' carbon, it's become one of my favorite designs. Impossible to capture on pictures though.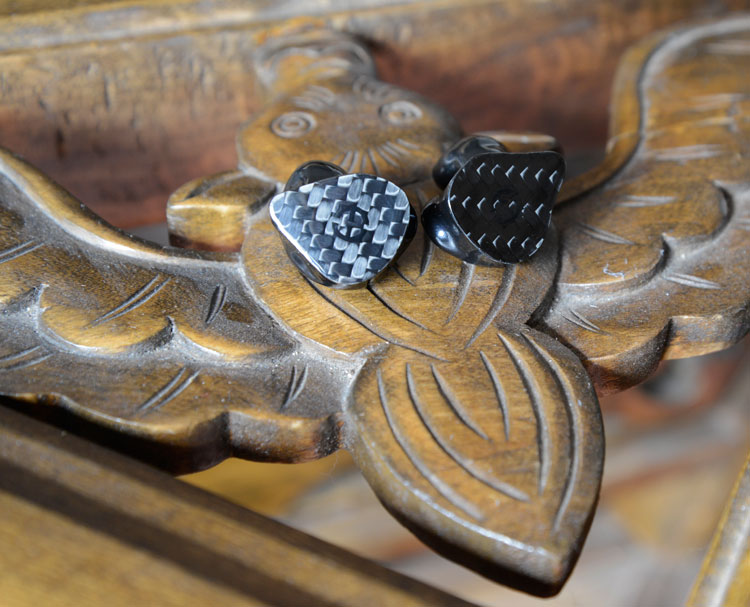 Fit & Isolation
Empire Ears has publicly committed to upholding a high standard when it comes to finishing, and both my Apollo and Zeus can attest to that – there are no imperfections, and are very smooth all over. Insertion is easy, the nozzle has an average depth; neither shallow nor deep. I rate my Empire Ears ciems as the most comfortable I have, while still minimizing ambient sound to a minimum.
The cable
Both Zeus and Apollo are delivered with the BTG Starlight silver-plated copper cable. The 4-braided white cable is a nice accessory, especially considering most manufacturers still use factory made generic 3-wire cables. The finish of the cable is a bit simple, using a plastic slider and finish around the plug. My only complaint is the right angle 3.5mm plug. I'm sure a ton of people will prefer a right angle for some reason – I just can't think of any. After the right hook, the cable immediately makes another 90 degree turn when exiting my dap, putting strain on the cable. But again, I guess for other people it will be optimal. I tested the cable with other ciems to get a feel for its sound quality, and I do feel it is an improvement; cheaper generic cables generally have a bit less mid-bass control, giving a slight veil over the midrange. I'm pleased with the resolution and tonality of the BTG, and feel it strikes a good balance between warmth and clarity.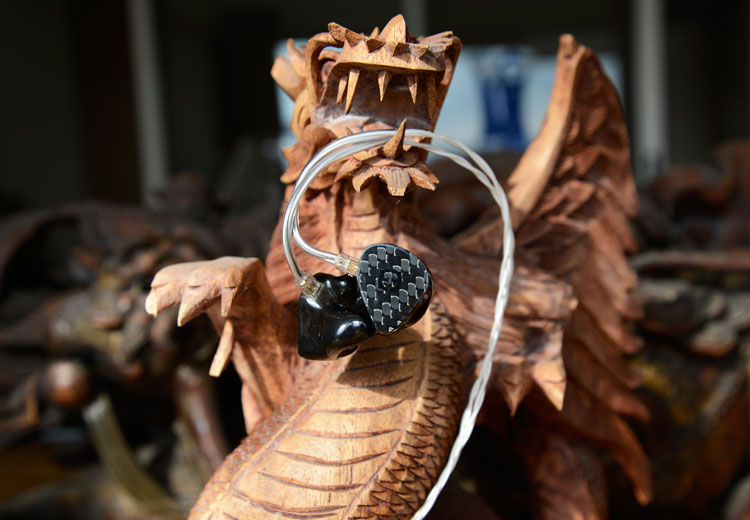 Sound Impressions
Tonality
Apollo has a neutral signature, its signature is composed of a balanced presentation of the frequencies: bass is punchy without being intruding or clouding the midrange, its midrange has good size and average note thickness, while treble is clear and detailed – without being bright or sharp. The general tonality is very accessible and easy to like, there isn't something there that will specifically displease any type of listener. The background is very clear, and overall transparency is good. It performs well with a wide variety of instruments, as well as electronic music.
Bass
Apollo's sub-bass has good extension, and hits with good depth in the presentation. The mid-bass comes close to neutral, without being lean on impact. Its tone is slightly warm and has a relatively quick decay; its speed is fast and accurate. It has a nice texture for a BA driver, but is less resolving than Zeus for instance, especially in the upper bass area – something like a bass saxophone has less prominence and definition in an ensemble. The mid-bass is fairly clean, and almost doesn't give any warmth to the presentation – Apollo's background sounds very clear. The sub- and mid-bass are very well balanced in quantity, and overall Apollo's bass is punchy. When amped, Apollo's bass doesn't sacrifice its control for quantity. I can see it being satisfying for both those that enjoy clean bass that doesn't interfere with the mid-range, as well as those that prefer a bit extra rumble.
Mids
Apollo's background is fairly clear and neutral, but the midrange has some inherent warmth that gives it a pleasant tonality. The lower midrange has good presence, giving size and fullness to the midrange, without being too prominent. The center midrange is a bit more forward, and while not to the extent of Zeus, Apollo still presents vocals with good depth and density – sound being produced from deep within the throat. But overall vocal presentation is still more neutral than either forward or laidback (but then again, closer to forward than laidback). The same holds for the upper midrange; vocals have good detail and emotional articulation, and although its ability here is above average I wouldn't consider it a truly vocal specialist as a mid-centric iem as Zeus or the S-EM6.
Overall the midrange sounds very balanced, and fine-tuned in its combination with the bass and treble. Both male and female vocals sound good, although I give the edge to female vocals; for male vocals specifically I would go with Zeus due to the relatively more forward center mids. Apollo's midrange has good size without being thin or thick, is neither forward or laidback, and vocals are neither particularly dense or hollow; you've probably guessed where this is heading – the keyword here is 'neutral'. It's tone, size and warmth – all within throwing distance of neutral.
Treble
Apollo's treble has a clear tone, with refinement in style of the Empire Ears' house sound. It sounds technically proficient, with a general focus on a non-piercing or fatuiging sound. A slight lift in the lower treble gives it its oh so airy soundstage, with lots of space for instruments to breathe. The mid to high treble regions are slightly attenuated, giving it its smooth sound. I wouldn't call it a sparkly monitor, although treble isn't laidback either and has good detail. Apollo sounds fairly transparent, and portrays acoustic and string instruments well. While the treble is detailed, it lacks a bit of extension in the higher treble, which affects the midrange resolution; the top end of instruments can lack a bit of definition at times. Treble decay is quick, and overall speed is excellent.
Soundstage
Apollo has a classic wide soundstage, with its width exceeding its height by a significant margin. There is good depth to the soundstage, and the overall space can be considered large, and quite three-dimensional. In sheer size the Apollo impresses, and will be a delight for soundstage nuts. Instruments and tones have good proportions on the stage, and instrument separation is simply outstanding; there's ample space for instruments to breathe, and its airiness is among the best I've heard. The presentation on the stage is neither forward or distant; instruments are spread out in good dimensions on both the depth and width of the stage. The wide soundstage does appear to have its effect on the imaging, as instruments can appear a bit diffuse sometimes, lacking a bit of pinpoint precision. So while instruments are very easily differentiated and separation is simply outstanding, the imaging could be a bit more precise, although this applies more to the midrange than treble.
Page 2: Comparisons and Matchability