In this feature, we review the Fidue A91 Sirius, which is a new flagship hybrid dynamic driver and quad-balanced armature driver universal IEM. It is priced at $899 SRP.
Disclaimer: This is a sample sent to us is a sample in exchange for our honest opinion. We thank the team at Fidue for giving us this opportunity.
To read more about Fidue products we have previously featured on Headfonics click here.
Note, that this feature follows our latest scoring guidelines which you can read up on here.
Fidue A91 Sirius Review
The Fidue A91 Sirius is incredibly good, and very smooth, with wonderful sub bass, excellent soundstage, and world-class accessories. It looks fantastic, comfort is excellent and the swappable cable extensions make this a very useful quality cable system.
I have reviewed a few Fidue IEMs in the last year or two from the super cheap A65 to the mid-fi and pretty good hybrid A83 which was priced at $350. The A83 was a technically excellent hybrid IEM for treble heads and detail freaks with a few quirks and fit issues but altogether a competent headliner.
The new A91 'Sirius' flagship IEM though took me totally by surprise earlier this year when it was announced.
Priced at $899 it is a radical jump up from the A83 in many ways and, for me, represents a coming of age with regard to not just Fidue, but for Chinese IEMs in general. This is one heck of a slick-looking package and puts some other competing IEMs to shame.
Tech Highlights
For those that are wondering why Fidue called it 'Sirius', a little bit of Googling will tell you that it is apparently the brightest star in the night sky so I presume that's the connotation Fidue is associating with the A91.
It is not the first time an earphone has been branded with a constellation-type meme with Campfire Audio positively swarming the night sky with their IEMS but given the qualitative disparity between the A83 pitch and the A91 positioning it might seem entirely appropriate in this case.
This is a "boots 'n' all" project. Everything about the Sirius screams premium; from the plethora of accessories to the materials used to yes, the price mentioned previously. It is a serious pitch by Fidue to have this flagship IEM sitting alongside known competitors such as the IE800 from Sennheiser, Campfire Audio's Andromeda, and Shure's SE846.
It is not just the materials that have been overhauled but the inside that has seen an upgrade with the A91 now sporting a hybrid (no surprise there) 5-way design comprising of a quad BA setup for the mids and highs and a single dynamic driver to produce a seriously competitive low end.
That places Fidue on a whole new playing field taking on customs companies, and flagship IEMs of one type or another.
Design
Technically Fidue has not really touched the core design aesthetic they deployed on the A83 and A73, merely enhanced it with new materials and slightly changed the depth of the shell. It is that same "wings" style detachable cable chassis you can find on the earlier units but this time in a very smooth and well-finished aluminum casing that feels solid and robust.
It is also one of the heavier IEMs out there weighing in at around 45g. To give you some perspective that is around 50% more than the RHA T20 and almost 3 times the weight of the Westone W4 though, to be honest, it really doesn't feel that heavy.
On the inside of the housing the A91 sports 2 small vents for the dynamic driver to breathe (BA does not need that) as well as the right/left labeling in a nicely visible white decal.
If you are in any doubt regarding which is left and right the A91 stock cable also has color-coordinated screw locks shaded in blue and red so you simply just color match to the L/R of the A91 driver units when connecting.
Connectors
Rhodium
The chassis is finished with a sweeping curve to the rear where the MMCX connectors are housed. The MMCX plugs themselves are Rhodium plated instead of gold which should give the connectors additional durability and resistance to the elements.
Locking
I would love to have seen pure Beryllium on these connectors, maybe even underneath the Rhodium plating just for the additional strength since non-plated brass MMCX connectors have this approximate lifespan for snapping in and out that Beryllium more than doubles.
The MMCX connectors are also housed in a threaded locking system that is slightly different from the norm. It reminds me of my Sony EX1000 screw lock system which gives additional strength and stability during active use.
Comfort & Isolation
The fit and comfort level for a 45g largish IEM is actually very good. Lighter smaller IEMs have presented a more physical presence in my ear than the flush fitting A91. If they are not moving, they are cutting or touching with a fair few gaps.
Not so with the A91. A very comfortable experience indeed and much superior to the A83 which gives me all sorts of problems getting a good fit and seal.
The nozzle is perhaps a bit on the shallow side so tips will play a factor in both the seal and sound quality of the Sirius. Let's call it a relaxed fit rather than a Pro fit.
This means they do not isolate as well as some other flagship IEM's such as the Andromeda, though they do feel comfier in the ear. They do however have a more comfortable fit than the IE 800 with isolation on par with the stock silicone tips and superior using the supplied Comply tips.
Stock Cable
You couldn't ask for a better quality stock cable or a better selection of adapters from an IEM manufacturer. This is the A91 party piece, the trick up the sleeve so to speak.
On the one side, you get a 1.3m nylon covered, very flexible braided 8 core SPC cable that is a cut way above the stock EPIC style cables you sometimes see even on high-end customs.
It is supremely comfortable on the ear but for those used to say Linum weight cables this one will come across as a bit heavy. It is also very microphonic and memory free in design making it a joy to work with.
The cable cup connectors are rhodium plated MMCX connectors and the screw locks and color coordinated for left and right.
There are no inline gadget controls so that's always a plus for me personally and some pretty good looking strain reliefs at both ends. The cable is actually terminated with a beautifully designed and sturdy metal enclosure holding 2.5mm TRSS jack.
Ah, yes, 2.5mm TRSS. It does not come out of the box with a 3.5mm cable, instead, you have a further two 18cm connector cables that act as converters for 3 and 4 pole unbalanced connections. So that means the A91 can either do balanced or unbalanced and yes these cables will work with other TRSS 2.5mm balanced cables.
The only downside is the cumulative weight once you apply the connectors. It can get pretty heavy and the two locking jacks give it around 4cm of stiffened metal making that part of the cable unbalanced and cumbersome.
Personally, I think that is a small price to pay for an excellent set of cables and a very well thought out set of extensions. You can, of course, use other MMCX cables though you will lose the locking system feature.
Accessories & Packaging
Packaging and accessories of the A91 is a big leap up from the A83. Fidue has always done a nice line in complimentary accessories but this time, they are presented with something a little more high-end than before.
It still conveys a certain Asian sensibility when it comes to its presentation which means the A91 packaging is adorned with a lot of soft plush material coverings than western products which I tend to find more utilitarian with plastics and metals.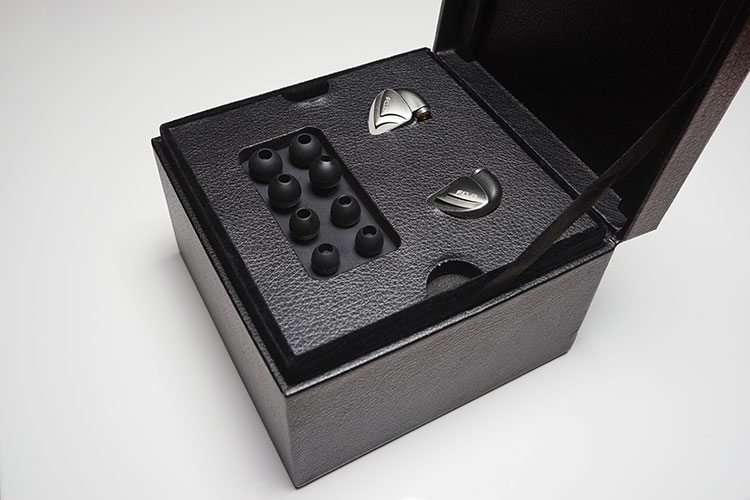 Inside this faux leather wrapped box the A91 drivers come detached as standard with the cables underneath alongside the following accessories:
4X Silicone ear tips (XS/S/M/L) (on the top display tray of the box)
1X Cleaning tool / disassembling tool
1X Comply foam tips (M)
1X Flight adaptor
1X ¼ inch stereo jack adaptor
1X Luxury aluminum carrying case
Special mention has to be given to the aluminum carry case which is a stiffened gun metal colored round case with a screw off lid.
This seems to be the increasing norm now by Asian companies in terms of carry cases and a movement away from 3rd party cases such as Pelican and Otterbox. It certainly looks more attractive.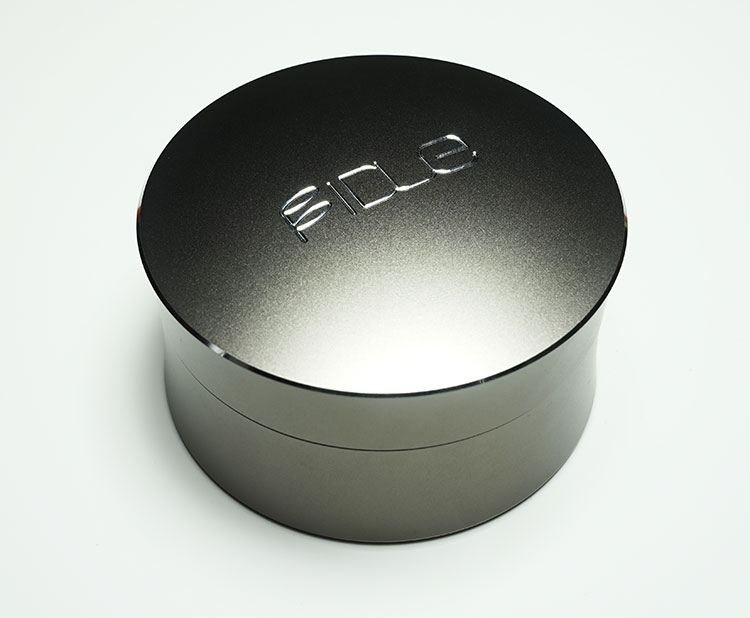 Some do include soft carry pouches to give you a choice of the hard case or something smaller to throw into your pocket but in the case of the A91, there is no soft pouch.
It does make for a slightly larger package to carry around but at $899 I am not the type to throw in premium IEM's in my pocket on the go. This case provides plenty of room for tips and the cable converters as well as a robust environment for protection against knocks and bumps and the usual environmental elements.
Click on page 2 for Sound Impressions and our recommended pairings.