64 Audio A6 Matchability
Efficiency
The 64 Audio A6 is rated at 22 ohms and a sensitivity of 115dB. It should not need any external amplification to be driven at optimal levels and will run quite happily off a decent source such as DAP or one of the better smartphones for audio such as the LG V20 or ZTE Axon 7.
Surprisingly on all DAPs tested below I didn't get any noticeable noise or background hiss which is a plus since a few similarly rated IEMs from last year would have given me hiss.
Source Pairings
The tonal pairing though is something you need to study carefully if you are sticking with the stock cable. The warmish profile of the stock 64 Audio A6 with its slight low end and midrange bias tends to perform better with DAPs with a cleaner signature or a musical signature with a good vocal range.
There is not a huge amount of air up top in the A6's locker so anything that will maximize that without making it sound warm and wooly gets my vote.
Preference Summary
Stock
My preference out of the lot using the stock cable was the midrange i5 and X7 for rock and all-round genre usage, followed by the ZX2 for its EDM performance where vocals are not an absolute must. The all too warm for comfort Paw Gold and Alien pairings brought up the rear.
SXC24
Using the SXC24 SPC cable the Alien would be my preferred choice for a vocal-centric pairing where detail is not a must followed by the X7 as my all-rounder, and the ZX2/i5 with the A6 for additional bass weight. The Paw Gold is out for me on this particular pairing sadly with either cable.
Lotoo Paw Gold/Stock Cable
Volume parameters: 35 – 40 steps – no noise or background hiss
This pairing is very much a warm presentation with raised sub-bass rumble, a more linear mid-bass, and a very slightly elevated vocal presence with a laid back treble.
This pairing might be a touch too veiled for my tastes. It's a little wooly, though, detail retrieval is actually very good but it lacks a little bite and spaciousness in the mids with an overly rounded attack and softish note.
Staging is wide with decent depth but not a huge amount of treble extension and air. I have heard cleaner pairings with the Paw Gold so this one doesn't gel as well as say the A12 or the VE5/6XC did.
Paw Gold/SXC24 Cable
Despite the addition of the SXC24 cable this pairing still errs to the warm side of neutral but this time the cable swap brings a welcome level of clarity in the midrange particularly with male vocals which are now much more natural and lifelike sounding.
Treble extension is also more perceptible with an airier presentation than the stock cable could provide. Bass remains fairly linear with the SXC24 but in turn its more spacious sounding with better definition than the warmer softer stock performance.
Sony ZX 2/Stock Cable
Volume parameters: 40-45% – no noise or background hiss
A dark to neutral pairing with better midrange bite than the Paw Gold pairing and superior treble extension and air. In fact, the Zx2 is just generally a clean pairing with the A6 offering better treble sparkle and a tighter low end than the Paw Gold.
The vocal performance is still not quite as forward as I would prefer with rock though EDM seems a much superior fit with a sparse midrange and higher-pitched female club vocals. Staging on the ZX2 has is slightly more spacious sounding with better instrumental separation than the Paw Gold which tended to warm things up a bit too much.
Sony ZX2/SXC24 Cable
Tonally it is still a dark to neutral pairing but the SXC24 brings in an additional level of refinement and a big lift in male rock vocals whereas the stock cable tended to sound more muted with similar vocal pitches.
Lower midrange instrumental work also benefitted from some additional space and clarity afforded to it by the SXC24 pairing with a cleaner snap to the rhythm guitar attack. Percussion in the upper mids/lower trebles was also slightly brighter and further forward.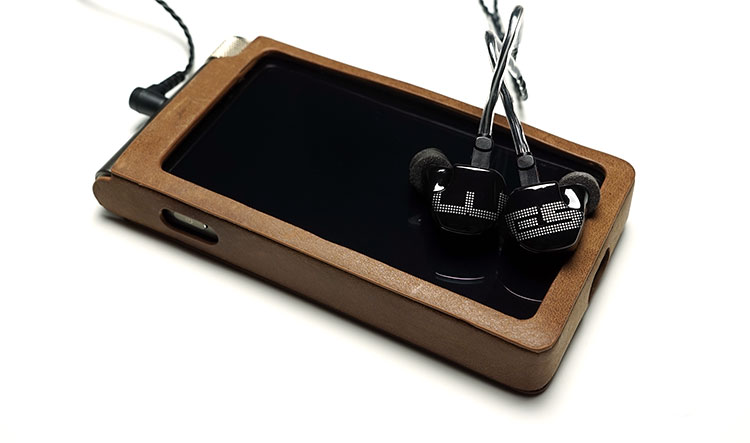 FiiO X7/AM3/Stock Cable
Volume parameters: 35 to 40 steps – no noise or background hiss
Again, a warm to neutral presentation but a cleaner one with a snappier attack than either the Paw Gold or Alien, a more forward midrange than the ZX2 and Paw Gold but slightly less low-end body and slam than the Cayin i5.
Mids are more neutral-sounding than the i5 and though vocals are not quite as forward they do not sound veiled or shouty. Treble has decent sparkle and extension much like the ZX2 and i5, perhaps a bit more air than either of the two with the A6.
Overall this is the most balanced sounding pairing with the A6 and works very well with both rock and pop with a healthy level of detail and a natural-sounding timbre.
FiiO X7/AM3/SXC24 Cable
Swapping to the SXC24 just reinforces my opinion that the X7/Am3 is the most balanced source pairing with the A6. This is the most neutral to natural pairing of the lot with the best treble extension and articulation, the most balanced and spacious midrange and bass performance, though not as weighted and fun as the i5, still produces a snappy and tight response.
The SXC24 merely gives it an additional lift, a cleaner edge, and ups the clarity, particularly in the upper midrange.
Cayin i5/Stock Cable
Volume parameters: 20 – 25 steps low gain – no noise or background hiss
Tonally this an excellent pairing. Though not quite as detailed as either the Sony or Paw Gold pairing you pretty much got the tonal plus points of each all wrapped up in a natural-sounding tonal response.
With the i5 the presentation is warm to neutral. The low end is planted yet nimble with a really nice turn of pace. The top end extends very well with a natural balance between notes decay and attack and offering decent if not a groundbreaking extension.
The big plus was the much stronger midrange performance with an elevated and more forward vocal performance. No veil here, no recessed vocal performance either. Though the note is just a tiny bit soft due to that inherent warm tonality the A6 has, it still sounding very natural and flowing. This pairing works with rock as well as producing excellent sub-bass performance for EDM.
Cayin i5/SXC24 Cable
The big change-up with the SXC24 when paired with the A6 and the i5 was the clarity in the midrange and the better percussion presence in the upper mids/lower treble.
Tonally, the A6 becomes a touch brighter than the stock with more sparkle to its treble presentation, and that in turn benefits that midrange performance which is a key strength of the i5. There wasn't a huge veil, to begin with on the stock cable/i5
Shozy Alien Gold Edition/Stock Cable
Volume parameters: -3 to -5 steps (loud to soft) – no noise or hiss present.
Tonally this pairing is a bit closer to the Paw Gold pairing performance. It is smooth, lush, and rich sounding with a coherent if slightly polite low-end performance, forward mids, and super relaxed treble.
The midrange is the strong point and whilst detail on the Alien Gold is not on the same level as the Paw Gold and ZX2, it does a better job at elevating vocals above the mix than either of those two flagship DAPs. You will get a more vocal-centric performance with the Alien on par with the Cayin but a touch warmer sounding.
Treble is perhaps too laid back on this pairing, lacking in dynamics and contrast and a lot of air. A super mellow performance, perhaps overly smooth for some.
Shozy Alien/SXC24 Cable
Still noise and hiss free but this time the smooth warm tonality gave way to a slightly more neutral yet rich-sounding signature with much cleaner and more spacious sound.
The midrange is still dominant but now you get a touch more clarity and extension on the treble response and much better low-end definition. Upper mids and lower treble get a small lift with percussion sounding snappier instead of smoothed out.
Vocals are still to the fore but they have a better attack with less softness in the note. All round a much more vivid and exciting presentation.
Select Comparisons
(Paired with FiiO X7/AM3 using SXC24 cables and the M20 module.)
Custom Art 8.2
Tonally the A6 has a more forward upper midrange with a slightly more neutral presentation to the darker sounding 8.2. Both have a slight dip in the lower midrange with instrumental positioning just slightly behind vocal staging.
Sub-bass presence is very good at both. The 8.2 has an excellent extension, however, the A6 has a thicker, fuller sound, and better rumble. The 8.2 note is a touch cleaner than the thicker sounding slightly warmer A6.
Both have relatively smooth sounding treble presentations however the 8.2 has a better brilliance region performance compared to the higher energy and snap of the A6's lower treble response.
Staging on the Harmony 8.2 is further back and grander than the wider more intimate sounding A6. Both have similar levels of depth but instrumental separation and layering are more holographic sounding on the 8 BA driver Harmony 8.2.
UM Merlin
The Merlin is a more relaxed warm to neutral tonal presentation than the A6. Its hybrid dynamic driver provides a very natural bass response with plenty of depth and spaciousness but it sounds a little tame compared to the meatier more impactful low end of the A6.
BA designs have moved on significantly since 2011 when I first received the Merlin so whilst a DD bass always has the edge in quality it no longer always holds the cards in terms of weight and impact.
Mids and treble are clean but quite relaxed in comparison to the A6's more vivid and aggressive presentation. Vocals are relatively neutral to the more forward sounding A6. The note is not as thick sounding as the A6 either. Guitar work is natural sounding on the Merlin but lacks the same weight and authority as the A6, particularly with hard rock.
Treble is clear on the Merlins with a better extension than the more relaxed A6 and with more air also. UM got this balance just right for my tastes when paired with a brighter sounding cable. With stock cables, the Merlin, much like the A6 has a slight veil that can be frustrating in terms of reaching its potential.
Visions Ears VE5
The VE5 is an immensely fun-sounding specialist CIEM for vocal lovers. It is all about the midrange here and in particular the vocal presence. Instrumental positioning is somewhat behind, the bass is linear but coherent and its treble is very clean and clear with excellent extension and oodles of headroom.
In comparison, the A6 has a much heavier and fuller low end with a better sub-bass rumble and mid-bass slam. By contrast, the VE5 low end will sound a lot leaner in this respect. All round the A6 is slightly warmer with a thicker note to the clean but natural-sounding VE5.
Vocals will sound a little subdued on the A6 with respect to the stellar VE5 vocal performance which will come as no surprise given this is what the VE5 is about. treble on the A6 is smooth but softer and more laid back than the articulate, ethereal and airy VE5.
Note the VE5 is a lot more efficient than the A6 so you will have to drop your volume by a few bars in comparison to the 8.2 and the Merlin which had similar comfortable volume parameters.
Our Verdict
The A6 is not the V6 of yesteryear. This is not a neutral sounding CIEM, rather it is a warmer sounding presentation with great sub-bass rumble, thickish but balanced mids, and relaxed treble response in stock format.
Swap that stock for something with a bit more sparkle or neutrality and the A6 really lives up to its potential. I can't say for sure this is an oversight by 64 Audio since most everyone I know swaps cables on customs and generally speaking, I have found very few stock cables on CIEMs to live up to potential. In the case of the A6 it is a game-changer for the better so I would factor that into your budget.
The M20 module has some hardcore isolation, one of the best I have heard out of any CIEM though I must profess I preferred the M15's more open sound. A lot of credit has to go to the build quality and accurate 3D printing of the shells from the ear impressions which have a fantastic fit but the M20 takes it to another level.
Sadly, for those that ask, I can't compare to the old ADEL modules, I simply do not have any at hand to give a precise comparison but I had no concerns regarding the M20 and M15 performance in terms of isolation.
Who should get this? Well, people who enjoy rock, the mosh pit, and being right in the heart of the music should give this a whirl. It does an excellent job of conveying that intimate front-row rock concert experience. I get why this would appeal to those on the stage. It is never about the monitoring, it is about the musicality and the emotional response and the A6 does a good job replicating that.
64 Audio A6 Technical Specifications
Impedance: 22Ω @ 1kHz
Sensitivity: 115dB/mW
Freq. Response: 10Hz – 20kHz
Noise Isolation: -20dB with apex m20 module