Jomo Audio is a relative newcomer to the world of audiophile level IEM and customs gear but the owner, Joseph Mou has had a pretty strong track record in DIY and tinkering with customs over the years. Joseph originally hails from a broadcast engineering background in Singapore and dabbled extensively in live mixing and post production so he knows his way around a studio quite a bit. The development of his custom and universal Jomo line of IEMs is a natural extension of his desire to try to be able to recreate that studio sound he has lived and worked in for so many years. The target market for the Jomo line is everyone from musicians to audiophiles like you and me.
Right now Jomo Audio's reach is still limited to distribution in SE Asian with Singapore its main headquarters but you can order directly from them also by sending in your ear impressions for the customs or simply clicking the purchase button on their main website if you want to buy the universal version. This article will focus on the universal versions which quite often pops up as discussion point with customs manufacturers on review potential.
Product Line
Jomo Audio right now has two product lines, the Jomo R and the Jomo Series as well as offering a re-shell service that can extend beyond their own units. There are 6 IEMs in the Jomo Series currently ranging from the SG$299.00 Jomo 1 with a single BA setup to the Jomo 5 5 BA 3-way passive crossover IEM priced at SG$799 and the latest Jomo 6 line with 6 BA in a 3-way passive crossover starting at SG$1099. The Jomo 6 series has been recently augmented by a new 6R line that attempts to take the technical qualities of the regular 6 line and tune it for a flatter more reference like signature. It is these two, the 6 and 6R that arrived on my doorstep a few weeks ago.
What You Get
Both the 6 and the 6R get roughly the same packaging and contents. Jomo Audio have supplied both with an Otterbox type case, relatively and thankfully large in size, roughly equivalent to the same size as the Otterbox 2000. That is more than enough space to house your IEM of choice plus accessories and even an extra cable if you so wish. Labelling on the top is simple but easy to read though it does state custom In-Ear and contains universals so I hope that could be adjusted for accuracy purposes down the line.
Beyond that you get the following with each unit:
Warranty Certificate card (in white) detailing your name, model, serial number and date of manufacture citing 12 months warranty
An IEM pick and cleaning brush
one set of double flange tips in small, medium and large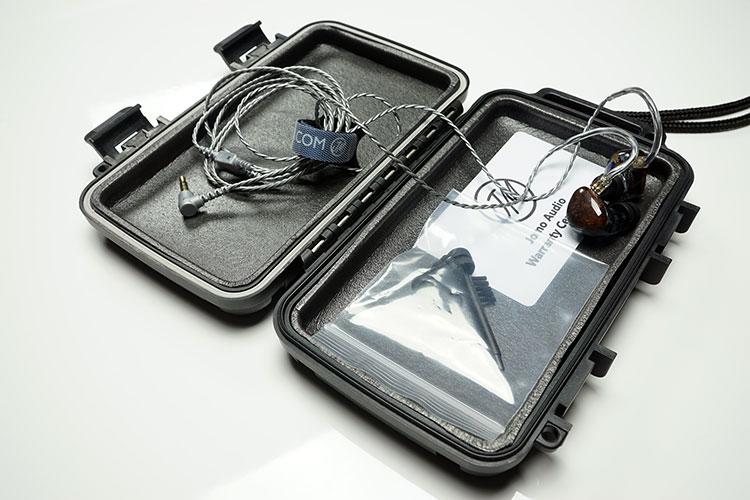 For a universal set this seems adequate enough though the package could have benefited from a slightly large selection of tips including single bore and memory foam but since double flange is my usual tip of choice I can have no complaints personally. Unfortunately, there is no soft pouch either so you are stuck with the hard case for carrying around and although it's very robust and will protect your IEM's to the max it will be slightly too big for the pocket. Considering the pricing though, and it is good value at that, the package is fair if not totally inspiring.
Build Quality
These are universal versions of the customs and as such you can pick from Jomo Audio's extensive gallery of design choices to finish your 6 and 6R universals face plates. Both shells are finished in a single smoked transparent acrylics material. Traditionally we would term these units as demo units of the custom version but the quality of the build is excellent. Both of them are blemish, bubble free and smooth to the touch. Join lines between the face plates and the main shell are virtually invisible.
The nozzle is slightly angular and just the right length to be termed a relaxed fitting more than a pro fitting, i.e. not quite as deep as say a 1964EARS V8 or a M-Fidelity SA-43, more on par with the depth of a UM Merlin. Of course you can't customize the depth of the nozzle on these units but you can on the custom versions upon request. Both units are terminated with a Westone style 2 prong non recessed socket at the top and are designed to be worn over the ear.
The face plates can vary but on these two I chose the clock type internals type face plate which is rather stunning to be frank though I know a few other companies have their own versions. The level of detail in each cog and metal plate is excellent. On the Jomo 6 regular edition I choose a dark wood face plate on the smoked shell. Technically you can combine both on the custom version with a wood face plate behind the clock internals for added pop.
Fit & Isolation
Both units are designed to be worn over the ear and though being universal IEMs they will not give me the same level of seal and comfort as the custom versions they on par with most higher end universal IEMs. Much will come down to the tips you select but the double flange tips that come with them adequately extend beyond the nozzle tip and give a tight enough seal and about 80% of the isolation of most of my customs.
I would rate them as a much better seal than the Fidue A83 and certainly superior to the awkward Sony XBA series and on par with the seal of the UE900s, Shure SE846 as well as the IE800. The Westone series in combination with True Fit tips though is superior in seal to the Jomo series proving how good Westone really is in creating excellent isolating IEM's. Overall though these are very comfortable in the ear with minimal tweaking required to hit the sweet spot. They also have little movement and the seal is remains intact whether your jaw is open or closed.
Cables
Both Jomo units have a similar stock cable. This one is a 1.3M OFC twisted pair grey to silver cable with 3.5mm L shape gold plated stereo jack. It is much the same as you would find on most quality custom cable packages. It is light, pliable and very comfortable with minimal microphonics. You can of course cable swap given the unit cables are detachable.
The top is terminated with a 2-prong non recessed and coated in memory retaining plastic sheath to allow you to shape it around your ear and further reduce noise and movement during usage. The y split is a simple y-shaped plastic splitter with more than adequate strain relief rubber either side as well as around the 3.5mm jack itself.
Page 2: For Sound Impressions