The Tempotec Serenade iDSD is a 'bang for buck' transportable DAC/Amp with a small slimline profile selling for just $139.
Disclaimer: The Tempotec Serenade iDSD sent to us for the purposes of this review is a sample and does not have to be returned. Thank you to Tempotec for giving us this opportunity.
To read more about Tempotec products click here.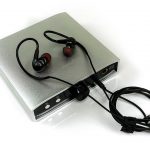 Tempotec Serenade iDSD
This is a musical, energetic solid-state signature with more than enough power and headroom for decent planars and portable headphones. It also has an excellent and very low noise floor for efficient gear which competitors like the uDSD from NuPrime do not have. The addition of OTG is a nice bonus also.
.
It is very unlikely you have heard of Tempotec before never mind-tested or read about the Serenade iDSD.
Tempotec is a Chinese audio manufacturer and by all accounts have been operating in one form or another for the last two decades so they are not new to audio. They have a number of key product lines in three categories, Fantasia, Sonata, and Serenade.
The Fantasia line is their modular desktop system for full-sized headphones and includes DAC's, amps, and dedicated power supplies. This is their TOTL so to speak. The Sonata line is geared more to pure mobility and includes slimline OTG capable DAC/Amps as well as a small USB-C in-line decoder.
The Serenade Series sits somewhere in between the aforementioned categories. There are a number of products in the series all geared to DAC/AMP decoding and would probably be classified as reasonably transportable. Importantly they are relatively cheap. In the case of the iDSD, their Aliexpress store has them at just $139 which may be a bit of a bargain.
What Is The Pitch?
The iDSD is designed to be a catch-all for digital audiophiles on a budget. It offers a wide variety of features in a small desktop footprint. Those features include USB-DAC from a PC or MAC, headphone/IEM amplification, analog line out for active speaker assignment, coaxial output to another source as well as OTG features for smartphone docking.
The use of an AK4490 chipset inside the iDSD does belie fears that the unit is built on a 'bed of straw" and the price point of $139 looks easy on the wallet. The iDSD feels like a relatively low-risk purchase thus the value proposition is relatively high, at least on paper.
Build
Form Factor
You can't have everything I guess or $139 and the iDSD is certainly no audio beauty pageant winner. However, it is built like a tank, no two ways about it. There are no official weight and dimensions listed but I would guess around 400g in weight and it measured 120mm x 130mm x 30mm.
This is a mid-sized desktop unit with some very traditional lines and a slightly curved finish towards the sides. It is almost square in its form factor with some sharpened edges and about an inch tall.
It is finished in that traditional metallic paint job I tend to see a lot of Chinese audio products come out in. Even Hifiman's new ultra-expensive R2R DAP has the same paint job. I presume it is a steel or aluminum alloy chassis with about 5mm of thickness. It looks it will be shielded fairly well from RF and other electrical naughties when connected to smartphones for OTG duties.
Inputs & Outputs
Volume
The front and rear panels are finished in a piano black glossy finish and house the inputs, outputs, and controls. The iDSD uses a traditional analog pot at the center of the front panel for volume control. It operates much like an alps pot but the spec sheet does not confirm that it is indeed Alps. There is no resistance-based power functionality in the pot it simply adjusts volume with the power switch at the back.
Source/Output Controls
Either side of the pot is a set of controls and two single-ended output jacks for 3.5mm and 6.35mm format. The two control keys on the right allow you to choose your source, be it USB-DAC from a PC or MAC or an OTG source.
If you check at the back panel to the far right you will see the USB slots for those two sources. One a port A for PC and Mac connection and the second, port B for an OTG connection.
The second control button will allow you to select your choice of output in either analog (line out and headphone) output or digital (coaxial) output.
Rear Panel Outputs
The rear panel has provision for dual RCA outputs for active speakers or higher-powered amps and can run as a pre-amp in both scenarios. Unlike similarly sized devices such as the Pro-Ject Audio Pre Box S2 Digital, the iDSD does require a switching DC power supply and cannot be run via USB 5v.
The coaxial output is also designed to run a digital signal to another source in case you simply wanted the iDSD as some sort of transport. Personally, I would have preferred a coaxial input for pairing with capable DAPs.
Physical Controls
We go back to old school here as the iDSD is 100% mechanical and manual in its control features. I have been recently going over quite a few all-in-one boxes in the last year or so and increasingly they all come with some sort of remote control.
Essence HDACC, Hugo 2, Burson Play, and NuPrime devices all aim to enhance the couch potato factor. Not so Tempotec. Personally, unless you are streaming, I see no real need for a remote for a compact desktop/laptop device such as the iDSD. It also helps to keep the cost of the iDSD down as well.
Hardware
DAC
There is some inference of a close working relationship with HiBy Music and Tempotec in terms of the hardware implementation. The iDSD uses a single AKM AKk4990 chipset implementation backed by a "HiBy Music branded" processor capable of decoding up to DSD128 and a rated 120dB SNR.
Despite its advancing years, the AK4490 will decode pretty much everything else including MP3, APE, FLAC, and WAV though there is no mention of ALAC or ACC on the spec sheet. For PCM, the iDSD will handle up to 32BIT/192K without any issues.
Amp
The iDSD uses a Texas Instruments, TPA6120 with an LME 49720 low pass filter operational amplifier. The power rating on the iDSD is actually quite good with a rated 75mW into 600Ω. It does not exactly state the breakdown to 32Ω but my guess is around 300mW. (editorial – confirmed by Tempotec as 300mW into 32Ω)
Whilst there is no official noise spec on the iDSD box the tech manual shows a very impressive SNR of 0.00014%. If Tempotec gets anywhere near that I would be very impressed indeed. One thing to note the tech manual of the TI LPF does point to a linear output up to 5k and a slightly energetic top-end beyond.
Accessories & Packaging
The iDSD packaging is nothing fancy but it gets the job done. There is plenty of pics and information on the outside to grab your attention from a retail shelf. Inside it is a compartmentalized layout for the unit and accessories. Pretty much everything looks like biodegradable cardboard to me.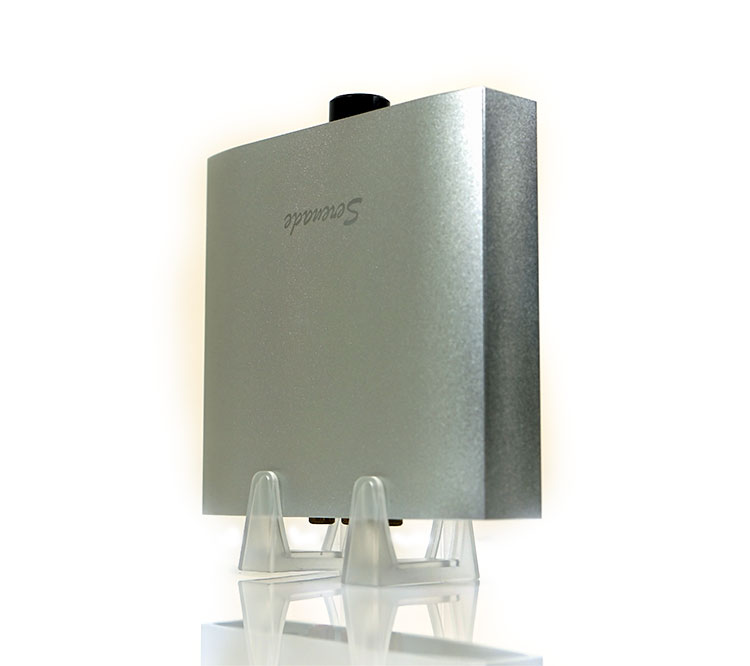 Inside you get the unit, the 5v switching DC power supply with a range of compatible plug adapters as well as a 1.5m USB-A cable and quick start manual. You also get two little plastic transparent stands that allow you to lay the iDSD flat or upright and off the desk.
It is a nice thought but one of mine did not seem to want to grip the iDSD that well. I had better luck upright than horizontal as the manual would suggest. I ended up using some 3M blister pads on the base for grip and protection. An altogether more elegant solution for less money as an accessory.
Page 2: Sound Impressions & Comparisons