In this feature, we review the new Moondrop Blessing 3, which is a hybrid dual dynamic and four balanced armature driver universal in-ear monitor. It is priced at $319.99.
Disclaimer: This sample was sent to us in exchange for our honest opinion. Headfonics is an independent website with no affiliate links or status. We thank MOONDROP and Shenzhen Audio for their support.
To read more about MOONDROP products we have previously featured on Headfonics, click here.
Note, that this article follows our latest scoring guidelines which you can read here.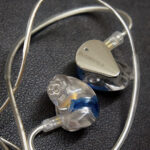 Moondrop Blessing 3
The Moondrop Blessing 3 has excellent imaging performance, especially for the price. Pair that with its neutral tonality with slight elevations towards both ends of the frequency response, and the Blessing 3 technically proficient set of IEMs that are also enjoyable to listen to every day.
Pros
Very good tuning
Excellent Imaging performance
Very good detail retrieval
Cons
Large and Heavy Shells
Easily Damaged Faceplates
Very few IEM product lines are as revered as the Blessing series by Moondrop despite higher-end models such as the Variations being launched. The Blessing 2 and its retuned sibling the Blessing 2 Dusk were golden children in the ChiFi community, being regarded as some of the best-value IEMs in the market.
Three years later, the Blessing 3 has been launched and it aims to improve upon its predecessor with a sleeker design, upgraded driver configuration, and refined tuning.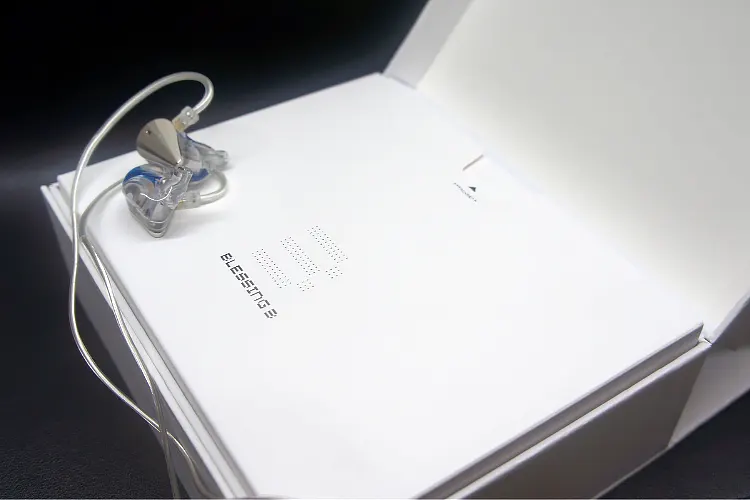 Tech Highlights
Just like its predecessor, the Blessing 3 makes use of a hybrid driver configuration. However, it ups the ante by utilizing 2 dynamic drivers in an isobaric configuration as opposed to the single driver and 4 BA drive setup used by the Blessing 2.
This dual dynamic driver system, which Moondrop coins as H.O.D.D.D.U.S (Horizontally Opposed Dual Dynamic Drivers Unit System), produces a tight bass response, whilst reducing even order dynamics.
Additionally, having two dynamic drivers in an isobaric configuration also means the Blessing 3 can produce bass output at half the stroke it would have needed if it were to use a single dynamic driver.
With a total of 6 drivers per IEM, Moondrop utilized a crossover circuit in addition to 3D-printed physical acoustic filters to ensure that all drivers synergize to present a pleasing tonal response.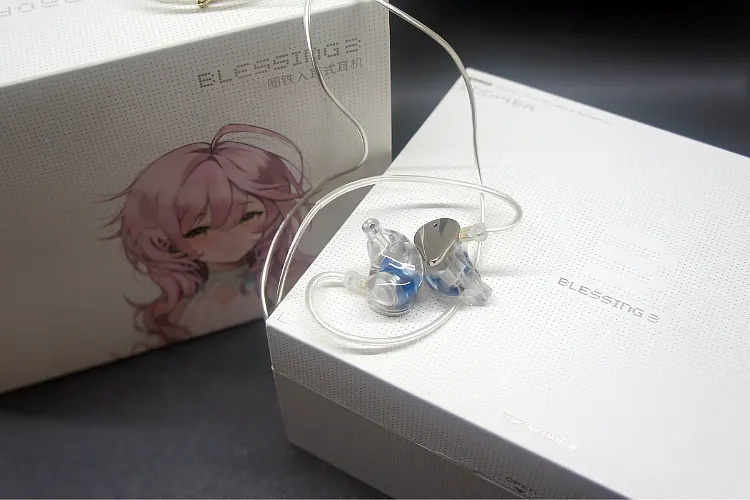 Design
The Blessing 3 is a perfect example of function improving form. It uses a DLP 3D-printed shell developed in collaboration with HeyGears that is not only aesthetically pleasing but also houses the unit's complicated physical crossover system.
The clear 3D-printed shell intricately shows off all the individual drivers, as well as all the complex frequency division design that meshes them together.
Towards the front of the shells, you get CNC-machined stainless-steel faceplates that are meticulously hand-polished to have a mirror-like finish. Upon initial visual inspection, I was almost tricked into thinking that these faceplates were in fact made of etched glass.
The face plates are machined to have slight angular ridges, resembling a faceted crystal. A small vent can be seen in the middle of each face plate, with a stylized Moondrop logo under the vent of the right IEM, and a stylized Blessing 3 Logo under the vent of the left IEM.
The resin build holds up well in daily usage, however, the stainless-steel faceplate is a completely different story. The mirror-like polish makes the IEMs a "fingerprint magnet". Unless I wear velvety soft gloves, the IEMs get smudged the moment I touch them.
Unfortunately, this polish also makes micro-scratches from daily usage extremely visible, which may give the IEMs a "worn down" look over time.
The Blessing 3 makes use of a standard 0.78 mm 2-pin connector that allows for easy cable replacement. Through my regular testing, I never encountered the IEMs being unintentionally detached from the included cable.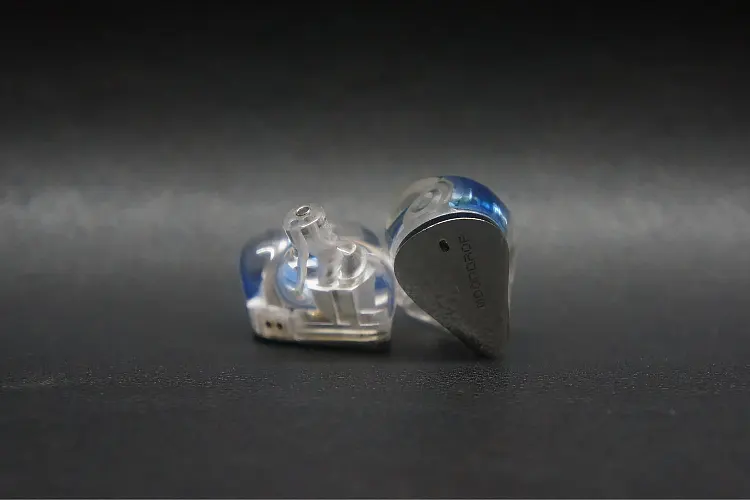 Comfort and Isolation
Compared to other IEMs such as the Open Audio Witch Pro, I wouldn't consider the Blessing 3 comfortable, however, using it day-to-day is not particularly bothersome. The resin shells are ergonomic enough, and they remain secure in my ears even after hours of usage.
However, the large shells and nozzle cause slight discomfort. This, in addition to the Blessing 3 being heavier than other IEMs, makes them a pair of IEMs that you are constantly conscious of.
The nozzles also do not hold onto the included silicone ear-tips particularly well. I have experienced multiple occasions where the tips got stuck in my ear after pulling out the IEMs.
When using more comfortable IEMs such as the Witch Pro, I occasionally forget that I am wearing them at all, however, I never experienced this when wearing the Blessing 3.
They also have average isolation performance. Because of its vented design, it does not completely block out any noise, it merely lowers their volume.
However, in my day-to-day testing with mild playback volume, there were multiple occasions where I did not realize that people were trying to call my attention or talk to me.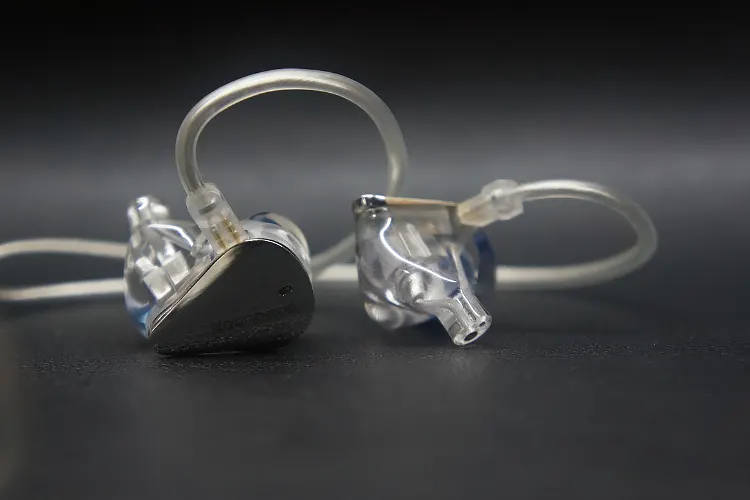 Stock Cable
The Blessing 3 comes with a braided 2-core stock cable that makes use of the standard 0.78mm 2-pin connector and a standard 3.5mm termination on the other end.
The wires themselves are made from silver-plated copper and encased in a transparent sheath, giving it an appealing shine that matches the IEMs.
The cable has some retention especially when curled up for storage. The ear hooks, in particular, have a significant amount of retention, I found myself needing to manually twist it back into shape before using the IEMs.
Throughout my daily testing composed of a mixture of desk usage and on-the-go listening, I observe no microphonics whatsoever.
Unfortunately, the brushed silver cable splitter and 3,5mm plug have a low-quality brushed finish that makes the cable feel less premium than it could have been.
At this price point, it would have been nice to see a balanced cable or a cable with replaceable terminations, however, users who wish to use the IEM with a balanced amplifier can easily find a replacement cable 0.78mm 2-pin replacement cable.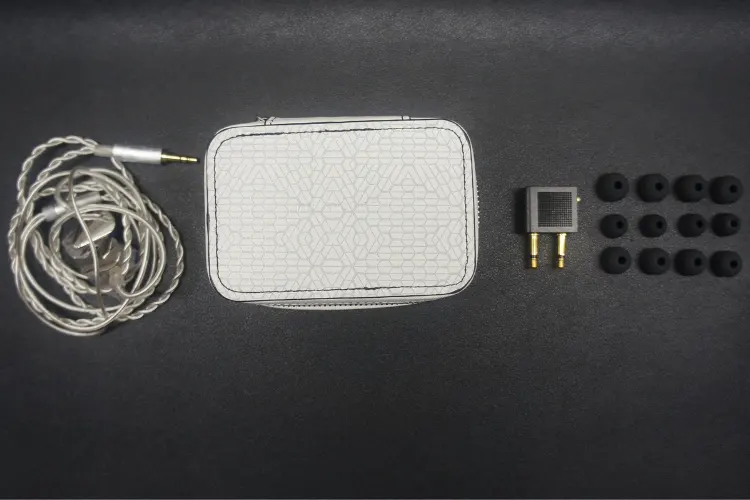 Packaging & Accessories
The Blessing 3 comes in a high-quality white box with an outer sleeve dominated by an illustration of a pink-haired waifu. Taking off the sleeve shows the box itself, which is engineered to support the weight of the top lid at a 45-degree angle once opened.
Opening the box shows the IEMs with the included high-quality leather carrying case right next to them. The interior of the included carrying case is lined with a velvet-like material, ensuring that the IEMs do not get scratched. However, the case itself is too large to be pocketable.
In addition to the IEMs themselves and a carrying case, the Blessing 3 comes with 2 pairs of silicone ear tips, 2 of each size (S, M, L), an airplane adapter, a QC certificate, and a postcard with the Waifu in front.
Surprisingly, the packaging does not include the well-renowned Spring tips that come with the $19.99 Moondrop Chu. Nevertheless, the included silicone tips are serviceable, however, I've experienced them slipping off the IEMs and getting stuck inside my ears on multiple occasions.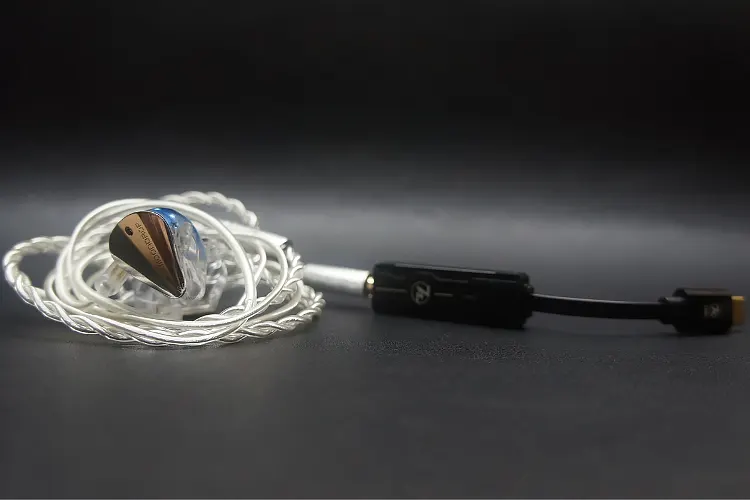 Synergy
Efficiency
With an impedance of 14.8Ω and a sensitivity of 117 dB, the Blessing 3 is relatively easy to drive, however, it does benefit quite a bit from a dedicated amplifier or even a dongle.
The integrated headphone jack in modern smartphones can drive them to a comfortable volume, but this comes at the cost of sub-par detail retrieval.
Pairings
Based on my testing, the Blessing 3 benefits from amplifier and DAC pairings that maintain its neutral tonality. I found that it works well with the Topping L30 II being fed by the SMSL SU-1.
For portable usage, I found that the Blessing 3 works adequately well with the 7Hz SEVENHERTZ 71. It can easily power them to a comfortable volume with no distortion. The slight elevation in the bass region is not always preferable, but it is subtle enough to not stand out as an issue.
Click on page 2 below for sound impressions and our selected comparisons.