The Superlux HA3D is a robust transportable headphone amplifier with balanced input and multiple outputs and battery capable. It is priced at £77.
Disclaimer: The Superlux HA3D sent to us is a sample in exchange for our honest opinion. We thank Thomann for this opportunity.
To learn more about Superlux reviews on Headfonics you can click here.
Note, this review follows our new scoring guidelines for 2020 which you can read up on here.
We have been looking at a lot of headphone amps of late and as a result, the floor is covered in carnage when we try to compare headphones to headphones – the options are endless at times and people keep saying how to does this headphone sound with that amp and does this headphone sound like that headphone?
I tell you apart from being one of the most subjective games in the business for comparing headphones it is also the most energy-sapping switching your headphones around every time you want to compare on a single amp or amp/dac.
This is why the Superlux HA3D, with its three jack output, to name a few things, is a very interesting proposition and at a price point that is pretty darn competitive.
Now the solid-state HA3D has been out for a while globally but only in the last month have they sneaked into the local market so big thanks to Superlux for getting a unit out to us for inspection and testing.
Superlux Philippines have been quick to get the product out to the local distributors also so I am starting to see the brand pop up in the usual outlets which is very promising.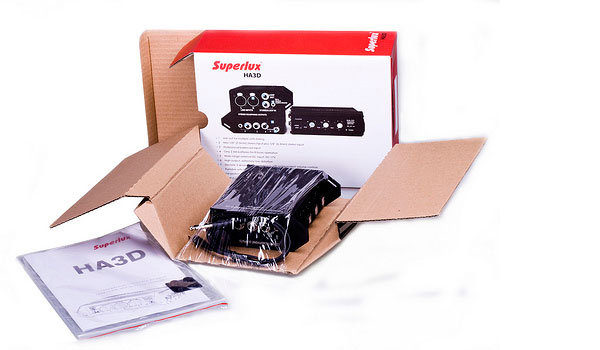 HA3D Packaging & Build
The HA3D box is pretty big and this is a good indication of what you get inside because the unit itself is no pocket wonder I can assure you. Opening it up I expected a lot of bits and pieces, the amp, etc but in actual fact, you get the amp, a line cable, the manual, and a bunch of sticky feet.
Nothing else really – very utilitarian actually but then when your done taking it out you are not looking at the box but this tank-like structure called the HA3D. Man, this thing is built to last with its solid metal enclosure, studio-level knobs – nothing boutique about this, this is built to last.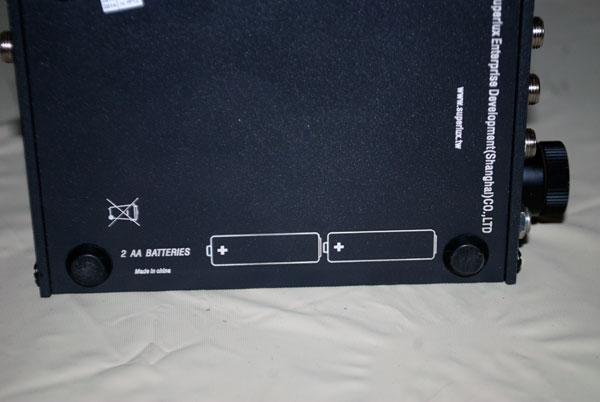 You are also going to notice the size. It is much bigger than the average portable headphone amp so in a sense I would have normally said ok this is a desktop amp but for the fact, on the back of it, you have two AA battery symbols.
Ah well, now we do have portability but only nominally so. I would hazard a guess that from the strong studio legacy designs it contains when we mention portability we don't mean commuting to work but moving it around a studio or a setup far away from wall sockets. Stick it in a rucksack sure, stick it in your pocket, not a chance.
Oddly enough I can envisage some of our local forum members trying this out on a local commute – why I persecute myself with these thoughts I will never know.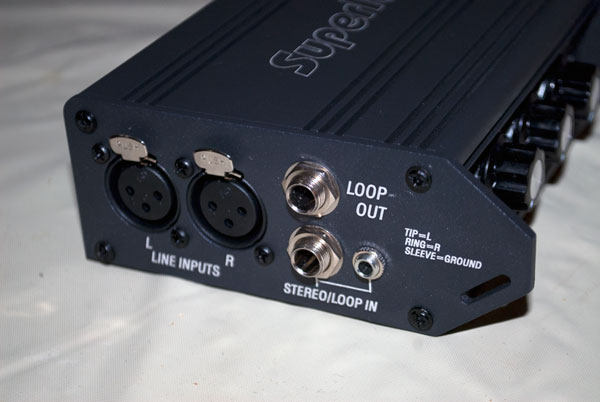 I/O
Now the HA-3D is jam-packed with connections and this is one of its main selling points. Moving from right to left you have 3 huge studio dials for volume, the power switches, 3 headphone jacks on the far right, and then some balanced inputs on the left, finishing with loop-in (line-in) and line out.
This unit is not short of connection options. The 3 jack option is a key seller for me, particularly for headphone comparisons or simply sharing with your buddies. Balanced inputs give you options within a balanced setup, though the omission of RCA inputs, instead of using a line in, is a curious one considering its borderline desktop design.
Still using the line-in I can hook a FiiO E9 as a preamp using digital audio or a more mobile solution with a Hifiman HM602 series or connect it to something like a Cambridge DAC Magic through the balanced inputs for more heavyweight usage and I am all set.
You can even loop out to another HA-3D to have 6 cans running at the same time – professional demo sellers take note! It is a pity also there was no balanced output just to complete the balanced setup but given the options and pricing, this might be too much to ask for.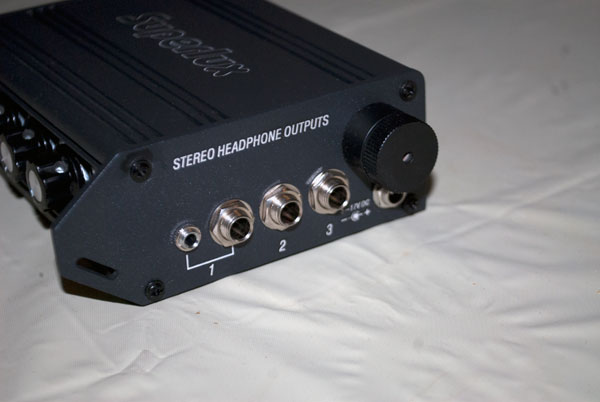 What I love most is not just the 3 jacks on the HA3D but the fact each one is individually a complete circuit allowing for full volume control for each jack. In effect, you have three amps here all outputting the same sound signature which for monitoring folks is a big bonus.
For us chattering classes we can listen and give thumbs up at the same time without ever wondering if we are hearing the same thing or not. There is an option on jack 1 also for 3.5mm input giving earphone users the ability to join in on the fun.
The HA3D AA battery rating is at 8 hours is not going to break records but just think of the fact what I said in the last paragraph and you begin to realize how well this is put together. To be able to run this amp with 3 outs on 2 batteries is pretty outstanding stuff. There is an AC socket also for prolonged use though sadly you don't get a wall wart in the package.
Synergy
For three jack outputs, you would think there has to be a compromise somewhere on the power side of the HA3D. Oddly enough this is not the case. The HA-3D can really get to grips with plenty of thirsty cans though I did not roll out the big guns such as my Hifiman range.
My gut instinct told me that the HE300 will be just fine and maybe even the HE500 but the HE6 and possibly the 5/4 might struggle a bit more. The Grado 325i rocked pretty easy though in its stock format I felt it a tad too harsh and bright.
The modified 325i saddled with wood and Denko cable brought a much more satisfying sound with much of the 325i's natural 'splish splash' tamed down on the HA3D.
My best match was the ESW9 using the FiiO E9 as a pure pre-amp and the E7 as my DAC. Using the Cypher Labs AlgoRhythm Solo with LOD out and an iPod to the HA-3D made the whole setup a little too bright for my own tastes though everything was wonderfully crystal clear.
Perhaps it was my mood tonight but I wanted to be laid back and the ESW9 plus FiiO E9 gave me a bit more than the Grado and CLAS option. Another nice match was the Hifiman Hm-602 with its thick and warm analog output using line-out to the loop-in. Certainly seemed one of the better 'mobile' setups.
Even the Sony PFR-V1 got a good run though the lack of natural deep bass output didn't help with the Sony being a bass light personal ear monitor, to begin with.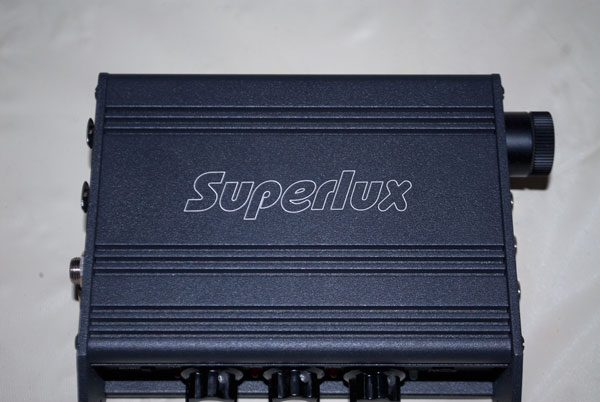 Our Verdict
Sound quality-wise the HA3D was built from the top down so whilst there is a ton of power we found the sq to be more neutral to bright than dark and warm. Take your pick, some will love this and some will not so match with care as always.
The HA3D power handling capacity should also draw in some of the hungrier 300/500 ohm cans and certainly, the Sennheiser HD650/800 seemed happy enough when hooked into the amp.
Overall I found this to be a nice niche product that sits somewhere between a full desktop solution and a mobile 'does everything' amp. Easily could be the darling of headphone meets, professional demo sellers of audio products, and of course studios.
Price-wise as always with Superlux the HA3D is a winner coming in at just over $100 locally and in this context, it is an excellent little headphone amp.
HA3D Technical specs
3 independent headphone outputs with individual volume controls.
Frequency response from 10 Hz to 50 kHz.
≥120dB dynamic range.
Individual peak indicators show an overload of each headphone feed.
Master Stereo / Mono switch.
Powered by 2 AA alkaline batteries or adapter with 5-17V DC output
Aluminum alloy structure
2 balanced XLR line-level inputs or unbalanced 1/4-inch and 1/8-inch stereo inputs
Loop output to connect additional HA3D's in series for extra headphone outputs.
Strap loops on side panels for easy mounting or wearing.
Frequency Response: 10 Hz-50 kHz, ±1.0 dB, any input to any output, gain control set to 50%
Voltage Gain:(Gain, Loop, Out Headphone output) Bal. Line, -3dB, 34dB; HP Input, -1dB, 35dB
Output Clipping Level: +18dBu minimum with 600 Ω load, +16dBu minimum with 300 Ω load
Headphone Output impedance: 200 Ω
Input Clipping Level: XLR:+24 dBu
THD + Noise: 0.03% maximum(from 10 Hz–22k Hz @ +10 dBu input and output level, 300 ohm load, 10 Hz–22k Hz filter bandwidth)
Dimensions (H×W×D): 43×94×140 mm(1.69″×3.7″×5.51″)
Net Weight: (unit only) 0.56 kg, 1.24 lbs