Select Comparisons
Kiwi Ears Orchestra
$499
Technical
Both monitors have a full-BA design. The Orchestra consists of 8 BA drivers while the Elsa has 5 BA drivers inside. Apart from the number of drivers, the Orchestra uses a blend of Sonion and Knowles BA drivers while the Elsa has pure Knowles BA drivers.
Design
The two IEMs are similarly made with resin. However, the Orchestra appears to be larger in size. In terms of design, the Orchestra does have a rather simple design, with an all-black shell and brushed texture design on its face plate. The Elsa on the other hand is fully customizable, depending on the user's taste.
Both shells have an ergonomic design with a 2-pin 0.78 termination. Both are worn in ear-hook style. The cable on the Orchestra appears to be thicker and heavier. Both cables are terminated with a straight plugged 3.5mm.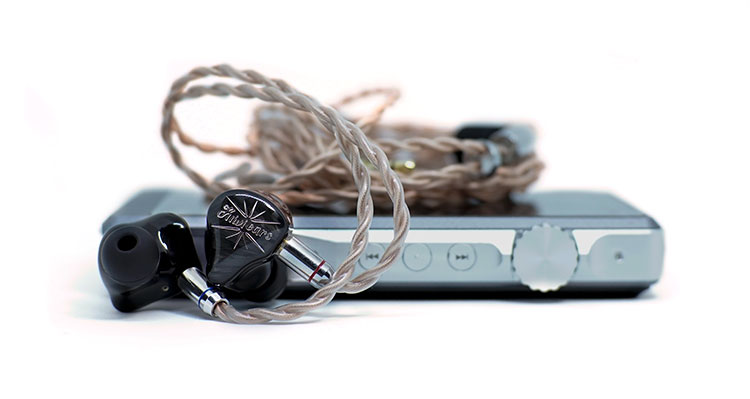 Bass Performance
The bass region of the two are quite similar, sub-bass is not the focus of these IEMs. Nothing is to be said about them. They are lacking in weight with a very minimal thump or rumble if felt at all.
Both have an articulate mid-bass presentation. However, details are more heard on the Elsa since it has a more elevated mid-bass region than the Orchestra.
The Orchestra also displays the same texture and presentation although the Elsa is more noticeable since it's more audible. For the Orchestra, you need to focus on the bass thumps to hear it but with the Elsa, it's natural and quite noticeable.
Mids Performance
The Orchestra is surprisingly warm for a full BA monitor with both monitors having a smooth midrange and accurate timbre. Classical string music is thick and enjoyable with both monitors.
One thing I noticed though is that the Orchestra has a much thicker lower mid-range region, especially with strings. Also, out of the two, the Orchestra has a more elevated midrange region.
Specifically, the vocals are more upfront in the Orchestra. This means, that if the priority is vocal recordings, it is most audible in the Orchestra as it floats across the different frequencies. To be fair, Elsa also does a good job in presenting vocals, it's just the Orchestra has a more forward presentation.
Treble Performance
The treble on both monitors is well balanced. Both have good control and treble extensions. With the Elsa, higher frequencies extend a bit better, which is most noticeable in acoustic and live performances. Even subtle breaths, which are practically noise at some point, are picked up. That's how transparent it is.
Acoustic guitar replication is also more accurate, with a natural sharpness in each strum compared to Orchestra's rounded presentation. Listening to Elsa would be a more accurate and transparent experience, especially when listening to live albums.
Staging Performance
The soundstage and imaging of both monitors are very similar. Both have a relatively flat tuning, with not much depth. Which is redeemed with their respectable widths. The Elsa stands taller with its better treble extension, which feels like there is another level revealed.
Specifically for imaging, both are above average for IEMs. Although, I prefer Elsa's as it has more balanced across different frequencies, which puts different layers on a neutral stage, compared to Orchestra's more forward mids which puts the vocals on top of everything else.
Shozy Magma
$499
Technical
These 2 monitors are very different in their driver compositions. The Magma has a tribrid design with a quad driver composed of 1 Dynamic Driver, 1 Balanced Armature, and 2 Electrostatic Drivers. The Elsa on the other hand has a 5 Knowles Balanced Armature driver.
Design
Made by the same company, the shape and size of the shell appear to be similar. The main difference is Magma's 3-hole vent on the IEMs shell for the dynamic driver to breathe.
The Magma has a black shell with an orange and brown foil-like finish on its face plate. The Elsa on the other hand is fully customizable with over 500 designs.
A 2-pin 0.78mm termination with an ear-hook design is found on both monitors. The cable on Elsa is thicker than the one found with the Magma. The cable for both monitors is terminated with a 3.5mm straight jack.
Bass Performance
These 2 monitors are built for different things, with the Magma being a more "fun" tuning and the Elsa being a more "reference" tuning. What this exactly means, I will further explain below.
When I say "fun", this usually pertains to the boomy head rocking kind of monitors, and this is what the Magma exactly delivers. With its tribrid design with DD, BA, and EST drivers, it's sure to have a sub-bass boost that can be heard as thumps or rumble.
Although the Elsa has sub-bass and mid-bass dedicated BA drivers, it would be hard to compete with a dynamic driver, not to mention it has a reference monitor tuning, which does not have bass boost priorities.
Mids Performance
The Magma has the more elevated midrange region. However, in terms of quality, the Elsa has a thicker and more natural-sounding midrange. I was quite surprised by the difference as these 2 are made by the exact company. But then again it would make sense since they are both tuned differently.
Vocal and instrument timbre sounds more accurate on the Elsa. It is full-bodied, lusher, and has more heft. Although the Magma has articulated mids, it sounds hollow and thin at times, side by side, which makes Elsa sound superior in the midrange region.
A specific example would be when listening to orchestra music. With the Magma, the instruments sound quite dull and thin compared to what Elsa brings to the table. The Shozy sounds livelier and has a more textured tonality. It is quite similar to the vocals. Both male and female vocals sound lusher compared to the Magma.
Despite both monitors having an airy and light overall presentation, Elsa has a better treble extension. This is particularly noticed with cymbal splashes and guitar strums with a natural sharpness, replicating how it is heard live. Magma's presentation, on the other hand, is faint, and not at all memorable.
Staging Performance
In terms of soundstage, they are quite similar in width. The Elsa does have more height while the Magma has more depth. In terms of imaging, the Shozy is more accurate than the Magma. Vocal layering is projected better with the Elsa, perhaps a notch higher than the Magma.
These two are very different monitors, and it will depend on how you intend to use them. In terms of technicalities, the Elsa does outperform the Magma but its tuning might not be a popular choice.
Our Verdict
I'm quite impressed with Shozy Elsa. It is a technical monitor with an accurate timbre. There is very little to complain about given that it's built to be a reference monitor.
If you're looking for a fun monitor with boomy bass, then this might not be for you. It is clearly not built to be a head rocking monitor. However, one thing's for sure, is that it is built for people who are meticulous to detail. It has a great midrange body and treble extension, which helps in picking up higher frequencies.
For someone not in the field of recording or monitoring, this is still enjoyable given their intricate articulation. Hobbyist listeners will still like this monitor if they are after a clean reference tuning.
Shozy Elsa Technical Specifications
Driver: 5 * Knowles BA driver
3-way switch design
Impedance: 15Ω @ 1KHz
Sensitivity: 105db SPL @ 1mW
FR range: 20-20000Hz
Isolation: -26db
Termination: 0.78 2Pin
Connection: 2.5 mm, 4.4 mm, 3.5 mm