Our review of the Shozy & AAW POLA39, which is a re-tuned version of their hybrid POLA monitor with more of a vocal focus than the original. It is priced at $950.
Disclaimer: The Shozy & AAW POLA39 sent to us is a sample in exchange for our honest opinion. We thank the teams at AAW & Shozy for giving us this opportunity.
To read more about Shozy products reviewed on Headfonics click here. To read more about AAW (Advanced AcousticWerkes) products reviewed on Headfonics click here.
Note, this review follows our new scoring guidelines for 2020 which you can read up on here.
Shozy & AAW POLA39
AAW & Shozy have tinkered with the already good quality POLA tuning and produced a far more engaging midrange and generally a more punchy vocal-driven performance here from the new driver,
And so, the electrostatic rage carries on into 2020. We did get the POLA39 late last year but since then the likes of the Kinera Nanna and Fearless Audio Roland have arrived and all of these are much lower in price than the original wave by the established brands in early 2019.
To be fair, the POLA original was competitively priced also at sub-$1k last year so at least the teams at AAW and Shozy have been very consistent with their pricing.
The new POLA39 is just $50 more than the original version and sports a fresh new external design and an overhaul of the internals to boot.
This is no cosmetic upgrade and the performance is entirely different also. Will it appeal to a different audience from the original POLA as a result? Yes, I think so.
Tech Inside
The original POLA used a 13mm Graphene (carbon allotrope) dynamic driver and dual electrostatic tweeter hybrid design with a TrueXross 2 Way Crossover.
The new POLA39 swaps out that 13mm driver and instead goes with a slightly smaller proprietary 10mm dynamic driver but retains the same dual electrostatic driver build as the original.
To maximize the implementation the housing has also been shrunk down in size with a new venting and nozzle design. Shozy & AAW have also retained the excellent Null Audio 48″ Symphonym Tiburon UP-OCC Copper Litz 4-wire cable as the stock cable for the package.
Design
Sadly, as a comparison, I cannot do like-for-like with the original POLA as my original sample was a custom design. However, the color scheme from the old to the new has changed, and definitely has a much smaller housing than the custom version.
This is a turquoise/pale green acrylic hollow body 3-piece build consisting of the translucent main shell, Mother of Pearl faceplate, and a stainless-steel nozzle with a decent lip for holding the supplied tips. It also has some decent custom universal contouring which is unsurprising given AAW's custom monitor manufacturing background.
The transparent housing allows for a nice nerdy peek into what's happening on the inside and you can easily pick out that driver positioning and exact designs. In all this looks to be a tidy and compact design and probably one of the advantages of going with that smaller 10mm dynamic driver.
Cable & Connectors
Connectors
The POLA39 uses a standard recessed 2-pin 0.78mm socket that is designed to guide the cable over your ears and not straight down.
Maybe it was just my original version finishing but I find the sockets much easier to connect with the stock cable pins on the POLA39 compared to the original POLA. Less moving around and hunting for a lock than before which I much appreciate.
The pros of a recessed socket do mean it is quite stable and robust once locked in so you won't have any accidental bending and the socket is less likely to wear out over time like an MMCX.
Cable
This is an excellent stock cable. No surprise really given that Shozy, AAW, and Null Audio work closely together. The POLA comes with a 48″ Symphonym Tiburon UP-OCC Copper Cable Litz 4-wire cross-braided in a very supple translucent PVC jacket. It retails separately for $169 so it is not a throwaway accessory by any stretch of the imagination.
The finish on the cable is excellent also. The Tiburon uses a chrome-plated barrel with carbon fiber weaves and a matching chrome allow ring for the chin cinch. Inside each barrel is finished with rhodium-plated copper contacts at the y-split and jack.
The jack is gold-plated 3.5mm TRS as stock but personally, I would have loved this to come in a 2.5mm TRRS I guess AAW/Shozy are planning for the most likely applicable usage and almost every DAP has a 3.5mm socket.
Comfort & Isolation
The custom contouring seems to work pretty well in the ear and is very comfortable. Combined with the more compact size of the new design it does not stick out as much as the original POLA. However, in terms of sealing it is not as good as a custom version, new tuning or otherwise.
Tips
No surprise there then that tips will play a fairly important role in the final sound signature, comfort, and the level of seal you can get on the universal POLA39. This I why I am a little bit surprised at the lack of choice in the tips that come in the box. You get a set of single-bore silicone black tips in S/M/L sizing and 3 foam tips with the same sizing.
Now they all fit pretty well and I tend to use the large in silicone and medium in foam as the foams are slightly firmer and thicker. However, I can't help but wonder if a set of bi-flange or SpinFits would have been a nice alternative for not too much additional cost.
In terms of isolation, the POLA39 is excellent with the foam tips with some good low Hz noise blockage. The silicone tips do a decent job also but you will find ambient noise leaks in a bit more. I find the single-bore silicone tips to be marginally more comfortable, however.
Accessories & Packaging
You can almost tell on the specific areas AAW had the most influence on because the packaging and retail box is pretty much AAW's high-end vision for their Nightingale and Canary products. This is a large PU leather-covered blue finished flip-lid container with a POLA metal badge at the bottom. It does look fairly premium and fitting for a high-end offering.
Inside, it is all about a clean visual so everything is neatly tucked away under a paper insert with just the small carry case for show. The new cases are indeed lovely and it seems AAW is rather proud of that with the statement "African blackwood handcrafted carry case" in gold emboss printed just above it on the paper tray.
One thing to note is the underside of the flip-top lid which has a little mesh netted flap that pulls down to reveal a small blue Pu Leather-finished pocket. Inside is a warranty card and a small code to allow you to register the POLA39 and get an additional 3 months' warranty over the standard 12 months.
Accessories
Inside the universal edition POLA39 retail box, you get the following accessories:
Null Audio 48″ Symphonym Tiburon UP-OCC Copper Litz 4-wire cable
Wooden Carrying Case
Cleaning Cloth
Flight & 1/4″ adapter
Assorted Ear Tips (silicone s/m/l and foam m/l)
1 Year Limited Warranty card
The cable and carry case in particular offer excellent value and craftsmanship. I have seen the carry case before with the Nightingale and Canary so it does seem to be a new theme with AAW to include these attractive little woody cases. Thankfully that theme has extended to the collaboration with Shozy on the POLA39.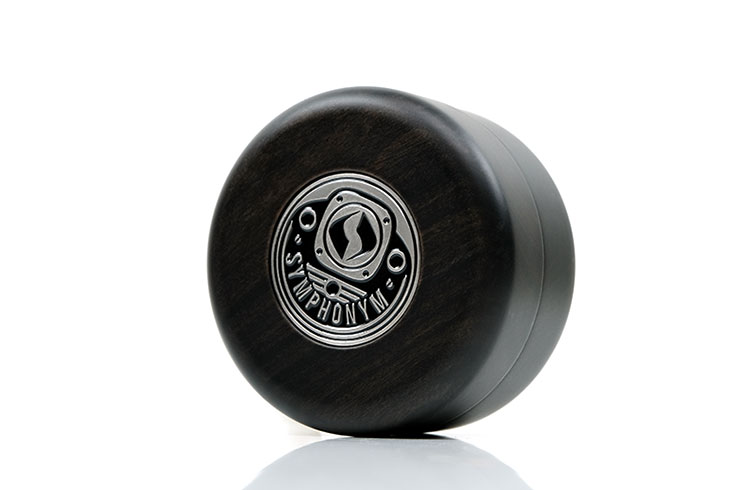 The quality of the handcrafting is really good also with not a blemish or chip to be seen anywhere. This is a very smooth dark wood finish. Inside you also get a layer of dense foam on top, bottom, and sides to protect the POLA39 drivers from any damage from knocks.
If I had to nitpick, I do wish they went with POLA39 branding on the case and not Symphonym which is the cable brand.
Click on Page 2 below for Sound Impressions and Comparisons