Effect Audio Code 51 is the company's TOTL or flagship IEM cable. This is a 24AWG UP-OCC gold-plated silver, silver-gold alloy and palladium-plated silver hybrid design priced at $2388.
Disclaimer: The Effect Audio Code 51 was sent to us in advance of retail release to allow us to complete this review. Many thanks to Effect Audio for giving us this opportunity.
To read more about Effect Audio products reviewed on Headfonics click here.
Note, this review follows our new scoring guidelines for 2022 which you can read up on here.
Code 51 is a blast of energy from top to bottom and will make practically any worthwhile monitor sound the same. Particularly dynamic drive hybrids that need a mix of power and separation.
I was pretty happy with the Leonidas II Octa. In fact, so much so that I slapped the Best Cable Award for 2019 on it and thought that would be that from Effect Audio for a year or two at least. Not so.
Here comes a new "TOTL' cable with an even higher price point, even more exotic raw materials and dare I say it, a complete break from the company's previous marketing tone and aesthetic.
Code 51 has no 'mythological' connection that was their hallmark for a number of years. This time the vibe feels clean, futuristic and somewhat ambiguous in intent. Welcome to a new Effect Audio or just a one-off? We shall see.
Positioning
Well, clearly the top of the cable tree at Effect Audio with a price tag of $2388. No other Effect Audio cable comes even close with the Octa II a good $500 cheaper.
This is a flagship, a statement product and quite possibly the start of a long technology trickle-down process to new cheaper cables for years to come. Or simply the summation of every piece of knowledge the team has acquired before using the best materials they could get their hands on.
Code 51 does not fall into any existing product category on Effect Audio's website. So, the previous ethos of risk-taking from Heritage, or tried and tested from Premium does not apply. Surprisingly, it is not part of the Hall Of Fame cable series like Horus or Janus. It has its own category, or more accurately it is a category. Are there more Code 51's to come out, perhaps a 52?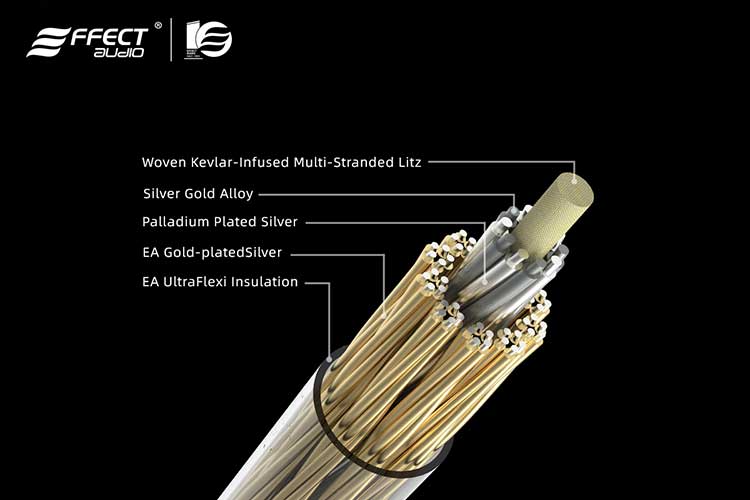 Material & Wire
Palladium
Code 51 probably has the most exotic and complex mix of wiring materials I have seen to date in a cable. Effect Audio seems to have squeezed every previous cable's elements into one jacket with gold-plated silver, silver-golds alloy and 2019's big splash, palladium-plated silver.
Palladium-plated silver was something they used to great effect on the Leonidas II variants last year and previously the Janus range from 2018. This is not a cheap raw material to acquire or work with. The raw material combined with processing and application in palladium wiring is significantly higher than gold, copper or silver.
It is also significantly less conductive as an element than either copper, silver, and even gold. However, resistance in wiring can be used to achieve a certain type of signature so it is not necessarily a negative feature if the application of the metal is correctly done.
Gold
This is another material that is actually quite low in conductivity and higher in resistance compared to silver which most would rate the most conductive of the usual materials found in cables. Soft gold is also a fairly expensive raw material or one that jacks up the price.
Again, resistance engineering can be used to change the response and subsequent timbre of certain cables when paired with monitors. Gold plating should not be seen as a roadblock to resolution or dynamic range because of its lower conductivity.
One of the big factors in gold is its anti-corrosion properties. Plating highly conductive silver with gold not only shapes the final sound signature in terms of resistance but it also prevents oxidization on the wire. I am not sure if there is a nickel strike between the silver and gold plating for additional adhesion but I presume there may well be.
Silver
Simply the best conductor material for a wire bar none. There is honestly not much more I can say about that bar gauge size and purity. Now, people often talk about silver being bright or neutral and clean but so far, I have found a lot of variation in silver cables responses. The Cleopatra from EA last year was a good example of just how smooth a silver cable can be.
Code 51 uses UP-OCC grade for all its wire materials including the silver element. The grade of UP-OCC being used is much higher and more complex than previous cables used by EA and similar to the build process for the Cleopatra.
So much so, Effect Audio has introduced the same woven Kevlar material technique from the Cleopatra into their Code 51 Litz geometry build to keep this grade of silver stabilized and working optimally.
Wire Gauge
Code 51 uses a bigger 24AWG 4-wire compared to 99% of their cables which use the smaller 26AWG rating. Now, this is not the first time EA has used a 24AWG wire with the excellent Janus cables we reviewed in 2018 also a 24AWG build. A bigger wire means more palladium, more silver, more gold, and higher procurement costs.
A larger gauge also means resistance levels in the wire are going to be a bit lower on this size of cable. There will also be a better skin depth than the smaller 26AWG wire for improved conduction.
A less resistive wire will have an inherently better high-frequency reproduction meaning the Palladium and gold plating has a bit more "wiggle room" in terms of how EA wants to color the frequency reproduction.
Geometry
Effect Audio has also adopted a similar multi-strand Litz geometry and Golden Ration principle first seen in the Cleopatra last year. This is fast becoming Effect Audio's in-house geometric principle in terms of how the layering of the wire strands is accomplished and how they interact with each other.
Multi-Size Stranding
Code 51 is a Litz-build with a similar geometry to the Cleopatra. There are numerous advantages to working with Litz materials. The first is the ability to build a multi-stranded cable which has better high-frequency properties due to what is known as the "skin effect" where electrons travel along the skin of the wire.
A Litz cable has a higher surface area than regular builds and for that reason should deliver a better high-frequency performance. It will also be more durable than other cables when flexed. Multi-sized also allows Effect Audio to build a Litz cable with different sized wires, thinner ones for high frequencies and thicker ones for lower frequencies.
Individually Enameled
Code 51 is also the 4th cable in the EA range to feature individually enameled strands of wire in a woven Litz technique. Much like the Leonidas II, Code 51 has the same level of complexity in its geometry with a 7-core bundled Litz type configuration.
In theory, this will further decrease resistance and produce a much better high-frequency performance in combination with multi-stranding for the level of wire gauge used.
Golden Ratio
The final aspect of Code 51's synergy of previous build techniques is the use of the golden ratio for the layering of the wires within the Litz build.
The golden ratio is a mathematical formula used to create a unique layer of wiring strands that share no common resonant pattern. What this means is that a signal's release timing is completely irregular on a wire per wire basis avoiding the potential for conflict with the other paired strands.
The less chance of different strands sharing common resonance signatures then the lower the level of resonance detected and the higher the purity of the signal will be in the wire.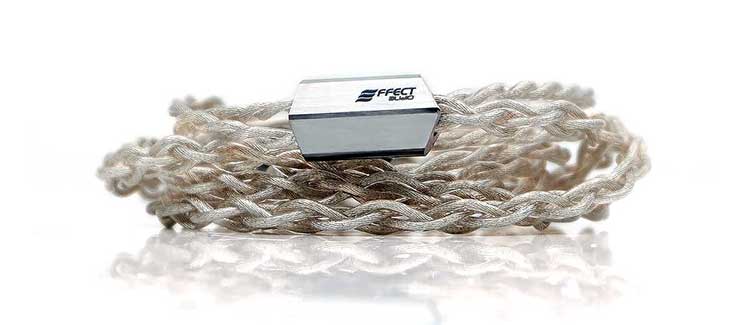 Code 51 Design
Aesthetics
The use of gold-plating wrapped in EA's Ultraflexi PVC jacket produces a slightly warmer visual aesthetic than the Leonidas. Code 51 reminds me a lot of the Lionheart overtone with that slightly pale almost rose-gold appearance only just a bit thicker.
This also quite the contrast to the cooler tones of the new super-strong angular titanium splitter and their more traditional carbon fiber printed jack barrels. It is more of a mix between that organic overtone of Leonidas's Patina-style leather vibe and the super bright and clean aesthetics of the Cleopatra.
I also noticed that the titanium on the splitter has a slightly retro finish to it. It is that kind of metal that has a gently aged look to it which I absolutely love on audio products. I bet a nickel or brass aged metal splitter on a Code 51 SE would look incredible but there is wishful thinking for you. Titanium is clearly the stronger metal choice here so it will last much longer than softer nickel and much lighter than brass.
Code 51 also comes with a really nice angular matching silver titanium chin cinch. This is a clever little adjuster. With no monitors attached it is kind of loose and you think, well, it won't hold in place. However, with wire tension and split to each ear, it does hold really well.
There are enough bends and kinks as well as angulation on the wire to keep the cinch in the place where you want it to be. Similarly, it is not too tight to damage the jacket.
Handling
The use of a thicker AWG on Code 51 combined with titanium on the splitter does give the Code 51 a slightly weighty feel than I expected it might be. I suspect much of the weight is coming from the new barrels.
The braiding is tight but it can't physically be as tight as thinner 26AWG 4 and 8-wire weaves. That does mean the braided throw is just a shade longer on the bends of the Code 51 giving it a handling property closer to the Janus 24AWG design.
That thicker cable and slightly longer braid throw means it does have the odd additional kink when unfolded compared to the Octa 26AWG 8-wire and handles a little more like the Janus 8-wire only not as thick.
Terminations
Jacks
Everything is titanium. The jack barrel is titanium, the connector barrels are titanium and of course the new splitter and chin cinch. These are built to last. I should state though that the connector pins are not titanium.
This particular sample comes terminated with PSquared titanium 2.5mm TRRS straight jack which is my normal request. You can, of course, get 3.5mm and 4.4mm alternatives with the same PSquared finish as well as optional adapters in regular finishes both straight and right angle.
Connectors
Titanium yes, same design as before? Also, yes. The durability game has been upped but the connectors have that very familiar Effect Audio look and feel. L/R channels are clearly etched on the inside and EA's logo on the outside so you will not confused about the polarity either.
As with the jack barrels, you do get plenty of customization options on the Code 51 connectors before you check out. This sample has a regular 2-pin 0.78mm termination but you can opt for MMCX also in titanium. Other connectors are not titanium but still cover the majority of monitors out there including Fitear, UE, and JH Audio.
Comfort On The Ear
Code 51's 4-wire 24AWG is a size that might suit those who really want the enhanced performance of an 8-wire 26AWG build but without the bulk. Glasses wearers should find the Code 51 size a lot easier than something like the 8-wire Janus or Leonidas II Octa.
Being a smaller cable than the 8-wire builds it does have a little bit of memory material from the connectors to help keep it locked into place over your ear. However, the memory hooks are very soft and springy rather than memory retentive versions so they do not add any discomfort when worn.
The biggest note when on the ear is the complete lack of microphonics below the new titanium splitter. Oh man, there is an unearthly silence when tapping the Code 51 below the splitter.
I am told that is one of the benefits of the titanium materials, its superior damping and attenuation of physical noise traveling up the wire. Sadly, there is a bit beyond the splitter when they split into 2 wire left and right but every cable has that problem.
Accessories & Packaging
Code 51's packaging is the most intricate and advanced I have seen to date for their monitor cables. It borrows a little also from King Arthur for me in terms of complexity as well as that leather carry case that comes with it.
The box is a shade heavier and more substantial than the older slimmer black of the Octa II and the Cleopatra packaging. Inside, you get about 3 layers of cardboard packaging, each with its own visual appeal. The top has a bit of a tease with the branded titanium splitter just peering out from behind a cardboard facade.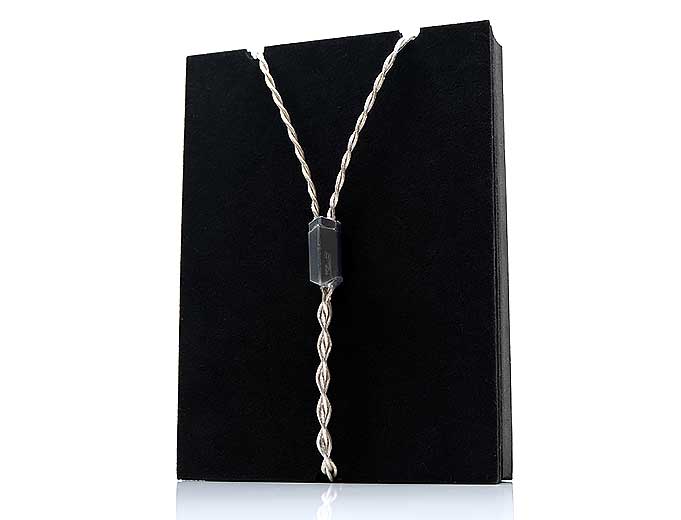 Lift that off and you have the Code 51 cable on top of a velvety black jewelry type display board. You should not throw that board away as it works remarkably well as a nice display stand for the cable.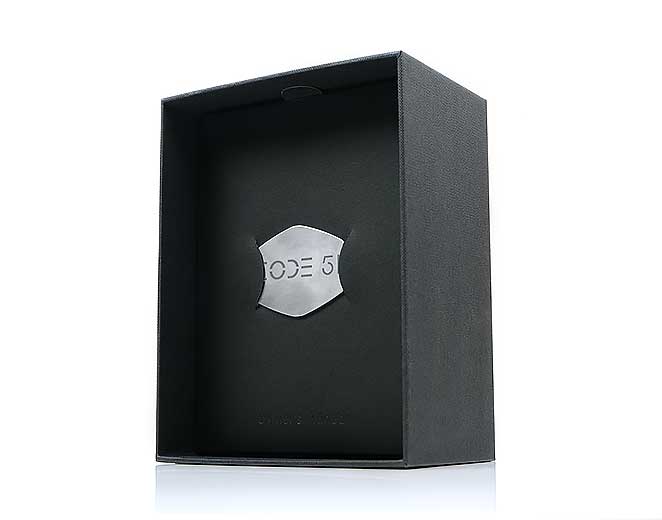 Below you have another quasi-tease facade with a Code 51 badge nestling on top. Lift that and you will find the rest of the supplied Code 51 accessories, leaflets, and manual.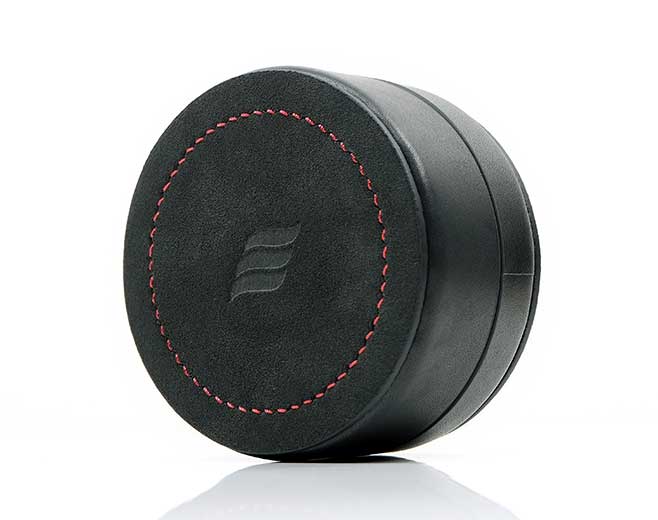 Carry Case
The accessories include a very aromatic leather and suede/red-stitching finished round carry case. This is the same sort of case that came with the Leonidas Octa II but I suspect the black suede and leather is a slightly higher quality of rawhide. It is very leathery, to be honest.
Inside, there is a lot of space to fit not just the Code 51 cable but a ton of other cables and monitors you should you choose to do so. For those worried that the case might be too soft to withstand knocks or pressure, fear not. The frame inside the case is very rigid and even moderately heavy squeezing from me did not result in any worrying case flex.
The impressive packaging is completed with a selection of simple English language cards explaining the concept behind Code 51, how to look after them as well as support and warranty details.
So what is missing? Yup, my usual observation, no magnetic cable organizer. I would really love it if Code 51 had a matching worn-look black or tan organizer. Most other companies have them and they do not cost that much, to be honest. Hope springs eternal.
Click on Page 2 below for performance & comparisons