The Fearless Roland is a brand-new hybrid in-ear monitor featuring dual electrostatic, dual balanced armature and a single dynamic driver. It is priced at $958.55
Disclaimer: The Fearless Roland sent to us is a sample in exchange for our honest opinion. We thank the team at Linsoul & Fearless Audio for giving us this opportunity.
To read more about Linsoul products we featured on Headfonics click here.
Note, this 2-page review follows our new scoring guidelines for 2020 which you can read up on here.
Fearless Audio Paladin Series Roland
The Fearless Roland has some solid potential and it could possibly be a very welcome addition to the growing electrostatic IEM market. It has a rich but slightly dark sounding signature with a sub-bass and mids prominence.
I feel like I am the last to jump in the pool with Fearless, or at least Headfonics is but finally I could not resist. A multi-driver electrostatic hybrid sub $1000 will peak any audiophile interest, especially since the trajectory outside of the LZ A6 has been on an upward path fiscally speaking.
And so it is with the Roland, a 'tribrid' in the mold of Trinity, Khan, Elysium, et al and a multi-driver priced a fraction of those giants. The only one that comes close price-wise is Shozy's POLA39 which is a dynamic/electrostatic hybrid, also just over $900.
ChiFi or No?
Now is this really 'ChiFi" as it is popularly known? Difficult to say really because, on the one hand, yes, they are a Chinese brand and do rely on the typical "ChiFi" channels to get their product out there. However, judging by their price points, ($400-$1000 upwards), they are really knocking on the door of premium.
As such, the Roland should really be placed in the context of something like the POLA39 or Empire Ear's Valkyrie. Perhaps laterally with similarly priced non-electrostatic competitors such as the Rai Penta, DUNU's DK-4001, or even the Solaris hybrid. Interesting times indeed.
Paladin Series
The Roland is not just a one-off electrostatic 'high-end' monitor from Fearless Audio either. We actually have 3 distinct products; Lancelot, Roland, and La Hire. Each one is a reasonably complex hybrid electrostatic monitor with a mix of BA and Sonion electrostatic drivers, however, only the Roland has that dynamic driver thrown in.
The Lancelot is their TOTL with 6BA and a dual electrostatic driver configuration priced at $1,234.05, (is that 1,2,3,4,5 thingy on purpose??). The La Hire is scaled down to a single BA and one electrostatic driver and is half the price. The 'tribrid' Roland sits in the middle of the range.
Tech Inside
The Roland is a 5-driver hybrid consisting of a dual Sonion electrostatic top-end, 2 BA for the mids, and a single dynamic driver for the lows. Beyond that, the information is a little light on the crossover and size of drivers.
However, presuming based on the semantics of their driver grouping explanation, I am going to estimate that the Roland has a 3-way or 4-way crossover depending on the dual-driver split. I am also guessing around 10mm for the dynamic driver based on what I am hearing.
This is a tubed design, with a tri-bore configuration, a very low 5.8Ω impedance rating, and a fairly typical hybrid 106dB SPL. The dual electrostatic drivers tend to be inefficient and harder to drive than the dynamic and balanced armatures, hence the lower SPL. The super-low impedance rating has me intrigued and I want to find out more about why it is set that low.
Unboxing
I have not been following this too closely but apparently what I have is a fresh new packaging design and the original Roland launch came with a slightly different retail look.
I had a hunt around and found a few images of the original white and pale blue packaging and I can understand the rethink as it's really very much orientated to the Chinese Domestic market. This new larger sturdier-looking ensemble is a much better fit for an international audience.
Black is the new white for the Roland flip-lid elongated cardboard box with a clean and professional layout inside.
Accessories
The Fearless Roland has nothing unusual about the accessory lineup for a universal IEM in 2019 but that is a good thing. I was half expecting that traditional ChiFi cheapness but this is far from it. The accessories are as good quality as anything else you will see on the market today.
You get 6 sets of silicone single bore tips in transparent, pink, and green stem colors housed in a gloriously over the top homage to some medieval architectural design someone saw somewhere.
The tip tray is technically part of the box as it is glued to the bottom but I ripped it out anyway because I wanted a closer look. From the pic above you can see four little statues of people, one in each corner overlooking the tips that are resting on what seems to be an elaborate HEX. Choose wisely, Dr. Jones!
I am not sure the tips colors have any signature significance. I suspect merely sizing assistance and being able to pair them easily. They all look the same in terms of materials and bore sizes.
Carry Case
You also get a really nice soft green leather finished round push lid carry case. This is similar to what I see in the Elysium and even the 6k Arthur from Effect Audio so it's not a cheap thing at all.
The case is lined with a bit of felt and looks very nicely protected. There is plenty of room for the drivers, cable, and some tips and even if you stuff it there is a nice bit of flex in the roof to prevent any internal damage.
Aside from that, you get an 8-core SPC cable and a branded black satin cleaning cloth with a user manual in a slide pocket on the lid of the main box.
Design
The Roland has an attractive and fairly striking visual aesthetic. In some ways, it reminds me of the Vision Ears Elysium look only a bit bolder and denser with that blue flake aura behind a thicker lattice-type blackline finish. You can buy this in alternative color schemes such as gold and silver though the overall design scheme remains the same.
The Roland universal form factor is what I call a "custom universal' design. That means it's heavily contoured to offer a very comfortable fit designed around the average person's ear. You see this a lot from customs companies such as Jomo Audio as well as quality IEMs such as the iBasso IT03 and IT04.
Its build is a hollow body acrylic shell and, in the universal form, it is reasonably compact with a long nozzle. You can also buy the Roland in a custom design which might be very interesting because more often than not you do get some qualitative sound differences as well as the superior fit. The custom design costs approximately $95 more as well which is reasonable.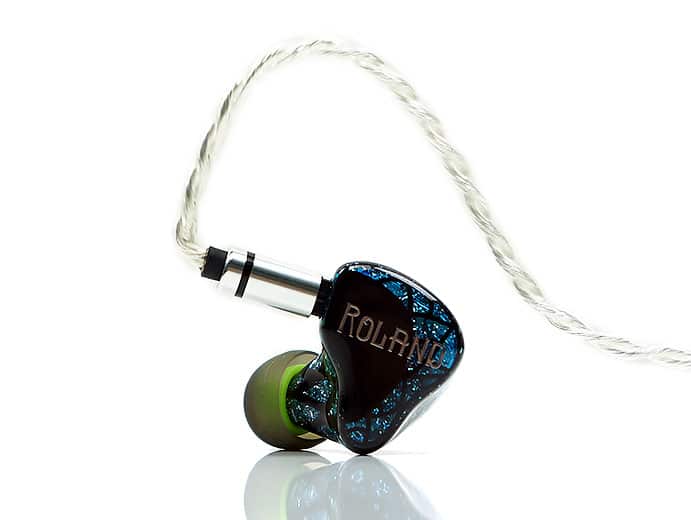 Cable & Connectors
The Roland ships with a 1.2m 8-core 152 strand single-crystal silver-plated copper wire. You may see it on Linsoul as copper-plated silver which is the wrong way around.
Beyond that, there is no mention of jacket materials or gauge so I will presume this is 26AWG and the tightly braided jacket does feel very soft and flexible so let's go with a PVC variant of some kind. The consistency of the texture does match PVC for me which is a positive.
I am also informed that this is the new cable with the corrected jack connections and that all Rolands now ship with these so there should be no issues with the previously reported audio drop out from poorly shielded jack terminations.
Cable Finishing
The cable comes 3.5mm TRS terminated with a nicely finished but fairly heavy-duty aluminum barrel and matching splitter and chin cinch. It does mean the cable is slightly on the heavier side.
The silvery connector barrels are 0.78mm 2-pin, you cannot get MMCX as the Roland only comes in 2-pin. Memory wire is reasonably long and generous but quite soft also so its presence is not felt around the ear.
The cable is not totally memory free; it does kink here and there but nothing serious. The microphonics is low below the splitter and a bit higher above.
Comfort & Isolation
Because of the custom universal design and long nozzle, the Roland fits really well in my ear. The comfort levels are good with no discernable uncomfortable pressure. The tips do plenty of sealing work also given the depth of insertion and I suspect foams would seal even better.
I did check if there was a bass venting port but I can't find one. Either I am blind, or it is integrated into the nozzle or the DD is small enough not to need one. It does not sound like it has a port at all with a BA level of isolation which is impressive for a non-custom version with silicone tips.
They do stick out a little from my ears because of the nozzle depth and tip combo creating a fit about midway in my canal. If you have wider ear canals you might find them to sit a bit flusher.
Sound Impressions
The Roland presentation is more to the dark, smooth or rich side with a slightly elevated sub-bass performance, forward midrange, and a relaxed treble beyond 5k.
For an electrostatic-infused sound, Fearless has gone for a very wet full-bodied tone so you could say a little restrained in the treble compared to the likes of the Khan's piezoelectric driver of the POLA39 and closer to the likes of the Wraith and Trinity quantity level.
The low-end dynamic driver is actually quite well-controlled with excellent depth and plenty of body. Sub-bass tuning has a slight dominance with a linear drop into the mid-bass and lower-mids. It is actually relatively neutral from around 200Hz to 1k. I found it especially enjoyable with layered bass synth where that longish decay added some "phatness" as I like to call it.
Mids are forward but lack a little separation and air for me. Male vocals sub 1k tend to sound a bit constricted or dipped into the main instrumental mix and lack presence. Female vocals or any vocal pitching above 1k do a lot better sounding quite smooth but just need a touch more air.
Timbre
To be honest, the timbre is very even-harmonic for me and a factor in that is the fairly relaxed or tapered-off treble from 5k onwards. There is a minor peak from 8-10k but is second fiddle to the midrange by around 3-4dB which in turn drops the odd-harmonic contrast. That softens instrumental notes and dulls down higher pitched percussion presence.
I suspect the level of perceived clarity on the Roland will prosper with a bit of PMEQ just to add some treble contrast to the warmer low-end. For regular 10-band EQ, I suggest focussing on the 8k and 10 bands. I did some quick checks on the DX160 PMEQ and the M11 EQ. The M11 responded well with around 4dB 8k boosting and 3-4dB on the 10k band.
On the DX160 PMEQ, I was pushing around 8-10dB gain at 8k using a peaking filter and 0.7 Q. Both EQ systems brought in some welcome headroom and a much better harmonic balance to the Roland.
Our Verdict
The Roland has some solid potential and it could possibly be a very welcome addition to the growing electrostatic IEM market. It has a rich but slightly dark sounding signature with a sub-bass and mids prominence.
The tone is smooth, very forgiving but at the moment my personal preference is to EQ anything above 5k or just the treble, in general, to get it sounding just right. It will not distort, even with a 10dB throw-in so you have plenty of room to tweak to your heart's content.
Cable rolling is a good option. The Grandioso is very good at that so it might be an interesting match. Overall, this price point is becoming very competitive so the Roland might find it tough with that shelved down top-end.
Fearless Audio Roland Specifications
Drive unit: 2 electrostatic, 2 balanced armature, 1 dynamic
Sensitivity: 106dB
Impedance: 5.8Ω
Frequency response: 18-80kHz
Distortion: <1%
Sound insulation: 26dB
Connector: 2pin 0.78mm