Synergy
Efficiency
Rated at 24Ω and 113dB in sensitivity, which looks quite responsive to power on paper, the MG800 does get loud quite easily even with dongles but the mids density is much enhanced when pairing when there is a stronger current.
Similar to quite some other dynamic IEMs the performance is stepped up when connecting to a desk amplifier where the soundstage gets even louder and the mid-bass punches firmer and speedier.
In most cases, the background is very quiet and I don't sense much hiss when switching to Turbo gain level on the Shanling M9, which is recommended if you want stronger transients in the vocal range and a stronger outline for softer voices.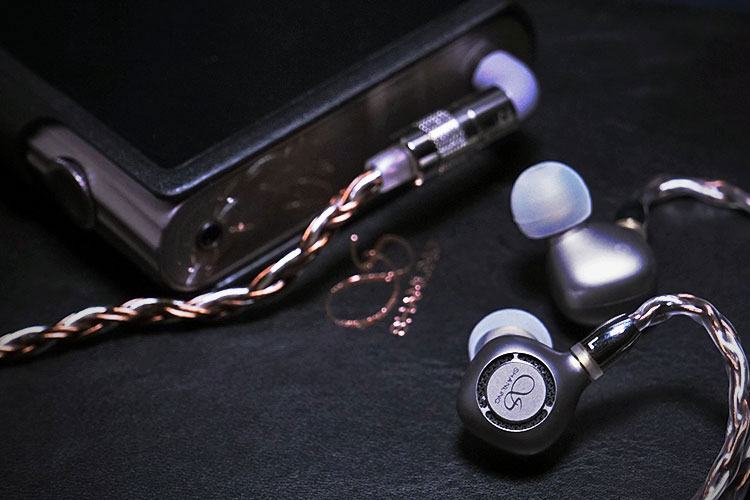 Pairings
The MG800 sounds sweet and controlled on various DAPs that have high resolving power, and higher output ratings.
For example, the latest Shanling M7 could deliver 900mW on its balanced output, almost driving the MG800 like a small over-ear headphone that has great openness in the treble.
Some recent DAP releases are also tuned quite clean so the MG800 will be able to color the midrange thicker and more immersive.
Performance on dongles and laptops is satisfactory but much softer than on a powerful source, equalizing down the mid-range frequencies may make it sounds faster and more impactful.
Ultimately, on powerful sources or stronger DACs like the RME ADI-2 Pro, the prominent vocal range sounds much more stereophonic, controlled, and much less compressed.
Select Comparisons
Shanling MG600
$599
Technical
The MG600 has an identical shape and a similar circular filter system on the faceplate for adjusting the pressure in the back chamber.
Moreover, it uses a proprietary 10mm carbon composite dynamic driver using a membrane that blends in different materials like carbon fiber, graphite, and Mica fragments to mix their physical properties.
MG800 steps up the game with its 11mm driver plus DLC plating and dual N48 Neodymium magnets, that enhance its agility and resolution, making it possible to bring out more details in the overtones as well as in its thicker, denser bass.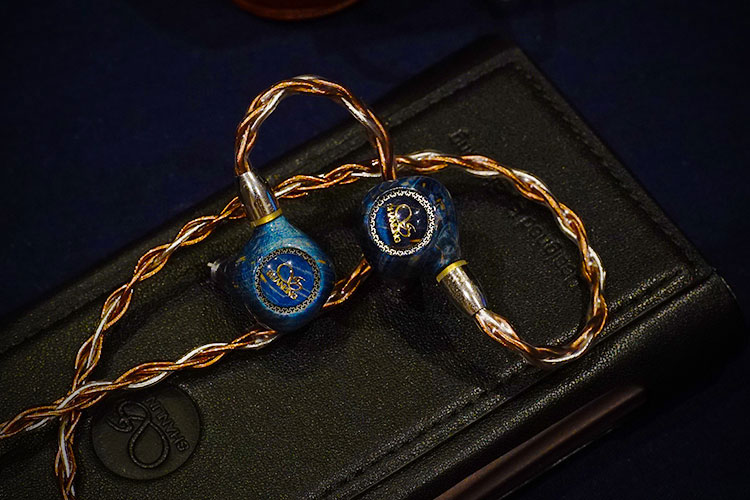 Design
The two IEMs have the same shape and both of their weights are very light on the hand. While the artistic stabilized wood design in starry night colors looks marvelous, MG600 leaps further by using a more industrial, fine-engineered approach that feels and looks more premium.
With the MG800 there is a matching case that is a great addition to the package, which you could store pretty much two IEMs together for storage or travel.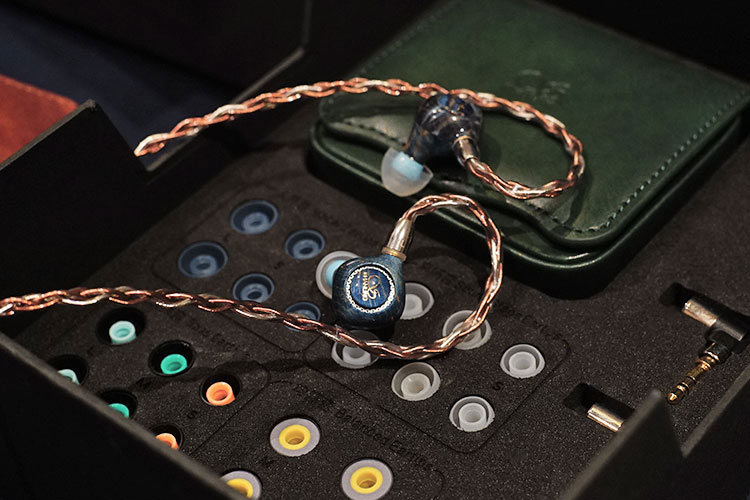 Performance
The MG800 is by a large degree more accurate and more potent in the ability to extract nuances in the output, at the same time it is capable of reflecting the quality of the source more sensitively and loyally.
Using Adele's voice as an example, MG600 is coloring it gruff and breathy also drawing it close, MG800 can deliver as much power and intensity but the spacing between the vocalist and the listener is much more defined with the positioning being clearer as well.
The MG600 works great for strong voices to make them even more expressive, while the MG800 can interpret different elements in the music in a more impartial, authentic way, accommodating more instruments in the mix effortlessly while feeling more expansive.
The swappable filter system also gives the MG800 higher versatility to switch between the more vocal-centric, thicker tone, or the balanced, sharper presets that can be adapted to different genres of music or listening environment.
FAudio Dark Sky
$1150
Technical
The Dark Sky is a Dynamic IEM equipped with a 10.2mm DLC (Diamond-Like Carbon) membrane fused on fiber base materials. This is quite similar to the MG800 which also has a DLC layer over a carbon membrane.
The Dark Sky is 24Ω in impedance and 114dB in sensitivity, which is very like the MG800's specs, and they similarly respond to power.
With the semi-open back design on the MG800, it is tuned very differently to the Dark Sky which exhibits a more V-shaped signature. The driver on the MG800 is slightly bigger at 11mm, suggesting that it is a more power-efficient design.
Design
The Dark Sky adopts FAudio's signature metallic housing and comes with a cable that matches its aesthetics. The tilted nozzle allows great comfort over hours of listening and MG800 comes head-to-head in this department.
Both IEMs come with a rather premium cable and adaptors, and I consider the swappable connectors on the Shanling cable more practical.
In terms of build quality, the MG800 is a winner here with the more premium titanium housing that is a lot harder to make. The tooling is perfect and the filtering parts on the faceplate are finely detailed, which looks more appealing.
Performance
The two IEMs using DLC technology on driver membranes share some similarities such as agile bass response, also its nature to sound extended, and textured and be able to bring out nuances in the overtones.
While the Dark Sky picks a more "Hi-fi" tuning that puts more emphasis on details and transient performance. Shanling is persistent in putting together their house sound on the semi-open back design, which is quite a challenge to tackle as it is hard to sound full and dense on a semi-opened back design. It could have sounded messy if not been done right.
In short, the MG800 sounds airier, more neutral in the midrange, and can be more elaborate in the overtone areas, while the Dark Sky is more dynamic, cleaner with percussions, and smoother in the mids.
I am surprised that MG800 can achieve big, meaty mid-lows, while enjoying clean attack with a moderately expressive decay when powered by mid-tier DAPs, with its fuller mids it feels more forgiving when the output power is smaller.
Overall, the MG800 is more versatile in design and its technical performance is quite close, if not rivaling the Dark Sky. However, note, that the Dark Sky is a closed design that will allow listening in a noisy coffee shop or even on a train.
Our Verdict
The Shanling MG800 displays superb craftsmanship and impressive versatility over its abundance of tuning parts and connector system.
The interchangeable nozzles aren't just decorative; you will not switch back to the default filter in 10 secs, they are effectively changing the output response to suit different genres of music, and the design is pulling off decent bass quality with a lot of air also well-polished vocals that are not easily achieved on semi-open design.
If you have a large collection of music and listen mainly in a quiet environment, the MG800 is a very capable option to plug into amped systems or a powerful DAP.
Shanling MG800 Technical Specifications
Driver: 11mm Dynamic
Impedance 24ohm
Sensitivity 113+/-3dB
Frequency response range:20-40kHz
Weight: 6.6g per side
Connectors: 2.5/3.5/4.4mm
Cable Length: 1.3m