I have tried wireless before last year with the TDK series and thought it fairly ok but lacking in any depth compared to wired headphones. In fact I have been pretty skeptical about the possibilities of wireless and the various technologies at play to bring them to the market. Yes the lack of wires is very liberating to be honest but what is the value if the sound is below par? Is it a fair trade off much like NC headphones or simply a lack of serious attention to a potential money winning product? Well my opinion was to the latter until I got my hands on the Sennheiser RS-200 this week from Sennheiser Philippines and I have to say I am blown away by the potential in this set of headphones. They don't come cheap mind you at $600 but they represent the best attempt yet to crack open the wireless potential into mainstream headphone communities and if you have the cash I would say go for it because they sound excellent. Honestly they could rival the older classic HD600 in terms of sonic quality when pushed but warning don't expect them to be an exact match for the old classics.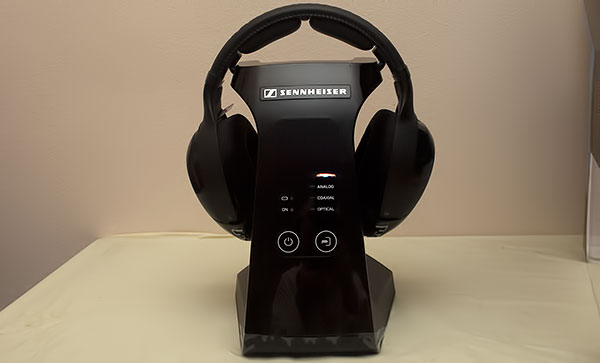 How does it work?
The technology itself at play is on a higher grade than my previous experiment the TDK W700. The TDK used a pretty useful technology called Kleer which transmitted over a 2.4ghz frequency which is much wider than bluetooth and carries a lot more information hence above average detail but still in the same range as other frequencies such as cell phones and wi-fi to allow for interruption and distortion. Also as a by product there is some latency in the signal which can lead to delay in sync with what you see on say a TV and what you hear. The RS220 uses a different standard called DSSS (direct sequence spread spectrum) which is also over 2.4GHz but in an uncompressed audio signal on a very wide 22MHZ frequency width to get around any interruptions in the transmission. In theory this should give oodles of detail, a more coherent and deeper sound presentation and for those watching movies a fairly accurate sync in vocals which at times some lesser headphones might struggle with. I didn't have a chance to try these in the PC gaming arena so those have had a chance please feel free to comment if they can cope. In short the technology is a more progressive approach to modern day living in a wireless world and recognizes that we live in a world without wires already.
Putting the RS220 DSSS technology to the test in my small 60sqm condo was probably not the stiffest of challenges given it's stated claim of about 100 feet indoors and 300 feet outdoors or line of sight. With only one concrete wall between the stand and the cans I easily got to the end of the condo with no signal degradation or interference so that covered about 15 meters. Two walls at 10 meters no problem either but two walls and 15 meters suffered from drop out so physical walls are still a huge challenge for wireless products but having said that – get me a 15 – 20 meter cardas wire for an LCD-2 and we can start shaking our heads eh?
The base module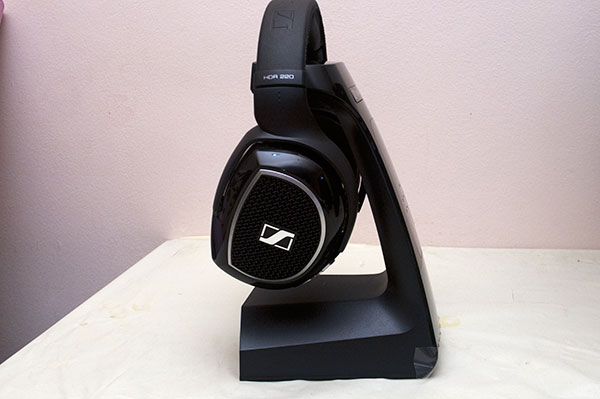 I have to highly commend Sennheiser on the base module of the RS220. For every input there is an output and covers the three core options – Coaxial, optical and RCA analog. Simple as that and honestly you do not need anything else. My test unit for this review was setup with optical out. Working out how to switch between input and output channels was a breeze with the touch sensitive front panel in big symbols of power and source switch and the three lights on top showed clearly what source I was on and if I was using AC power or charging. Pressing on and off during playback give minimal power down and start up delay – in fact almost instant. The base unit itself is pretty light as is the headphone itself. In fact I kind fo wish it had a bit more metal about it but the weighting seems well balanced to put my worries at easy of it tipping over.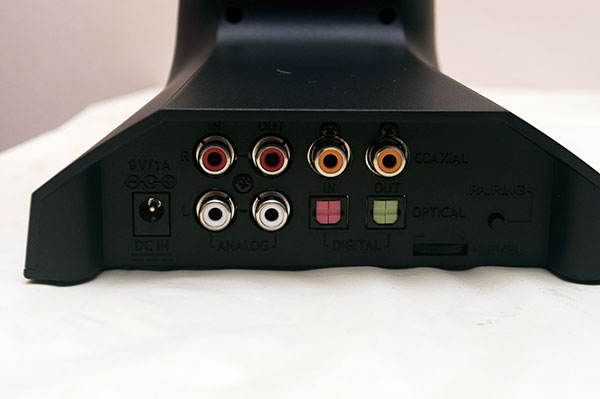 The top of the base contains a unique charging system for the headphone itself. The battery is housed in the sides of the headphone with two metal plats on either side of the gimble which when placed on the stand come into contact with two metal plats on the based which acts as the charging conduit. Pretty discreet if you ask me and beats the heck out of taking the battery out and putting it in a charger. Being a desktop setup battery length is not optimal maybe around 8-10 hours between charging but honestly that's a lot of time to be on the headphones without putting them back on the base which starts the charger right away so i don;t see that as an issue.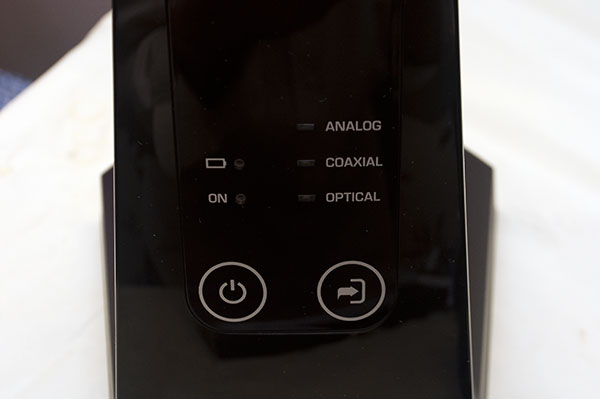 Beside the cans and the base module you get a pair of RCA stereo wires, some universal adapters and the AC unit itself and a coaxial cable to get you up and running.
The cans
The headphone itself is light enough weighing in a 329g and constructed of well designed solid plastics and silver trim for the cups and function buttons which are housed at the back of the cups. The headband is the usual high quality pleather type finish and is very well balanced when on your head. It's an open class headphone so no isolation to be honest and it does leak so definite indoors use only. Initially I felt it was going to be awkward reaching for the volume and source buttons on the headphone at the back but the design and spacing is pretty good and you get the hang of it pretty quick after one or two wears.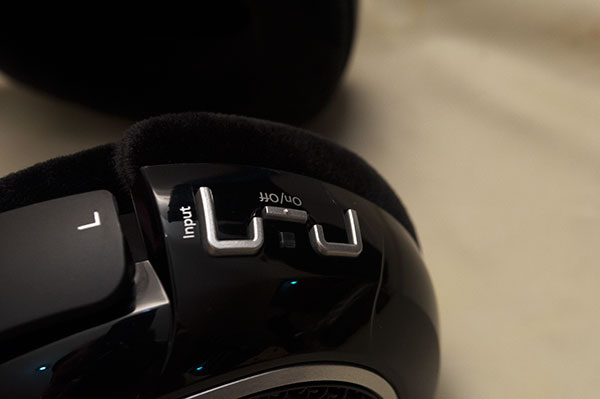 On the left cup you have input selector and the power button and on the right you have volume and balance.The only problem is the way I put them on and off meant that my fingers kept hitting a key button like source or volume which was a bit annoying but that's just me, your 'de-headphoning' finger stance may vary. And of course no wires, no connectors, no plugs :)
Technical Specs
Operating frequency 2.4 GHz (2.4-2.483.5)
Wearing style Around-the-ear
Transducer principle Open-air, dynamic
Frequency response (headphones) 16-22,000 Hz
Max SPL 106 dB
Battery type (headphones) BA 200 (AAA, NiMH, 930 mAh, 1.2V)
Power supply (transmitter) 9V DC, 1A)
Transmitter inputs Digital: Toslink (Optical), coaxial (S/PDIF); Analog: RCA
Transmitter weight 16.4 oz (484 g)
Headphone weight 11.1 oz (329 g)
Operating time (hours) Up 8 hours (6-8 average)
THD <0.1%
Signal-to-noise ratio 90 dB
Supported sampling rates Up to 96 KHz (downsamples to 44.1 kHz)
The Sound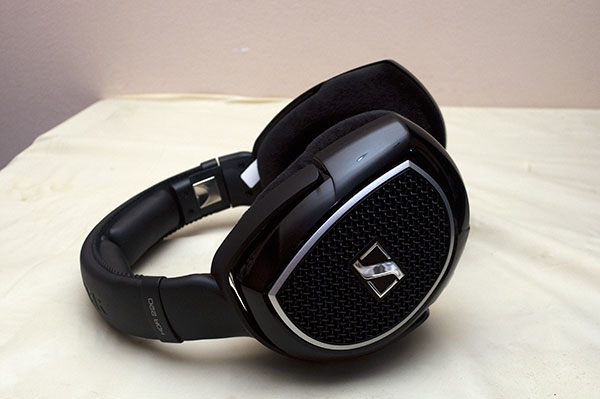 Well it's Sennheiser – neutral, laid back, smooth with virtually no fatiguing sharp spikes. This is a multi-genre headphone and the quality, for wireless, is excellent. It is reminiscent to the HD600 in that it produces a very balanced sound indeed though perhaps lacking a little slam in the lower end compared to the HD600 and does not quite have the same rich mids but the tonality is going to make old school heads smile that is for sure. The detail retrieval is excellent and most tracks, particularly rock tracks sounded punchy, lively and very musical. Given the open design sound stage was above average with decent instrument separation and good imaging accuracy.
There is not a hint of sibilance in these headphones, no spikes to speak of. It coped very well indeed with my 80's rock which can often lead inferior headphones down the road to disaster for treble reproduction with plenty of guitar and keyboard action. I would have preferred the mids though to have been a tad more forward and thicker – something about a Senn that I just have to have thick lush mids but they are not too bad if a bit on the thin side. They are certainly not recessed, claustrophobic or weak if that is your concern – they are just a shade lacking compared to the upper bass and treble reproduction.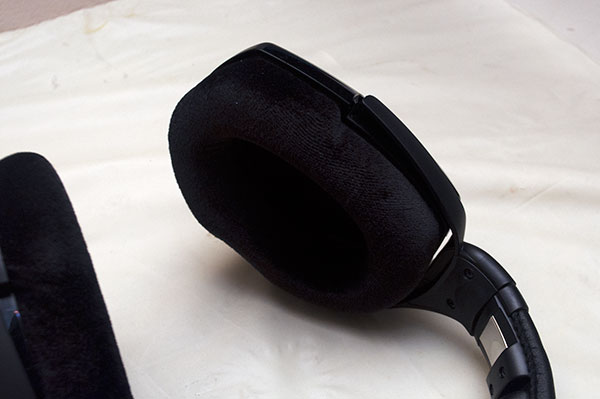 Throwing on a dodgy but complex vocal harmony rock from Craaft's 1988 Second Honeymoon and the RS220 was immaculate in detail and musicality. I really was toe tapping and the lack of boomy bass only added to the overall enjoyment. This is one headphone company that understands bass and how it works as part of the bigger picture. However if you want big fat bass notes for your R&B these are going to come up short. These are not DJ headphones, they are not dark or engineered from the bottom up – they deliver great bass when asked to do it but they are not a basshead headphone. This is a headphone for those that want to listen to great music. If I was genre matching then it has got to be rock, vocals, acoustics and some classical work. The smoothed out highs just stop it from being a choice for more complex orchestral or classic work.
Final Thoughts
The best yet in the wireless market I have no doubt. The best yet in terms of matching a traditional wireless model and based on the HD600 house sound you are going to find a lot of fans already who might just give this a try. For me it comes close but not yet matching the HD600 but I have to admit these are very liberating to wear, light on the head and the base is a wonderful logical piece of engineering that does what it is intended to do and dare I say it, idiot proof. The price at $600 (may vary in local markets) is going to slow down some impulse buyers and those with an existing HD600 might not see a compelling reason to get one though but do try before you buy and just enjoy walking around without wires and you might think differently.