Oh a sound off! Everyone loves a sound off eh? Well yes but this is cheating a bit since basically the A-Jays Four and One + are born of the same stable but with different i-whatever in mind be you robot or apple lover you are going to probably come across these in your respective tribal retail outlets at one point or another in your gadget journey. Kudos to you, you have everything you need in life so why not get a set of earphones that match that lovely fondleslab and dang if the Jays are not lovely looking earphones to match the 'whatever it is' you want to text or talk into.
Me? I am going to borrow an ipPad from the wife and my Samsung Note and for everything else there is my trusty Cowon X7. This review is dead in the water if I stick them in the Triad Audio Lisa – laugh as you may but I have already tried it, the results will remain a secret simply because I am in an evil mood and I don't want to tell you just yet or ever.
Let try and open it up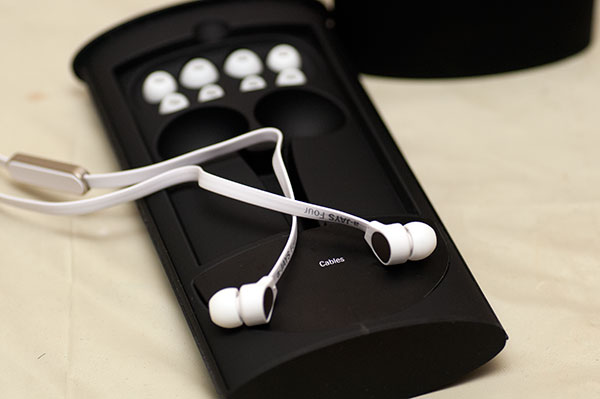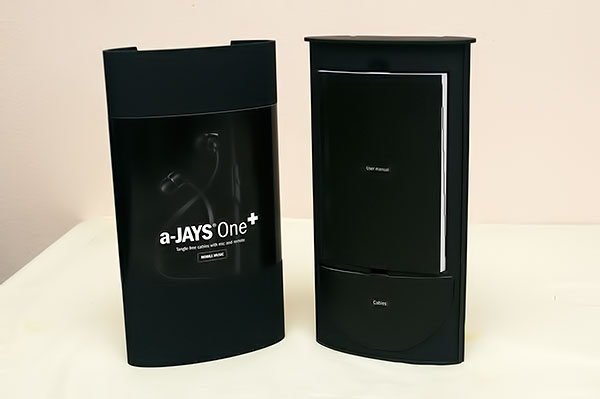 Kudos to the designers of the boxes, your are without doubt the most sadistic people on earth. Opening the boxes is a two man operation with some care and a sharp tool. I don't get it, why not just have a simple flip at the top but noooooooo we have to have a cunning clip at the bottom which you have to press down and then pull from the top as you press down. I couldn't do it on my own, I felt like five years old at that point. I hate you Jay's for making me feel weak and ineffectual as a man because men don't need help or manuals, this is a well known fact.
Once opened they are pretty stylish though even as a 5 year old in a man's body at this point I had to say hats off to Jay's for yet another truly sexy Scandinavian design for a budget earphone. I liked them, even after the unboxing disaster. These guys plus Urbanears and Aiaiai are making the kiddie plastic look down right attractive in the last two years and same again for the Fours and the One Plus. You can get them in black or white but I have to admit the white Fours took my attention and I normally don't do white anymore in mobile audio since the heady days of the AKG K701 love-fest in 2010. The One+ I got is in a much more sedate black but still with the Einstein box. Both come with a compliment of tips housed in a stylish little tray and a user manual to get the most to of your CIA poses when using the mic and remote control on each. The packaging is unique, stylish but not without frustration – suggest you get a small pouch for the long term as they don't have a bag to go with them sadly.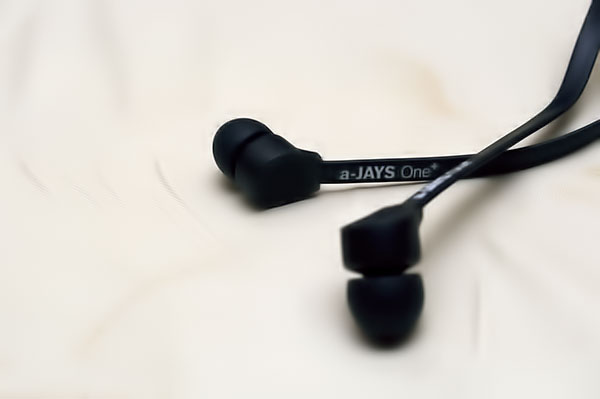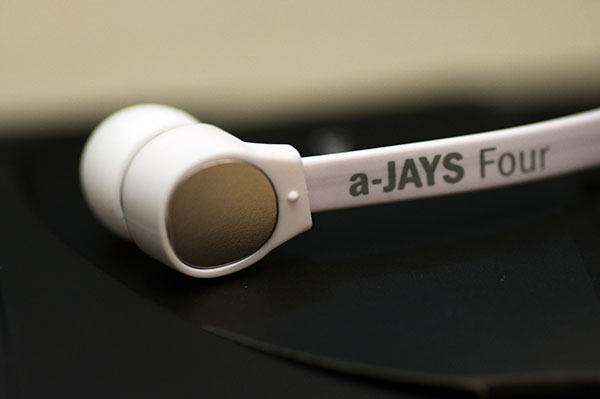 Fit wise both have the same form factor and for me the tips fitted out of the box easily enough. Isolation wise no issues for me either. I swear my ears are starting to look IEM shaped these days such is my luck in tips. The cables are flat anti-tangle on both units and both anti-tangle just fine for my tastes – very nice indeed. Both cable lengths are suitable for portable use and fit discreetly enough in your pockets. The rigidity factor in the cables are a little high due to the anti-tangle technology so they do tend to take a bit of push and pull to prevent a "doctor on duty" look hanging out of your shirt or coat pocket. There is also a touch of microphonics in the cables so wire placement when out and about might be better served over your ear than straight down. The l-shaped plug is might useful though given most phones have jack at the top. This lowers the footprint of the jack and keeps everything neat and tidy to both look at and store in your pocket or bag.
How do they sound?
The key difference outside of sonics between these two lead protagonists can be fond 10cm down from the right ear unit – namely the remote controls. Both differ with one aim'ed at fondleslab Apple merchants and the other to the Android clan. On the One+ Jays are touting their one button remote/mic plus a Jays Headset Control Android app which when working together is actually kind of cool to look at and gives a much needed ability to customize that big button for all your introverted needs including music control, voice control, customized single, double and hold clicks. All worked pretty good on the Samsung Note so can have no complaint there.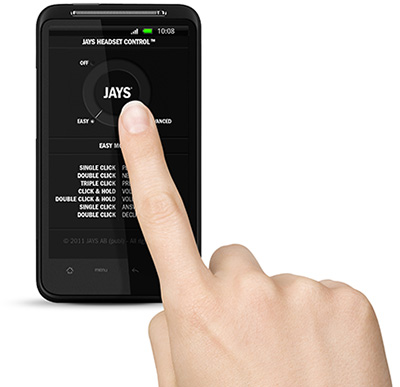 The remote and mic of a-JAYS One+ work with most HTC, Samsung, BlackBerry, Sony (released 2012 and later), LG, Nokia Lumia Series, Motorola and Apple devices (MacBook, iPhone, iPad, iPod). Functions may vary between models. The remote and mic are also compatible with most applications such as VOIP, Skype, iChat and other recording applications such as voice memo.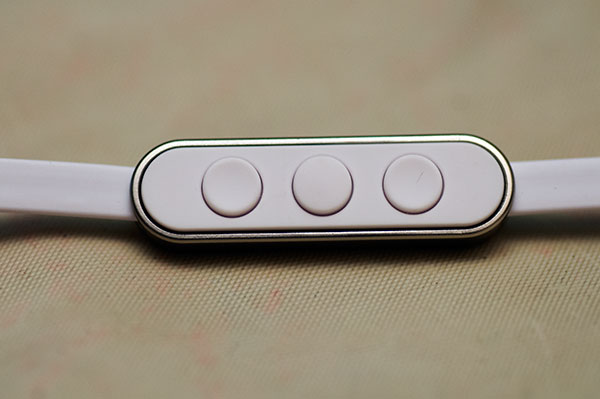 The Four on the other hand has a three button inline remote and mic that is pretty stylish actually – certainly more interesting than the One+ single button and app but perhaps with slightly less customization options. It will do pretty much the same thing though in terms of music and voice (call) control with a non-directional mic which picks up your noise pretty well but also a bit of background noise for your troubles also.The remote and mic of the a-JAYS Four are supported by iPod nano (4th generation and later), iPod classic 120 GB, 160 GB (2009), iPod touch (2nd generation and later), iPhone 3GS, iPhone 4, iPhone 4S, iPad, iPad 2 and iPad 3.
The nerdy vote goes to the One+ with its custom application but style points to the Four – you choose for yourself what you want but since the Four will not work on Android sets and the One + has more limited functionality on i-devices I think the choice is already made for you.
So how do they sound? Both sport 8.5mm dynamic drivers and both deliver a bass heavy presentation with a very slightly more muted range in the highs in the One + than the Four. Surprisingly both are not the easiest earphones to drive with 95db (One +) and 96db (Four) respectively so those with a small headphone amp might achieve more reward than those without but then you are going to loose all that functionality in the remote setups which might make some think twice. The good news is that you can EQ that loose bass right down to acceptable levels to get a slightly flatter response out of both (on the FiiO E17 bass negative 8 worked nicely) but again if you are going to be left with just a regular set of earphones if you amp them since you need that direct connection with your DAP or cell phone. If you cell phone has EQ suck the bass out a bit and you will find this more rewarding. The Four has the slight edge for me in top end delivery with a shade more prominence but its pretty close if you ask me. Both have average sound stage with decent imaging and neither display any harsh spikes or sibilance which is solid plus point for prolonged listening. Your not going to get amazing articulation in either though but if you like your beats heavy they do a fine job of throwing these by the bucket load which afterall is akin to consumer audio heaven.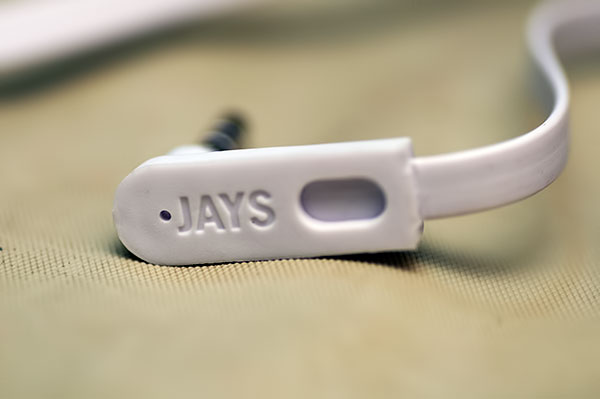 Final words
Come in at sub-$100 the jays are in a tough market but the aesthetics of these earphones are a definite unique selling point. It's a pity the box doesn't come with a manual unlike the earphones but once you get past that you have two solid consumer orientated earphones for both Android and Apple fans all draped in Scandinavian design sensibilities and very logical design points for the target market. The Plus comes in a few bucks cheaper than the Four right now in the local market place but it won't matter – your phone will want them pretty bad and you must obey your phone right?