Disclaimer: The Rosson Audio Design RAD-0 sent to us is a sample unit in exchange for our honest opinion.
We thank the team at Rosson Audio Design for giving us this opportunity.
You can find out more about planar magnetic headphones reviewed on Headfonics here.
When you go to the trade shows like CanJam or the AV Show in Hong Kong you pretty much know who is going to be there and what will be there to try out. I would say about 80% of what is there I have tested before going so its more of it meet and greet and get to know more about the products.
Every so often, however, you get a nice surprise and the $2600 flagship full-sized open-back planar magnetic Rosson Audio Design RAD-0 is just such a wonderful surprise.
The Story
Alex Rosson and headphones are like two peas in a pod when it comes to this hobby and my exposure to planar magnetic dating back maybe 10 years. I remember speaking to both he and Sankar just before they launched the original LCD-2 almost 10 years ago. Boy did they grow, and fast!
One of my all-time favorite versions of the LCD-2 is still the pre-Fazor edition and it hangs here in our office to this day getting plenty of use. Since then we have reviewed various Audeze headphones right up to today's Mobius and the iSINE.
Meanwhile, Alex surprisingly left Audeze in 2015, heading to Shinola for a while before, in what seems like a bolt from the blue, officially announcing the RAD-0 just before CanJam Singapore 2019. More than that he decided to go there in person bringing a few units with him to allow us to test them.
Excellent move because I have been buzzing about them since the show and delighted now to have one in my hands for this First Contact and subsequent full review.
Packaging & Accessories
Like Audeze the RAD-0 comes in a very tough and durable weather-sealed travel case. Perhaps this was something Alex brought in during his stint as CEO at Audeze. These are the type of cases I really appreciate for headphones. Especially in dusty hot climes we have here. They make storage and transportation so much more bearable.
The new case is rock solid with some nice red accents on the handlebar and locking mechanisms. Inside, there is some excellent internal foam insulation designed for knocks and bumps. There is literally no way the RAD-0 will move with the new foam shaping.
There are also a few additional pockets for the cable and one that came empty. I asked Alex, "hey what's up with the empty one?" and he responded, "a little something to stick in your portable amp and DAP to carry around."
Me personally, I will be throwing the supplied cable into the additional pocket to leave room for an XLR cable since currently, the RAD-0 does not come with one. If you are putting an amp or DAP in the pocket you are talking HiBy R3 sized or one of the excellent but sadly discontinued Cypher Labs Piccolo amps. Yup, it is kind of small though I appreciate its potential usefulness.
Build
Technical
The RAD-0 uses an open back circumaural 66mm planar magnetic driver design. That is a little bigger than the Abyss Diana Phi by 3mm and the excellent 50mm Final D8000 but much smaller than the 106mm driver inside the LCD-4. Mind you driver size is no indication of capability given our reviews of all three (Phi out on Sunday 26th May).
The current first edition design is a double magnet build though initially, I can't tell you more than that as we have yet to get into the nitty-gritty of what is unique about the array on this headphone. We will do that in the full review once I sit down with Alex and interview him on it.
The SPL rating is very welcome 98dB which does mean it shouldn't pose too much of a demand on amps and you will not need a massive nuclear reactor to power them like the HE6 or the older LCD-2 first editions. This sits closer to the Empyrean and the Final D8000 for sensitivity and more efficient than the Abys Diana Phi.
I will say this though; our initial impressions are that a good quality XLR cable will tease out the scaling potential of the RAD-0 more than the stock 3.5mm terminated cable.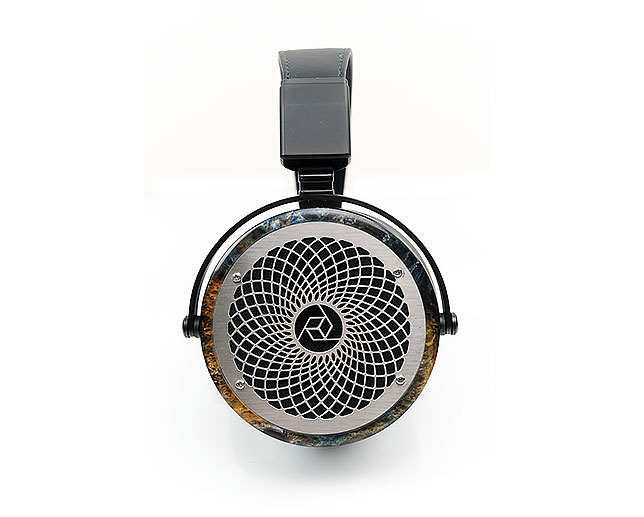 Design
Of course, beauty is in the eye of the beholder but I really like the RAD-0 design. It had a traditional rounded shape to it but that's the background noise. The big focus is on those cool dyed cups designs which I am told can be done to spec or off the shelf. They present a funky, streetwise type feel to an otherwise tried and tested headphone form factor.
But even off the shelf, they are all completely unique and there will never be exact duplicates. The one we have here is a subtle blend of ambers and some blue and its not the loudest in their collection by a long shot.
The front grill is an aluminum plate with a nice Fibonacci-type pattern to it and the RAD logo right in the middle. It is more subtle than garish and not too heavy looking either. Pads and headbands are a protein leather with the pads a mix of velour and leather in a wedged finish. The gimbals are a solid aluminum in a matte black finish and offer plenty of lateral and vertical movement for fitting.
Comfort & Fit
There is no official listing yet for the weight of the RAD-0 but it is a heavy 650g though it does look smaller than the LCD-4 and the Final D8000.
For now, suffice to say it is not the lightest planar on the market but entirely in keeping with its double-magnet build. For example, the new Final D8000 is 523g and also uses a double magnet build and the LCD-4 tops out at 600g.
Our initial impressions of the comfort levels, however, are positive. A couple of reasons for that. The single headband design has a good level of protein leather wrapped foam to dissipate pressure spots from any downward pressure. The thick plush wedged pads also mitigate the fairly sizeable sideways clamping force on the RAD-0.
So, overall this feels like a well-balanced headphone on my head for its weight. It also does not have any of the little fitting quirks like the D8000 which tended to pull down on my ears after an hour or two. Will the RAD-0 work for long listening sessions without sweating my ears off? We shall find out in the full review.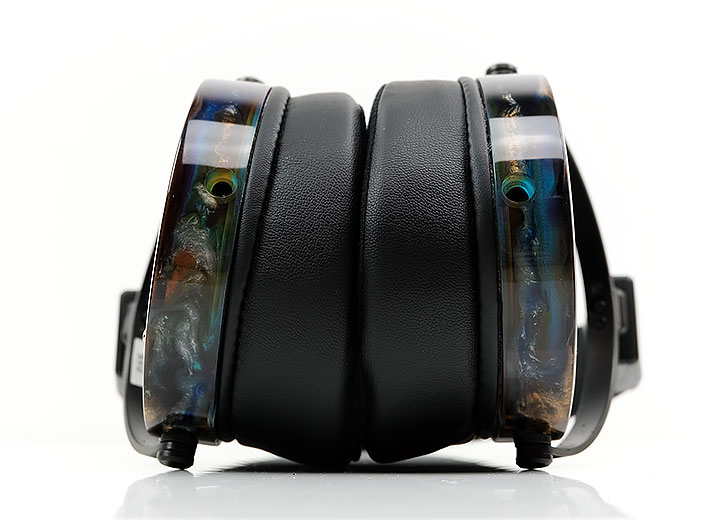 Cable
I am told there will be an XLR option available soon but for now, the RAD-0 comes with a nylon jacketed 1.8m 22AWG OFC cable terminated with a 3.5mm connector. This is a dual-entry system so the top of the cables are finished with dual-mono 3.5mm connectors and some solid but narrow alloy chrome finished barrels.
The cable is dead quiet, no perceptible microphonics that I can detect as well as being fairly tangle-free. I do wish it came with a quarter jack adaptor since I think these really do belong with a good desktop system. Even a 2.5mm or 4.4mm might have been better for changing to a balanced output on higher-powered DAP outputs such as the iBasso DX200 AMP1 MKII or the Lotoo PAW Gold Touch.
The good news is that it uses the same cable termination as the latest Hifiman cans so we can and will be switching to XLR 4-pin balanced during our main review to see how well the RAD-0 can scale.
Initial Sound Impressions
This is a deeply satisfying first listen. The first thing that stands out with the RAD-0 is that impressively punchy and pure sounding planar low-end. It is not overly cooked and doesn't have quite the tilt upwards that the Final D8000 sub-bass has but it is rock solid and very responsive sounding.
There also seems to be very little drop-off into the lower-mids. Guitar notes are rich and natural sounding with excellent bass fundamentals and a lovely harmonic balance. Hard rock guitar riffs sound absolutely spot on with the Rad-0.
I have been listening to a lot of the UK's Struts recently and one song in particular "Who Am I" from their 2018 Young & Dangerous album sounds positively vibrant on the RAD-0. There is something quite enticing already about how the RAD-0 teases out some lovely bass guitar texture and detail. Vocals up to around 2k have an excellent presence, particularly male vocals.
Treble is the other big talking point on the RAD-0 because quite often I find it a tricky area for planar headphones to get just right for my own tastes. They are either too lean or sharp or companies tone it right down to take the edge of it. Not so with the RAD-0. There is indeed a slight 2-4k dip but the lower treble seems very coherent with good presence and little in the way of over-enthusiastic 8k boosting. If anything, I would term this as a fairly neutral top-end sound.
Stay Tuned!
Where do we go from here? Well, certainly we need a lot more hours on it to assess the final comfort levels and see if the sound signature changes markedly or not at all. We definitely want to try more balanced XLR 4-pin cables with the RAD-0 as well as test a wide range of amps.
Our First Contact here used the Formula S from Xi Audio, Yulong's DA10 balanced and the Auris HA-2SE and we did detect some change in the power of the low-end and how expansive the soundstage was going from amp to amp so I want to go back over that again. DAPs we will report on also. I have a feeling already that anything under 300mW into a 32Ω might struggle but overall this is not a hard planar headphone to drive.
Apart from that, I am very excited about what I have heard to date from Alex's RAD-0. It has huge potential, with a punchy engaging sound. This could well be a killer combo with hard rock guitar lovers out there. Stay Tuned!
RAD-0 Technical Specifications
STYLE: OVER-EAR, OPEN-BACK
EARPADS – HEADBAND: SUSTAINABLE
CABLE: CONNECTORS – 3.5MM: LENGTH – 2 METERS
TRANSDUCER TYPE: PLANAR MAGNETIC
TRANSDUCER SIZE: 66 MM
FREQUENCY RESPONSE: 20HZ – BEYOND AUDIBLE RANGE
THD : <0.1%
IMPEDANCE: 29 OHMS
SPL: 98dB