The Picollo Amp was released actually sometime in 2014 but in a chance discussion with David Maudlin of Cypher Labs about the C6IEM and having reviewed the Picollo DAC/AMP already he mentioned that I should really try out the amplifier only version. Well why the heck not eh? It has seen a largely positive response in forums and blogs in the last several months and at a price point of $399 SRP it is the cheapest amplifier unit Cypher Labs has to offer in their quality range of portable amps. As such it is attainable for quite a few of us budding audiophiles as well as the fact that the time feels just right for us on our audio journey to revisit portable amps. We have a been reviewing a glut of great IEM's this year and given the Picollo is rolled out as an amp targeting IEMs, in the same vein as the RX from ALO Audio, then color me interested. Well actually color me interested in gold because I just had to match it up with the DAC version and get another one of those bullion type lookers. Most opt for black or silver, but nah, Going For Gold as Henry Kelly would say and quite rightly my bling radar was on full alert when this landed.
What You Get
You get a duplicate in many ways to the DAC package. This is no bad thing though actually and remember the amp did come out first. I do like it when a company finds its groove when it comes to packaging and accessories and in the molded semi hard case for its Picollo range Cypher Labs have done exactly that. So very few amps have a purpose built hard case like the Picollo amp and it is a real bonus with real protective value against dust, some level of liquid and the usual knocks and bumps. True enough the amp is very pocketable in its own right but a day beside my oversized pickup keys and a dose of spare change and I do not fancy the amps chances of escaping unscathed.
Given there is no DAC functionality there are no OTG cables instead you just get the 3.5mm to 3.5mm short IC connector as well as the USB A to Micro USB charging cable for the amp, the branded leather strap for absorbing stacking shocks and two rubber straps for "da stacking" itself. You can actually clear all that out on a good day out and stick a small DAP and earphones in there and have a very nice travelling audiophile kit.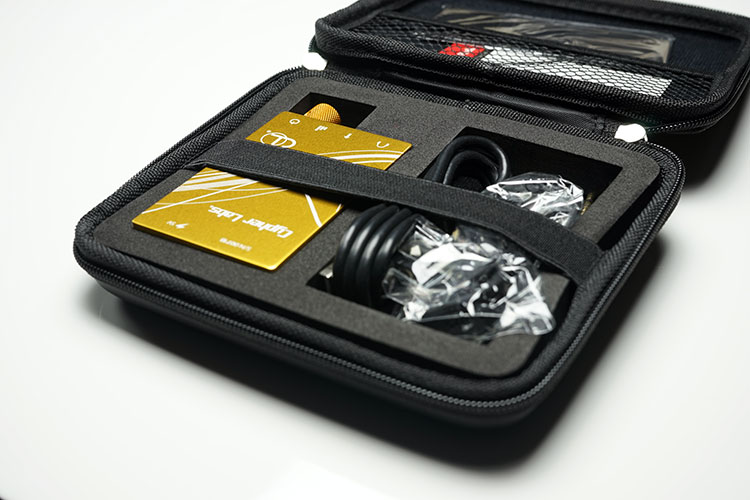 Build & Features
Now blink and you might miss it because there is not a whole lot going on the outside of the Picollo amp that would distinguish it markedly from the Picollo AMP/DAC version apart from the $100 price difference. Both are very compact, slightly heavier than you would think and gorgeously designed from a single block of CNC machined aluminum. In fact side by side the two are almost identical apart from the decal of the DAC version that simply says Picollo DAC. The dimensions of the amp version are 55x85x18mm which is just the tiniest bit smaller than the DAC measuring in at 20x53x 88mm. Front and back look the same also. Both back panels come loaded with a single micro USB slot at the back of the amp for charging only and a small red LED light to denote charging when plugged into any 5v USB power source.
The front panel has the same four icons on the top plate denoting headphone out, line in, gain and volume which is seems to be the same kind of analog pot used on the DAC version. The headphone jack output is the usual recessed 3.5mm as is the adjoining line input for your source of choice. The gain switch has three levels, low (-12db), medium and high (+11.5db). That's a fairly hefty swing right there and exactly the same as the DAC/AMP capability and though I would ideally pitch this amp as an IEM amp of choice given its output impedance is less <1 Ω there is definitely enough oomph there for some regular size dynamic portable cans and even adequate noise levels from easier to drive planars such as the HE400i and of course the Oppo PM range.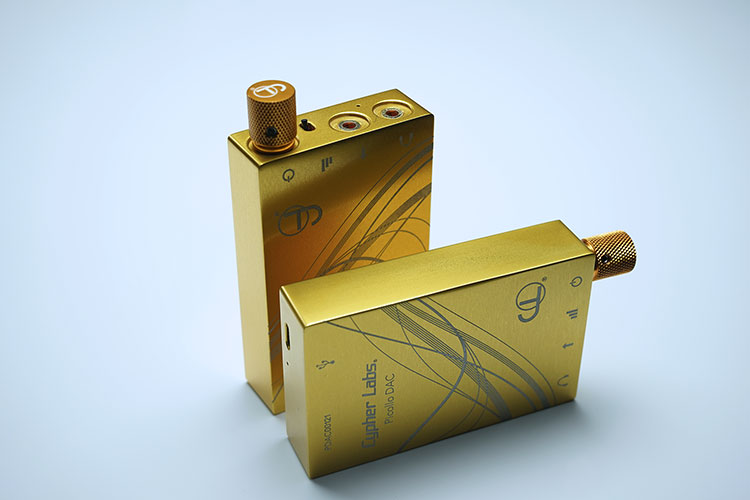 The Insides
Perhaps the major difference physically between both apart from the fact there is no DAC in the Picollo amp is the design circuitry itself being a discreet design rather than the DAC's more commonly used opamp design. Now opamp designs do indeed allow for a better utilization of space inside the newer amp/DAC unit for both an amp and DAC setup but there is something really old school and darn audiophile about a discreet amplifier design and Cypher Labs have really touted this as a key feature of the Picollo amp.
At the most rudimentary of levels the Picollo amp is a work of a human effort with an old school triode circuit but with no less than 10 matched triodes inside the amp. Now matched doesn't come ready made, matched means by hand which can be time consuming to say the least and the space utilization inside the amp is much less efficient hence the similar dimensions to the DAC which uses a more slim line opamp circuit. But the flipside to this methodology, quite apart from a better selection of components, is a clean interface, tuning is in the control of the manufacturer rather than using a ton of filters to an existing set of circuits and a much cleaner topology. In theory the Picollo amp will produce a better signal output. A better signal output will mean that it should sound pretty good.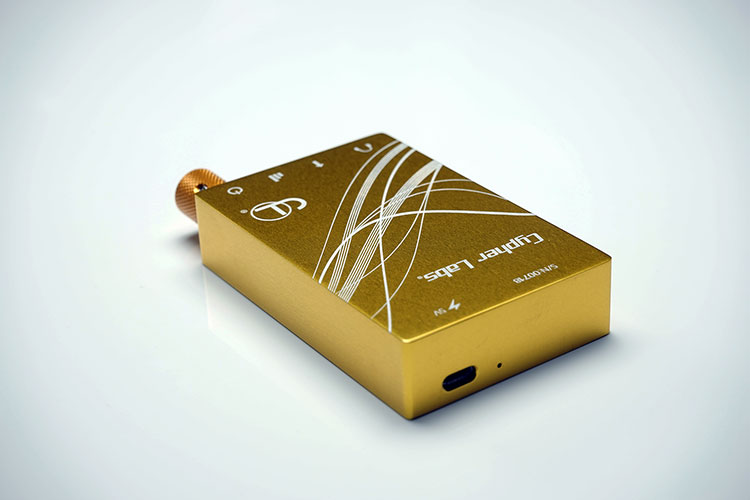 Go Go Portability
Battery life on the amp version is impressive, very impressive indeed. The DAC unit is rated at 12-18 hours and 24 hours as an amp only but the analog discreet Picollo amp can tap out at closer to 30 hours depending on usage conditions. That is about as good as it gets for portable analog amps and given the battery is a humble 2000mAH/3.7V lithium it is not even the biggest out there. That's up to 10 hours more than the E12a and around 15 hours more than the Cayin C5 portable amp and on par or slightly better than my other favorite portable amp the Vorzamp Duo which is a healthy 25 hours also on 2000mAH. Charging time is the regular 4 hours on any USB 5v power source and yes you can play it while charging. The little red led pinhole light on the amp acts in much the same way as the DAC during charging staying steady red until it charges fully then it switches off.
Page 2: Sound Impressions