The PLUSSOUND X6 Palladium-Plated Hybrid, (X6 PPH ), is a 26AWG 6-wire Type 6 Litz half palladium-plated copper and half palladium-plated silver cable marking the company's 8th anniversary. Price starts from $999.99.
Disclaimer: The PLUSSOUND X6 Palladium-Plated Hybrid cable sent to us is a sample in exchange for our honest opinion. We thank the team at PLUSSOUND for giving us this opportunity.
To read more about PLUSSOUND products reviewed on Headfonics click here.
Note, this review follows our new scoring guidelines for 2020 which you can read up on here.
PLUSSOUND X6 Palladium-Plated Hybrid Cable
This is a very smartly 'tuned' high performing cable from PLUSSOUND. It takes the technical prowess from the Tri-Silver and adds more body, smoothness and an altogether sweeter sounding timbre. I can see this being a much more flexible choice than the Tri-Silver in terms of synergy with a wide range of monitors
It is ironic that we have reviewed 2 cables thus far this year, including this one, and both are launched to celebrate business anniversaries. The first was PW Audio in January with a more 'budget' option, the PW 10.
The second, in today's review, the very high-end PLUSSOUND X6 Palladium-Plated Hybrid IEM cable. This cable is a celebration of PLUSSOUND's 8th year in business, which, in audio, is almost akin to dog years considering how quickly things can change.
Positioning
The X6 Palladium-Plated Hybrid is part of a wider range of cables and not just one though the materials are the same. The range is based on the wire count and PLUSSOUND tends to have branding names based on this count for all their cables. Their Exo series is a 4-wire, the X6 is 6-wire and cables like their TOTL Tri-Silver 8-wire are under the X8 branding.
This particular version is the X6 Palladium-Plated Hybrid and is priced at $1499 which puts it in the top-tier and just marginally cheaper than the Tri Silver X8. The Exo 4-wire is priced at $999 and yes, there is an X8 version at $1999, lordy!
Tech Inside
Materials & Wire
PLUSSOUND has dipped their elbows once again into the palladium pond but unlike the Tri-Silver from last year, this is a mix of two core materials and not three. Instead of gold-plated silver, copper, and pure silver, we have just copper and silver.
However, this time instead of just one element, silver, being palladium-plated, we now have both the copper and silver finished with a palladium-plating. That, potentially, is a more expensive mix of wires per strand so it is understandable that the pricing is quite different this time around.
Palladium
Palladium in audio has been around for quite some time and is nothing new in that sense. This is not a cheap metal to acquire and work with. The raw material combined with processing and application in wiring is significantly higher than gold, copper or silver.
Palladium is also significantly less conductive as an element than either silver or copper in their pure formats. In fact, silver is generally acknowledged as the most conductive element in audio wiring. However, resistance in wiring can be used to achieve a certain type of signature so it is not necessarily a negative feature if the application of the metal is correctly done.
Split
The actual X6 split is 3 wires for the left and 3 for the right with half of the wires palladium-copper and the other half palladium-silver. This sort of reminds me of the EA Janus wire split of palladium-plated copper and gold-plated silver only the difference is that the Janus is an 8-wire so a 4/4 split.
It also reminded me that EA found out that palladium-plated copper had a better high-frequency performance in the wiring over pure OFC so I am presuming PLUSSOUND had that in mind also with this new hybrid cable.
Geometry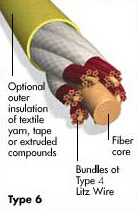 The geometry of the wire build is unchanged from the Tri-Silver build with the use of a Type 6 Litz wire. I am presuming now this is what you would call a house design choice for PLUSSOUND.
A type-6 wire is a fairly advanced Litz configuration. The geometry is certainly a lot more complex as it features bundles of type-4 wire twisted around a fiber core whereas Type 1 and 2 wirings have no individual cores.
Each type-4 wire has its own core which acts as a dampening element to reduce vibration, regulate consistent conductivity as well as generally produce a better feel when handling.
Generally speaking, Litz is an excellent wire for reducing the level of resistance, especially on lower gauge variants. Their lack of material depth and excellent insulating properties means they do a better job than most reducing the skin and proximity effect on typical non-Litz wiring.
Wire Gauge & Stranding
PLUSSOUND has chosen a 26AWG for its X6 Palladium-Plated Hybrid Litz 6 configuration which is a fairly light strand composition in terms of threading size with an approx 0.405mm diameter and 62.7 turns of wire.
However, with the use of Litz Type 6 and increasing the wire count to 6 the inherently higher levels of resistance in the smaller gauge level should be much less of a factor in the X6 Palladium-Plated Hybrid's performance.
This is pretty similar to how Effect Audio has been able to build 26AWG cables without a drop in the performance of their recent hybrids due to that mix of Litz wiring.
Design
Aesthetics
Design and build quality of PLUSSOUND cables are always top-notch and the X6 Palladium-Plated Hybrid Cable is no different. We can debate on the design awards, but personally, I think Effect Audio designs are leaders but on the build-level, I actually like what PLUSSOUND has been doing a bit more.
All the intricacies of the beautiful build quality of their X6 Tri-Silver have trickled down to the X6 Palladium-Plated Hybrid. Consider it visually to be a slightly thinner version and a slightly darker color. I would say the look is somewhere between their Tri-Copper and the Tri-Silver.
That darker color actually comes from the mix of copper wiring in with the silver that can be clearly seen behind the PVC PS translucent jacket. This is an interesting contrast to the Tri-Silver's lighter gold and silver glow but nowhere near as noir as the Janus's black and white design.
Handling
Being a lighter gauge and a lower wire-count, the X6 Palladium-Plated Hybrid cable is more malleable than the X8 Tri-Silver but it still has that beautifully tight semi-round lower braid sequencing I highly praised on their former flagship.
I have come to appreciate that even more when I compare this to slightly looser creations such as the Satin Audio Athena. It looks way too loose in comparison. Tight braiding is now critical for me given the heavy use I put into cables daily. You do not want gaps to form that can catch and rip that cable open.
All credit to the flexible PS insulation (PVC) jacket which means you get minimal resistance, zero tangles or memory retention and excellent low-microphonic levels.
Finishing
The slightly darker tone of the cable is nicely offset this time with lightweight anodized aluminum barrels finished with a silvery chrome. That is matched with a beautifully trimmed anodized aluminum chin cinch and 'chrome-edged' termination barrels at both ends.
Connector Options
The connectors are the same connectors PLUSSOUND has used on countless cables before just that this time is the first I have seen with a matching splitter barrel and chin cinch. The complementary color and finish choices are probably the most complete I have reviewed to date on their cables.
As always you get a choice of connectors at the heck out. these come with 2-pin 0.78mm black coated aluminum screw-threaded barrels. They are bigger than EA versions but they are not prone to coming undone from dried glue in humid weather with the use of screws.
On the outside of the black coating, PLUSSOUND has upgraded the old red and blue brand labeling with gold screen printed logos that will not chip or fade over time. These are essentially the same connectors now you will find on most of their cables since the X8 Tri-Silver in late 2018. As always, the screw faces to the outside and the labeling to the inside when connecting.
New Barrel Design
The X6 Palladium-Plated Hybrid cable sent to me is finished with a lightweight but relatively large aluminum barrel with a chrome finish. As mentioned, this is a nice offset for the duskier tone of the cable visual and also a great complement for the black and chrome barrels at either end.
The barrel is matched with a low-profile aluminum and chrome chin cinch that has a very smooth articulation up and down the cable. And yes, it holds its position quite well and will not slide down involuntarily during use.
Jack
The same design and finish of the connectors are also applied to the jack barrel so the whole design is quite harmonious looking. This particular finish is a 2.5mm TRSS which I prefer to 4.4mm as I can use adaptors to go 3.5mm or 4.4mm and keep things flexible.
You can, of course, choose your own at website check out which includes balanced and unbalanced 3.5mm, 4.4mm 6.35mm and RSA type.
Comfort On-Ear
The X6 cable lacks memory wire at the connector end and I am a huge fan of that when done correctly. It is massively more comfortably than thick memory wire coatings, especially when you are working with a thicker heavier cable.
If you think this lack of memory coating will impair the deadening against microphonics on the ear, then think again because the X6 Palladium-Plated Hybrid is deathly quiet. Also, much like the X8, the weight and braiding tightness means it stays around the ear. This is not a cable that will move around, hence no memory wire needed.
Of course, that 6-wire will feel heavier around the ear compared to a 4-wire but it is not going to give as many problems as an 8-wire for glasses users. I am still addicted to 8-wire personally but when I slap on my reading glasses I do appreciate how much easier a 6-wire can be.
Accessories & Packaging
The packaging reminds me of shopping in the men's section in a department store. You know that section for wallets, belts, and umbrellas that tends to get us all aroused momentarily? Yeah, that section.
This is an upgrade on the previous plain black packages of previous PLUSSOUND offerings. This time it is more like an executive wallet composed for the discerning gentleman with a lidded hard box, gold trims to the side and a perspex display on the inside.
Inside you get a quality little leather drawstring case embossed with the PS logo, a silk cleaning cloth, and a matching dark tan/black leather IEM organizer strap.
It is ironic, even on other flagship cables offerings you get none of this which never ceases to amaze me. The strap doesn't cost much but is so incredibly useful for storage and keeps the tangles at bay.
The leather case will fit not just the cable but quite a few monitors also. It doesn't protect quite as well as the stiff round pill cases supplied by the likes of EA but it is more discreet for pocket transport.
Click on page 2 below for performance impressions and comparisons