The Unique Melody Mason V3+ 16 driver BA flagship IEM and an upgrade on the original V3 with a new carbon fiber design. It is priced from $3199.
Disclaimer: The Unique Melody Mason V3+ was sent to us as a sample in exchange for our honest opinion. We thank Unique Melody for this opportunity.
To learn more about Unique Melody products on Headfonics you can click here.
Note, this review follows our new scoring guidelines for 2020 which you can read up on here.
Unique Melody Mason V3+
The Mason V3+ is a very natural sounding and expansive sounding flagship monitor. Especially so with the silver side of the dual-tone cable which still manages to retain that weighted full-bodied sound of the copper but with superior separation and treble articulation.
We have been playing around with UM's flagship Mason V3+ for quite a while now so a full review is not out of order right about now. The Mentor we have already covered a few months ago and the Mason V3+ First Contact was out before that.
Should have been keeping tabs since then you may wish to skip straight to sound impressions and comparisons you can click on page 2. For those that are new to the Mason V3+ on Headfonics then read on.
In a nutshell, the V3+ is a refined and revised version of our award-winning Mason V3 custom IEM, (2017). This is more of an evolution than a revolutionary design but there some tweaks in there that some, including Unique Melody, would consider as being substantial, not least a brand new sound signature and shell material.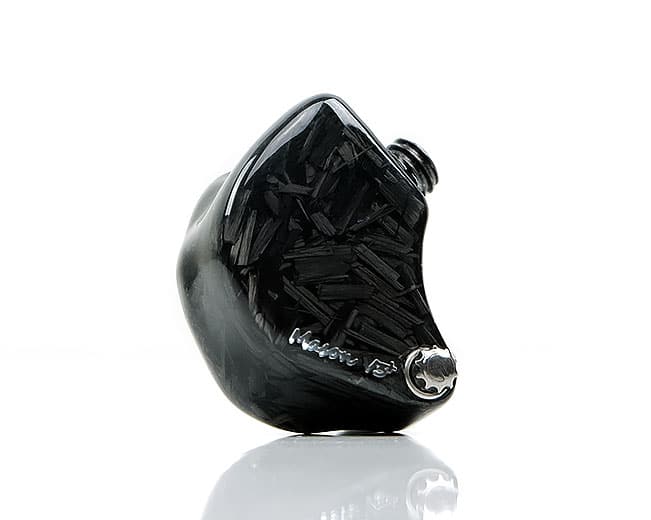 Tech Inside
The heart of the V3+ is the same as the original V3. So that means the V3+ is a 16 balanced armature driver monster with a 4-way, 5-bore design using 4 sound tubes and 1 bore designed for their DB-GO tuning module. The configuration is unchanged with 4 drivers for the lows, 4 the lower mids, 4 for the upper mids, and 4 for the highs.
New Materials
Beyond that, lots of upgrades around those drivers. The DB-GO bass module now has better damping so the weighting of bass has more control than before throughout the curve. I believe the setting might still be +/- 4dB just more consistently applied from sub-to-mid-bass for additional power.
The tubing is also now made of titanium-gold that is corrosion resistant. Finally, the internal wiring has been upgraded to silver alloy from the original copper for better conductivity and lower internal resistance.
Carbon Fiber Shell
On the outside, the Dreamweaver fiber shells are now enhanced with a new lightweight carbon fiber material which on the universal format should also mean a smaller shell.
Traditionally, CIEMs come in two flavors, acrylic and silicone. Dreamweaver is pitched by UM as a 'layer by layer' handmade design which they claim will make the shells much stronger than traditional acrylic shells.
Carbon Fiber is also a lot tougher than regular acrylic and does not need to be as thick. One thing to note on their custom shell is that the overall size should not change except for weight since they are supposed to be an accurate fit for your ear.
The new carbon fiber shell is also designed to complement a new tuning for the Mason V3+. Unique Melody has described the new tuning as more coherent, full-bodied with a better sense of balance across the FR. That means additional bass quality and quantity than before and generally a smoother sound.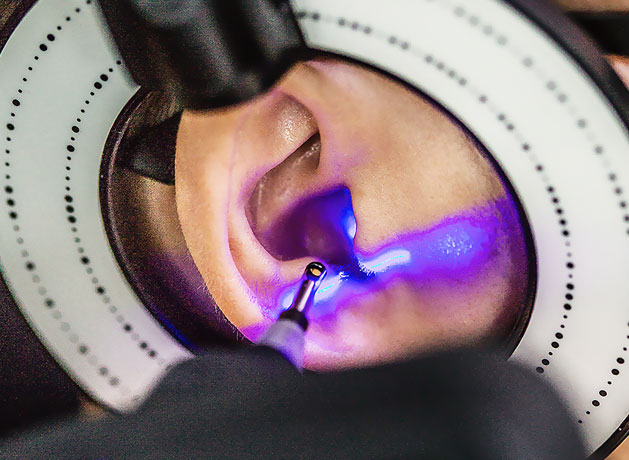 Design Process
In short, there isn't one, at least not in the way I have come to expect from a custom monitor manufacturer in 2020. Their shiny new online store from 2017 has now gone, as is the English version of their website.
The Chinese version is also nothing more than an information website with no option to buy directly. I suspect the business model is more dealer driven and you will be speaking to them about what designs you can avail of.
If you need inspiration you can always check out their Facebook page here to see what options are available. Ours came in black and gold carbon, however, you can get black and blue and the latest black and red variants.
3D-FID Process
Going back to the Chinese version, UM does give you some insight into the manufacturing process that goes into making their custom designs and it does seem they are using some of the latest 3D scanning technology advocated by the likes of Westone.
The process is relatively simple and for those that dislike clay being stuffed down your ear then do take an opportunity to visit them at one of their trade show booths, (not this year obviously), and go through this process instead.
Basically, the ring-type device in the picture below takes a scan of your ear up to the second bend. This is considered more accurate than molds from clay due to factors such as the expansion properties of clay and how it cures. It is also a lot faster and reduces the possibility of human error by scanning the file directly.
After this, Unique Melody can start digitally cutting the full ear impression into the final mold before using a German high-precision UV printer and medical-grade resin/carbon fiber for the final shell.
Old School
Of course, this is not always possible so they do accept molds done at your local audiologist and scan from them when they arrive. once they are scanned then the digital file is kept on record so you only have to do that once.
Should you go down the traditional route UM does not require open jaw impressions so no need for a bite block when you go to your usual audiologist. Just keep your jaw steady but relaxed prevent the clay impressions from poorly curing.
A full ear impression to the second bend in your ear canal is always required. Then it is a simple case of packing them securely, (see small food container picture above), and sending them to UM or your distributor via your favored courier.
Design
Since it is a custom design you can pick any design from UM's extensive portfolio of custom builds. However, at the time of writing, their English site is down so I am slightly unsure what is possible these days. The good news is that the new carbon fiber design is actually quite dashing and much better than some pictures might suggest.
The shell is a dark smoky translucent black with tons of fibrous materials encased making for a very handsome collage of lines under good lighting. UM has also infused a very light spattering of silvery flecks in the Mason V3+ design which makes it distinct from the Mentor V3+ which uses gold specs with the same shell design.
The DB-GO module also looks a lot sturdier with a new screw design that is bigger and grippier than before. You will find this one much easier to work with unsighted than the older V3 version which was thinner and shorter.
Eagle-eyed readers may have noticed the 4-pin connector positioning has also moved forward a touch to the edge of the top plate. On the original, it was slightly further back in the middle. This is a good move as the slightly longer cable connector barrel will clear the ear easier leading to less pressure.
Comfort & Isolation
The V3+ seal is fantastic but so was the V3 original so hard to improve on that unless the ear impressions were bad, to begin with. What has improved is the comfort and the extent of passive noise blocking. I can only presume the enhanced passive noise canceling is due to the new carbon fiber materials and what seems to be a slightly longer nozzle.
On the original V3, the Dreamweaver regular design did very well blocking sub-1kHz sounds like air-con hum but I can still hear a vacuum cleaner from outside. On the new V3+, I can hear neither and I am pretty sure both seal just as good as each other.
The movement of the connector makes a huge difference also. The cable now completely clears my ear whereas the older V3 right angle connector and central placement pressed against my ear. A much comfier fitting.
Dual Tone Cable Tweaks
Phanes
You can now buy the Mason V3+ with what seems to be a superior stock cable than the original Dual Tone from the V3 or you can upgrade for a fee to the new Phanes aftermarket custom-designed cable. The new upgrade cable was made specifically for the V3+. by Effect Audio of Singapore.
The Phanes is a 1.2m 8-core UPOCC Silver Plated Palladium+ Gold Palladium Alloy combination and I presume a 26AWG wire in their UltraFlexi jacket. We sadly do not have one here, we had hoped it would get here but COVID19 put paid to that. From the looks of it, the barrels and jacks have a much higher quality finish than the stock.
Stock
Speaking of the stock cable, this seems thicker than the original Dual Tone that came with the V3. The V3 cable was 4-core and this one is 8-core though they do not mention exactly what gauge it is. I am presuming 26AWG. We also now have a matching grey aluminum splitter and jack barrel whereas before it was a silver barrel and heat-shrink for the splitter.
The two-tone wire material of the stock cable seems unchanged from before. Both old and new cables have the same physical overtone of a darker copper and lighter silver wire mix using a PVC translucent jacket. That means 6N 4-core single crystal copper and the other is 6N 4-core silver, (combined for 8-core).
Switching enhancements
When we say other, that means that UM has retained that very unique feature of being able to swap around the 4-pin connectors from left to right and vice versa to activate either the copper 2-pin side or the silver 2-pin side. Hence, two unique flavors of sound inside one wire.
The way to change those connectors looks much easier also. Previously, it was an obscure ridge system on the top of a plastic right-angle connector that you really only could detect via physical touch. Now the connector barrels are a stronger metal alloy to match the splitter and jack barrels. They also use a much more legible labeling system on the left and right for faster swapping.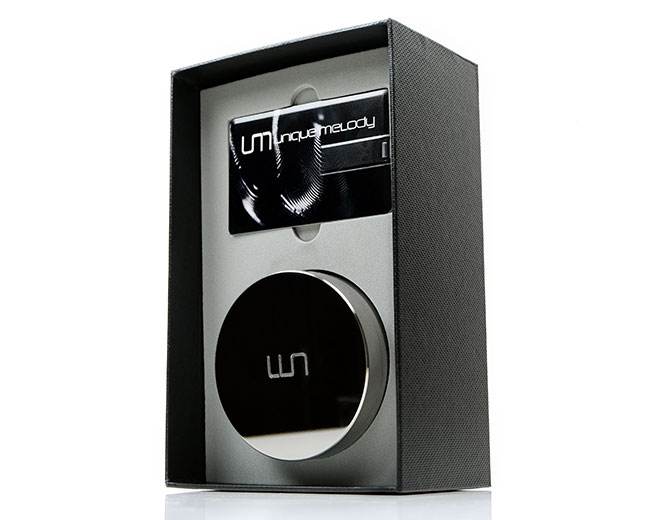 Packaging & Accessories
Perhaps surprisingly, outside of a cool little branded paper sleeve on the outside, the UM packaging has changed precious little since the original V3 in 2017. The box is a bit longer and more traditional in design than the tiny cube era of 2016.
I did love those cubes but the presentation on the Mason V3 and V3+ feel a little more substantial especially when you lift the lid. Inside the presentation is much more pristine with better spacing and multi-layered.
However, do I expect a bit more for the price? Possibly, considering what Vision Ears and Effect Audio are doing with their flagship IEMs and the Elysium is almost the same price.
There was an initial change in the line-up since the V3 in terms of accessories which a chrome-finished titanium alternative. And yes, the chrome finish is a fingerprint magnet par excellence. However, current orders since Q1 will no longer receive this case and instead, you get a Dignis designed blue zippered leather case.
I actually prefer the leather case over the older titanium version. The titanium version is clearly sturdier and quite attractive but nothing beats a lighter case for day to day portability. There is plenty of space on the inside also with protective velcro pockets to stash the monitors in and prevent them from hitting something stored in the main pocket such as the cable.
Inside, you receive a cleaning cloth and a handy MEC (magnetic earphone clip) cable organizer strap which doubles up a shirt clip. You also get a few handy 2.5mm to 3.5mm and 4.4mm converter jacks.
These are very useful in 2020 with the advent of 4.4mm output sockets on DAPs and some amps. I tend to find 2.5mm TRRS cable terminations to offer the most flexibility if you have these convertor jacks lying around.
The strap is pretty nice actually as it is not a click button but a soft suede strap with a magnet underneath so it just snaps together real easy. Subtle but useful stuff much like the original V3 version.
Click on Page 2 below for Sound Impressions & Comparisons