This is a review of the MOONDROP MOONRIVER 2: Ti, which is a TC4 titanium alloy dongle DAC with up to 250mW of balanced output power. It is priced at $189.99 SRP.
Disclaimer: This sample was sent to us in exchange for our honest opinion. Headfonics is an independent website with no affiliate links or status. We thank MOONDROP and Shenzhen Audio for their support.
Click here to read more about MOONDROP products we have previously featured on Headfonics.
Note, that this article follows our current scoring guidelines which you can read here in more detail.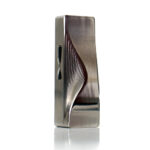 MOONDROP MOONRIVER 2: Ti
The MOONDROP MOONRIVER 2: TI is more powerful,  better looking, and has an updated DAC section over the original version. The best part is the price tag which remains the same as before which raises the bar from their last offering in more ways than one.
Pros
Good driving power
Black background
Visually stunning
Cons
Gets warm during use
Higher than average source battery consumption
Software is lackluster
MOONDROP made some waves when they introduced the MOONRIVER 2 which up to date was their most popular dongle DAC from their dongle lineup. It certainly and undoubtedly was their most prominent model.
They also demonstrated a creative side on the design table and the MOONRIVER 2 took on a unique look within the dongle DAC industry. To be honest I didn't know exactly where they were going with the design.
To me, the design resembled an ancient find left behind by an old river channel up on the moon, appropriate for its name. The futuristic design had some peaky corners and it was previously mentioned that small refinements were desired in aesthetics and it seems the company was listening.
We now have the MOONRIVER 2: TI on our bench and at first glance, one could say that the visual cues are very tastefully done, almost astounding. Aesthetically, MOONDROP has implemented everything we previously asked for.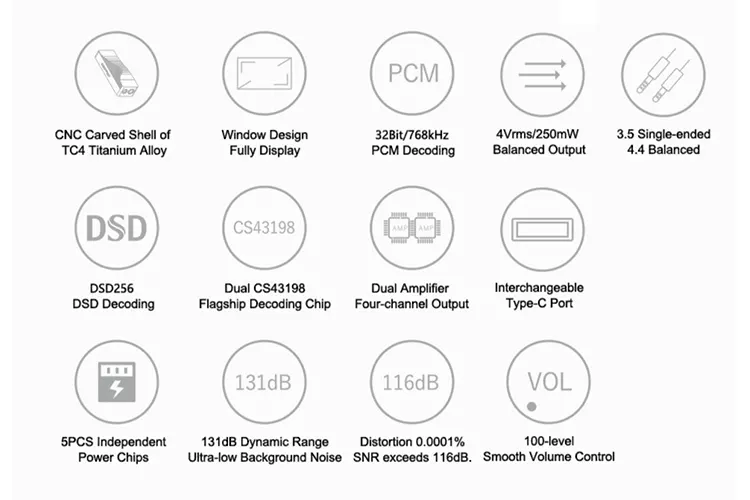 Tech Highlights
Now let's talk about the all-important aspects like DAC implementation. The MOONRIVER 2: TI at the center uses dual flagship CS43198 chips in a dual channel configuration which is a setup that's a step above the previous dual CS43131 chip implementation.
The MOONRIVER 2: TI employs a dual-mono implementation on the DAC and the amplification section as well. A bit of looking around and you'll find that they're using dual LM6863D chips in a four-channel configuration to feed the dual headphone output jacks.
It seems that one chip is used when you're in SE mode and once you tap into the balanced output connector then both chips kick in. Low drop-out regulators feed each chip but there also seem to be more than a few more LDRs scattered within the rest of the circuitry.
The sole USB input is handled by a CT7691 USB bridge from Comtrue along with 2 independent crystals directing the dual mono circuitry and component orchestra.
Decoding
The MOONRIVER 2: TI is exclusively a PCM device that can also play along with DSD which is simply a PCM format with a high and specific bit rate. This device is PCM 32-bit capable at up to 384kHz plus it handles DSD at up to DSD256 rates.
It seems MQA is losing the battle and more manufacturers are abandoning the format and it's probably giving in to new services that are offering HD OTA services. Most devices work on a PCM basis so if your device has a USB port it will probably produce sound using the MOONRIVER 2: TI.
One fact that was obvious to me was that although I'm strictly an Android user, I noticed there was no mention of the MOONRIVER 2: TI being iOS compatible or Lightning connectivity capable but it should be. Apologies on my behalf because I don't have an iOS device for testing but I'm pretty sure it is compatible.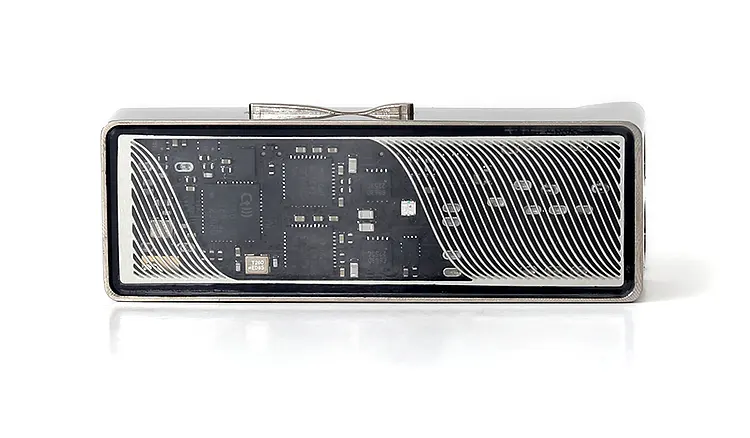 Design
We reviewed the original MOONRIVER 2 and mentioned two quirks with its design. The first mention was about the sharp corners and the second mention was that I preferred a see-through open window versus a painted-on circuit diagram. MOONDROP addressed both mentions on the MOONRIVER 2: TI.
First off, the shell is made from a TC4 Titanium alloy and it has a beautifully CNC-carved pattern that MOONDROP calls a ripping flow design. It's a handsome and artistic-looking design but its weight almost doubled and went up to 30 grams versus the original 17 grams.
The back side now sports decorated tempered glass a-la-Questyle that allows you to see the intricately laid-out circuitry and is proudly displayed so you can see all the guts inside the MOONRIVER 2: TI.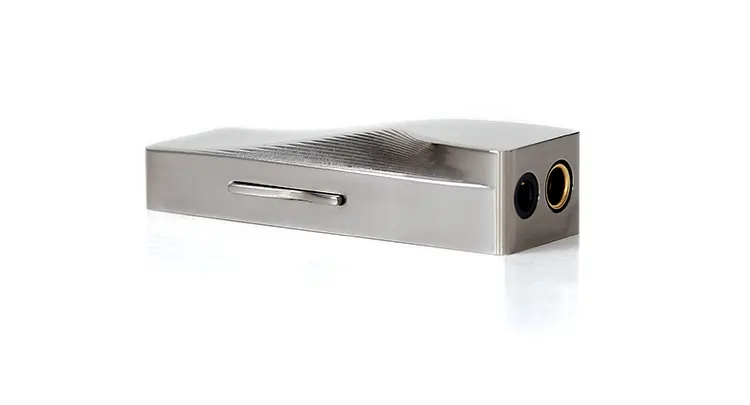 I/O
The MOONRIVER 2: TI is a common dongle DAC for connectivity. There is a USB-C connection at one end and two headphone outputs on the other end. There's a 4.4mm balanced output and a 3.5mm single-ended output.
One feature I noted is a 3.5mm connection which supports IEMs with in-line microphones and uses a TRRS 4 contact plug. That's good to have on a dongle.
You get full output level control with a built-in volume control and, the volume control has 100 steps of adjustment which is a nice feature to have, particularly for those who use sensitive IEMs. This dongle seems to have good volume control at the bottom level which works out well for the same giving you fine level volume control.
The buttons were laid in the same manner as they were on the original MOONRIVER 2 but are more prominent this time. The volume up is larger, just the same, which makes each setting easier to find intuitively.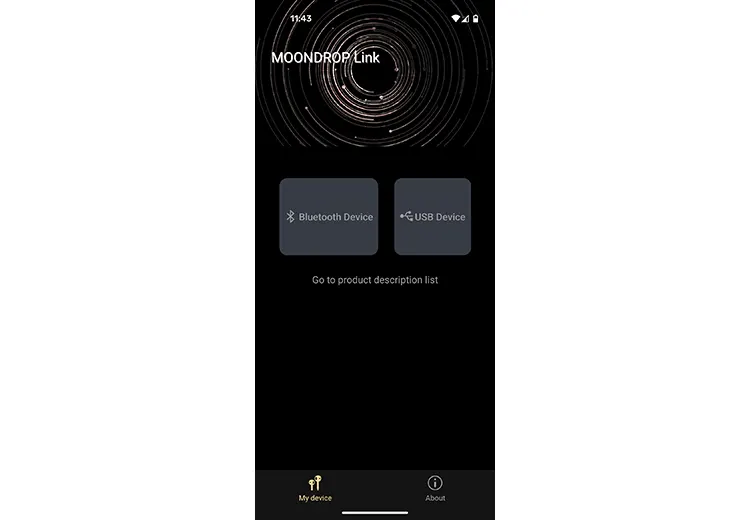 Moondrop Link
MOONDROP has software written up called MOONDROP Link that works with the MOONRIVER 2: TI but you'll more than likely have to download it from their website directly. I say that because I could not find it within the Google app store.
I also attempted to download the Windows driver from their website but it didn't install well and had a hard time with it. But the good news is that the MOONRIVER 2: TI seems to be a plug-and-play device anyway, at least on a Windows 11 system.
The MOONDROP app is a barebones app and offers some features but it's not a full-blown app. It has four DAC filters, a 100-step volume control, a 2-stage gain plus an LED on/off feature.
Packaging and Accessories
The MOONRIVER 2: TI comes with the customary six-inch long dual-sided USB-C cable assembly but it's an unusual one because it was made with transparent rubberized plastic and you can see all the guts. Plus, it's also a flat cable.
Don't be fooled by the visible green section right below the USB-C connectors. A second look and you'll realize that they're circuit boards. My original reaction was a gasp thinking it was green mold. I was wrong thankfully.
There's a USB-C to full-sized USB type A adapter which is also a common inclusion but there's no Lightning connectivity included.
As far as included printed literature goes, you get a warranty card, a certificate of authenticity plus a basic user's manual.
The box and overall packaging seem more than adequate to get the product home safely. It does seem like the artwork and the print quality of the insert shield that slips over the main box have also improved and the artwork seems further upscaled.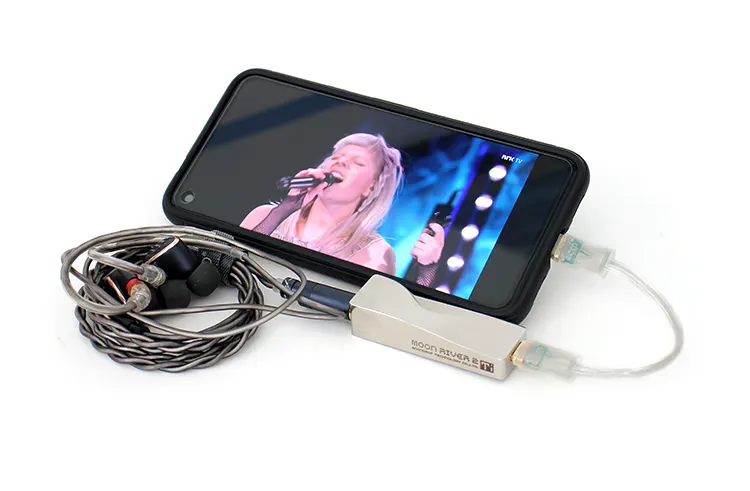 Sound Impressions
The following impressions were completed using a mix of the Meze Audio Rai Penta, the FiiO FH15, and the Drop + HIFIMAN HE-X4.
Summary
The MOONRIVER 2: TI comes through initially with a full-bodied and wide presentation. The frequency response seems evenly distributed through the major frequency bands and presented in a manner that doesn't create any peaks of its own.
Another characteristic that presents itself is the ability to bring forth lots of detail. Even at those times when a composition becomes complex and becomes complex and includes many components or elements within the recording simultaneously.
The MOONRIVER 2: TI does present itself with a silent background that will not hiss at you especially if you set it on the low gain setting. There seems to be a pre-mute feature implemented, also common.
So even if there's some residual hiss, you might miss it since on silent passages the MOONRIVER 2: TI mutes itself.
There seems to be little to no transient or harmonic distortion present unless you push this dongle hard. At that point, it will present break-up but only if you're using high-current demanding headphones and high volume levels. This dongle is capable of reaching a high volume level.
Staging & Dynamics
The MOONRIVER 2: TI is a punch, dynamic dongle that seems to have more power-delivering capability than the average lower-tier dongle DAC and it could get loud as mentioned.
The volume control seems tuned to have a rather slow rise rate and it usually defaults down to a low level to counteract. The loudness doesn't seem to be from a high internal signal since I heard no oversaturation.
Comparing the two output jacks in an A/B comparison doesn't reveal any major loss in dynamics nor does it produce a different tonality on the 3.5mm from the 4.4mm output since the same type of chips are used to drive both sides. But you do lose some top-volume capacity if connected to a demanding load.
On the balanced output, one can almost confuse the MOONRIVER 2: TI with a desktop setup due to its clean, energetic, and keen ability to produce lots of power, particularly on high gain.
It never loses the ability to project a wide and open soundstage either which is rather precise and produces height, width, and depth plus some rear projecting at times.
Perhaps there is a small amount of underfill when panning occurs but positioning and placement, which is more important to me is done well with a small amount of what I call Aura bleed.
Imagine a focal point, then expand the outer field of that focal point or sound source, that's what I'm referring to and mean by Aura bleed.
Click on page 2 below for our recommended pairings and selected comparisons.