Lypertek PurePlay Z3 2.0 is a new Bluetooth 5.2 capable TWS featuring a single graphene driver, aptX, and up to 80 hours of battery life. It is priced at £99.
Disclaimer: The Lypertek PurePlay Z3 2.0 sent to us is a sample in exchange for our honest opinion in this review. We thank Lypertek with the support of Hifiheadphones.co.uk for this opportunity.
To learn more about Lypertek reviews on Headfonics you can click here.
Note, this 2-page review follows our new scoring guidelines for 2021 which you can read up on here.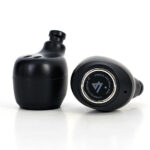 Lypertek PurePlay Z3 2.0
In a nutshell, what we have here is the Lypertek TEVI with an updated chip that performs better with more features. So the PurePlay Z3 2.0 is a re-spin of the TEVI, improved but the price stayed the same which is definitely a move in the right direction.
Lypertek is known for its bargain-priced TWS models that often can outperform other brands higher priced models. Their debut release, the TEVI was a big case in point with solid feedback from us in one of our early TWS reviews.
We also review their bargain-priced S20. Another inexpensive single dynamic driver TWS model that punched way past its price point performance-wise.
The latest PurePlay Z3 2.0, and the successor to the TEVI has quite a few legacy features and some new ones from their top tier Z7 model.
The Z3 2.0 sits right below their top-of-the-line model, the PurePlay Z7, at the original SRP of the TEVI. It also competes within a very competitive circle of other similarly priced models within the TWS current marketplace.

Tech Highlights
Bluetooth 5.2
The Lypertek PurePlay Z3 2.0 borrows some of the technology from the top-tier model, the Z7, starting with the Qualcomm QCC3040 SOC Bluetooth 5.2 chipset. This chipset does everything the previous Qualcomm iterations were capable of but with better specifications and improved protocols since it's the latest generation chip.
Some of the features of this chip besides stepping up to Bluetooth 5.2 are the inclusion of a 99-decibel class D headset amp section versus the previous 90-decibel versions. There's also a two-microphone system with cVc 8.0 noise reduction and an ambient noise mode.
This SOC chip runs off a dual-core 32-bit processing system at 32 MHz. It also has Kalimba DSP which runs at 120mHz plus 2x SMPS LDOs. The battery life seems to have been improved as well and is rated at 5mA power consumption.
TrueWireless mirroring technology is also running on this TWS in which enables the earbuds to link, mirror, or selectively relay each other a signal. The system works well for those who use a phone and use a single bud in mono and is an improvement over the master and slave systems of the past.
Graphene Driver
Similar to the TEVI and the S20 the Lypertek PurePlay Z3 2.0 uses a high-quality single dynamic driver and this particular one is made from graphene. This material is sought for making IEM drivers because Graphene is 1000 times lighter than paper while being 200 times stronger than steel.
The weight race is on when it comes to IEMs, headphones, and TWS drivers. The lighter the driver is, the better the transient response will be with quicker attacks and with improvements in tonality.
Lypertek mentions on their website an exclusive acoustic tuning method and aims for a sound you never heard before experience. I assume they are referring to the detail retrieval capabilities of the driver which low mass cone drivers are known to be capable of revealing that heavy cones simply cannot.
Decoding
The big 3 as I call them are readily available for decoding namely aptX, ACC, and SBC codecs. This is an ample list of codecs at this budget range and even some higher-priced models only throw in AAC and SBC.
One thing I noted was that my phone kicked into aptX HD but I doubt this device has that capability but I am almost certain it can do adaptive aptX.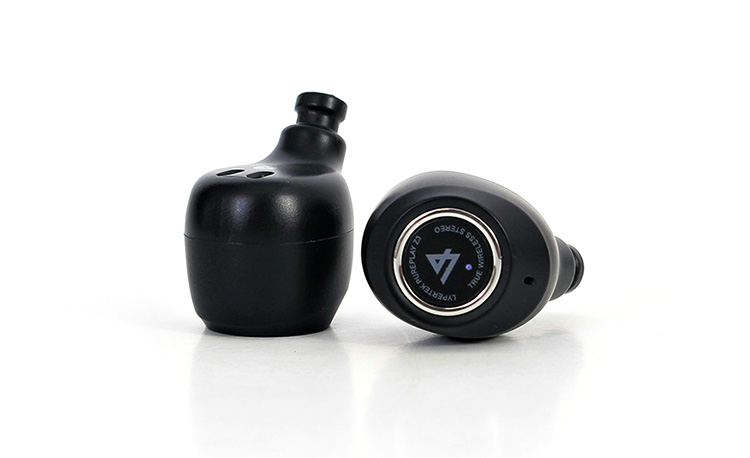 Design
The IPX7 waterproof rated Lypertek PurePlay Z3 2.0 earbud design is very similar to past models made by Lypertek. The shells are made of high-quality plastics, except for the gold-plated charging contacts and the push button with the Lypertek emblem.
I do appreciate when a company does things differently especially when the new implementation works well and I truly like the push button implemented on the S20 for example. However, I am somewhat disliking the push-button system on the Z3 2.0 because to operate you have to push in quite hard and that action mashes the earbud into your ear.
This can introduce ear soreness at times if you often use TWS controls and I would prefer touch controls over this setup or the S20 style placement. My remedy was to remove the earbud and make whatever adjustments were needed and reinserted it. Eventually, I adopted a pinch to operate method which worked out the best.
The controls do have a complete set of functions like previous and next track, volume control plus pause, play, and a handoff feature that activates voice services like Amazon Alexa or Google Assistance.
Comfort & Isolation
Once you get used to operating the push button comfortably and jump that hurdle they seem quite comfortable. The earbud-style is not a low profile design and does protrude out some but the rounded inner section presents no major pressure points that become bothersome.
The ambient noise feature is available but to my surprise, there is no ANC on this TWS. Passive noise reduction is not bad however and I did have trouble listening to conversations or anything else with them on unless I activated the ambient noise feature. But to be honest the ambient noise feature is very subtle and made very little difference to me.
Other than that I found them to be comfortable enough to wear them for a couple of hours at least which at that point I remove them, massage my ear some and insert them back to continue.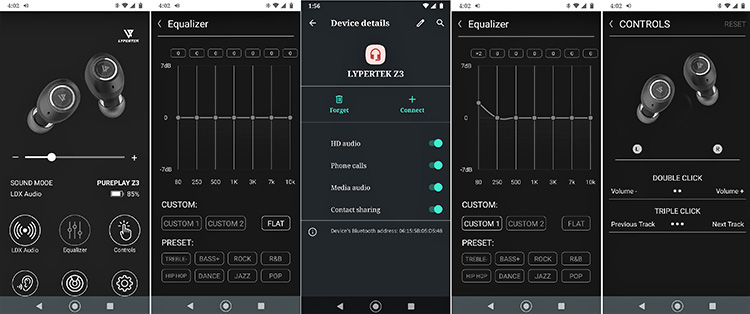 Software
To tickle that graphene driver you could download an Android or Apple App that's called PureControl which gives the Pureplay Z3 2.0 some added features. You could also firmware upgrades through the app on this model but none were available at the time of this write-up.
Besides the 7-band equalizer feature with storable personal presets and some other features the one feature I liked the most is one called LDX.
LDX takes the place of the equalizer and gives you a single customized sound preset made for your particular model. It tunes the sound signature to be a smudge more midrange forward plus I perceived some added width. It works well by flattening the curve, not the EQ curve, and backs off the slight V-shaped tuning.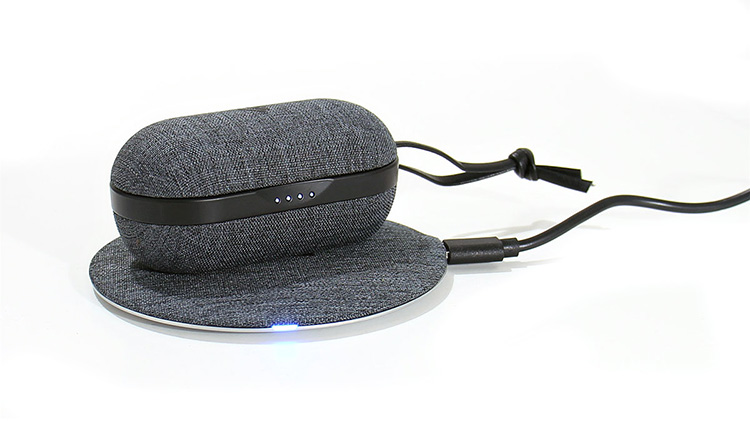 Charging Cradle
I hate to repeat words but yes again, the charging cradle seems identical to the S20, the TEVI, and the Pureplay Z7 cradles. The cradle is rather light but not the smallest out there. The charging cradle feels just okay in quality and there is some play in that hinge. Materials used for the construction seem lightweight.
It is covered in what looks like a jean fabric which I do like because it breaks up the cold feeling of raw plastics or metal and it somewhat makes it slip-proof. I do worry about stains and degradation of the cloth over time but I think it will be fine unless I really beat it up. Note, the cradle is not washer friendly :)
Four LEDs sit upfront and are visible indicating charging status. Charging the cradle can be done by means of the rear USB-C port or by wireless charging. Fast charging is fully functional also by using a 2 amps or higher charger source or by means of a QI standard wireless pad like their own Lypertek branded Super Slim metal charging pad.
Battery Performance
Lypertek states 10 hours plus 7 cradle full charges, (80 hours), and to be honest I did not get that much time. They state this was based on using SBC codec and at 50% volume so I did just that.
Dropping down to SBC and at half volume, I managed to squeeze approximately 8 hours of use from the earbuds with a full charge plus an extra 4 full charges from the cradle. Does that match what was stated? No. Is it ample enough time? Yes, it is.
If we do the math, that is 5 times 8 hours which is a full 40 hours of continuous use. That is a long time of use and you could go through an entire workweek with one full top off. The good thing also is that you could charge up the cradle even by wireless or by using a quick charger it can be done in about 2 hours. I'm happy with that.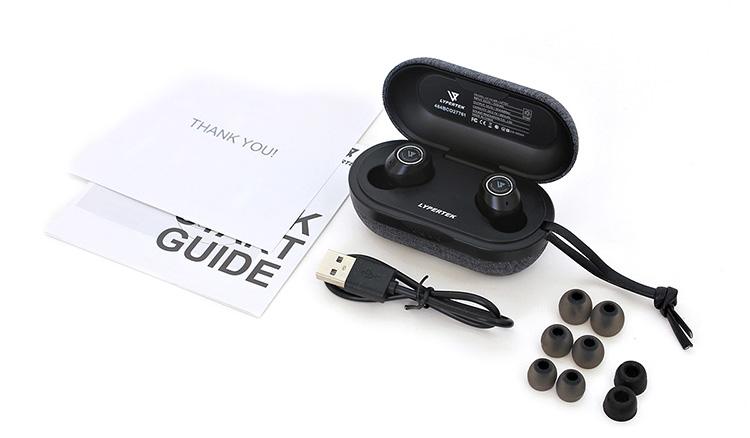 Packaging & Accessories
The box that the Lypertek PurePlay comes in is adequate enough to get the contents home safely. Once you pull the magnetic flap open you are greeted with the earbuds and the charging cradle displayed upfront in a foam mold.
Inside the box and under the foam display there will be a USB-C charging wire, a pair of FLEXFIT foam tips, and two silicon tips plus one set that was preinstalled for a total of four. A thank you card and a user guide complete the package.
Click on page 2 below for its sound impressions and select comparisons.