The Little Dot DAC VII is an ES9038PRO implemented desktop flagship DAC offering up to DSD512 and 32BIT/768kHz decoding. It is priced at $1199.
Disclaimer: The Little Dot DAC VII sent to us is a sample in exchange for our honest opinion in this review. We thank the team at Little Dot for giving us this opportunity.
To read more about Little Dot reviews previously done on Headfonics please click here.
Note, this review follows our new scoring guidelines for 2020 which you can read up on here.
Little Dot DAC VII
The DAV VII has bags of energy, body, and excellent PRaT with our tested amps. Vocals are also to the fore, vivid and firm sounding. Nothing neutral, too clean, or sterile sounding so pick the right amp and this DAC will do a great job filling out a headphone with excellent bass potential.
We have covered a lot of Little Dot's latest portable audio range of monitors in the last year. However, for those new to the brand, Little Dot's legacy is actually rooted in its excellent desktop solutions. Particularly the MK Series of which the MKII played an integral role in my own initial personal audio journey many years ago.
Of course, there is more to their components than tube amps such as CD players, power amps, power regenerators, and DACs. The DAC VII name speaks for itself as this is their flagship pure DAC. They do have one higher rated unit but it's an integrated tube amplifier and DAC called the LD-A1 which sort of looks like the DAC VII with tubes.
The original SRP was over $1500 and now down to $1199 which places it in and around strong competitors such as Burson Audio's Composer 3X Performance, Chord's Qutest, and R2R DAC's such as the Pegasus from Musician Audio.
Tech Highlights
DAC
The DAC VII uses a single 8-channel ES9038PRO implementation which is Sabre's flagship delta-sigma solution. We have recently seen newer chips in the market, such as the ES9068AS but technically, Sabre still classifies the ES9038PRO as their TOTL chipset.
Combined with an Amanero Combo384 Module (USB), the DAC VII is capable of decoding up to 32BIT/384kHz PCM and DSD128. Beyond USB, you can get up to 24BIT/192kHz and DSD64 over DoP via SPDIF.
That does not sound great for a flagship DAC in 2021, however, using the Amanero associated ASIO driver (PC), the DAC VII will jump right up to DSD512 and PCM 32BIT/768kHz via USB which is almost as good as it gets for both USB and I²S.
Ethernet (RJ45)
There is no room for MQA, nor does the DAC VII have any out-of-the-box wireless connectivity such as Bluetooth or WiFi. However, what it does have is I²S over an ethernet RJ45 connection which can link the DAC VII to a LAN network streaming solution or to an I²S pin-compatible source such as a streamer via a conversion cable, (HDMI to RJ45).
Sadly, we neither have a conversion cable or a LAN network streaming setup due to the limitations of the modem we use here in the office. So, for the purposes of this review, we will be assessing the alternative connection performances such as USB, coaxial and optical.
Preamp
The DAC VII also offers preamping capability in both single-ended RCA and balanced output 3-pin XLR configurations with a variable voltage volume control. The Vrms is industry standard at 2Vrms for the SE output and 4Vrms for balanced.
Not quite the driving power of something like the Cayin i-DAC6 MK2's 7V and 13V pre-out capability which is more suited to some beefy power amps but enough for a decent set of sensitive speakers of a good bookshelf system.
The performance numbers on paper look impressive with a DNR of up to 132dB and a THD of -120dB. As a point of comparison, the dynamic range is a full 12dB higher than the similarly priced R2R Musician Audio Pegasus DAC which is rated at 120dB and 10dB higher than the Cayin i-DAC6 MK2 which maxes out at 122dB.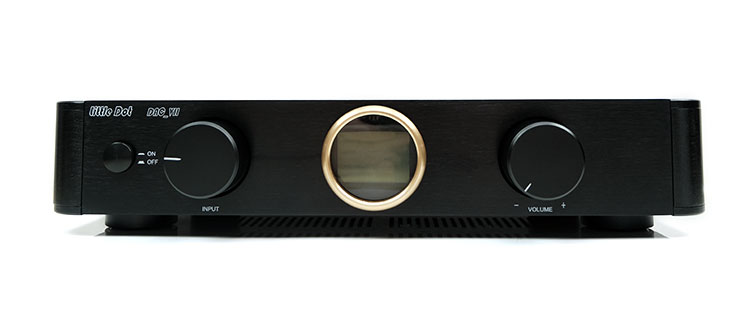 Design
The DAC VII is a relatively large unit and a weighty one at that. Nothing like the volumetric girth of the dCS Bartok but definitely bigger than the likes of the Composer 3X and the Pegasus.
When you plant this down on your rack it simply will not move without some sort of concerted effort. Four wide column rubberized feet is more than a hint that the DAC VII should be placed on something sturdy.
Sturdy does mean robust though with incredibly solid housing. Aside from the circular perspex window over the central display, the entire chassis is made from a relatively thick aluminum paneling with a very discreet nut and bolt locking system on the underside.
As far as I am aware, the DAC VII only comes in black with that gold ring accent around the display on the front panel. From the top side, the cornering is very smooth and rounded though the edging on the sides is a little sharper for handling.
The rear is very clean, nicely organized though not recessed with gold contacts for the coaxial input and analog outputs. The front input dial and power buttons do have a very classic HiFi sound to them when operating them. A very 80s or 90s clunking mechanical sound when switching inputs or turning the unit on and off so not terribly discreet.
I/O
All the inputs and outputs are to the rear of the DAC VII and aside from the IIS via the RJ45 socket, they are your classic DAC options.
That includes both balanced 3-pin XLR and unbalanced RCA outputs and to the far left, coaxial, optical, and USB digital inputs. I would have liked to have seen some additional options such as AES or BNC or even an additional OTG USB slot given its flagship status but otherwise, this covers most of the common connectivity bases.
One thing to note, the RJ45 is not an ethernet connection but rather the connection for handling an I²S stream. What that means is that you cannot stream directly from your modem into the DAC VII.
You need a dedicated streamer with an I²S output and a matching I²S pin configuration, otherwise, I would suggest using the USB connection. Streamers such as the Sonnet Hermes Digital Bridge and the Singxer DDC SU-6 USB digital interface are listed as compatible with the DAC VII.
Also, if your streamer or I²S source device is using an HDMI output socket you will also need a conversion cable or converter to RJ45.
Controls
The DAC VII controls are split between the front panel manual dials and buttons and the supplied remote control. There is not a huge amount to fiddle around with on the DAC VII so for most interactions it's a quick flick of the input dial or a change of volume or filter on the remote control.
The only overlap between the remote control and the manual dials is the preamp digital volume control on the right-hand side. You can adjust in 1 step increments up to 100, (presuming dB), via the dial or the button 2 buttons on the remote control, (cunningly titled menu and playback).
The far-left rotary dial will allow you to cycle through the various inputs with the central LCD panel showing the input status, digital filter selection, and volume level. The panel will also display the current bit and sample rate of the incoming audio signal.
You will also notice an "unlocked" label on the display which basically means the DAC VII has an incoming signal on the chosen input. If there is no connection it should say 'locked'.
Remote Control
The supplied remote control is a bit flimsy given the price of the DAC VII. It is made of cheap plastic, has no labels on the functions, and the icons that are there are not related to the actual function of the unit. I can only presume it has been originally made for a different Little Dot device and converted to work with the DAC VII.
It does take a bit of time therefore to understand what everything is for on the remote control. What I do know should help you if you are having any problems deciphering how to use it.
Menu button – volume down
play/pause button – volume up
Central navigation button – no function
Up and down navigation buttons – IIR filter selection, (4 filters)
Left and right navigation buttons – FILSAP filter selection, (7 filters)
The IIR filters are applicable for DSD decoding at 47K (default), 50K, 60K, 70K @44.1kHz. The IIR or FIR filters are for PCM and are drawn directly from the ES9038PRO to include the following:
Brickwall filter
Fast roll-off, minimum phase filter
Apodizing, fast roll-off, linear phase filter
Slow roll-off, minimum phase filter
Fast roll-off, minimum phase filter (default)
Slow roll-off, linear phase filter
Fast roll-off, linear phase filter
Packaging & Accessories
Nothing remarkable here for packaging. This is a classic HiFi brown box affair to get the unit from A to b safely with an internal foam protected lining for the unit and the unit itself in a protective wrapper.
Inside you also get a power cable, a 1m USB cable for connecting to the source of your choice, a warranty card, and a user manual which is in Chinese.
It goes without saying an English manual is definitely needed here for things like the remote control and how to hook up the I²S RJ45 connector correctly. Most of the other controls are very easy to figure out without using a manual.
Sound Impressions
(Impressions were completed using an Auris HA-2SF SET amplifier Xi Audio Formula S solid-state amplifier).
Summary
The DAC VII is proof positive that the die is never cast when it comes to preconceived chipset sound signatures. If you are thinking the use of an ES9038PRO means a neutral, clean and analytical tone then think again, this DAC is tuned for power.
And not just brute force but extension with excellent dynamic range. The depth and drive of the DAC VII with the right analog amplifier is probably one of the strongest I have heard outside of the dCS Bartok's Ring DAC and the Violectric V590's integrated dual AK4490 implementation.
Little Dot has also cleverly taken a slight edge of that treble tuning inside the DAC VII also. It is there, no doubt there is air and headroom but it is not as bright as the Chord Qutest, it doesn't have that same energetic treble articulation. If anything, the focus is a little further down with a broader and more immediate vocal presence and a stronger bass fundamental.
You can still spot the delta-sigma traits despite the broader instrumental and vocal note weight. It can sound a bit polished compared to R2R DACs such as the Pegasus so despite the excellent body it is not an overly analog tone. Brooding would be an apt term or an aggressive physical delivery rather than a relaxed and warm vibe.
Timbre
I think Little Dot has done a really good job here of avoiding the typical upper mids and treble 'Sabre glare'. It sounds relatively smooth, certainly a lot less 'pinched' than I was expecting with a satisfying amount of body with all of our paired amps.
It is only when you start to compare it with a definitively analog-sounding DAC such as the Pegasus do you get any inkling that the DAC VII might be a Sabre chipset.
Admittedly, the Pegasus is perhaps one of the smoothest DAC's I have heard recently but that's R2R for you if done correctly. However, compared to the Burson Composer 3X Performance with their 'creamy sounding' V6 Classic opamps the DAC VII still has the better body, the slightly smoother treble, and the more rounded timbre.
A lot of that roundedness in the DAC VII sound signature is driven by the excellent fundamental generated from the low-end power. It gives everything a rather planted signature from chest vocal delivery, to guitar plucks and of course, bass impact.
The slight diminution of the treble is not enough to dull the midrange tone either so you do get enough of a contrast in the DAC VII timbre to tease out nuance spatial cues clearly.
Staging & Dynamic Range
The dynamic range performance from the DAC VII is excellent so bass, whilst powerful and deep, is rarely muddy or smeared sounding. The transient response is fast enough to create a nice black background in the presentation with a nice level of control.
I do think the staging is a little more intimate on our test amps but perhaps more due to the aggression and forwardness of the bass and to a lesser extent the vocal presence. It's really there that your listening focus will sit rather than our competing DACs which shift the focus a bit further upwards.
For example, DACs such as the Pegasus has a more neutral bass and beautiful vocal delivery whereas the likes of the Burson Composer 3X Performance and the Chord Qutest have a bit more headroom and treble articulation.
Click on page 2 below for sound impressions, pairings, and select comparisons