The Violectric DHA V590 is a new flagship integrated preamp, headphone amplifier, and DAC with a 32BIT resampler and up to 5 watts into a 50Ω load. It is priced at $3499.95.
Disclaimer: The Violectric DHA V590 sent to us for this review is a purchased unit at a discount in exchange for our honest opinion. Thank you to CMA Audio for giving us this opportunity.
You can read more about the amplifier products we reviewed on Headfonics by clicking here.
Note, this review follows our new scoring guidelines for 2020 which you can read up on here.
Violectric DHA V590 Review
The Violectric DHA V590 has a flagship-level amplifier performance with a smooth sounding integrated DAC and a quality volume control upgrade path. The resampleing feature is the icing on the cake.
RoadMap
I have had a Violectric amp or DAC in one form or another for almost 10 years now but not once have I had the pleasure of doing a formal review of one, until now.
The DHA V590 is their new flagship integrated DAC, preamp, and headphone amplifier. It also includes a resampler which we have had previous exposure to from Chord Electronics and their Hugo M Scaler and NuPrime's CDP-9. I would nail my flag to the M Scaler for a game-changing experience, less so with the NuPrime.
However, the timing also coincides with a new unified brand pitch under CMA Audio GmbH. This is a German distributor company that now is responsible not just for Violectric products, but also for Lake People, Niimbus, and Euphony to name but a few of their 8 house brands. Power Holdings Inc. is its US distribution wing.
Niimbus sits at the top of the tree with its highly regarded US 4 & 4+ headphone amplifiers at just a cent shy of $6k and $4499.95.
The Violectric brand sits just underneath and the V590 is the top of the pile for this brand at $3499.95. Below is the V380 at $2499.95 which is a single-ended headphone amplifier, pre-amp, and DAC, also with upsampling capability.
My own V281 still sits beside me and we will be comparing its amplification performance with the V590 on page 2. Sadly, for V281 fans it is the end of the road as Violectric recently phased this classic out of their product line.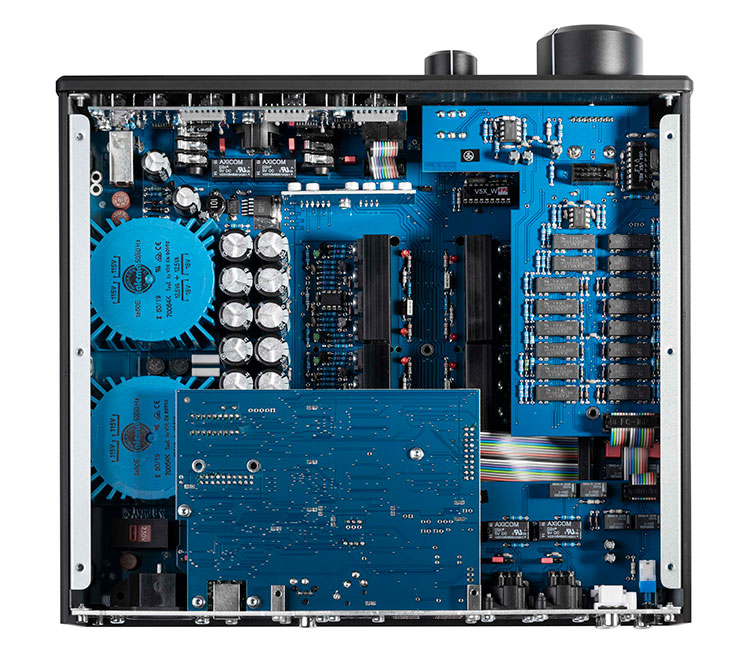 Tech Inside
Resampling
Might be better to start at the very 'back end' of the digital process for the V590 as it does a little bit more than simple jitter correction, FPGA, and then DAC conversion.
Resampling capability is one of the key features of the V590. This allows you to take digital source signals, such as USB/optical 44.1 or 48 kHz, and resample them to a higher quality rate via an integrated AKM AK4137EQ upsampling chipset.
Not only that but it strips it of its inherent jitter during resampling via a Femtosecond clock, (FEMTO-CLOCK), for correction before it goes to the DAC.
The quality of the resampling process is also up to 32BIT, a step up on older 20BIT designs inherent in a lot of older converters for example. The BIT depth is important because it has a huge factor in the resampled signal's dynamic range.
At 20BIT you are getting about 100dB of dynamic range which is pretty good in the scheme of things. With 32BIT you have a potential range of 180dB output into the DAC meaning the analog conversion is pulling from a much higher-quality digital signal.
Sample Rate Options
The V590 has 3 core sample rate selectors at X1, X2, and X4. These 3 rates are not fixed as you will find on the Hugo M Scaler, rather they are variable based on the original bit rate of the digital audio signal fed into it.
For example, 48kHZ can be upsampled to 192k using X4 whereas 96kHz can go as high as 384kHz with the same X4 conversion.
Maybe I am stating the obvious here but if you throw in a 384kHz from the source there will be no further upsampling as you have hit the wall for analog conversion. That is the same logic though for any resampling device.
There is one more sample rate conversion option called "Best" and this is a fixed sample rate conversion set at 96kHz which is regarded as the ideal number at which resampled audio sounds at its best.
I did find that to be true using the NuPrime CDP-9 resampler but for the M Scaler, 784kHz upsampling was truly mind-blowing.
One final note, all input signals are resampled out in PCM and that includes source DSD files. The resampled PCM signal is then reclocked to strip any remaining jitter via the FEMTO-CLOCK before being sent to the DAC.
DAC
The V590 uses two AKM AK4490s in a dual-mono implementation (one per channel).
From that resampled 180dB dynamic range the DAC can deliver an analog signal using a dynamic range of 123dB and THD+N at -112dB, though combined with the amp stage its 'A-weighted' measured final output is better at >131dB.
Having a dual implementation also should enhance channel separation performance and further decrease the potential for noise in the analog output.
The BIT rate is also resampled inside the DAC to 32BIT even if the resampler is turned off. The same is true for reclocking for jitter before the signal enters the DAC. The resampler is simply one additional stage before the DAC takes over.
Decoding
Now, it would be remiss of me not to mention the AK4490EQ is an old-school delta-sigma chipset that has been superseded by the AK4497EQ and the AK4499EQ in terms of spec sheet performance.
It does have some decoding limitations compared to those newcomers so the V590 will not give you PCM 32BIT/768kHz or DSD512 decoding capability.
However, combined with a USB Combo384 Module you can get 32BIT/384kHz PCM and up to DSD256.
In real-world terms that is going to be plenty for the here and now which is currently dominated by 24BIT/194kHz for commercial hi-res recordings. Still, future-proofing to DSD512 would have been a marketing feather in their cap.
I did ask Violectric the reason behind using the AK4490EQ and not a newer chipset because I had in my mind the excellent Dethonray DTR1 Prelude DAP as a fine example of how good this chip can sound in 2020 when properly engineered.
Amplifier
The V590 offers preamp and headphone amplification functionality in both balanced and unbalanced modes. The headphone amplification stage can also operate independently of the digital stage with a separate balanced and unbalanced analog input.
That means you can hook the V590 amp stage up to a compatible 3rd party DAC in either balanced or unbalanced mode. And vice versa, with an analog line-out pre-amp capability that will also allow you to bypass the headphone-out stage.
Pre-Gain
As with most recent Violectric creations, both the preamp lineout and headphone out are integrated with a pre-gain feature housed at the back of the amp. Some do it to gain control digitally, and others, like Violectric, do it via electrical/physical switches.
Both pre-gain selectors consist of 4 small white switches with two operational statuses per switch, on and off. Each switch allows for a degree of dB enhancement in either positive or negative terms on the output signal.
The full range is 36dB ranging from -18dB to +18dB and -6dB and +6dB settings in between giving you a total of 4 fixed gain settings. Each channel is independently controllable meaning you can have different gain settings for each channel.
Eagle-eyed V281 fans will probably pick up on the fact that at -18 and +18dB the V590 has a wider gain range of +-6dB over the analog stage of the V281.
Performance Numbers
And true to Violectric traditions the amp stage is an absolute beast in terms of raw power. That's something I greatly respected with the HPA V281 with up to 4.2W balanced into a 50Ω it has often been my go-to for driving demanding headphones.
Well, the V590 goes a bit further with up to 6.4W into 50Ω balanced coming down to 740mW for 600Ω with a maximum of 32V output. That is some proper grunt.
However, the amplification topology works on a similar basis to something like the dCS Bartok which means peak voltage is raised from 600Ω and peaks at 50Ω before dropping down to 2W for 16Ω.
This is more to do with fine-tuning voltage and current requirements to cope with a wide variety of high and low-impedance headgear.
The V590 is overall a Class A/B amplifier but it works in a Class A mode within certain parameters and then transitions to Class A/B at around 50mA. This places a bit more emphasis on the current draw below that point where high voltage demand diminishes, hence the lower mW rating at 32Ω and lower.
To top it all off, there are no high impedance PO outputs on the V590 with both balanced and unbalanced output jacks all rated well below 1Ω at 0.15Ω unbalanced and 0.3Ω balanced. Does that mean IEMs will play well with the V590? Flick to page 2's Synergy section to find out.
Design
Everything about the V590 design screams Violectric. That classic black rugged panel design with plenty of knobs, exposed screws, LEDs, sockets, and buttons but not a digital or LCD panel in view. It is a 'new old school' in engineering aesthetics with a similar dark retro vibe that I adore from the V281.
The V590 also feels rugged and assuredly heavy like a classic slab of '80s HiFi. I would say a lot of the weight is primarily due to the two 25W toroidal transformers inside as well as an all-aluminum casing including an 8mm thick front panel.
Finger tapping is often my quick way of understanding if a desktop is built to last and this one responds with a dull thud rather than a worrying ping-like echo.
The flatter broader form factor of the V590 is quite different from the narrow deeper V281 styling and is in line with all current Violectric models currently on offer.
Rack users might find space optimization a bit harder which is something I always appreciated with the V281. However, you do have a heck of a lot more I/O on this model as well as a wide range of filters and resampling options on the front panel.
I/O
All LO and digital inputs are housed on the rear panel of the V590 with a single USB-B, optical, coaxial, and an AES/EBU input zone to the left and balanced and unbalanced XLR/RCA outputs to the right.
To the far top right, you also have the option to change from a fixed to variable line out control, (preamp) via a small signal switch. To the left side of the XLR sockets, you have both line and headphone amp pre-gain 4-switch controls in red.
For power, each unit comes set up for the voltage of your region which you can find labeled just above the 3-prong socket to the far left but you can change the AC supply voltage parameter inside the unit with the aid of a mains voltage selector.
On the front panel, you simply have your headphone outputs of which there are three, 2 6.35mm unbalanced outputs and a single 4-pin XLR for balanced output.
Controls
Aside from the pre-gain switches on the rear, all controls on the V590 are on the front panel and the included remote control. Before we run through them there is the small question of volume control choice and not for aesthetical reasons either.
Volume Control
The V590 comes with two volume control options at the checkout. The first is what they call normal which is a Stereo 100K ALPS RK27 Motorized Potentiometer and by choosing that you get your $3499.95 price tag.
I believe it is the same one I use on the V281 and has a stepped attenuation action with 40 steps. It's a fairly well-regarded linear pot with good contacts which means my V281 has no scratching problems or crosstalk issues. The channel balance is tight on the V281 so I would expect the same on the V590.
I say expect as this model I am reviewing comes with the sonically superior 256-step reed relay control volume system.
A reed relay is a type of relay that uses an electromagnet to control one or more reed switches, (ferrous reeds encased within a small glass tube-like envelope). Typically, these types of controls introduce less attenuation into the performance thereby increasing the dynamic range potential at the PO.
You will know if you have the reed relay volume by its smooth languid action and not a stepped attenuation as you will find on the RK27 pot. It does not feel loose with a very precise level of control.
Channel balance
Just to the right side is the smaller traditional Violectric balance dial which allows you to fine-tune your headgear channel levels or to compensate for any hearing impairment and I know a few who like to use this. For me, it is still a reassuringly dead-center position for my listening.
Linear Selectors
Towards the top right, you have 5 selectors and they control your analog and digital inputs as well as your resampling options.
They work linearly so you have to work through each to get to your desired choice. PCM or DSD output is indicated by 2 small LEDs just below your source zone. Your final selector is for either headphone or lineout and a mute in between both.
There are pros and cons to a linear selection style of options controls so Violectric has thrown in a very solid and attractively built aluminum remote control that gives a degree of independence for that method with a 'freestyle' resample selection array at the top.
You still have to cycle through the analog and digital sources but at least you do not have to get off your couch to do it.
Packaging & Accessories
By most HiFi standards the V590 packaging is a bit 'snazzy' in terms of box graphics. It is not your regular brown box and letter 3 layered cardboard crate though it does come inside one for logistics purposes.
Instead, you get a shiny red and black print, (I believe jellyfish in the red?) with Violectric by Fried Reim who is an excellent dude and more than helpful with any question you may have by the way on the V590.
Inside, you get your relevant power cable, (in this case 2-pin), the remote, USB-A to USB-C cable, and 2 manuals: a lighter short form in English, and a thicker bound full version in English and German.
Click on page 2 below for sound impressions & comparisons