So, id America is quite a well-known brand for making strange modern phone cases and 'cushi' phone skins, however they have now moved on from making strange looking phone accessories to weird looking in-ear headphones.
Tech Specs
Driver Unit : High Performance 8mm Dynamic Driver
Impedance : 16 Ohm +/-15 %
Sensitivity : 96 dB +/-3 dB at 1 kHz
Frequency Response : 20 Hz – 20,000 Hz
Rated Power Input : 1 mW
Maximum Input Power : 5 mW
Cord Length : 3.9 ft / 1.2 m
Plug : 3.5 mm Plug
Weight : 0.4 oz / 13 g
Presentation and what is in the box:
I really loved the way that these earphones were packaged; it feels like a quality product even before you open the box even though they are sub $60 earphones!
So, in the box you will obviously find the earphones themselves, 3 different sized silicone earbuds (which they call single flange eartips), a premium hard carry case and the user-manual
So, these earphones are pretty unique looking, they are designed around a spark plug (hence why they have called them the spark), but them become even cooler when you realise that you have an option to choose between 9 different colours (YES 9- seriously I am not joking!) and the colours have been very carefully thought of, because they all sort of look pretty amazing in their own right. Although that's said, these are meant to look like spark plugs, and the only one that looks like a spark plug is Aluminium silver colour, I have never seen a blue and red spark plug before…
But one thing is sure, I cannot emphasise how amazing these look, especially for the price point !
Build quality
ID America say that these earphones are made to last, being crafted from different layers of Aluminium it certainly sounded like it was, and I am happy to report that these are made very well, and most importantly they feel like they will certainly last a long period of time, so you will at least get your money's worth of these earphones!
Comfort and isolation
I have tested these earphones for hours on end, and I have found them to be exceptionally comfortable for long period listening, and because they are made out of aluminium, they are amazingly lightweight which I suspect is a contributing factor to why they are so comfortable!- Although, that's said, because they are made out of aluminium you may find them a bit cold on a cold morning, so a bit of heating up before listening is advised!
Thanks to its 'flange' silicone eartips, the earphones also isolate pretty well for in-ear headphones, I mean anything more than a keyboard tap and you would have to turn them up a little, but considering as they aren't marketed to be isolating earphones, they do a pretty good job, and the sound leakage produced too is pretty low!
Extra features?
These headphones do come pre-installed with a few features that you don't see much on these cheaper types of in-ear headphones…
Luxury carry case-this case is great for carrying around your earphones when you are on your trips, but the biggest problem that I found about this case is that you would not want to put it in your trouser pockets, a better idea would have been to be a flat case, however it isn't a bit deal, and it is still great that it is included!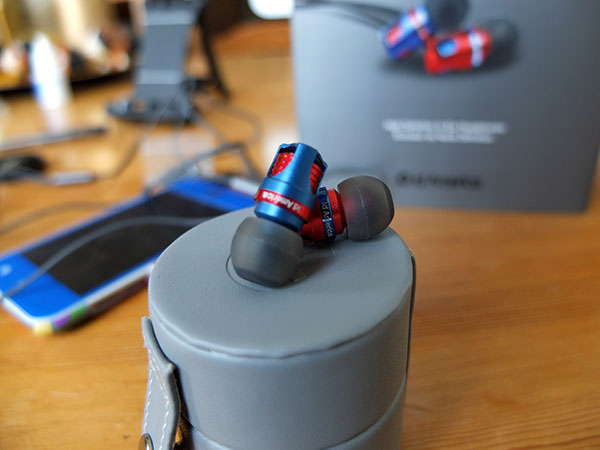 Microphone- these headphones come pre-installed with a microphone- which isn't ground breaking (I know), but this microphone is actually a great quality microphone, unlike some microphones, it produces crisp and clear call quality!
Advanced in-line controls- this feature allows you to change your track, or even pause and play your songs by simply tapping either on the tapping on the remote. There is a set number of taps. So let's set a scenario, you are in your car, you want to turn your music on- all you do is tap once to play, then you hear police sirens, you just tap once again to pause the music. Then your girlfriend rings you to tell you that she is leaving you, again you just tap once to answer, then tap once again to decline. Then you get bored of the song you are listening to, you can tap twice to skip the track, but then disaster, you realise that you only have 2 songs on your MP3 player, and the song that you have just skipped to is even worse than the previous song, so you tap 3 times to go back a track, easy eh?
Sound
Obviously the most important aspect of headphones (in my mind) is the sound, so do they sound good? In a word the sound is great (for the price at least)
The spark is marketed to be a bass heavy earphone, however when I usually test 'bass heavy' earphones, I normally come to the conclusion that they aren't very good (lot of bass, mids and highs are usually pushed to the side). What I like about these, is that everything just sounds good (mids and highs included). The bass is pretty deep with a lot of texture throughout; the bass response isn't the best, but it will please anyone for this price. However, one thing to note is at around 80% volume, the bass will start to drown out the mids, that's said though most headphones of this price range don't have mids.
Moving into the middle frequency, it boosts excellent emphasis and mild unevenness in the lower treble, which makes it sound somewhat balanced. Finally the highs- now I have found them to be about average, you will find them to be pretty good, they sound rather crisp, but they seem to lack detail at the top end. But for this price range I do really like the sound of the sparks, I mean they aren't going to be the best sounding earphones that money can buy and it won't have the largest soundstage, but it is well-rounded, with decent depth and good layering.
Pros:
· Good sound for the price
· Look pretty awesome
· Comfortable
· Lots of accessories (carry case, extra 'flange' tips, as well as the pretty cool box)
· Price
· Made very well!
Cons:
· You can get better sound for a tiny bit more
· The provided carry case won't fit in your pocket
· Cheap feeling mic
So can I recommend these earphones?
Well yes, I think I can. As you can see from the pros and cons, the pros well outweigh the cons, and as I said these are just pretty good earphones for the price, I mean what more can you want???- they look great, they are built great, they sound pretty good, and they come at a super good price. I would highly recommend these earphones for anyone that is seeking some awesome looking earphones that have pretty good sound, who are on a budget!