Today, we review the iBasso SR3, which is a third-generation set of open-back bio-cellulose dynamic driver headphones rated at 150Ω impedance. It is priced at $599.
Disclaimer: This sample was sent to us in exchange for our honest opinion. Headfonics is an independent website with no affiliate links or status. We thank Zeppelin & Co. and iBasso for this opportunity.
To read more about iBasso products we have previously featured on Headfonics, click here.
Note, that this article follows our latest scoring guidelines which you can read here.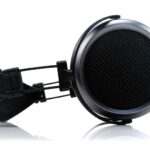 iBasso SR3
The iBasso SR3 offers a very balanced and responsive sound signature with excellent staging width and an overall tonal balance that is natural to the ear though switching to something more neutral and cleaner with the additional supplied pads. 
Pros
Wide and deep soundstage
Scales really well with OTL amplifiers
Spare pads, more tuning options
Cons
Slow and difficult pad swapping process
Awkward headband Torx screw adjusting system
Earlier this year iBasso launched their 3rd generation open-back single dynamic driver headphones called the SR3.
This is a continuation of a line that started back in late 2018 with the limited 500-unit run of the SR1 which had a very different design, through to the SR2 in 2020, which now looks very similar to what we are reviewing today.
Priced at an SRP of $599 the SR3 sits a little bit above the current street price of the Sennheiser HD 660S2 which some would consider to be a natural competitor.
In truth, they are nothing alike save for both being dynamic drivers and both equipped with a high impedance rating, something that OTL amplifier fans will pay close attention to. Perhaps that is exactly how a natural competitor should be described.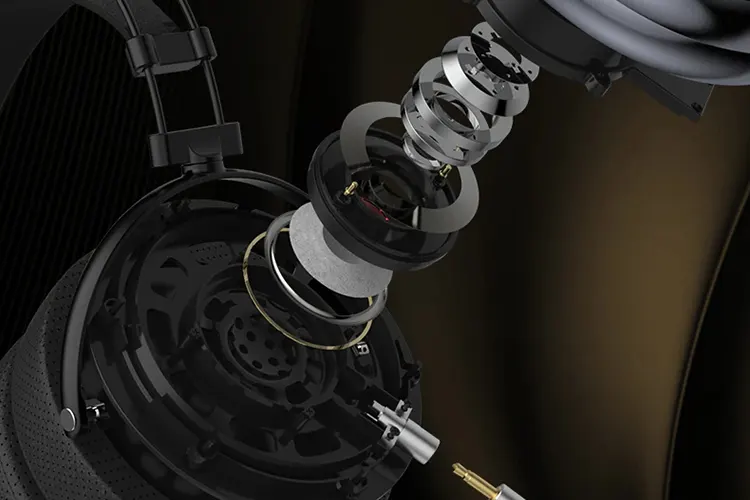 Tech Highlights
At the high level, the tech inside the SR3 has not radically shifted from the SR2 and the SR1. This is still an open-back circumaural 55mm bio-cellulose dynamic driver headphone with a complex acoustical design.
The unique silicone suspension technology from the SR1 is still being used in the SR3 alongside the Tesla magnet to improve the driver's impulse response combined with maximizing the dynamic range and control of the driver as well as lowering the potential for excursion distortion.
The major change, aside from the tuning, is the switch to a CCAW, (copper-clad aluminum Wire), voice coil in the SR3 and a much higher load than its predecessors at 150Ω. The SR1 was rated at just 22Ω and the SR2 was not that much different at 24Ω with SPL @1kHz 1mW set at 108 dB for both as opposed to 106 dB here.
That changes things quite a lot in terms of pairing choices as we will find out in more detail on page 2. In short, the SR3 is a headphone that will find favor with OTL amplifier owners or some well-engineered SETA tube amplifiers, at least for my preferences.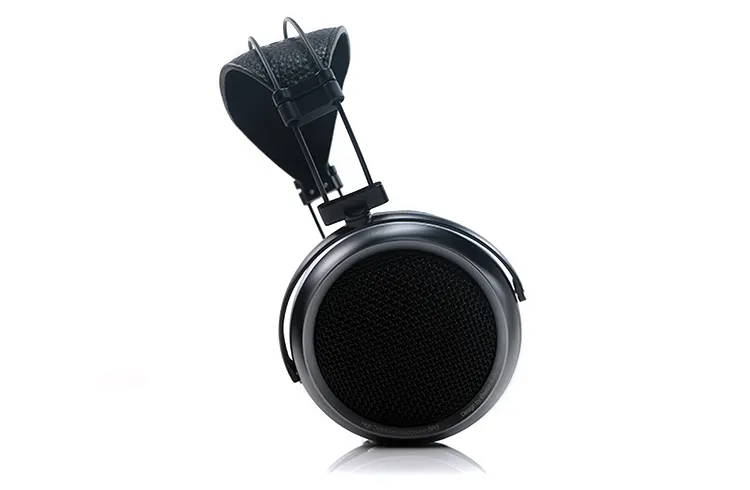 Design
The visual is a bit like the love child of a Dan Clarke Audio headphone combined with the classic Sony MDR-MA900 which I still have here to this day.
The SR3 uses a very lightweight dual nitinol headband and pressure strap design not a million miles away from something like the Ether 2 and mixes it in with those big wide domed black grills of the MDR-MA900.
Those grills are set inside some beautifully contoured CNC-machined aluminum cups with some light printed detail at the base reminiscent of Sennheiser product designations. Instead of a DCA half yoke though we have a full version stretching 180 across the cup with metal screws on either side.
If all this seems familiar to SR2 owners then that's because save for a dark anodized finish on the cup enclosures and the SR3 decals, the design of the SR3 is virtually identical to its predecessor.
Personally, I think it's a pretty sleek and flexible design and doesn't suffer from the SR1's overly complicated Maschinenmensch ("Machine-Man") vibe. I do know, however, that there are still some hardcore fans of the 1st generation's more extreme styling but for me, this sleeker look is more to my taste.
The minimalism also means a little reduction in weight from the SR1, going down from 420g to 395g which is the exact same as the SR2.
I would infer from the slight reduction in weight that it's really the cups and driver assembly inside those cups that are responsible for a large percentage of the weight of the SR-series headphones which, though not huge, is slightly above average for a typical dynamic driver headphone.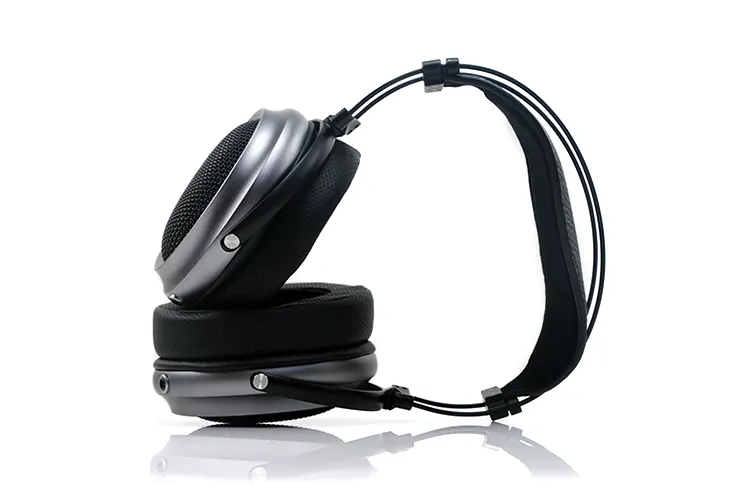 Comfort
I shouldn't worry about that 390g though as the SR3 is a really nicely balanced headphone, at least for my head's dimensions. I should not be too surprised since similarly designed DCA headphone nitinol headbands tend to evoke that same reaction from me when I reviewed them previously.
There is no teardrop pad design here but those plush and thick genuine leather pads' internal cavity dimensions are very spacious so it would take a tremendously large ear to illicit any user concerns about pad pressure on the ears.
I suspect the lateral clamping is more than the vertical since in the initial testing when the headband adjustment was too long, they sort of just stayed right where they were on the side of my head with very little movement.
The depth of the memory foam inside the pads is just right to soak up that lateral pressure so you are unlikely to feel any discomfort there either.
What you do want to sort out straight out of the box is the balance between the amount of pressure on the strap and the lateral pad pressure so it sits good and steady and this is where the SR3's headband system shows its Achilles heel.
The adjuster blocks that enclose the nitinol headband rods are locked into a fixed position with dual Torx screws on each side. That means if you want to adjust you need a T4/5 Torx screwdriver to loosen it up and get the adjusting range just right.
That is awkward, more so because there is no screwdriver inside the box. Owners of iBasso DAPs with swappable amps cards should have the correct screwdriver so use one of those if you have available.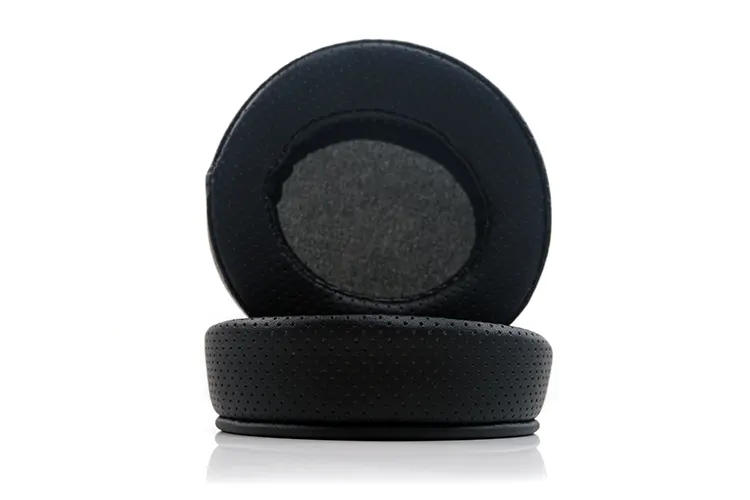 Pad Choices
As with every SR series headphone, the SR3 comes with a spare set of pads. The two pads are both perforated genuine leather pads with excellent depth and good quality memory foam with a soft action when under pressure. They do an excellent job of mitigating lateral pressure.
They are distinguishable from each other by the size of the perforation holes with 'type A', the stock pads fitted out of the box, having a smaller perforation than the 'type B' spare pads.
Now, for those of you who can remember, or still own the original SR1, the stock leather pads were a thinner non-perforated version which got a bit of negative feedback in their darker coloration of the headphone's performance.
iBasso's response was to launch the PT1 pad with perforations which opened up the mids presentation and increased the bass-to-mids coherence nicely. Those PT1 pads now seem to be the stock 'type A' pads on both the SR2 and the SR3.
My only critique here is the pad fitting process which is fiddly and time-consuming as the lack of width on the edge of the cup means you can't just gently roll them in like a ZMF Headphones pad. There is a degree of stretching and tucking required which, if not careful, might cause some damage to the pad edges.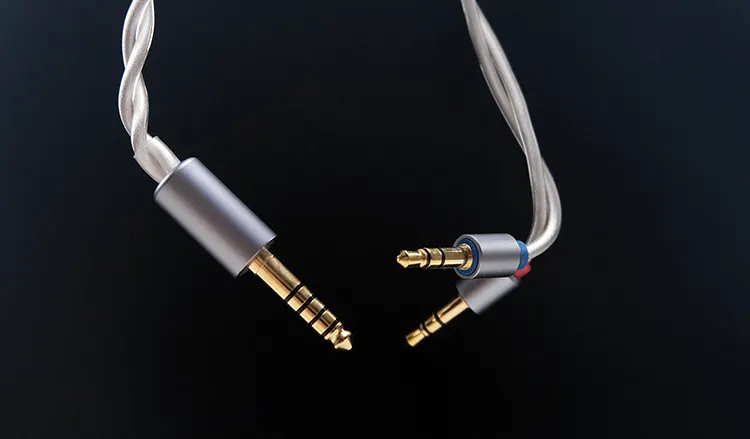 Stock Cable
Each time we get a new SR headphone the cable aesthetics and wire quality go up a notch.
In the first SR1, you get an unusual recessed MMCX socket design and a 1.8mm nylon cloth jacketed OFC wire cable terminated with a 3.5mm gold-plated SE jack.
On the SR2, this was changed to a more modern iBasso CB17 braided PVC jacket housing a 4-strand copper-silver alloy wire and terminated with a 3.5mm SE plug. The MMCX socket system was also replaced with standard short barrel 3.5mm connectors and both cables came with threaded 6.35mm adapters.
The SR3 stock cable retains those short barrel 3.5mm connectors but is now terminated with a 4.4mm Pentaconn balanced termination complete with a 'piggy tail' 6.35mm conversion cable. There is no more 3.5mm option which is a bit of a 'double down' on the 150Ω rating message.
The wire itself has been changed to a silver-plated, single-crystal copper with a softer PVC twisted finish rather than braided. It is a thicker 1.6m long cable but very malleable, very quiet for microphonics, and memory-retention-free during usage.
All the aluminum barrels are color-coded with a harmonized anodized grey which off-sets the creamy white tons of the wire quite nicely. Pleasingly, the connectors are color-coded making channel identification nice and easy.
Packaging & Accessories
There isn't a huge amount of change between the SR2 and SR3 packaging and accessory lineup.
If anything, iBasso has calmed the large box's exterior down a little and it sort of falls in line with how their DAP boxes look these days with that minimalist grey print and the iBasso branding on the front. Gone also are the pictures of the headphones themselves which was a feature of the SR2 and the busier SR1 box.
iBasso has retained the really nice large carry case which was a nice feature of the previous headphone accessory line-up. It's a sturdy black zipper case with plenty of room for both headphones and the cable as well as the spare set of pads.
The cable is held fairly tightly in a little mesh pocket on the base of the carry-case. It is kind of on the small side so you won't fit much else beyond the cable in there but it will prevent it from accidentally knocking the headphones when carrying them about.
The only thing missing from this case is a handle similar to the Focal cases. That would have been a nice feature to allow you to safely carry it around without the potential for dropping it.
Click on page 2 below for sound impressions and our recommended pairings.