The HIFIMAN HE-R10D is a single 50mm dynamic driver closed-back headphone featuring the company's patented Topology diaphragm. They are priced at $1299.
Disclaimer: The HIFIMAN HE-R10D or Dynamic Edition was sent to us as a sample in exchange for our honest opinion in this review. We thank the team at Hifiman for giving us this opportunity.
To read more about the HIFIMAN products we have reviewed on Headfonics click here.
Note, this 2-page review follows our new scoring guidelines for 2021 which you can read up on here.
Hifiman HE-R10D
The HE-R10D creates a lively contrast of low-end body, warmth, and top-end brilliance in equal measure. In doing so it does sound relatively unique to my planar trained ears. It tuning gels really well with modern pop and most R'n'B mixes that tend to look for a punchy low-end, a sparser midrange, and female vocals just floating above. 
Of the two new headphones launched by HIFIMAN recently, the HE-R10P and the HE-R10D, it is perhaps the HE-R10D that is the true homage to the original Sony R-10 with its use of a dynamic driver inside that striking design rather than the R10P's planar implementation.
I was very impressed by the technical capability and overall tuning of the R10P but then again it's a flagship pitch with HIFIMAN's excellent planar drivers so I was expecting to be impressed.
This time I have no expectations. Aside from the HE300 and Edition S, HIFIMAN rarely does a dynamic driver headphone so technically this is their most ambitious DD project to date, and at $1299 their dynamic driver flagship headphone by a country mile.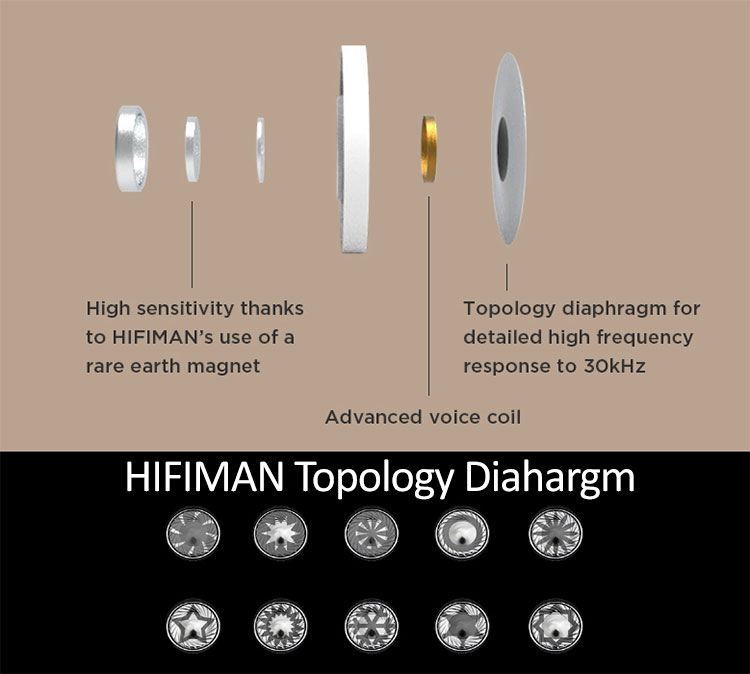 Tech Highlights
Driver
The HE-R-10D is a dynamic driver closed-back circumaural headphone. Inside, there is a mix of new and 'old' with the drive implementation inside the HE-R10D.
The new is a 50mm dynamic driver rare with an advanced voice coil and earth magnet combination. The 'old' is the use of HIFIMAN's Topology diaphragm first used on their RE-Series of earphones dynamic drivers, albeit on a much smaller scale.
Topology Diaphragm
The Topology diaphragm is being touted as being a unique design and a huge improvement on traditional dynamic drivers. Particularly, in the way it controls distortion and how much additional tweaking Hifiman can exact on the sound signature before it goes to market.
In part, this process pulls from Fang's experience working on his recent planar design materials as well as his core academic research into nanotechnology.
Hifiman has created what they call a 'Topology' diaphragm, first for IEMs and now on a much larger scale for the HE-R10D with a nanoparticle coating applied to its surface.
Fang's reasoning for this nanotechnology is that by using distinct geometric patterns in the nanocoating he can control the final sound signature with far more finesse than he can with traditional dynamic drivers.
The coating is also being pitched as an excellent tool through which to eradicate or at least substantially reduce typical diaphragm distortions which could again alter the signature necessarily and hinder its operational performance.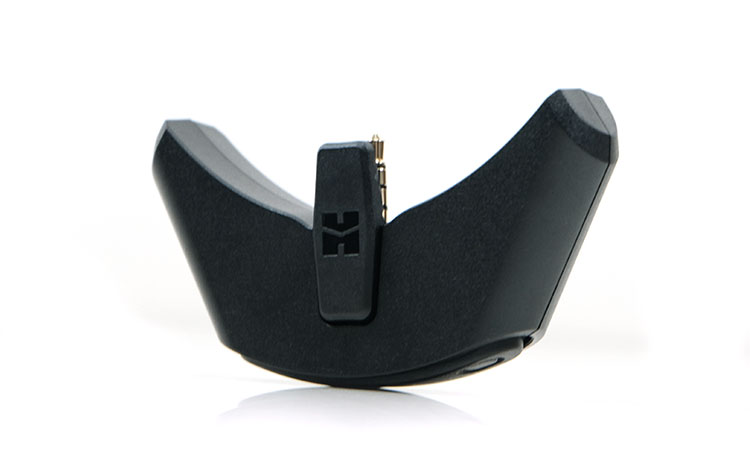 Bluemini II Compatible
Much like the HE-R10P, the HE-R10D is compatible with their attachable Bluemini II BT module. The Bluemini II inserts on one side but contains a DAC and balanced amplifier chipset to be able to properly power both side's drivers.
This is especially applicable for the wired USB audio scenario which Hifiman has built into the Bluemini II that allows you to output digital audio directly into the headphones. That signal will then be decoded by the onboard DAC and converted into an analog signal for passing onto the amp chipset.
The rated output in mW is 230mW according to Hifiman's real-world testing though they mention up to 1W on paper. That is a nice bonus and brings PC/Macs and smartphones into direct play without a BT signal required and allows traditional decoding up to 24BIT/192k.
Decoding
Inside, the Bluemini II uses a Qualcomm CSR8675 receiver which is primarily responsible also for decoding duties. It is one of only a small group of BT SoC's that can decode up to LDAC 24BIT/96kHz levels using BT4.2 and that is exactly what you will get with the HE-R10D.
Aside from top-end decoding capability you also get the usual standards of aptX, aptX-HD, right down to AAC, and SBC where applicable.
Some devices can transmit HWA-LHDC but have to be activated via software platforms such as FiiO's Music Player. The Bluemini II works on a similar premise with its own Hifiman app that will activate the HWA-LHDC codec for use with the HE-R10D.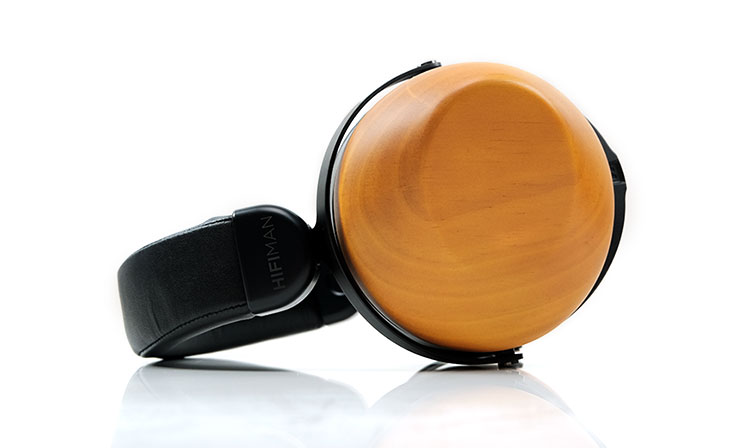 Design
Aesthetics
The form factor and design are very similar to the HE-R10P with but two key differences. The first is the weight. At just 337g compared to 460g the HE-R10D is going to feel a lot lighter in terms of handling and on your head.
The second distinguishable difference is the color tone of the external wood cups which are more of a strikingly golden color than the darker grain of the HE-R10P cups. All other elements and materials of the build of the HE-R10D remain unchanged from the flagship.
As before these are real wood external cups and not wood veneer and use a very light but unique grain without a glossy finish. Those of you who know the Sony R-10 will be all too familiar with its bulbous form factor but like the Sony, there is technical reasoning behind such a shape.
Primarily, the depth is to ensure the HE-R10D soundwaves from the driver do not hit as much of those typical space issues flatter closed-back headphones encounter. Smaller closed-back cups tend to create unnatural echoes and a tonal signature low on staging quality and heavy on bass reverb.
Thus, the depth of the HE-R10D cups is not just for pure styling but to allow the drivers more room to breathe and to give it plenty of space to sound as open as is possible.
Materials
The material mix consists of synthetic leather, hybrid synthetic leather/nylon earpads, CNC Aluminum for the gimbals, and plastic pivot blocks alongside those pronounced light grain wooden cups. I am in two minds on this mix because the HE-R10D reuses the same materials as the flagship HE-R10P for the pads, headband, and gimbals.
On one hand, this is a much better value given the smaller price point of the HE-R10D. On the other hand, I am conscious of the fact the DEVA and HE400se also use a version of these materials and they are a lot cheaper.
The materials used and styling I suspect we will now see right across their range except for possibly the older models that stay the course as well as their electrostatic line which will continue to use the 'Window Shade' grill design.
The headband is a mix of deeply cushioned leather with wide arch matte black aluminum gimbals screw fixed into the frame mounting the wooden cups. Side by side with the Deva, however, this does feel like a higher grade of materials being used for the headband. The Deva leather finish looks simpler and more synthetic to my eye.
There is a small amount of swivel in the cups so not as rigid as the Sundara design. Also, there is some flex in the headband with the use of spring steel. Headband adjustment is quite fluid and works very well indeed with a multi-notch system on the gimbal band.
However, like the HE-R10P my main concern are those plastic and hollow pivot blocks that now seem to be the norm on these designs. I am not 100% convinced of their durability and would have liked to have seen the CNC Aluminum gimbal material extended to the block also for more robustness.
Comfort & Isolation
Pressure Balance
I quite like the pressure balance on the HE-R10D and can find no real hotspots where the pressure seems unevenly distributed either. The mix of those new thicker angular or wedged hybrid pads and the decent memory foam amount on the headband make for a very comfortable fitting.
The adjustment on the headband should offer plenty of wiggle room for larger heads. Mine is a smaller one so I tend to find the HE-R10D just perfect on the smallest fitting. The level of clamping is also not that high so lateral pressure is very comfortable though sudden head-forward movements might make them move slightly.
The velcro detachable earpads are protein leather with that polyester inner finish that allows them to breathe a bit better. The inner cavity is big enough to clear my ears though it is more of a traditional round hole than an elongated type of design.
The HE-R10D uses HIFIMAN's Palipad design but these particular ones seem to be lacking the perforations on the inner wall. In theory, this will somewhat reduce any porous effect on the bass performance of the HE-R10D but as you will see below, they are not the best for isolation.
Isolation
For a closed-back headphone, the amount of isolation is average and not to the level of something like the AKG K872 unique pad designs that create a tighter seal around your ear.
This is primarily due to the hybrid pads having a more porous performance with the polyester surface and interior wall with synthetic leather for the external ring. The second factor is the more relaxed clamp though pressuring the cups tighter only has a marginal improvement in passive isolation.
There is a degree of isolation so it will have an advantage over open-back headphones in that regard but I would still suggest you consider these headphones primarily for quieter areas to get the best performance.
Cables & Connectors
Single Entry
The HE-R10D uses a single-entry 3.5mm TRS cable design much in keeping with their recent launches including the DEVA and the HE-R10P. We know at this stage HIFIMAN does prefer working with single-entry formats and to be honest they are easier to work with than dual entry if the cable quality is good.
Single-sided driver-to-driver connectivity on the HE-R10D is managed by a very discreet wire inside the gimbal height adjusters which runs from the left cup to the right cup so be careful not to damage that or you will lose audio on one side.
Another reason for going single-sided for the connector is to allow for compatibility with the Bluemini II wireless amp/DAC, a single-entry device.
At the base of the cup frame on the left side, you will see a slight elongation and platform that is specifically designed to house the Bluemini. You simply slot this in, pair it with your source and you are good to go.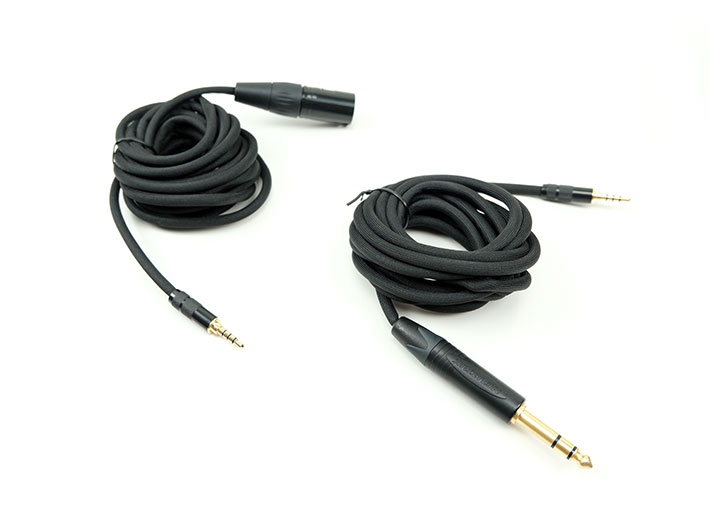 Stock Cables
You get the exact same cable choices with the HE-R10D as you do with the HE-R10P. That means 3 cables in total covering a broad base of connections including 3.5mm TRS, 6.35mm SE, and a balanced 4-pin XLR cable for balanced pairings.
The internal wiring and external jacket materials are also the same using a three-core, crystalline copper with silver plated wiring and a nylon black sleeve. As mentioned in the HE-R10P review, this is the same cable that originally came with the Susvara except they have replaced that strange transparent rubbery tubing with the more disciplined nylon covering.
The nylon deadens the management of the cables a bit better making them much more stable during use. You will not find any microphonics or memory retention issues on these either. They are also impressively light without dual entry splitters, even at their longest with a 3-pin XLR termination.
The actual cable lengths are a single 1m 3.5mm to 3.5mm, and two 3m cables, one with a Neutrik 6.35mm SE jack and the second with a Yongsheng 3-pin balanced XLR. For those that are wondering, the Yongsheng brand is sold by Ningbo Neutrik Trading Co which is the Neutrik Group office in Northern China.
What is missing? 4.4mm for portable sources that now offer 4.4mm balanced outputs. The HE-R10D is not hugely power hungry so DAPs such as the DX300 and the HiBy R8 can easily handle the requirements if you had a balanced 4.4mm option. An XLR – 4.4m adapter will work but it will add to your costs if you do not already have one.
Packaging & Accessories
Take everything you know about the HE-R10P packaging and change the color to silver and black instead of brown and silver. That just about sums it up. Honestly, I have no complaints about the packaging as it is my preferred style of box and display since way back now.
Yes, HIFIMAN does recycle their packaging designs so it's nothing new to me but it is stylish enough and an upgrade on the cardboard boxes they now use for their midrange offerings. It also offers ample protection for the headphones.
It is quite attractive for those new to the packaging with its black leather-trimmed rectangular exterior, silver latch, and branded metal front plate. Inside you have strong foam contoured protective interior lining layered with a satin cloth finish to house both the headphones and the accessories.
On top or above a single foam sheet Hifiman has supplied its now familiar and very stylish hardback booklet outlining the key features, measurements, and history of the HE-R10 product line. It is one of the classier product manuals out there and for a headphone booklet, it is actually worth reading.
Aside from that, you get your warranty card as well as the 3 supplied cables in various lengths housed tightly in a center pocket. There is no protective foam on top of the cable area this time but they fit so tightly in that I can't ever see them moving around.
Click on page 2 for sound impressions, synergy, and Bluemini II performance