The Monoprice Monolith M-TWE is an aptX-capable 10mm neodymium dynamic driver TWS offering up to 30 hours of battery life. It is priced at $99.
Disclaimer: The Monoprice Monolith M-TWE was sent to us as a sample in exchange for our honest opinion in this review. We thank the team at Monoprice for giving us this opportunity.
To read more about Monoprice products we have reviewed on Headfonics click here.
Note, this review follows our new scoring guidelines for 2021 which you can read up on here.
Monoprice Monolith M-TWE
The good thing about the Monoprice Monolith M-TWE is that there is nothing really bad to say about the M-TWE because performance-wise, everything is done well and at a price that will not break the bank.
Monoprice sets itself apart from most other name brands by offering a vast amount of products at all price ranges with a list of gear that is long and extensive. Their website is huge and you could find almost anything in there except for the renowned kitchen sink.
One of their common marketing traits that work well mostly on the buyer's end is that they usually pack lots of quality and value into their designs but tend to charge less than their competition. Monoprice sells everything from wires to high-end home theatre systems and their top-tier models usually fall under their monolith branded gear.
We just got in the Monolith by Monoprice M-TWE which is a TWS model that has a couple of interesting features that I like and one is quite a simple solution to the vast sound preference dilemma that is out there.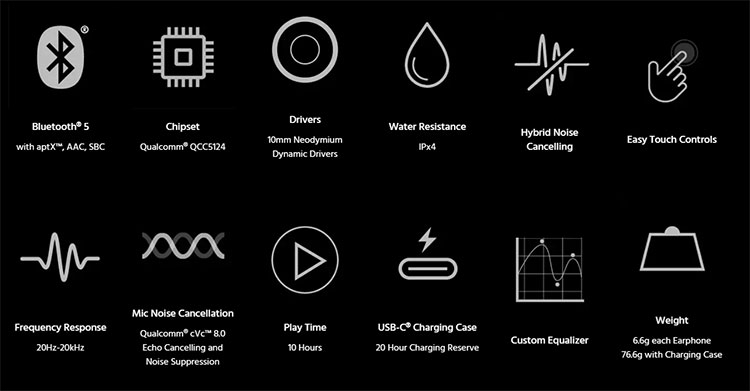 Tech Highlights
Chipset
A Qualcomm QCC5124 SOC Bluetooth 5.0 chip sits inside the Monolith M-TWE and according to Qualcomm literature the chip was designed as a high-performance chip with a very low power consumption rating which is 65% better than their previous chips with comparable performance.
According to Qualcomm specifications, this chip has a quad-core design that uses two cores for application processing which run off a dual 32BIT 32MHz subsystem.
The two additional cores run a dual DSP system with each core running at 120 MHz and by assigning all these cores these different tasks Qualcomm was able to improve something they call parallel processing which is basically a way of removing digital crosstalk.
The QCC5124 according to Qualcomm runs off a 192kHz/24BIT system and off a SPDIF interface which then transitions into a 2 channel 99 db class D headset amplifier.
Codecs
The Monolith M-TWE is more generous in codec capabilities compared to some other offerings at a similar price that give you just the basic AAC and SBC codecs which do ensure connectivity with anything that has a Bluetooth transmitter and of course, these codecs work with the M-TWE.
But the M-TWE also has APTx capabilities and I could honestly tell the difference especially in the high frequencies because they seem to extend a smudge better on APTx.
One observation I made reading the literature of the QCC5124 is that the chip is capable of APTx HD but Monolith never mentions the capability on the M-TWE and I could not kick the M-TWE into APTx HD on my phone or with my BTA30 which I am certain both units would have dialed into that codec.
Driver
Not much is said about the main driver inside the Monolith M-TWE. The driver is a dynamic diver and the Monoprice website does mention it as being a 10mm driver with a Neodymium magnet I suppose because they call it a Neodymium driver.
If you look around for some relevant specifications you will find a listed frequency response of 20Hz to 20 kHz which is sufficient for good quality audio if fed a good source.
I do feel that this particular driver has higher capabilities but is hindered some by the low power output of the SOC chip and class D amplification and I bet would do better in a properly tuned IEM shell fed by a decent amplifier.
Design
Ear Buds
The Monolith M-TWE IPx4 rated earbuds have a funny shape but it somehow seems to work well far as comfort is concerned. They do however look eerily similar to the TranSmart Apollo Bold IEMs which also have very similar specifications and components.
The shells are made of plastic but seem durable enough to survive any accidental drops. The shells have four gold plated contacts and some kind of a sensor on the inside which I think is a sensor to shut the earbuds off if the sensor is exposed to light or perhaps it just shuts off the LED.
The multicolored LED is subtle and is used for pairing purposes and as charging status indicators. Since they shut down once the earbuds are in use, these are good for those people who like using TWS earbuds in the dark and are annoyed by bright LEDs that light up a room.
I have no idea how I would describe the shape of these earbuds but they do have a Mentos candy shape on the inside and are rather comfy since the shape is totally rounded and there are no sharp edges in contact with the inner ear. They are rather light at 6.6 grams which further contributes to high comfort levels.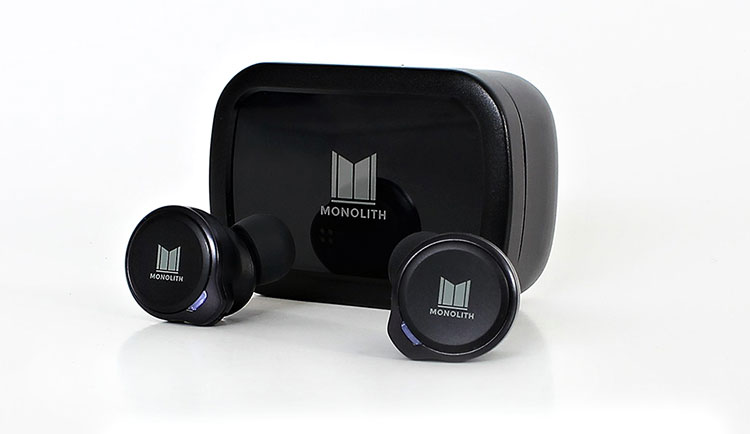 Charging Cradle
The monolith M-TWE charging cradle is built upon a metal outer shell with a hinged door made of plastic with the Monolith logo on a glossy top. The case alone weighs about 64 grams and with the earbuds inside the entire package weighs 76.6 grams.
On the inside, there is a single LED. Yes, one LED. It blinks while the cradle is charging but that is all it does which is fine but why put it on the inside? The LED is not visible while charging and you have to open the cradle door to see what the LED is doing which is rather unorthodox.
Easy Touch Controls
Monoprice implements on the Monolith M-TWE what they call an Easy Touch Control system which uses tap, swipe, or hold methods to activate and for me, it worked very well and seemed very intuitive.
You could cycle noise-canceling or control volume levels however I did miss some kind of track control feature. The only two available are play and pause. There are phone call controls with two taps to pick up or end a call plus Voice assist is also available on the Monolith M-TWE if the device has the feature available.
SonarWorks SoundID
The 10mm Driver does benefit from this feature which can be used very successfully with the Monolith M-TWE. What is it? SoundID is an App you download and connect the M-TWE to and once you do, there is a feature that puts you through a series of tonality preference questions, and at the end, the app comes up with an equalization curve that is tailored for your personal preference.
It works well and it does do what you could do by playing with an equalizer but it does it faster and eliminates guesswork by tuning the M-TWE to your preference. I also like the fact that the tuning applied carries on even if you connect the M-TWE to another device without the App.
On top of that, the App has a 10 point advanced parametric equalizer with separate gain, Q, and filter type if the automated system leaves you desiring more or if you could do better if you were in control. You could also make and store custom profiles within the App once you get the EQ set upright.
Noise Cancelling
The Monolith M-TWE has lots of tricks up its sleeve when it comes to ambient noise control. You could go three ways with their implementation. The three different modes are off; noise canceling on and ambient noise and the system uses feed-forward and feedback hybrid technology.
The noise-canceling is quite effective on the M-TWE and shuts off most of the outside noise and I think it was better implemented compared to its ambient noise feature which does not do much. Somehow I still felt shut out with the ambient noise feature on.
The M-TWE earbuds do isolate passively and in combination with the noise-canceling feature makes this set a good choice if that is important to you. I would say they shut off at least 80% of noise levels around me which is not bad.
Besides that, you also get CVC 8.0 on the microphone section which is the latest implementation of CVC. The M-TWE CVC 8.0 implementation does echo canceling plus noise suppression. There is no mention of this but I do see at least four holes so it's safe to say there is at least a dual-microphone system in play here.
Battery Life
I tested the Monolith M-TWE mostly with ambient and noise-canceling off and tried to maximize battery life to measure longevity and I could not go past 5 hours of use of a fully charged set of earbuds which is way under what Monoprice states but to be honest that is better than average which is about 4 hours.
I did get more than the two full charges specified by Monoprice and was able to charge both earbuds three times which gave me a total run time of around 15 hours instead of the specified 20 hours which again is ample time to travel anywhere in the world while listening to music or at least give you a couple of good days of use.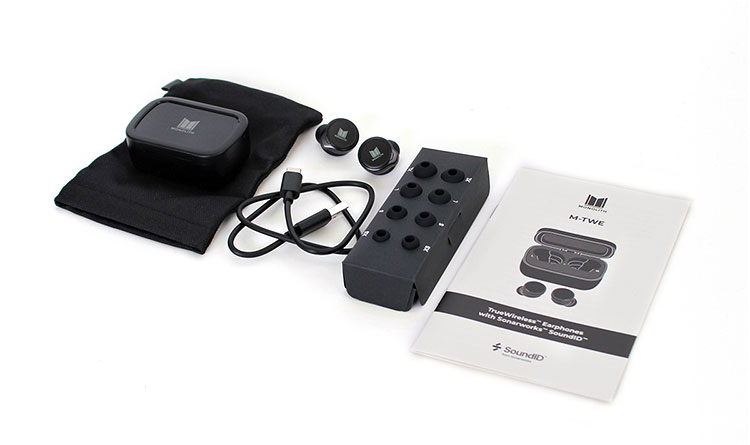 Packaging and Accessories
The unboxing experience is pleasant but more importantly, the Monolith M-TWE comes in a double black box that ensures the contents get home safely even if the mailman plays football with the box.
The Cradle comes laid in foam within the inner box and is the first item you see when you open everything up. The rest of the contents are under the foam which are four extra top sets, a USB type C charging wire, an owner's manual plus a carrying bag.
I cannot recall any of the TWS models I reviewed in the past that comes with a carrying bag. This one is made of cloth and is very thick and robustly made.
Performance
Sound
Monoprice went with a somewhat neutral tune on the M-TWE and with a rather flat frequency response with early drops in output out on both extremes of the frequency spectrum. When I ran the tone sweep generator I sensed a dip in output and a rather steep one below the 34 Hz frequency.
Surprisingly, the bass seems flat compared to other TWS models out there. Midrange seems to be evenly presented with no peaks or areas that scream at you. There is plenty of detail but micro details are somewhat absent. The midrange seems rather smooth and quite polite.
The high frequencies sound rather crispy with a small amount of sharp emphasis but in no way sibilant. High-frequency output dropped above 13 kHz quickly and I heard some noise from the Bluetooth system or chip above 14 kHz as in most SOC chips from Qualcomm.
In listening tests, however, the highs seemed to sound crisper than in other TWS sets similarly priced and the noise seems to be absent.
The two areas I would have preferred more in quantity far as sound is low-frequency impact and extension of course but this set would have been better off with a volume rise of at least 5 extra decibels because the volume was lacking at times for my tastes.
Dynamics
I thought this was an important area to discuss on the Monolith M-TWE because I felt this TWS has a lot of potential if it had a more aggressive tuning. Somehow I felt Monolith was restricting the tuning and that in some way performance was hindered purposefully by using a soft and safe tuning.
With a small rise in volume I am certain one could obtain a higher level of dynamic range but instead, it seems capped off at around 80 decibels or so, and volume is kept at all times below 90.
Staging
The Monolith M-TWE TWS has a small sound stage and sometimes that to me is preferred over a very wide one. My preference is between wanting a stadium-sized stage and the second is a small nightclub soundstage characteristic which works best according to what you listen to.
While being small in size recording element placement is adequate and elements do not conglomerate and do remain fairly distinct. There is some 3d placement but mostly on the side plane and not in the center.
At first, the M-TWE sounded narrow with sound conglomeration but as you break in the driver the soundstage seems to not open up width but instruments within a recording seem to separate themselves from each other so you have to give these some time to break in.
Wireless Performance
The Monolith M-TWE uses BT 5.0 signals and does perform well far as range. This specification was not listed so I just did the walk the plank test and I walked away approximately 38 feet before the signal dropped out of range which is excellent.
The earbuds take advantage of the native TWS plus and dual-mode systems off the Qualcomm chip and also uses BR, EDR, Bluetooth low energy sensor hub, and low energy technologies.
Latency was average. It seems most devices that use Bluetooth technology have the same .2 seconds of latency which is not noticeable while listening to music and negligible while watching a video.
Selective Comparisons
Panasonic RZ-S500W
Technical
The Panasonic RZ-S500W is a TWS which has some good attributes over others like the full app that brings to the table lots of features, a noise isolation system which is one of the best and with an overall good sound quality that is somewhat polite, gentle, and east to the ears.
If you like off the wall and different from the rest types of designs both these TWS models have earbuds that look different from the rest generally. They use two different approaches to reach comfort levels that are acceptable for long-term use but the M-TWE seems to be best at sitting inside the ear more securely.
The RZ-S500W has a larger bud size and does tend to protrude further out while wearing them while the M-TWE earbuds have a more low profile design. Weight is really not an issue with either set. The cradles are not too bulky either.
The two features that I really like on the RZ-S500W are the 50 step noise cancellation and the app which lets you customize the sound with an equalizer, a voice enhancement feature plus a bass boost. The app also lets you control intricacies like LED behavior and even change the voice-over from male to female.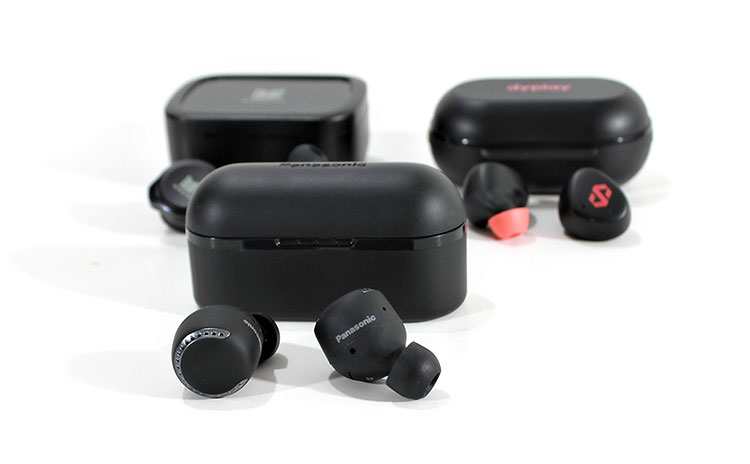 Performance
The Panasonic RZ-S500W has the most energy and feels as if it has more punch but a touch of more laid-back in tonality. The RZ-S400W remains polite and well-mannered while the Monolith M-TWE just remains polite through the frequency bands but with a touch of brightness on top. The monolith set seems to have more DSP going on in the highs.
The politeness on both sets comes from the high frequencies not extending high enough to either overpower the sound signature or overdriving the driver or electronics. The RZ-S500 does have a better high-frequency extension and is not noisy in the upper regions either but the M-TWE seems shaper. The midrange smoothness also contributes to its politeness.
If you are okay to put your trust in a sound app like the SoundID far as sound signature goes then the M-TWE will give you an easy-to-like sound quicker since you will probably have to work on the RZ-S50W to get them to sound best for you.
Another area that might give you a better sound signature o the M-TWE is the ability to kick up to APTx which the Panasonic set cannot do restricting codec capability but I would have loved to see APTx HD activated on the monolith TWS. The chipset is capable and that would have put them way ahead of the pack in sound quality.
Dyplay ANC Shield Pro
Technical
The Dyplay ANC Shield Pro is another TWS with a feedforward and feedback design with the addition of transparency mode. Both sets have a dual master design which lets you pair each earbud individually.
Both these sets have these common features but the Dyplay set is the only set of these three that does not have a controlling app but at least remains the lower in cost model of the three.
A Mediatek Airoha AB155X chip powers the Dyplay ANC Shield Pro with AAC and SBC codecs. The Mediatek chip has a built-in Cortex M4 which controls all its functions while the Qualcomm chip used on the Monolith M-TWE has a four-core system. I believe they are both four core-based chips.
Of these three TWS models, the Dyplay ANC Shield Pro driver size sits in the middle at 9.2mm. The M-TWE has the larger sized 10mm driver while the Panasonic has the smaller 8mm driver but is the most expensive of the three.
Once again the monolith sits in the middle when it comes to noise-canceling effectiveness. The best of the three is the Panasonic but at a slightly higher price tag while the Dyplay ANC Shield Pro is the least effective in this department but also has the lowest price tag however it blocks noise passively quite well. Probably better at this particularly than the other two.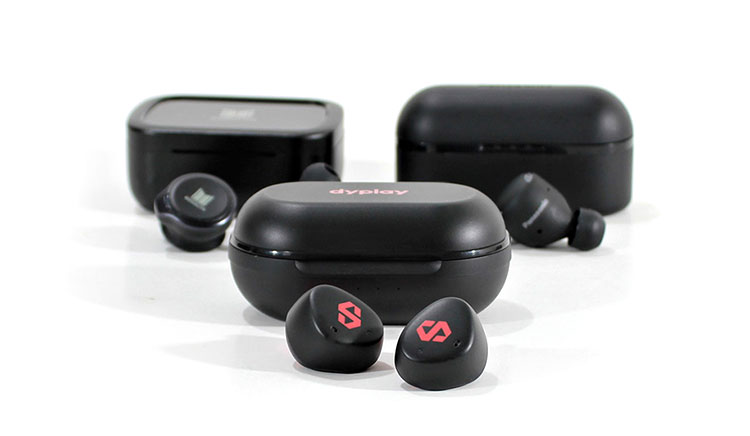 Performance
All three sets have a rather neutral tuning and the ANC Shield pro follows that trend but does have the most V-shaped sound but it's a very subtle V-shape with the bass being the dominant force but in no way employing a bloomy type of bass.
Of the three sets of TWS models, the Dyplay seems to be best in bass extension with an ability to go below 20Hz. The Panasonic set and the Monolith both start to drop output at 30Hz and are both absent at 20Hz.
Just like the Panasonic set the Dyplay ANC shield Pro can touch 15kHz while the M-TWE can only touch 14kHz before dropping out of audition in tone sweep tests but in listening tests the Monolith seems to have the sharper highs.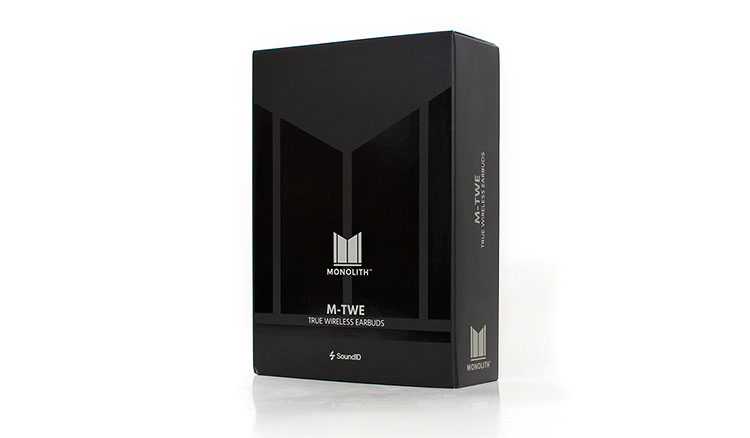 Our Verdict
The Monolith N-TWE is where it is supposed to be in price class hitting a middle point in all you would expect far as features and sound quality from a modern-day TWS.
It hits a couple of high points like being one of the only TWS models out there that comes with a carrying bag and most importantly comes with an app that creates a customized parametric EQ profile for your particular likes and preferences.
Is there any bad news? Not really because these do not have any particular issue that I would consider a deal-breaker or a reason not to buy these.
The good thing about the Monolith M-TWE is that there is nothing really bad to say about the Monolith M-TWE 41500 because performance-wise, everything is done well and at a price that will not break the bank.
Monoprice Monolith M-TWE Specifications
Drivers 10MM Neodymium Dynamic Driver
Frequency Response 20Hz to 20KHz
Supported Audio Codecs SBC, AAC, APTx
Microphone Noise-canceling Qualcomm CVC 8.0
Bluetooth Version 0
Supported Bluetooth Profiles A2DP v1.3, AVRCPv1.6, HFP v1.7, HSP v1.2
Bluetooth frequency range 402 to 2.480 GHz
Bluetooth Power Transmission less than 8.0dbm
Playback Time up to 10 hours plus an additional 20 hours with the charging case
Charging Time 5 minutes for 1-hour playback and up to 2 hours for a full charge
Earphone Weight .23 oz. (6.6g)
Total Weight earphones and case 70 oz. (76.6g)