Our review of the HiBy R5 which is a mid-range digital audio player featuring a dual CS43198 DAC implementation, Android Oreo, and a Snapdragon 425 processor. It is priced at a competitive $399.
Disclaimer: This is a sample sent to us in exchange for our honest opinion. Headfonics is an independent website with no affiliate links or status. We thank HiBy Music for this opportunity.
To learn more about HiBy reviews on Headfonics you can click here.
Note, that this article follows our latest scoring guidelines which you can read up on here.
HiBy R5 Review
Pardon the use of a meme here but the HiBy R5 is a bit of a pocket rocket and has excellent value for $399. I am sure the competition will catch up but Android 8.1, MSEB, 0.5mW of output power, and a very low noise floor tick plenty of boxes for the avid DAP user.
Pros
Excellent power
Light Android load
MSEB
Cons
Screen a bit small for use Android
Gets hot under heavy use
And here it is, the latest DAP from HiBy, the R5. The numbering is a fairly logical giveaway here with the new R5 sitting neatly in-between the R3 and the R6 & R6 Pro with pricing to match at $399.
That's a bit cheaper than the FiiO M11 and $100 higher than the M9. From our pics below, however, I would say the FiiO M9 users should definitely take a second look at the R5 before they trade up.
For those that are new to HiBy DAPs, yours truly first met the team and heard the then-unknown, R6 at the Guangzhou AV Show back in 2017 and could not wait to break this to the readers when I got back.
Since then, the R6 Pro and R3 have come out with responsive OS, TIDAL access, beautiful touchscreens and of course, integrated Google Play. For freshmen, HiBy started like a Pro in many respects.
The only hiccups with the flagship DAPs were in the amping with that high output impedance, (R6) and high noise floor with the R6 Pro. The R3 had its own OS challenges but amping wise it was beautifully quiet with sensitive IEMs.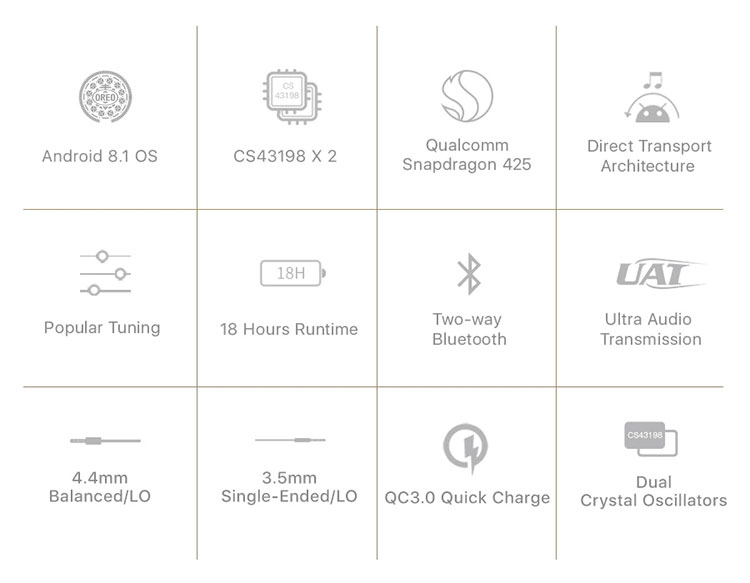 Tech Inside
It is clear from the outset that quite a lot of key R6 features are being trickled down to the R5. Open Android at $399 is the new battle place with the R5 leading the way and the soon to be released iBasso DX160 not far behind. More than that, some of that excellent hardware from the R6 has also trickled down into the R5.
Processor
Let us start with that sublime Snapdragon 425 CPU inside the R5. Yup, the same processor inside the R6 and R6 Pro now finds its way down into a $399 DAP. Click on page 2 and look at those AnTuTu scores, only the FiiO M11 is faster sub-$500. RAM drops to 2GB, however, so I do not expect the same multi-tasking prowess as the flagship R6 Pro.
DTA
The R5 also supports DTA or Direct Transport Architecture, much like the R6. That's bit-perfect playback right across the software platform irrespective of the audio apps you use. We are seeing that feature appear everywhere these days in Cayin and iBasso but good to see it make its way into their mid-fi offerings.
OS
Of course, the platform is Android Oreo (8.1) so that means two-way Bluetooth, HiByLink with decoding up to LDAC as well as their own hi-res UAT or Ultra Audio Transmission codec for W5 users out there, (and N6ii customers if that link-up floats your boat).
Design
The R5 design is relatively compact measuring in at 107.7 x 61.2 x 15.6mm. In fact, we found the dimensions quite similar to the FiiO M9 though the design is a little more refined. The corning is a touch smoother and symmetrical on both sides with a glossy glass panel to the rear and a matte black anodized finish on tan aluminum chassis. It feels solid and weighs in at around 160g or around 30g more than the M9.
The R5 comes in 3 different colors with this black one, plus also gray and a gold edition. I much prefer the black simply because of the way HiBy do their LCD screens with an almost borderless design. This 4″ IPS 540*1080 screen is not quite as expansive by the looks of it but it does dominate the front panel and is much more impressive than the M9 screen (see pic below).
Black minimizes the effect of bezels much better than gray or gold IMHO. The 2.5D glass is still in effect and it does go right to the edges of the front panel. However, the 4″ screen is a tiny bit smaller so not quite as "wow" as the R6 Pro screen dimensions.
Legibility
Legibility is excellent from wide or extreme angles and the color saturation is very good. The R5 Dpi is lower than the R6 Pro at 240 compared to 320 which places it on the same level as the older X7 Mark II from FiiO (233dpi). However, the screen seems to have better saturation than the R6 Pro with whites looking whiter and generally nicer contrast.
My only minor concern with this screen is the combination of Android and the size for typing and easy touch control. For icon-based touch management, it is fine, no issues on scrolling and selecting tracks or apps. However, for typing, the keyboard characters are very close for me and the propensity to make a typo greatly enhanced.
Controls
The control system, much like any other touch-based wireless DAP, falls into 3 areas; physical, touch and wireless.
Touch
The touch experience of the R5 is almost as good as the R6 save for the slightly smaller size consideration. It still feels responsive despite the drop in RAM from 3GB to 2GB with performance figures to match that of the R6 (see Page 2).
There is virtually no lag between executing a touch command and the DAP responding to it. Everything feels snappy including the obligatory pinch and zoom multi-touch features where applicable.
Aside from that, the touchscreen will do everything you need the R5 to do outside of initiating volume control, power on/off and LCD on/off. You can however increase or decrease volume control via the touchscreen once initiated via the physical dial. Unlike the PAW Gold Touch, you cannot double-tap from the screen off option so you have to do that one via the power button to the right side.
Physical
The right panel is pretty similar to the R6 layout with the power/LCD screen button complete with LED light for battery and charging status and playback controls just underneath. They have a decent rise above the housing and feel fairly secure so it is not too hard to find them unsighted. However, they do lack a little bit of physical indentation or "pimples" for a quick "which button is which" orientation.
The labeling on the buttons is also print-based rather than etched so time will tell how long those prints last before they get faded or chipped away.
On the left panel, you have the two usual HiBy digital volume control buttons with 100 digital steps at 0.5dB per step to play with. These also feel pretty solid and accurate with no missed steps. You can short press for a single step or long-press for multiple-step increases.
Wireless
The final way is via the R5's in-app HiByLink service. This is only available if you have both the Android HiBy Music app on the R5 and your smartphone.
By setting up the R5 as a HiByLink Server and the Smartphone as HiBy Link client you can effectively control the R5 remotely (Bluetooth connection is automatically done during the setup process). This is ideal for those who have their hands constantly on their smartphones but want to control the R5 from a short distance on their desk or in their pocket if on the go.
During this setup, you can browse the R5's media library, operate playback controls, adjust volume, and scan for media. You cannot operate the R5 settings or its DSP/EQ functionality.
Inputs & Outputs
You won't find anything on the top panel of the R5 but a flush flat black panel. All inputs and outputs are either on the sides for the physical controls or on the bottom for digital and analog signals.
The bottom panel houses both analog outputs and digital IO in the form of a USB-C slot in the middle. Digital audio (OTG) works out of the box also on the R5 with a successful connection to a Hugo 2. OTG flash memory loading also works with a 64GB SanDisk drive loading just fine.
Both the 3.5mm TRS and 4.4mm TRRS jacks on either side of the USB-C input have dual functionality for both PO and LO duties. Unlike the FiiO M11 there is no 3rd 2.5mm TRRS jack but given the small size of the R5 that is not terribly surprising.
Memory
Onboard
The R5 has 16GB of onboard memory but Oreo eats up a lot of that space with only 9.72GB of workable memory for storage. Considering that apps can run from 50MB upwards you might be better off using the internal memory for apps and grabbing an external microSD card for audio tracks.
External
The slot is a pin tray with a supplied pin pusher key much like the R6 memory card slot. It is officially listed at being capable up to 512GB but I suspect it should be able to handle the latest 1TB cards. I only use 64GB cards for security and cost reasons and they work just fine so far.
You can, of course, expand via the R5's USB-C OTG capability with any size powered HDD or flash drive really. Our 64GB SanDisk drive worked perfectly fine for tracks loading and HiBy Music will scan it and integrate it right into your main library for ease of management.
Battery Life
The R5 comes packed with a 3500mAh Li-polymer using Quick Charge 3.0 (QC3.0) technology with a full charge possible in around 2 hours and up to 80% within 30 mins.
The battery life specs on paper are very impressive for a DAP of this output power and decoding capability. On paper, you can get up to 11 hours runtime on 4.4mm balanced and 18 hours runtime on 3.5mm single-ended.
I have to presume this is the best-case scenario testing with MP3 level decoding, all wireless switched off and the screen turned off also. These are normal test conditions for specs like this. However, compared to similarly-sized DAPs such as FiiO's M9 which uses a 2350mAh Li-polymer battery the battery is bigger and a better performer. The FiiO M9 tops out at 9-10 hours max and has a much lower output rating also.
Of course, it is so difficult to tell how accurate that really is with an Android platform because everyone has their own usage pattern. I burned through almost 15% in an hour with WiFi on, FLAC decoding, transfer of 8GB of files, DLNA, TIDAL (including downloads) and plenty of menu/app poking. That was using the unbalanced output with a 12Ω load. I suspect I could get it down to zero percent in under 10 hours or less with heavy usage.
Temperature-wise the R5 battery does get fairly warm, especially when WiFi is on. The AnTuTu historical battery temperature reading was 8-degree Celsius higher on average compared to the R6 Pro's reading at 47.3c average compared to 38.8c (measured over a 3-hour period). When idle, the R5 reading can drop down to around a relatively mild 32c compared to the 28c of the R6 Pro's idle temperature reading.
Accessories & Packaging
It is a fairly 'plain Jane' experience here but if you have seen the other R-series DAP boxes they are not actually that different in design. It is black, it is a box and that's really about it save for the logo, strapline, and R5 branding.
Thankfully, the insides are nicely cushioned for transportation with a two-layer cushion and foam lid with the accessories neatly organized in their respective compartmental boxes under the main DAP layer.
Inside the accessories are a bit sparse but on par with the competition. You get a silicone protective case, microSD tray pin, manual and certificate cards, and that lovely nylon jacketed and HiBy branded USB-C to USB-A data and charging cable.
You also get a couple of screen protectors though I do not think they are tempered glass. Given the curved 2.5D glass being used tempered is an issue for most DAP companies. One of the screen protectors is pre-applied to the R5 screen out of the box so you just have to peel the top layer off and you are good to go. The back also has a protective thin film which can be simply peeled off.
Click On Page 2 below for Hardware & Software Impressions
Click On Page 3 below for Sound Impressions & Matchability
Click On Page 4 below for Comparisons & Verdict