Internal Hardware
DAC
This is the big change from the R3 and R6 which uses the ES9028Q2M DAC implementations. The R5 uses a dual CS43198 chipset design which seems to be the flavor of the month because I believe iBasso and AK are using the same chips in their new DX160 and the existing A&K SR15. I will be interested to see how they differ when that DX160 drops into the office.
The decoding levels are competitive with the CS43198 capable of DSD over PCM (DSD DoP) up to DSD256 and PCM 32/384kHz. The R5's jitter performance on the R5 is enhanced also with high-accuracy, low-phase-noise crystal oscillators dedicated to 45.1584and 49.152MHz and will cover all sample rates.
At the moment, there is no MQA support on the R5 so, for now, it is app-level decoding only. You can enjoy an initial unfold at the software level and you should be able to see bit-perfect playback up to 96k in the likes of TIDAL. I am told MQA should be available sometime in September 2019 as a firmware update which is good news.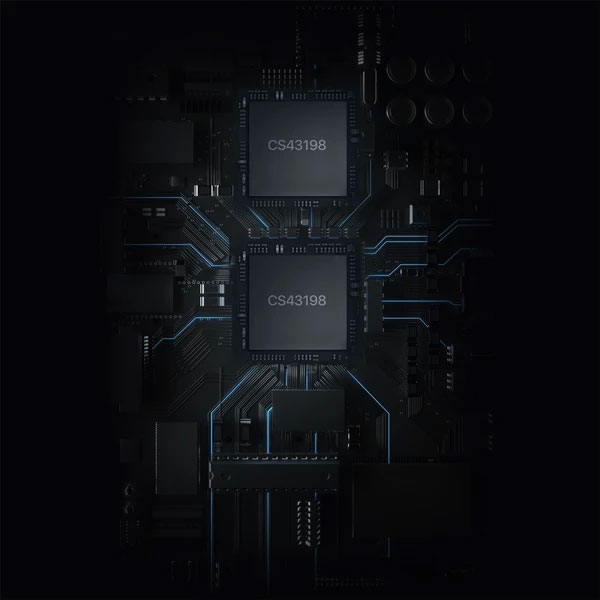 Amp
This is very surprising for me. Normally I would expect moderate numbers for a DAP at this price point and size but HiBy seems to think differently. The R5 is capable of an excellent 564mW+564mW on a 32Ω load balanced as a well as a more moderate 148mW unbalanced into 32Ω. They also throw in 3.5mm and 4.4mm line-outs. That balanced is up there with some of the higher-end players in terms of total output power with that kind of weighting.
I am not sure on the exact amplification stage and opamp flavoring inside the R5. HiBy is keeping that tight to their chest for the moment. The weighted ratings are also very good with a THD+N of 0.0014% unbalanced and an SNR of 120.5dB, also unbalanced. The SNR is even better going balanced at 124dB. Switching to line-out performance you get slightly better numbers at 127.8dB.
This compares quite favorably to the R6 pro with a THD+N of 0.0012% balanced and 0.0025% unbalanced and an SNR of 120dB and 118dB for balanced and unbalanced.
I am presuming these numbers are on a 32Ω since the rated output power specs use that load weighting. The output resistance is under 1Ω for both outputs so there should be no low-Z skew or impedance skewing of the response of sensitive BA IEMs. I can also tell you that the R5 is quieter than the R6 Pro in terms of hiss in both balanced and unbalanced with the Solaris which is my most sensitive monitor.
Software
Android Oreo
The R5 comes with a completely open Android Oreo 8.1 platform with Google Play Store integration out of the box (International edition). Contrast that with iBasso and FiiO whose latest-gen mid-fi DAPs, the DX160 and the M11, do not.
Like the competing DAPs, that also means LDAC Bluetooth is available straight away as well as the additional HiBy proprietary UAT BT protocol. OTA updates are now standard across all of HiBY Android DAPs including the R5.
Performance Benchmarking
The R5 uses the same excellent Snapdragon 425 processor but only 2GB of RAM as compared to 3GB for the R6 Pro. We did check and the CPU is operating under the same clock rate as the R6 Pro at 960 – 1400MHz so we would expect to get a similar benchmark performance in our testing.
AnTuTu Results
Numbers
In fact, that is what exactly happened in our testing. The Snapdragon 425 is just as effective on the R5 as it is on the R6 by the looks of it. The R5 also seems to be faster than the DX150's CPU but we do know the clock rate on the DX150 is lower at 216-1008Mhz to conserve battery life.
Granted, the R5 is not at an M11 level of performance and there is 1GB less than the R6 Pro for multitasking but given the price point, 2GB is reasonably fair.
We also conducted an AnTuTu stress test for 15 minutes on both the R5 and R6 Pro. The additional 1GB on the R6 Pro didn't seem to give it a huge advantage over the 2GB R5 with both running the test at the exact same pace and finishing the same time. Neither the R5 or the R6 Pro crashed or hung for long periods during the test.
Navigation
The R5 navigates as you would expect using Oreo and is more or less a miniature version of the R6 Pro experience.
That means using a drop-down menu combined with a deeper Android settings menu with additional navigation controls inside the main apps supplied. You also have an apps drawer which will come in handy when the downloaded apps start piling up.
The only key difference between the two is the bottom navigation bar which is fixed on the R5 and does not hide whereas on the R6 Pro it hides when an app is activated such as HiBy Music.
Drop-Down Menu
The drop-down menu on the R5 is the same as the R6 and R6 Pro versions. It will give you access to key features such as WiFi, BT, core audio settings, screen brightness control, and the Android main settings menu cogwheel. You have a limited choice of adding to this screen but they are not essential to audio playback such as a hotspot, cast and night light controls, (most of which are redundant on the R5 as a DAP).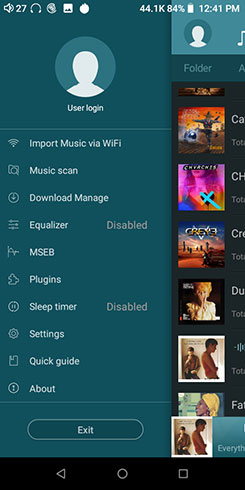 System-Level App Navigation
Within the HiBy Music system-level app, you have a further level of navigation for media scanning, MSEB DSP, and a set of far more comprehensive audio controls such as replay gain, BT, UAT and DSD Mode. Note these are exclusive to the HiBy Music app only whereas the drop-down menu audio settings will apply to all media apps.

DTA
DTA or direct transfer architecture on the R5 is fundamental to the entire listening experience. This also means that the R5 is on par with the R6/R6 Pro, Cayin's N6ii, and the DX220's DTA capability. We will presume that the forthcoming DX160 from iBasso will have a similar feature. Time will tell.
Basically, DTA allows the R5 to bypass the Android sample rate conversion cap (SRC) on a system-wide basis for almost all apps rather than depend on an app-specific application. In short, bit-perfect output at whatever rate for all your audio files on pretty much any platform and that should include the likes of TIDAL Masters.
You will also notice the effect of DTA in the top Android bar with track-specific sample rates on display. Our tests of TIDAL Masters bitrate playback were true to the DTA promise.
Apps
I had no issues loading TIDAL, Spotify, and Audiomack on the R5 via the Google Play Store and APK Pure which is region free APK loader I like to use to get around Google Regional locks. I would advise grabbing Chrome as the Via browser that comes with the R5 pre-installed is a touch tricky to use due to the heavy integration of Chinese into the OS.
Google Play Store
Granted, you can use something like APK Pure as a substitute such as you will find on the DX150 and it will do a great job of breaking out of the regional restrictions Google sometimes places on app availability. But for the maximum app's compatibility, you really do need the Google Play Store and Plays services integration. The R5 has, the DX150 and the M11 do not.
This is a compelling point for the R5's Google Play Store functionality. Quite a lot of the apps you can get via APK Pure are not actually workable without Google Play Services which comes bundled with the Google Play Store. This includes some excellent DLNA media streaming apps such as Hifi Cast.
The Google Play Store is also much more than an APK downloading and updating tool with its integration into a movies and books app.
Media Management
The main media management app on the R5 is the still the system level HiBy Music app but you are not tied to it exclusively for media management. You can download Spotify, TIDAL or Neutron, whatever you please with the International Edition using Google Play Store to further enhance your experience.
I did have a few initial bumps in the road with the HiBy Music player which was unusual with a few crashes and a slow media scan on memory cards. Onboard memory scanning seemed a lot faster. I hope that's just a firmware thing and can be improved as the performance on the R3 and R6 versions were very good.
Once scanned and sorted I have not had an issue with HiBy Music or its tagging capabilities which are very accurate if you have tagged your files properly. I also love the fact OTG scanned files are included in one single tag library rather than separated out via the folder drill-down section.
The folder drill-down via a folder is still very useful if your tagging is not up to par. This will include any OTG flash drives or externally powered HDD's connected to the USB-C port. All the drill-down categories are user-controlled also meaning you can edit which ones you want to see and keep hidden in the sub-menu below the 5 main menu icons.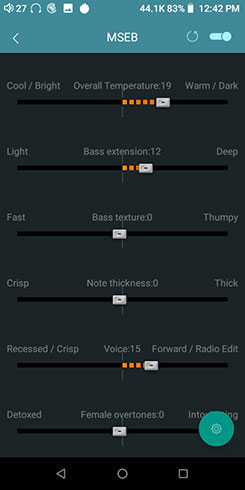 MSEB
MSEB is there in all its glory inside the R5 HiBy Music app and I strongly suggest you try it out. It makes matching to any IEM or headphone a piece of cake outside of noise floor and output power limitations.
The way MSEB targets the frequency response and timbre of the audio signal is, well to be frank, quite special. You can thicken the sound, thin it out, increase or decrease sibilance, deepen the bass or make the timbre sound warm or cooler. Given the more neutral and clean stock sound of the R5, MSEB is especially useful if you want to warm up or enhance the low-end response of your headgear.
These are just some of the controls available. You can even decide how much each slider will affect the sound in the settings. You can use the MSEB to fine-tune or completely take over, it is your call. It makes a mockery of describing the sound of the R5 because I can change it so radically making it a very fine tool for matching up to IEMs or headphones with fussy sound signatures.
HiBy UAT
Tucked away inside the HiBy Music settings is a feature called UAT and it is relatively new codec developed by HiBy and pitched as being a higher grade of audible quality than LDAC. The full name is Ultra Audio Transmission and it is basically an audio coding technology with a max 192kHz sampling frequency of up to 1.2Mbps bit rate compared to LDACs 990kbps bitrate.
The only catch is you need a UAT receiver such as HiBy's own W5 right now to actually leverage that potential quality jump in Bluetooth audio signal quality. Something which James has and reviewed but sadly not here with me to give you a low-down on its performance.
You can, however, work with a much wider range of dongles and receivers such as FiiO's BTR3 with the R5's LDAC, HWA or LHDC, (Low Latency High Def Codec), BT capability.
HiByLink
The R5 implementation of HiByLink works just as good as the R6 Pro experience. Basically, HiByLink allows you to set up the R5 as either a client or server via Bluetooth and operate another source with the HiBy Music app (and a BT connection) remotely.
For example, your smartphone with HiByLink can connect to the N6ii and playback from the N6ii library. You can then switch that around and play whatever is on your phone via the N6ii. You can also browse the media as well as operate playback controls and volume. Very handy indeed.
Streaming
There are a ton of streaming options with R5's WiFi capability due to the open nature of its Android Oreo implementation. Combine that with DTA capability then most streaming apps will also output bit-perfect audio making the R5 as competitive as higher-end DAPs such as the R6 Pro and N6ii when it comes to smashing Androids sampling caps.
We tested our 3 favorite streaming apps, TIDAL, Spotify, and Audiomack on the R5 and had no issues obtaining bit-perfect playback with TIDAL Masters compatibility. Of course, there is no MQA yet on the R5 but as mentioned in the DTA section above, you can expect up to 96k sample rates.
DLNA setup for local networks and servers on PC's is also catered for direct from the HiBy Music app or alternative 3rd party apps from the Google Play store such as BubbleUPnP, Plex and Hifi Cast. Despite the drop from 3GB to 2GB, I found DLNA buffering on hi-res 24BIT/96kHz FLAC tracks to be ok on the R5 using a PLEX media server on a Windows 10 laptop/2.4&5.4GHz router.

Import Via WiFi
This is a relatively new HiBy Music app feature but one I have found to be useful on the R6 Pro and Cayin N6ii. Basically, you connect to the same network as your PC and the app provides you with an IP address that allows you to transfer files wirelessly to the R5. Since this feature is baked into the Android app it is not exclusive to the R5 either. You can use it on your smartphone or a competing Android-based DAP.
This is a fantastic feature which is a bit similar I believe to the "WiFi Sender" app but it is baked right into HiBy Music so no payment is required. The only drawback for me personally was the transfer speed was slower than a wired USB-C connection to my PC.
File transfer speed will ultimately depend on your WiFi network performance and capacity when you do the download. It took a couple of minutes during the day for a 58MB FLAC file to transfer to the R5 but that halved in time in the middle of the night when the router was less busy. You may get much faster than me.
Click On Page 2 below for Hardware & Software Impressions
Click On Page 3 below for Sound Impressions & Matchability
Click On Page 4 below for Comparisons & Verdict