The DROP Liquid Carbon X + SDAC DAC/AMP is a hybrid of the x Alex Cavalli Liquid Carbon X amp and the Massdrop x Grace Design Standard DAC (or SDAC). It is priced at $380.
Disclaimer: The Liquid Carbon X + SDAC DAC/AMP was sent to us a sample in exchange for our honest opinion. We thank Drop for this opportunity.
To learn more about Drop reviews on Headfonics you can click here.
DROP Liquid Carbon X + SDAC
This is a very good balanced and neutral sounding DAC/amp. If you have headphones that have excellent depth of field, I would buy the LCX+LDAC, or at least strongly consider it as your primary amp for the time being. It handles stage forward sound fields extremely well and offers a neutral enthusiast a bit of a break on painful wince and physical impact factor on the treble.
A long time ago, in an audiophile listening room far, far away, Drop.com had sent me an AKM 4452 DAC based amplifier and USB DAC combo that sells for $380 called the LCX+LDAC, branded by Alex Cavalli and Grace Design.
Is the Force strong with this one though? There are a lot of lower to middle tier amp options these days, so let's roll into the review and not waste time. There is a lot of ground to cover on this model.
Build
Goodness! Goodness, all around! For a medium-sized unit like this, I am so happy it broadcasts excellent build quality from top to bottom. The chassis is CNC'ed aluminum and offers a "bead blasted finish" exterior. The amp weighs about 1,520g or about 3.4lbs. It feels dense and hefty for its size.
The front side of the unit brandishes a standard power button, a balanced 4-pin XLR output, a single-ended ¼, and a single-ended 3.5mm, a gain knob, volume knob and lastly an input selector. Each toggle feels very good in terms of physical tactility. None of the dials feel cheap or lacking in any way, shape or form.
The rear side of the product offers a set of RCA inputs and outputs, a dual 3-pin XLR balanced input, a DC 24v/1.8A power input, USB input, and also a power switch. From the looks of it, I enjoy the strength of each input on the rear side. By that, I mean when I plug in cables, they don't jiggle or feel loose.
Drop did a great job with the overall build quality, no doubt about it. I don't have a single negative or even neutral gripe. Everything looms well into the subjectively positive realm for me with regard to building materials and quality.
Sound Impressions
Bass Tone
The house sound here is exactly what you would expect it to be from Cavalli. The low-end reproduction is sublimely neutral and vividly clean, as it seems their aim, again, was to shell out as neutral and accurate of a signal as possible.
The quality factor is pure enough for me to consider the bass tonality and texture as rock-solid in terms of physicality. It never feels loose, lacking or irregular. I've a few other amps in this price tier that do feel "watery" by comparison. Right now, the only dedicated amplifier that can match and exceed it that I've on hand is my personally owned Heron 5 by Airist Audio, which retailed for $1000 or so when I purchased it years ago.
That is really saying something in the way of physicality and tactility of the bass experience as a whole. Our ears can pick up on the subtle varying inabilities of amps and headphones to cope with more or less bass in our tracks than what is offered on a neutral setting. By that, I mean responsiveness to EQ. I can add more in and rock all the way up to an insane +7dB before I noticed anything problematic. That is a hell of a feat for an amp of this price.
Bass Quantity and Fidelity
The low end of the AKM4452/amp stage is a relatively flat experience, so long as your EQ isn't touched. This amp wasn't meant to be boosted, but it can handle it if you want to add more in via a DSP or something of your choosing.
With boosting disabled, the bass quantity is less than moderate, which is right where I expect it to be. With my trusty JVC SZ2000, the King of Bass in headphones, the quantity factor is still enjoyable, but the limits of that headphone are far from being pushed to what I consider basshead levels. S
o, if you like linear and neutral bass, this is a great amplifier for you. It isn't intended for bass enthusiasts in terms of quantity. It is intended for bass enthusiasts who want high fidelity and purity factor though. For $400, the LCX+LDAC is a steal. The entire low end is pristine and similar to what I would call an evolved Objective O2, as a natural progression upward on the totem.
Mid Placement
This amp feels linear, top to bottom and does not portray a forward sense of midrange. My Audio Technica ESW11LTD is one of the more enjoyable forward mid-headphones on the market and I do not feel they are a good fit for this amp.
I do, however, feel that my Beyerdynamic DT1770, a headphone with a slightly relaxed midrange, is extremely well suited for this amps sound signature. So long as you are not pairing vividly forward headphones with this amp, you will be good to go.
You can get by as a stepping stone amp if you need it, so don't worry if your gear is midrange centered. It isn't problematic at all to combine and pair this amp with those types of headphones. Although, the linear feel of this amp/DAC combo is one I would be pairing with Sennheisers, Beyerdynamics and similarly not too forward headphones. My Grado and Audio Technica's favor other amplifiers in my arsenal.
Vocal Fidelity
This amplifier is super clean in vocal experiences. The $400 tier has a new contender, that is for certain. This amp/DAC offers an exceptionally clean and powerful midrange, even with needy 300ohm model headphones out there like an HD800 from Sennheiser.
Pairing a standalone hyper pure amplifier with a very pure DAC for this sound quality is hard to find under $400. So in a sense, that is a great thing for the LCX+LDAC, it shoots way above the $400 level for purity factor. Just make sure any additional source is actually justified because I have some $200-400 DAC's here that don't sound as good as the DAC inside the LCX+LDAC.
Vocals, specifically, are very dense feeling and vividly coherent. If you own a T1 from Beyerdynamic, you will absolutely love this amp. My DT-1770 sounds incredible with it, sadly, I don't own my T1 anymore but damned if I am not sad over no longer having it on hand to use with this LCX+LDAC. That pairing would have been crazy good.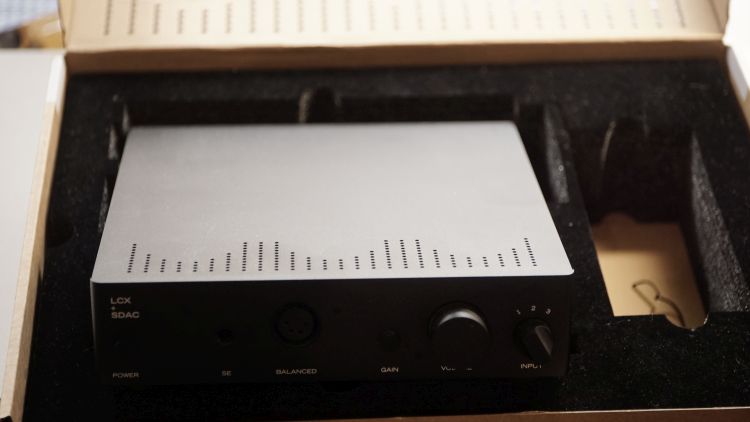 Treble
There is a weak link in the chain. I do find the upper end a bit underwhelming, at least, in terms of quantity factor. Subjectively, I would like a bit more than what is offered on a neutral EQ set up. I find myself boosting slightly with certain headphones but I think that is a good thing because neutral signatures are very prone to an icy, harsh upper end.
That isn't at all the case here with the LCX+LDAC. It portrays a semi-relaxed physical impact and strike factor, the dynamic kick is moderate and not painful or annoying, even with tracks I know to be extremely harsh. I desire a bit more sparkle though. My DT-1770 is relatively mild and reserved up top, to begin with, the pairing with the LCX+LDAC makes the DT-1770 feel too reserved, but that is only in terms of physical treble quantity.
The fidelity factor and the moderately engaging dynamic impact factors are very, very nice. I don't denote any real haze to it, although, as all neutral-sounding products tend to, very old and poorly recorded tracks are very difficult to listen to.
I think that is the point of this amp/DAC sound signature though. Neutral aims and intent in terms of sound signature performance and accuracy overall being the core function of the product is something I don't ever take points off for. The LCX+LDAC here does its job very well and without going overboard on the harshness and painful wince factor. That isn't at all common these days.
Imaging
The LCX+LDAC portrays an excellent sense of 'depth of field' and a very dense feeling of coherency. That means instruments and voices feel physically well-formed and not loose, lacking or lacking a sense of an ability to denote the edge work of the sound waves origin point. You can denote and locate the source area of a single guitar player, or vocalist in the void of the recording.
While the depth of field is very good, I've found the width and height factor to be just fine though. It does feel like the amplifier should be wider feeling than it is and I certainly desire more out of it. A/B comparisons with my Heron 5 result in the Heron 5 sounding noticeably more spaced out, effortless and less prone to feeling condensed.
For $400 though? I am not going to complain. Most neutral enthusiasts don't care too much for extremely large sound field, which usually can lead to the entire experience sounding and feeling kind of thinner than it should be, perhaps even, stretched out. That isn't the case with this LCX+LDAC, thankfully. It is intimate in that regard.
The air factor and separation of instruments is just okay and not impressive to me. I admit I am a sound stage and imaging buff though, but on an objective level, the LCX+LDAC just does a fine job with imaging size and properties overall. Don't expect anything supremely large and spacious, but do expect an immensely dense feeling and intimate experience for the most part, with the depth of field as a great factor in the listening experience. Fostex TH-series owners would be very happy with this signature.
Our Verdict
This is a very good balanced and neutral sounding DAC/amp. If you have headphones that have excellent depth of field, I would buy the LCX+LDAC, or at least strongly consider it as your primary amp for the time being. It handles stage forward sound fields extremely well and offers a neutral enthusiast a bit of a break on painful wince and physical impact factor on the treble.
I want more amps like this. We can have neutrality in tone and physical quantity, but be able to enjoy the sound without shoulder-shrugging every 2 seconds and having soar ears. Tamed physical dynamic impact is a good thing.
The build quality is excellent and the price is on point for what is offered. I want to see Drop and Cavalli tackle a very warm sounding amplifier though in the future. They've proven they can fashion a great neutral and accurate experience. As someone who owns both neutral and very musical and warm headphones, I want to hear Cavalli's amazing depth of field and coherency, but with some warmth on the low end and beautifully boosted sparkle on the top end.
With regard to this LCX+LDAC, the experience is intended for accuracy and intimacy in terms of listening preferences and they've done a marvelous job. There aren't many accurate sounding amps out there that can respond that well to boosting if you want it. As mentioned, I was able to add in almost double digits worth of extra bass dB and it was immensely enjoyable. This was a rare treat.
DROP Liquid Carbon X + SDAC Specifications
DAC Section
Massdrop x Grace Design
DAC chip: AKM AK4452
Audio formats: Up to 24 bit/96 kHz
Frequency response, 20Hz–20 kHz: +/- 0.02 dB
THD+N at 20 Hz -0.15 dBFS: 0.0013%
THD+N at 100 Hz, -0.15 dBFS: 0.0013%
THD+N at 10 kHz, -0.15 dBFS: 0.0024%
IMD CCIF, -6.03 dBFS, 19/20 kHz, 24/96 kHz: 0.0005%
IMD SMPTE -6 dBFS, 24/96 kHz: 0.0015%
Noise, A-weighted: -105 dBu
Dynamic range, A-weighted: >114 dB
Linearity, -90 dBFS: -0.07 dB
Crosstalk at 1 kHz, -10 dBFS (3.5mm jack): -102 dB
Sum of jitter components at 11,025 Hz, -1 dBFS: -133 dB
Maximum output: 2.15 Vrms
USB controller: XMOS XU208-128-TQ64
Input: USB micro
Output: 3.5mm TRS
Power: USB Class 1 (no drivers required for Windows, Mac, or Linux)
Amp Section
Massdrop x Alex Cavalli
Gain: 1x (0 dB) and 3x (10 dB), hot switchable from front panel
Maximum power: Balanced 2.8W RMS into 50 ohms, single-ended 0.7W RMS into 50 ohms
Inputs: 1 x XLR (balanced), 1 x RCA
Outputs: 1 x 4-pin XLR, 1 x ¼ in (6.3 mm) TRS headphone jacks
THD: 0.004% at 1 kHz/500 mW (4 VRMS) into 32 ohms (resistive)
Input impedance: ~10 kohms
Output impedance: ~0.12 ohm balanced, ~0.08 ohm single-ended
Physical
Chassis: High-grade CNC-milled aluminum with bead-blasted finish
Dimensions: 8.3 x 9.1 x 2.2 in (210 x 230 x 57 mm)