The HiBy R3 Pro is the company's second-generation mid-fi touch-capable portable media player installed with HiBy OS. It is priced at $199.
Disclaimer: The HiBy R3 Pro was sent to us a sample in exchange for our honest opinion. We thank HiBy Music for this opportunity.
To learn more about HiBy reviews on Headfonics you can click here.
The original HiBy R3 launched via Kickstarter in early 2018 was immensely popular with a ton of modern features and an excellent ES9028Q2M DAC to boot for around $200. This tiny DAP was at the forefront of a slew of equally tiny DAPs that followed not long after at budget-priced specs. It pretty much set the bar for what to expect at this price point and everyone has followed suit.
Now, in late 2019, HiBy has returned with an upgraded or "pro" version of the R3 incorporating many of the subsequent firmware changes applied to the original R3 plus plenty of new and pretty important hardware changes.
From the outside, it looks almost the same. On the inside, however, well that is a totally different story. The price? Surprisingly, not that different which is a welcome change in this rapidly inflating audio market.
Tech Inside
New DAC
The new R3 Pro now sports a dual Cirrus Logic CS43131 DAC implementation. This is probably the biggest change from the original R3 ES9028Q2M build. Not only does it have an inbuilt headphone amplifier but moving to dual channel will mean all sorts of superior noise reduction. The THD+N alone has dropped significantly from 0.003% unbalanced and balanced to 0.0007% and 0.0008% on the new R3 Pro.
Connecting that to the spec'd battery life and THD+N and there is a massive performance upgrade on the R3 Pro already compared to the R3. Battery life is now rated at 20 hours unbalanced and 16 hours balanced compared to 11 and 9 hours on the R3. Standby time is now set at 50 days which is incredibly good. Bear in mind the 1600mAh li-poly battery inside the R3 Pro is unchanged from the one inside the R3.
There is also no loss of decoding capability on the new R3 Pro with DSD256 and PCM 32BIT/384kHZ capability as well as the firmware developed MQA compatibility that was launched on the older R3 a few months back. The R3's Qobuz integration is also featured on the R3 Pro
Upgraded amplification
The R3 Pro also seems to have had a boost in amping output, particularly with its balanced output power numbers. On a 32Ω load, the output increase via unbalanced is marginal from 56mW per channel to 60mW which might suit those with efficient monitors. However, balanced has shot up from 112mW per channel to 220mW which is significant, especially with those 'on paper' lower noise performance numbers.
The lineout performance is now up to the right standard for me for use with desktop and portable amps line inputs. You get an increase from the weaker R3 1.1V LO to 2V using the 3.5mm from the new R3 Pro. This should improve dynamic range and volume control also from your chosen amplifier.
Upgraded Wireless
The Bluetooth performance has been given an upgrade also on the R3 Pro. It is not classed as Bluetooth 5.0 capable, up from the BT4.2 rating on the original R3. I suspect a new Qualcomm chip inside though it is not yet listed by HiBy as to which exact chip upgrade.
Codecs also get a boost with the introduction of UAT from the previous R3 firmware updates. This is HiBy's proprietary codec that should be better than LDAC with up to 192kHz sampling. I say 'should' because I do not have a UAT capable receiver here to test that out. Still, everything is there from the legacy R3 updates such as HiByLink, LDAC, and aptX. Still no aptX HD though.
WiFi has also got a bit of an upgrade. The original R3 was only 2.4G capable whereas the R3 Pro now supports both 2.4G and 5G. That should be an assist for those looking for faster and more stable transfer rates over shortish distances. Definitely a worthy dovetail feature for HiBy's streaming features that rely heavily on WiFi such as TIDAL and "Import Music via WiFi".
Unboxing
The R3 Pro, like the R3, is a relatively basic unboxing affair. It comes in a small white two-piece retail box and a neatly packaged dual-layer foam protector with the R3 on top and the accessories below.
I am fine with that apart from the included hardshell transparent case. It is a little basic for me and I have never thought the R3 was as robust DAP with that glass rear panel and exposed LCD screen. There is some good news, however. The optional R3 leather case fits the R3 Pro perfectly and I would advise you to buy that because it is an excellent little protective case.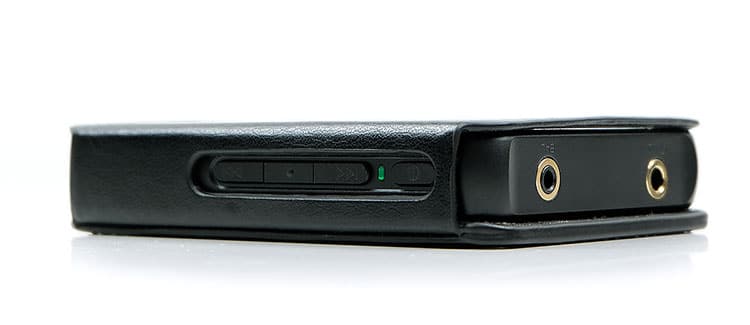 The R3 Pro accessory list also comes with a couple of screen protectors with one pre-applied on the rear that you simply peel off the top layer and you are good to go. Essential stuff if you ask me. The front one was not pre-applied however. I can only presume choice here as not all screensavers work that well with 2.5D curved glass and you may not wish to apply one.
Apart from those, you get a really nice nylon-jacketed gold-plated USB-A to USB-C cable for charging and data transfer and an assortment of Certificate, instructional and warranty guides in black.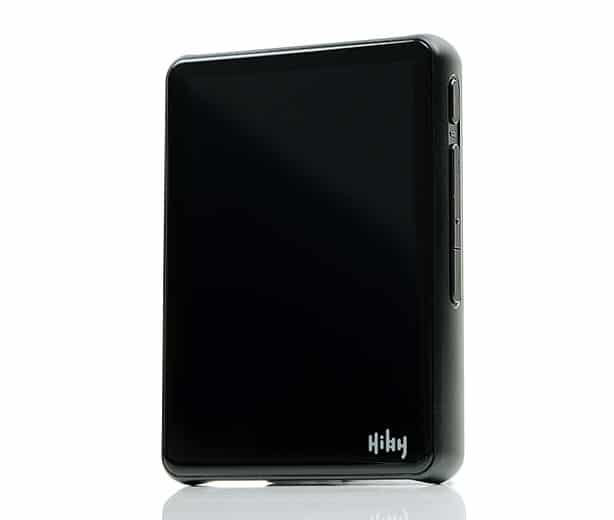 Design
I have been combing over the R3 and R3 Pro units here at a macro level to see if there have been any external design changes and to be frank, I could only find one difference, the 2.5mm socket. On the original, it is a rubber encasing around the socket whereas on the R3 Pro it now matches the 3.5mm TRS socket with its gold plating enclosure.
Apart from that, it is the same dimension at 82 x 61 x 13mm and 95g in weight. The R3 Pro also uses the same materials and finishing including a smoothly contoured aluminum alloy chassis, tempered glass panel rear, and the beautiful 2.5D cornered LCD IPS touch display. Still, for me, one of the best touchscreens in this class of DAP at this price point.
HiBy has also kept the physical control rockers for volume and playback control as well as the power/screen on/off functionality on the left and right panels. There is also no change in the digital IO and memory storage location and capability. The R3 Pro still uses the R3 USB-C connection for USB-DAC, OTG and charging capabilities as well as a single microSD slot with no theoretical limits to card or OTG capable power external HDD size.
Feature Overview
Since the launch of the R3 in early 2018, the HiBy OS firmware updates have been excellent with tons of useful new features being thrown in as well as important bug fixes. And, the R3 Pro benefits from that out of the box with features such as the enhanced TIDAL integration and Qobuz compatibility. You also get their new e-book reader, a pedometer if you are into that sort of thing, and the core WiFi DLNA/Airplay services.
Of course, MSEB or Magesound Eight Ball DSP is still there and is one of my favorite DSP tools outside of the iBasso DX series PMEQ module. I can't see any changes from the R3 version since both are running very similar HiBy OS versions.
Speed
Since both run an Ingenics X1000E CPU the speed of the player's HiBy OS on both platforms seems to be the same. I have not had enough time to really assess any nuanced performance differences but they both feel as fast as each other for daily use. I did a very rough boot test side by side, however. The original R3 booted like a split second faster than the R3 Pro. I did this about 5 times and the result was the same.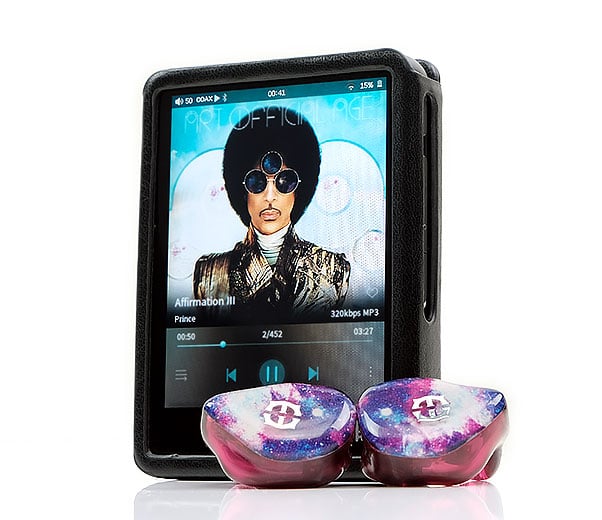 Initial Sound Impressions
(The initial impressions were done with the following gear: Campfire Audio Solaris, Hifiman HE1000 V2, and the Samsung Note 9 for OTG)
Power
The first thing, when comparing the R3 and R3 Pro side by side is the performance of the new amp stage. 5mW per channel does not seem much on paper but at 30 unbalanced on both DAPs in low gain using the Solaris, the R3 Pro is the louder of the two. I had to crank up the R3 by around 3-4 steps to get a rough volume match to the R3 Pro.
As for power, we tried the HE1000 V2 for fun. Not that I am suggesting this is an ideal pairing because it is not. Rather, I wanted to see how double the output power in balanced affected the HE1k V2. And it did. You get a lot more headroom in high gain 2.5mm TRRS on the R3 Pro than the original R3 2.5mm TRRS output.
Noise
The next thing is the noise floor. The Solaris is a great review tool aside from being a fun monitor because it can pick up literally any hint of hiss and a higher noise floor. On the R3 I can detect a faint hiss in unbalanced and unbalanced modes with a very annoying high click sound when pressing play in balanced mode with the Solaris. On the R3 Pro, I get a black background with both outputs and no high-pitched mute relay click.
Sound
As for the sound? This time HiBy has tightened up the low end comparatively speaking and delivered a more neutral or accurate timbre with the Solaris combo. The new R3 Pro bass makes the old R3 low-end sound a bit softer with a bit more bloom.
The clarity in the mids improves as a result with a bit more of a black background and a more engaging level of instrumental separation. Vocals definitely seem more forward on the R3 Pro in comparison and with a little more upper mids and treble push.
It is that top-end push that delivers the cleaner or more accurate timbre. You get a bit more contrast and sparkle which makes a big difference in the texture and definition, especially on whispery vocals. The R3 seems to leave the back end of the note slightly less defined, softer overall. The R3 Pro tightens it up considerably.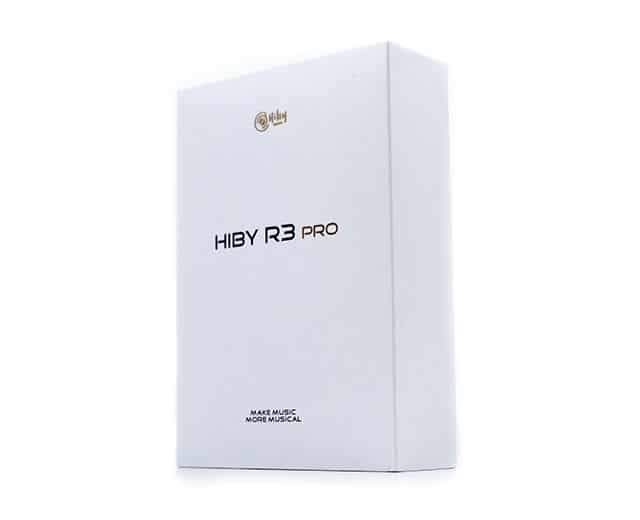 Stay Tuned!
Having found out the other day this will retail for $199 I am going to presume the regular R3 will be phased out since it is also $199. Either that or it will get a hefty price drop which would be insane since $199 is good value already for this tiny little pocket rocket of a player.
As it is, the R3 Pro does look like a solid but incremental update on an already excellent platform. The key is really the amp and DAC for me at this point. I will put the BT performance to the test in the main review soon enough. However, the sound is better, tighter, cleaner, and more accurate. But do not mistake it for analytical or neutral, it is not a linear flat tuning. The forward vocal leaps out at me and normally I enjoy a forward vocal.
The main thing you want to know – is it worth the upgrade from the R3? Hmm, stay tuned for that in the main review but on sound quality and matchability alone, maybe! :)
HiBy R3 Pro Specifications
| | |
| --- | --- |
| Make/Model | HiBy R3 Pro |
| Operating System | HiBy OS |
| Dimensions | 82x61x13mm |
| CPU | Ingenic X1000E |
| DAC | Dual CS43131 |
| Battery capacity | 1600mAh |
| Playtime (single-ended) | 20 h |
| Playtime (balanced) | 16 h |
| Bluetooth | Bluetooth 5.0 |
| WiFi bands | 2.4GHz, 5GHz |
| 3.5mm output | 60mW+60mW |
| 2.5mm output | 210mW+210mW |
| 3.5mm | 0.0007% |
| 2.5mm THD+N | 0.0008% |